A customized print-friendly version of this recipe is available by clicking the "Print Recipe" button on this page.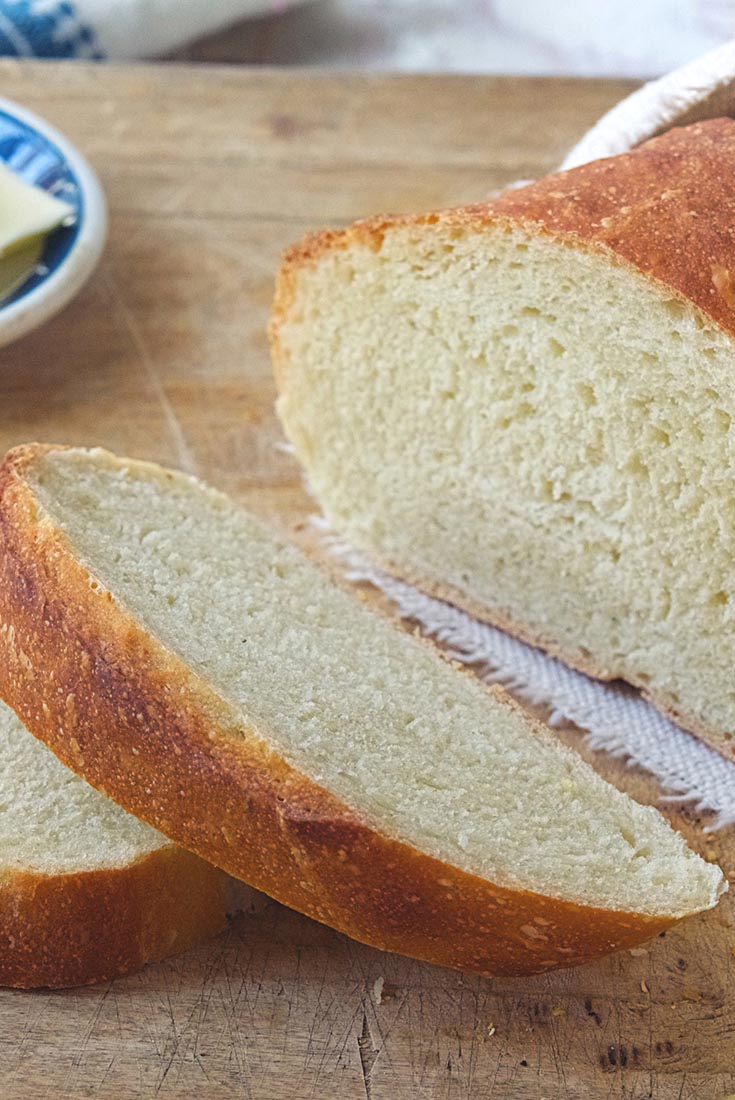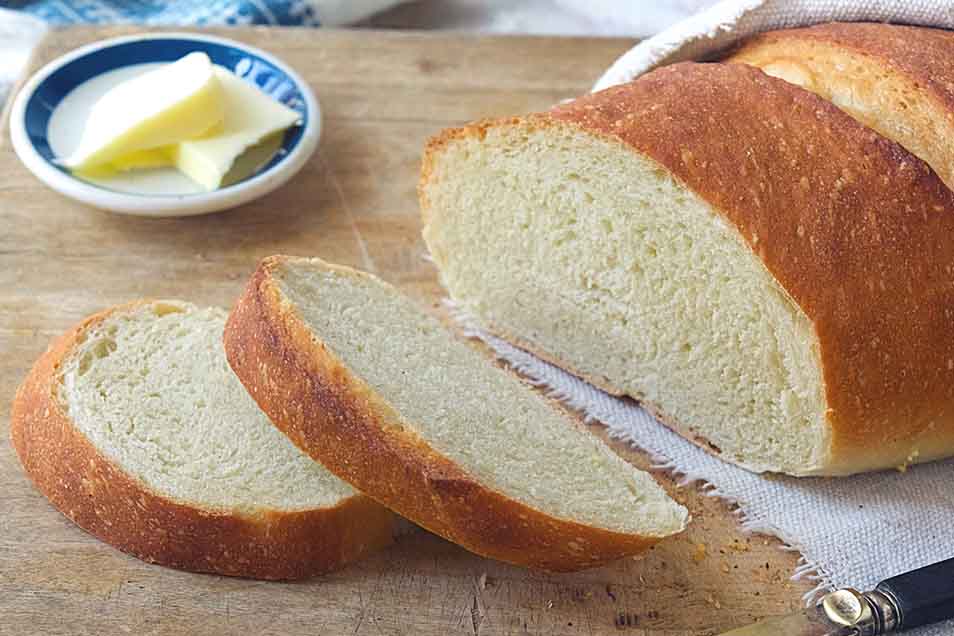 This recipe, also known as "The Easiest Loaf of Bread You'll Ever Bake," appeared on the back of our King Arthur Flour bags for years. Many a baker has learned to bake crusty hearth-style bread using this recipe — how about you? With its directions geared towards the beginning bread baker, this is a wonderful place for a "newbie" to start.
Instructions
Mix all of the ingredients together, using the smaller amount of flour. Mix thoroughly until the dough pulls away from the sides of the bowl, adding more of the flour if necessary. Turn the dough out onto a floured surface to knead. (This may be a little messy, but don't give up!)

To knead: Fold the far edge of the dough back over on itself towards you. Press into the dough with the heels of your hands and push away. After each push, rotate the dough 90°. Repeat this process in a rhythmic, rocking motion for 5 minutes, sprinkling only enough flour on your kneading surface to prevent sticking. Let the dough rest while you scrape out and grease the mixing bowl. Knead the dough again for 2 to 3 minutes.

Return the dough to the bowl and turn it over once to grease the top. Cover with plastic wrap and place in a warm, draft-free place (your turned-off oven works well) until the dough doubles in bulk, about 1 to 2 hours.

Gently deflate the dough. Cut it in half and shape into two oval Italian- or longer, thinner French-style loaves. Place the loaves on a baking sheet generously sprinkled with cornmeal or semolina. Let the loaves rise, gently covered in greased plastic wrap, for 45 minutes, until they're noticeably puffy. Toward the end of the rising time, preheat the oven to 425°F.

Lightly slash the tops of the loaves three or more times diagonally and brush or spray them generously with lukewarm water. Place the pan on the middle rack of the oven.

Bake the bread for 25 to 35 minutes, until the crust is golden brown and sounds hollow to the touch. The interior temperature of the bread should register at least 190°F on a digital thermometer.

Remove the loaves from the oven, take them off the pan, and return them to the oven, placing them right on the rack. Turn the oven off and crack the door open several inches. Let the loaves cool in the cooling oven; this will make them extra-crusty.

Store completely cool bread in a paper bag at room temperature for a couple of days. For longer storage, wrap well and freeze.
Nutrition Information
Serving Size

39g

Servings Per Batch

30
Amount Per Serving:
Calories

90

Calories from Fat

0g

Total Fat

0g

Saturated Fat

0g

Trans Fat

0g

Cholesterol

0mg
Sodium

180g

Total Carbohydrate

18g

Dietary Fiber

1g

Sugars

1g

Protein

3g
* The nutrition information provided for this recipe is determined by the ESHA Genesis R&D software program. Substituting any ingredients may change the posted nutrition information.
Tips from our bakers
Can you mix and knead this dough using a mixer or bread machine? Yes, of course. Knead at medium speed in an electric mixer for about 7 minutes. To use a bread machine, set it on the dough cycle, and let the machine complete its cycle. Shape, let rise, and bake bread as directed in the recipe above.
As a result of reader feedback, as of 7/10/17 we've omitted the instructions for baking the bread by starting it in a cold oven. Not all ovens preheat the same way, and baking in a preheating oven may cause bread to burn. For those of you who've been making this recipe successfully starting in a cold oven, here are the directions you'd been using, starting with slashing the risen loaves: "Lightly slash the tops of the loaves three or more times diagonally and brush them with cold water. Place the pan on the middle rack of a cold oven with a roasting filled about 1" deep with boiling water on the oven bottom. Set the oven temperature to 450°F, and turn on the oven. Bake the bread for 35 to 45 minutes, until the crust is golden brown and sounds hollow to the touch. Its interior temperature should register at least 190°F on a digital thermometer."
Reviews
Followed the recipe exactly. Soooo easy. Turned out perfectly. I will be making this again.
This recipe is not only easy but the bread is really tasty. love this and KING ARTHUR PRODUCTS. i have been using KA all purpose flour for 6 yrs for all my baking needs and refuse to use any other flour, T hank you for a super product and all my other KA pans etc.
Some of the reviews made me think I'd have a sloppy mess on my hands, but this recipe was great and the dough was easy to work with. I couldn't find a spray bottle to spritz the top so I used a metal pan in the bottom of the oven with hot water to obtain a nice, chewy crust.
I made this hearth bread yesterday and it is delicious! It was so easy to make. I tweaked the recipe a bit by using 4 cps of unbleached flour and 1-1/2 cps of white whole wheat flour instead of all unbleached flour. I also preheated my oven instead of starting from a cold oven. I got a nice chewy crust; I used your tip about cooling the loaves on the rack inside the turned off oven with the door propped. The crumb of the bread is just right. This is good for toast, sandwiches, or just plain with a little butter and jam and some hot tea! I will definitely make this again.
I'm still learning the ropes making yeast breads. I have been practicing with the KA Classic White sandwich bread recipe and the KA White Sandwich bread recipe. I decided to try this recipe last night, it is definitely a bit messier in terms of mixing and kneading, but the result was delicious. As my son, aka bread guinea pig, proclaimed this one is the best recipe! One question the recipe calls for a tbls of salt and the bread did taste a bit salty. Can I reduce the amt of salt without effecting the recipe?

Congrats on moving on to a more challenging dough, Mel! This probably looks like a lot of salt because the recipe makes two loaves, and you're right to think that salt does more than just flavor bread. It also helps to control yeast development (allowing for more flavor) and tighten the gluten structure. If you were to cut the salt out entirely, you'd notice these differences in both process and texture, but if you just cut it back to 2 tsp, you should be just fine. Cheers to more happy baking! Mollie@KAF
I have baked everything but yeast leavenedgoods for over 65 yrs. Mom made bread and coffecakes which were very good but I never attempted those products. Thank you for your wonderful hearth bread recipe with easy to follow instructions. I turned out 2 beautiful, fine textured and crusty loaves that were better than my mothers..Your recipe is a keeper.I will be making bread often now and will check KAFs website for coffeecake and roll recipes. Calling a neighbor for a taste test! I am 79 getting back to baking after a long illness. The many reviews were so helpful. I used kosher salt ( all I have) with no problem, to my relief. My only change to your excellent recipe. You can teach an old dog new tricks!
I've been making this bread for many years according to the method using boiling water, etc., and it's fantastic. I did nearly burn a couple of loaves once when I first switched to a gas oven, but once I figured out the proper rack height etc. I've never had another problem. It's always delicious, the solid crust being the tastiest part. One note of caution: Be very careful opening the oven to check on your bread if you use this method. Stand back, keeping your face and hands away from the steam that's going to escape. It's maybe a "rookie mistake" that people make, leaning their face down toward the oven as they open it, but worth a reminder when steam is involved.
Really like this bread. I have been looking for a recipe just like how this bread turns out-----very tender crumb inside and crusty on the outside. I used a Kitchen Aid mixer to make the dough. Followed directions exactly. Made it at my daughter's house and not used to her oven---may not be as hot as should be. No cornmeal on handle so I put the loaves on parchment paper then on the pan to bake. My only complaint is that the loaves ( divided and made two) did not have a golden color I was expecting. Could be oven or parchment paper?? I will be making this bread many more times. Might add some cheese powder to a batch to try.

Sue, it sounds like your bread could have used just a few more minutes in the oven to develop the flavor you're looking for. Also, you can try baking with a bit of steam. (Spritz the dough with water in a spray bottle a few times right at the beginning of the baking time.) The burst of steam should help develop a more golden brown crust; you can also adding an additional 2 tablespoons of the sugar to the dough to help the crust caramelize. Happy baking! Kye@KAF
I've baked cookies, cakes, and muffins but have always been intimidated by simple bread for whatever reason. Follow this recipe EXACTLY and you'll be so very happy with the results.
This bread is amazing and deeeeee-licious!! I'm so happy I found this recipe. Baked it yesterday. But instead of calling it "Hearth Bread", you should call it "Disappearing Bread". That's what's happening in my house. I slice it up and put in a plastic bag, and the slices just disappear. Thank you King Arthur.