A customized print-friendly version of this recipe is available by clicking the "Print Recipe" button on this page.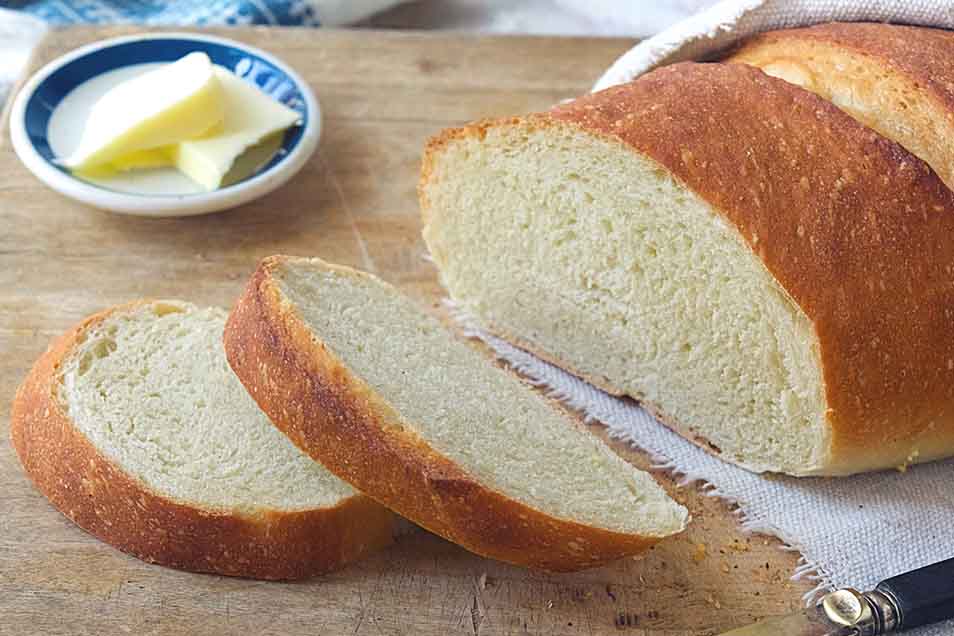 This recipe, also known as "The Easiest Loaf of Bread You'll Ever Bake," appeared on the back of our King Arthur Flour bags for years. Many a baker has learned to bake crusty hearth-style bread using this recipe — how about you? With its directions geared towards the beginning bread baker, this is a wonderful place for a "newbie" to start.
Instructions
Mix all of the ingredients together, using the smaller amount of flour. Mix thoroughly until the dough pulls away from the sides of the bowl, adding more of the flour if necessary. Turn the dough out onto a floured surface to knead. (This may be a little messy, but don't give up!)

To knead: Fold the far edge of the dough back over on itself towards you. Press into the dough with the heels of your hands and push away. After each push, rotate the dough 90°. Repeat this process in a rhythmic, rocking motion for 5 minutes, sprinkling only enough flour on your kneading surface to prevent sticking. Let the dough rest while you scrape out and grease the mixing bowl. Knead the dough again for 2 to 3 minutes.

Return the dough to the bowl and turn it over once to grease the top. Cover with plastic wrap and place in a warm, draft-free place (your turned-off oven works well) until the dough doubles in bulk, about 1 to 2 hours.

Gently deflate the dough. Cut it in half and shape into two oval Italian- or longer, thinner French-style loaves. Place the loaves on a baking sheet generously sprinkled with cornmeal or semolina. Let the loaves rise, gently covered in greased plastic wrap, for 45 minutes, until they're noticeably puffy. Toward the end of the rising time, preheat the oven to 425°F.

Lightly slash the tops of the loaves three or more times diagonally and brush or spray them generously with lukewarm water. Place the pan on the middle rack of the oven.

Bake the bread for 25 to 35 minutes, until the crust is golden brown and sounds hollow to the touch. The interior temperature of the bread should register at least 190°F on a digital thermometer.

Remove the loaves from the oven, take them off the pan, and return them to the oven, placing them right on the rack. Turn the oven off and crack the door open several inches. Let the loaves cool in the cooling oven; this will make them extra-crusty.

Store completely cool bread in a paper bag at room temperature for a couple of days. For longer storage, wrap well and freeze.
Nutrition Information
Serving Size

39g

Servings Per Batch

30
Amount Per Serving:
Calories

90

Calories from Fat

0g

Total Fat

0g

Saturated Fat

0g

Trans Fat

0g

Cholesterol

0mg
Sodium

180g

Total Carbohydrate

18g

Dietary Fiber

1g

Sugars

1g

Protein

3g
* The nutrition information provided for this recipe is determined by the ESHA Genesis R&D software program. Substituting any ingredients may change the posted nutrition information.
Tips from our bakers
Can you mix and knead this dough using a mixer or bread machine? Yes, of course. Knead at medium speed in an electric mixer for about 7 minutes. To use a bread machine, set it on the dough cycle, and let the machine complete its cycle. Shape, let rise, and bake bread as directed in the recipe above.
As a result of reader feedback, as of 7/10/17 we've omitted the instructions for baking the bread by starting it in a cold oven. Not all ovens preheat the same way, and baking in a preheating oven may cause bread to burn. For those of you who've been making this recipe successfully starting in a cold oven, here are the directions you'd been using, starting with slashing the risen loaves: "Lightly slash the tops of the loaves three or more times diagonally and brush them with cold water. Place the pan on the middle rack of a cold oven with a roasting filled about 1" deep with boiling water on the oven bottom. Set the oven temperature to 450°F, and turn on the oven. Bake the bread for 35 to 45 minutes, until the crust is golden brown and sounds hollow to the touch. Its interior temperature should register at least 190°F on a digital thermometer."
Reviews
Great recipe. Make it regularly at our lake in the coal and wood stove. No easy way to 'pre-heat' oven - that instruction always makes me smile.
This was my first time making this recipe because I lost my late grandmother's prized recipe! I thought it was very good; however, it didn't have as much of a yeasty taste that we love. How can I increase the yeast flavor without compromising the integrity of the bread? Thank you!

Hi Stephanie! One thing you can do to up the flavor is to allow the dough to rise in the fridge overnight rather than for a few hours on the counter. You can do the first rise, but shorten it to about 45 minutes. Then, shape the dough, cover it with plastic wrap and pop it in the fridge. The next day as your oven preheats for a good 30 to 40 minutes, the loaf should become puffy on the counter. Then bake away! Annabelle@KAF
A truly spectacular 'family loaf.' This bread gives you a wonderful chewy texture, full of flavor, surrounded by a great crust. It's perfect for sandwiches or as an accompaniment to a meal. This bread is perfect for beginners because both the proofing and baking stages are relatively forgiving, and erring on the side of baking longer is best. Don't worry about the color if you go past the first 25 to 30 minutes. The sugar in this recipe gives the loaf a wonderfully dark color. Thirty five minutes on the bottom rack is best.
Love this recipe!! My go to when making bread. No longer buy store bought bread! I do a variation by adding rosemary, sea salt and Parmesan as well as on top. My family eats it up like crazy. Purchase the USA pans hearth pan and bakes it so evenly and no need for oil or parchment paper! Highly recommend this recipe!!
I seem to have a problem with not only this recipe but almost every bread recipe---the loaf simply will not rise enough when it hits the oven! 85% of the time I make a loaf of bread, regardless of if it's in a pan or not, I get poor results in the oven. First rise doubles in size fine, second rise seems OK letting the loaf come to the "noticeably puffy" stage, oven temp spot on and calibrated but for some reason when the dough goes into the oven I get almost no oven spring at all. Also tried with/without pizza stone, letting the second rise go to double in size, "windowpane' test (which always seems to fail) could that be the culprit? Under kneading? It seems like I knead the dough til my arms fall off but doesn't seem to make a difference! Help please!

Hi Steven, we're sorry to hear that you've been having trouble with bread but we're happy to try and help! The lack of rise when the bread goes into the oven could be a symptom of over-proofing. We would suggest checking out our blog article titled "Over-proofed dough" for more info on this. The "windowpane" test can determine when dough is fully kneaded. For additional tips on getting good oven spring and how to tell if your dough is well kneaded, please feel free to to call our free and friendly Baker's Hotline at 855-371-BAKE(2253). Happy baking! Morgan@KAF
Just had the first bite super soft! One of the best bread recipes
I've got to share more feedback about this recipe and the Baker's Helpline. In spite of my difficulties with my loaves, this bread tastes SO good! And it smells wonderful in the oven. The ladies at the Baker's Helpline are marvelous! They were so eager to help and share their expertise. As I followed one of their suggestions as soon I finished our phone conversation, I am convinced they're correct in their assessment of why my loaves did not really hold their shape and rise (they expanded on my sheet pans, so my yeast was good) thus giving me a higher loaf. The LEARN section on this website is a great resource - why have I never looked at it before?! But thanks for your help, KAF. I am really excited to give this recipe another go following their other suggestion to help my loaves brown up better.
This is my first KAF fail . . . . I used my mixer with the dough hook for the mixing and kneading. Kept with the 5 1/2 cups of KAF AP flour as that seemed to be enough as the dough seemed to be right - not sticky but not heavy. Used KAF yeast and spoon to measure the correct amount of yeast specified. And used my oven's proof function for the rise (100 degrees - slightly warm). My dough has risen well, but my loaves are on the flat side. Not sure what to do or why that would have happened. Would the weather have anything to do with this? It's cold, overcast, & damp out today. It's as though I needed to use a bread pan for the dough to hold its shape rather than using a baking sheet. I suppose I need to call the Baker's Helpline?

We're sorry to hear you had trouble making this recipe, Michelle, and we hope we're able share some tips that bring you the same kind of success you've come to expect from our other recipes. Next time you make this bread, try letting it rest at room temperature rather than in the oven. 100°F is too warm for this dough. Even if your room temperature is only around 70°F or less, the dough will proof with time. A slower, more controlled proof will develop more flavor and also give the bread more structure. This should help the bread rise higher next time. For more tips, please do give the Baker's Hotline a call at 855-371-BAKE (2253). Kye@KAF
I am a first time bread baker and I was amazed at how almost perfect this bread turned out. The texture and taste was perfect except one thing. I believe I used too much yeast and for that matter, the bread had an overwhelming smell and taste of yeast. I used 3 packets of ADYyeast.

We're glad to hear this loaf turned out well, Ekua. We think your theory of too much yeast is correct and it would effect the flavor as well as the smell. Next time, we recommend sticking with the one packet that the recipe calls for. Happy baking! Annabelle@KAF
I have baked this about four times now, getting better t it each time. This is the easiest bread baking newby recipe out there. Very simple. I have tried it with a kitchenaid mixer with dough hook, and also just in a bowl and hands! Both work great. Trying with a cup of wholewheat flour now for a change. Tastes great, with soup!!!