A customized print-friendly version of this recipe is available by clicking the "Print Recipe" button on this page.
Naturally Leavened Sourdough Bread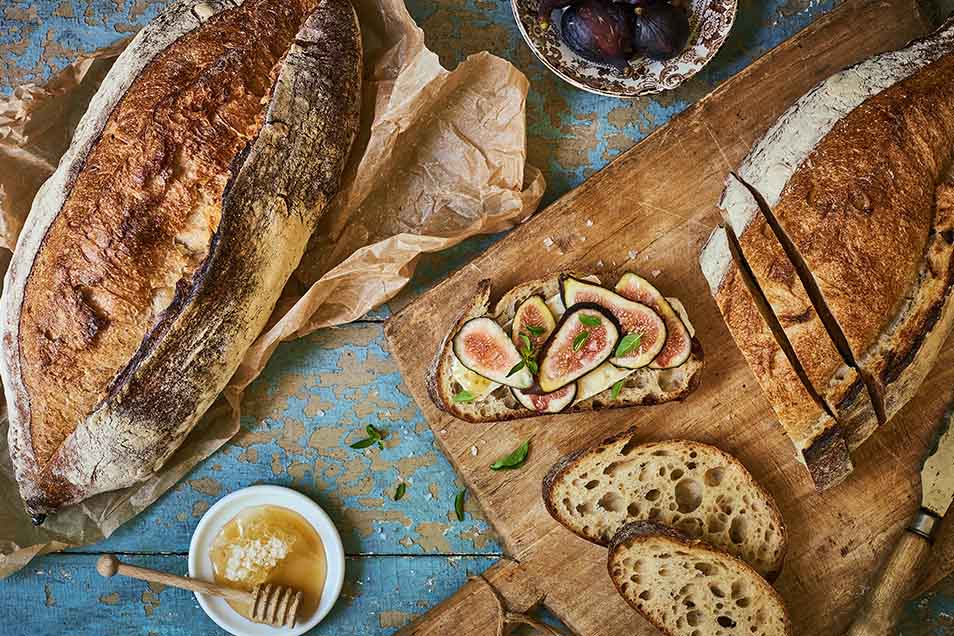 This bread, with its deep brown crust, rich, deep, flavor, and mild tang relies on ripe, active starter for its rise. Without the addition of commercial yeast, it's a true artisan loaf. Are you a beginning sourdough baker? Please start with our Rustic Sourdough Bread recipe, which offers the added security of commercial yeast. Once you master that, move on to this loaf, which is more appropriate for intermediate sourdough bakers.
Instructions
If you're measuring the sourdough starter using volume rather than weight, stir it down before measuring. Combine the starter, flours, and water in a large bowl and mix well, until all of the flour is moistened and the dough has formed a cohesive mass. Add extra water or flour if needed to form a soft, tacky dough.

Cover the dough and let it rest for 20 minutes. This rest, known as an autolyse, allows the flour to absorb the water, which starts the dough's gluten formation, and makes it easier to knead.

After the rest, add the salt and knead the dough until it's smooth and supple, though still somewhat soft and tacky. When fully kneaded, place the dough back in the bowl, cover, and let it rise for 1 hour.

Give the dough a fold: Turn it out onto a floured surface and, using a bowl scraper or bench knife, fold it like a business letter. Turn the dough 90 degrees. Gently flatten it a bit, and repeat the letter fold. Return the dough to the bowl, cover, and let it rise for another hour.

At the end of the rise, turn the dough out onto a lightly floured surface and divide it in half. Gently shape into two rounds, cover, and let rest for 20 minutes.

After this rest, shape the loaves into tight rounds, and place them seam side up in bowls lined with floured cloth, or on a cloth couche. Cover and let rise until light and airy, about 2 to 2 1/2 hours.

About 60 minutes before the bread is ready to bake, preheat the oven with a baking stone in it (if you have a stone) to 450°F. For the best crust, place an empty cast iron frying pan on the oven rack below the stone to preheat.

When the loaves are risen, gently turn them out of their bowls onto parchment, slash them with a sharp knife or lame, and slide the parchment directly onto the stone in the oven. If you're not using a stone, turn them out onto a parchment-lined (or lightly greased) baking sheet, slash them, and place the baking sheet in the oven.

Pour 1 cup of boiling water into the cast iron frying pan. Be sure to wear good oven mitts to prevent steam burns.

Bake the bread until it's crusty and golden, about 35 to 40 minutes. Remove the loaves from the oven and cool on a rack before slicing.

Store leftover bread, in a paper bag or loosely covered in plastic, for a day or so at room temperature; wrap and freeze for longer storage.
Reviews
I am an experienced sourdough baker and have used many recipes. This one is the best! I have a "pioneer" starter and have made a few modifications to the recipe. I use 4C all purpose KAF and 1 3/4 whole wheat. Along with the salt (Himalayan) I put in a teaspoon of citric acid and that adds a nice amount of sour. I always use a Dutch oven. As this recipe doesn't have DO instructions...heat the oven with the DO to 425, gently put the dough in the DO, slice the top in 2 places, spray (mist) the loaf with water, put on the lid and bake 20 minutes, remove the lid and bake 20 more minutes, remove immediately from the pan and cool on a rack, don't slice until cool. Waalaa perfect bread!!!
My first time at baking any bread, and I've struggled with other starters for the two weeks prior to getting my King Arthur Flour sourdough starter. The previous starters I ordered elsewhere never got thicker than a thin pancake batter. So on the 5th day after receiving the King Arthur starter and feeding it 2 times a day, it was ready to use in baking! I called the hotline three times over the last 5 days, and they were wonderful, helpful and very knowledgeable. I didn't have a baking stone nor an iron skillet. So I used parchment paper, one cookie sheet, a meatloaf pan with boiling water, and my 1959 oven. I removed the steaming water about halfway through, and turned the cookie sheet around halfway through, since anything in the back of my oven browns more. The two loaves turned out SO good. If I could do cartwheels, I would!
Love this recipe. I'm new to baking and now trying different methods. Today I used the Potato Pot. I may have left the lid on too long as when I checked the temperature it was almost 200 degrees F with a light crust. QUESTION: Can I put the bread back in the oven and darken the crust after the bread has cooled? If yes, what temperature?

Hi there, fellow baker! We're glad to hear that you're enjoying this recipe! You can try and toast up your loaf by putting it back in the oven, but this will most likely dry out the bread as well. If you do decide to give this a go, we'd suggest preheating your oven to 350°F. Happy baking! Morgan@KAF
This is my go-to sourdough recipe, as it fits perfectly into my weekend routine and I consistently have great results! I've recently started upping the time of the autolyse from 20 minutes to an hour with good results, and always bake in a dutch oven. This recipe doesn't make a sour tasting bread, but I love the taste of it. If you're new to wild yeast sourdough baking, this is a great place to start.
I am new to sourdough baking....and I just love it! KAF has made it a very stress free process between the learn tab and the fail-proof recipes.
Maybe I just got lucky, seeing this was my first time not using any commercial yeast at all, just the starter I purchased from ing Arthur- but wow. Great crust, nice crumb. Two loaves to go with a pot of beef barley soup was just what the Dr ordered. I'll definitely make it again after exploring more of your recipes.
First time I've baked this...it's in the oven now and looks absolutely beautiful! Can't wait to cut into it! I did not want to make boules, so shaped dough into two long free form loaves and it worked very well. I would like to make sourdough rye with this recipe (light/medium rye, and/or pumpernickel). Please tell me how to do so.
Cut this in half cos I didn't have enough starter, still one of the best looking, and tasting loaves I've made. Too bad I can't share a picture.
I weigh my ingredients, use KAF All purpose flour and whole wheat flour as dictated in the recipe, and am an experienced baker. My starter is health and vigorous. My results are consistently the density of the rustic sourdough bread picture, an airy crumb, and crunchy crust. I want the results of the picture for the naturally leavened sourdough bread. Tomorrow I will try with KAF bread flour plush the bit of whole wheat. I'll let you know.

Hi there, Liz! We're sorry that you've been having a bit of trouble with your naturally leavened loaves. Some tips that can help get you to a more open crumb structure are, ensure that your loaves are shaped tightly so they don't spread outwards as much and using steam while baking — if you're not already, we'd suggest baking the bread in a Dutch oven or covered baker of some kind. We hope this helps and happy baking! Morgan@KAF
Is there a reason this recipe uses all-purpose flour instead of bread flour? I panicked when I realized I had used all-purpose flour but then I looked at the recipe again and realized I had inadvertently followed it!

Hi Tzvi! Our all-purpose flour has a high enough protein that it can create high-rising, chewy loaves of bread. It's also more readily available in grocery stores than the bread flour is. You can absolutely use bread flour if you want, you'll just want to add about 2 extra teaspoons of water for every cup of bread flour so the dough isn't dry. Happy baking! Annabelle@KAF