A customized print-friendly version of this recipe is available by clicking the "Print Recipe" button on this page.
Naturally Leavened Sourdough Bread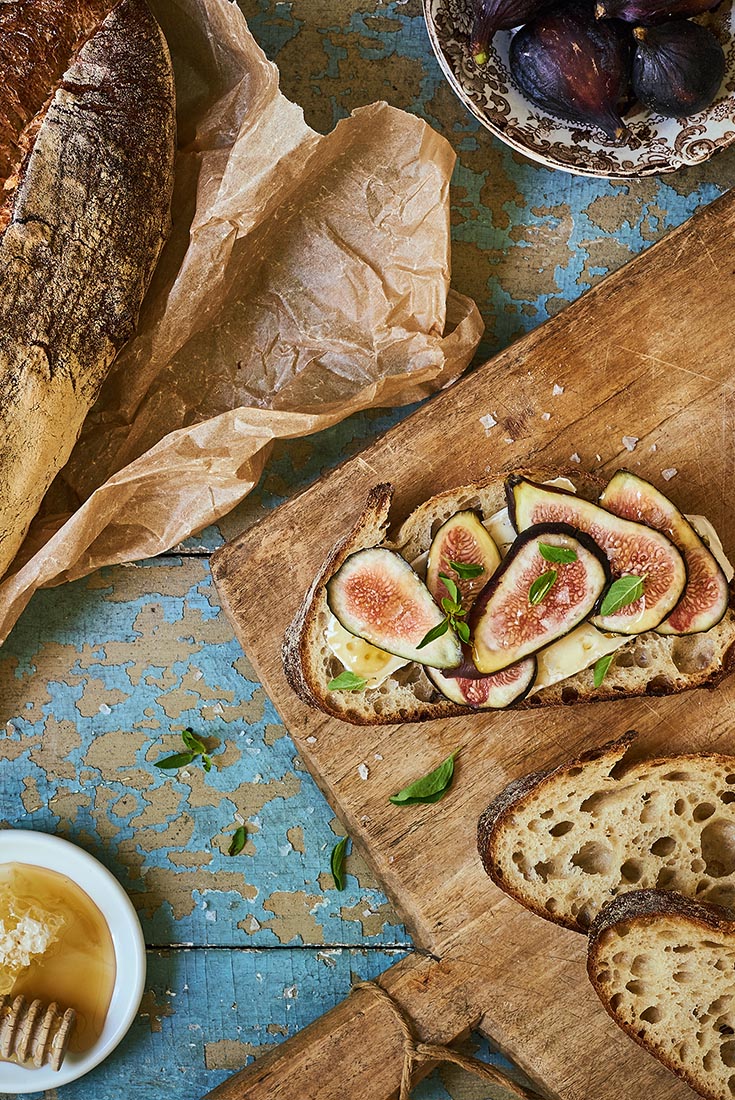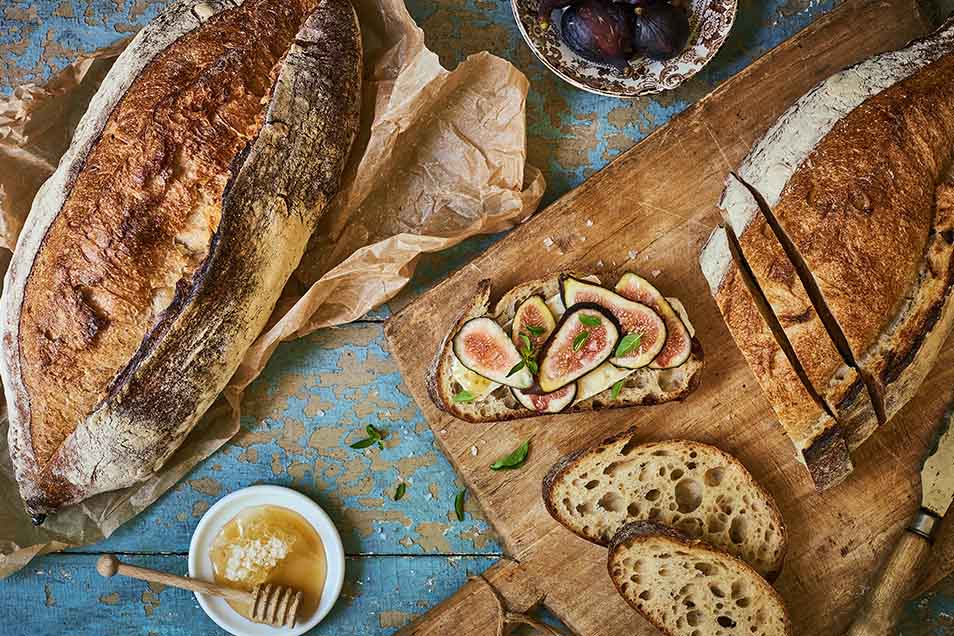 This bread, with its deep brown crust, rich, deep, flavor, and mild tang relies on ripe, active starter for its rise. Without the addition of commercial yeast, it's a true artisan loaf. Are you a beginning sourdough baker? Please start with our Rustic Sourdough Bread recipe, which offers the added security of commercial yeast. Once you master that, move on to this loaf, which is more appropriate for intermediate sourdough bakers.
Instructions
If you're measuring the sourdough starter using volume rather than weight, stir it down before measuring. Combine the starter, flours, and water in a large bowl and mix well, until all of the flour is moistened and the dough has formed a cohesive mass. Add extra water or flour if needed to form a soft, tacky dough.

Cover the dough and let it rest for 20 minutes. This rest, known as an autolyse, allows the flour to absorb the water, which starts the dough's gluten formation, and makes it easier to knead.

After the rest, add the salt and knead the dough until it's smooth and supple, though still somewhat soft and tacky. When fully kneaded, place the dough back in the bowl, cover, and let it rise for 1 hour.

Give the dough a fold: Turn it out onto a floured surface and, using a bowl scraper or bench knife, fold it like a business letter. Turn the dough 90 degrees. Gently flatten it a bit, and repeat the letter fold. Return the dough to the bowl, cover, and let it rise for another hour.

At the end of the rise, turn the dough out onto a lightly floured surface and divide it in half. Gently shape into two rounds, cover, and let rest for 20 minutes.

After this rest, shape the loaves into tight rounds, and place them seam side up in bowls lined with floured cloth, or on a cloth couche. Cover and let rise until light and airy, about 2 to 2 1/2 hours.

About 60 minutes before the bread is ready to bake, preheat the oven with a baking stone in it (if you have a stone) to 450°F. For the best crust, place an empty cast iron frying pan on the oven rack below the stone to preheat.

When the loaves are risen, gently turn them out of their bowls onto parchment, slash them with a sharp knife or lame, and slide the parchment directly onto the stone in the oven. If you're not using a stone, turn them out onto a parchment-lined (or lightly greased) baking sheet, slash them, and place the baking sheet in the oven.

Pour 1 cup of boiling water into the cast iron frying pan. Be sure to wear good oven mitts to prevent steam burns.

Bake the bread until it's crusty and golden, about 35 to 40 minutes. Remove the loaves from the oven and cool on a rack before slicing.

Store leftover bread, in a paper bag or loosely covered in plastic, for a day or so at room temperature; wrap and freeze for longer storage.
Reviews
Thanks so much for the recipe! I have made this several times now. I follow the recipe weight measurements exactly. The process I use is a bit different. Since I am cooking up 4 batches at a time I do not have oven space for all of the rounds. When the recipe calls for splitting the dough in half, I do so,l. I then make a tight rectangle and place it seam side down in a 9" bread pan. Once the final rise is complete, I slash the bread and place directly into a 425* oven for usually 25 minutes. Right out of the oven I rub a room temp stick of salted butter over the top. A beautiful and delicious sourdough loaf that we use for sandwiches and toast.
My first ever sourdough bread made from my own starter. I halved the recipe due to only having half the amount of starter required. I weighed all the ingredients which I find to be a better method.Very easy to follow recipe. The only thing different was I put the dough in the fridge overnight . Next morning I allowed it to room temp and final proof. I also baked it in a cast iron Dutch oven for 30 minutes. I took the lid off for the last 5 min. If I say so myself I'm very impressed this being my first time. Used a little cornmeal on the bottom of the pot. The smell of this bread baking was wonderful!
The recipe worked perfectly, and I am somewhat of a novice bread baker. About three weeks ago I made my very first sourdough starter using the recipe from this site. So far I have made rye bread, waffles (with the waste from a feeding), and this bread. I halved the recipe without any difficulties at all. This is the best bread I have ever baked, by far. It came out with a lovely crisp golden crust, moist and tender interior with a bit of tooth to it, and a light, not overpowering sourdough flavor. It is quite a simple recipe once you have your starter made. I did also refer to the blog recommended here, to make sure my starter was ripe and ready to use. I can't wait to make my next batch!
This recipe is great! I just made it this weekend and it came out perfect. I used using ounces rather than volume or grams when making the dough. It's the first sourdough I made with a starter that I started from scratch. My starter is 50% whole wheat flour and 50% rye flour. The bread has the perfect sourdough taste without being overly sour. It also had great structure and the classic sourdough holes in the bread. I plan to make this again. Thanks KAF for the recipe!
This is a nice simple recipe that you can fiddle with if you want to. I don't ever use yeast with my sourdough. So today I replaced about a third of the flour with oat flour, and the other third with barley flour because I had some in the cupboard. Added a big spoonful of molasses and some raisins! It came out delicious.
Wow. I halved the recipe, substituted pumpernickel for the whole wheat, and baked it in a 4 quart Dutch oven. The flavor and crumb are spectacular!
Loved this recipe, great crust! Followed KAF videos on how to fold a wet dough, very helpful. Question: I prefer whole grain breads...can you recommend a proper mix of whole grain flours that can be used with this recipe?

You can easily add (or increase the amount of) whole wheat flour in many of your favorite recipes, including this one for Naturally-Leavened Sourdough Bread. Start by replacing half of the all-purpose flour with whole wheat flour (either white or traditional whole wheat). There's no need to make any changes to the recipe with this approach. If you'd replace 100% of the white flour with whole wheat, add about 2 teaspoons of additional liquid per cup of whole wheat flour. After mixing the dough initially, allow the mixture to rest for about 15 minutes before kneading so that the whole grains can absorb the additional liquid and soften slightly. Add extra liquid if the mixture seems dry or stiff, and then bake as you normally would. Happy baking! Kye@KAF
This recipe was easy to follow. I ended up getting a call and had to stop the process at step 3. I ended up putting the whole thing covered in the fridge for 24 hours. I took it out and let it come to room temperature and continued the next day. The bread was easy to work with and baked beautifully. My only mistake was baking both loaves at the same time. My pizza stone was too small and they ended up baking touching. Also, my cast iron skillet did not like being used in this way and I had to res-season it. Next time I'll use an old baking tin. But the bread, yum, it was very nice. Good sour flavor, pretty color and tasty.
This bread was so delicious! I was so pleased with the flavor. The amount of salt was just perfect, and my starter lent a nice light tang. The dough was very silky and stretchy and wonderful to work with (I left it as 'wet' as was practical to work with). The only problem I encountered was getting to dough to rise. My starter may not be quite up to full strength yet. This was my first time to use it. Even though the smell of the starter and taste of the bread are both wonderful, I think it needs to mature a little longer. The first two risings took over two hours each! And most of that time was spent in my oven, which has a pilot light. I was a little concerned about killing the yeast in the warm oven, but the dough eventually began to rise. After shaping into two boules, I put them into the fridge overnight to try to develop as much flavor as possible. Well, after eight hours in the fridge, there was no rising or movement at all! So I set them on the counter for about 4 hours. After that amount of time, they had finally puffed up just a little bit, but when I slashed them, they started to puff right up through the slashes immediately. I took this to mean they were still slightly underproofed, and also that I had allowed the 'skin' on the outside of the loaves to dry out and become too leathery in the fridge and subsequent rest, which left nowhere for the interior to expand. Anyway, by this point, I was running out of time. I had to leave to go out of town on a trip, so I just baked them off anyway, knowing from past experience that regardless of any mistakes on my part or unexpected behavior of the dough, I was bound to end up with an edible, fresh delicious loaf of bread, even if it wasn't perfect! And that's exactly what happened this time. In addition to the pan of boiling water in the oven, I lightly misted the surface of the loaves with a spray bottle of water to try to combat the leathery skins and allow for as much oven spring as possible. If time allowed, I would have tried to proof them until they were ready before baking them. However, the end result was a very delicious flavorful bread that has a great, chewy crumb and crackly crust! I can't wait to make this bread again in a week or so when my starter gets a little more vigorous! Note: I used all King Arthur unbleached AP flour, no whole wheat. Just substituted, oz. for oz. I was in the mood for a rustic white sourdough loaf, similar to one I used to make as a breadmaker at a bakery years ago. This was very good and will be even better next time! Just wanted to share my experience with this recipe in case it helps someone else. P.S. I love all things King Arthur! Your website, blog, baking experts, and recipes are of the same top notch quality as your excellent flour! I'm a devoted customer for life!
I haven't used yeast in months it was so nice to find a recipe I didn't have to modify and just use my sourdough as the recipe called for. Turned out great.