A customized print-friendly version of this recipe is available by clicking the "Print Recipe" button on this page.
Naturally Leavened Sourdough Bread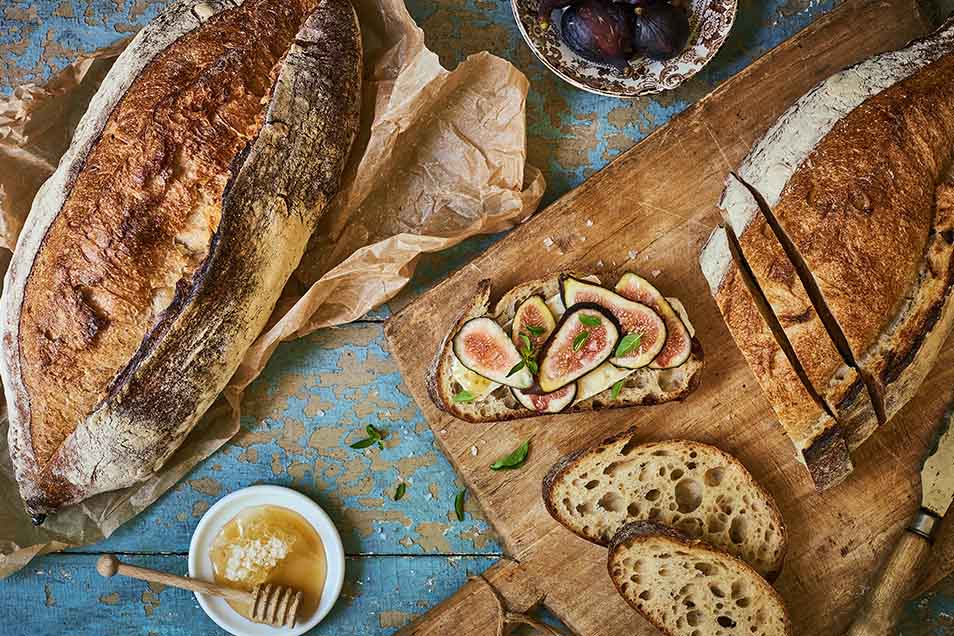 This bread, with its deep brown crust, rich, deep, flavor, and mild tang relies on ripe, active starter for its rise. Without the addition of commercial yeast, it's a true artisan loaf. Are you a beginning sourdough baker? Please start with our Rustic Sourdough Bread recipe, which offers the added security of commercial yeast. Once you master that, move on to this loaf, which is more appropriate for intermediate sourdough bakers.
Instructions
If you're measuring the sourdough starter using volume rather than weight, stir it down before measuring. Combine the starter, flours, and water in a large bowl and mix well, until all of the flour is moistened and the dough has formed a cohesive mass. Add extra water or flour if needed to form a soft, tacky dough.

Cover the dough and let it rest for 20 minutes. This rest, known as an autolyse, allows the flour to absorb the water, which starts the dough's gluten formation, and makes it easier to knead.

After the rest, add the salt and knead the dough until it's smooth and supple, though still somewhat soft and tacky. When fully kneaded, place the dough back in the bowl, cover, and let it rise for 1 hour.

Give the dough a fold: Turn it out onto a floured surface and, using a bowl scraper or bench knife, fold it like a business letter. Turn the dough 90 degrees. Gently flatten it a bit, and repeat the letter fold. Return the dough to the bowl, cover, and let it rise for another hour.

At the end of the rise, turn the dough out onto a lightly floured surface and divide it in half. Gently shape into two rounds, cover, and let rest for 20 minutes.

After this rest, shape the loaves into tight rounds, and place them seam side up in bowls lined with floured cloth, or on a cloth couche. Cover and let rise until light and airy, about 2 to 2 1/2 hours.

About 60 minutes before the bread is ready to bake, preheat the oven with a baking stone in it (if you have a stone) to 450°F. For the best crust, place an empty cast iron frying pan on the oven rack below the stone to preheat.

When the loaves are risen, gently turn them out of their bowls onto parchment, slash them with a sharp knife or lame, and slide the parchment directly onto the stone in the oven. If you're not using a stone, turn them out onto a parchment-lined (or lightly greased) baking sheet, slash them, and place the baking sheet in the oven.

Pour 1 cup of boiling water into the cast iron frying pan. Be sure to wear good oven mitts to prevent steam burns.

Bake the bread until it's crusty and golden, about 35 to 40 minutes. Remove the loaves from the oven and cool on a rack before slicing.

Store leftover bread, in a paper bag or loosely covered in plastic, for a day or so at room temperature; wrap and freeze for longer storage.
Reviews
Thank you so much for this great recipie and for the videos and tips in the baking guide. They were very helpful and I was able to make two awesome loaves that rose well and tasted and smelled great.
I received your starter, fed it six times, weighing the ingredients, and attempted this recipe. I weighed the ingredients and the dough was so wet it stuck to everything. I incorporated more flour and finally baked it. It was so BLAND!! I made another batch with the same outcome. Now my refrigerator is full of "discard" so I made the sourdough waffles which were wonderful!! Shall I try the bread flour?

Thanks for reaching out to us, Deborah. We'd like to help you with your sourdough. This is meant to be a sticky dough (which keeps it from being dry and allows larger air bubbles to form) but we can understand that's it's frustrating to knead. We recommend checking out our blog article "Kneading wet dough by hand" for some helpful visual tips.

Adding extra flour, while making it easier to knead, also makes it bland in flavor because the other ingredients aren't adjusted to account for the extra flour. We recommend going to the guides in the Learn section of our website and checking out the Sourdough Guide for tons of tips and tricks including the making of this exact recipe in video form.

You're welcome to try bread flour, though we'd suggest adding an additional 2 teaspoons of water for every cup of bread flour to make up for the extra absorption. If you have any questions that aren't answered by the Sourdough Guide (which has a great FAQ page) our bakers would be happy to assist you further at 855-371-BAKE (2253). We wish you luck on your sourdough journey, Annabelle@KAF
After 3 weeks of feeding my sourdough starter and getting it to behave, some thrown out trials,and more trial and error, and 12 hours after starting the baking process, with some interruptions I finally got the most amazing bread, I could not resist to taste it after the cooling period and it was delicious. i followed the recipe as if it were my bible, and I am really proud of my product. Bread rose and it is chewy and crusty and just great. Your recipe was amazing and will do it again in the future. thanks
Made this for friends for New Year's breakfast in an unfamiliar kitchen and it was the best sourdough I've made. Great crumb and it looks amazing. Would like a bit more tang so for this next loaf I fed my starter and put in the fridge overnight. Taking the KAF sourdough class in Feb. Can't wait!!!
I have been trying to master baking sourdough for about a year. So far, my outcomes have been hit-and-miss. I finally found KAF sourdough guide and decided to try again. I finally achieved a really good loaf of sourdough! Thank you, KAF!!
This bread has a fantastic crumb and nice sourdough flavor. This is now my go to weekly sourdough recipe!
i baked my loaf at 225f since that was the highest settings in my oven. came out having a nice color but a tough bottom which needs quite bit of effort to chew.. how to achieve a thin crispy crust?

The longer bake was likely the cause of the tougher bottom crust, David, but using steam in the oven could help! Try preheating your oven with a cast iron pan on the bottom rack. Right after putting your loaf into the oven, pour a couple of cups of boiling water into the cast iron pan and quickly close the door to trap the steam. Annabelle@KAF
Wow! It's hard to be humble when I've just made such amazing loaves of bread! Thanks KAF for a terrific recipe. I followed it exactly and got delicious results. Great sandwich bread and also fabulous for Fresh toast.
I would give this recipe more stars if I could. Make according to instructions. Wonderful flavor
This is the second sourdough recipe I've tried. My last recipe resulted in a very nice, airy crumb but it didn't have as much tang as I'd like, which is why I tried this recipe. This recipe did have more tang. It was a very tasty bread. It didn't have the airiness and the giant holes that I like to see. I believe my dough was over-proofed resulting in the flatter loaf. I will try it again because the flavor was very good.