A customized print-friendly version of this recipe is available by clicking the "Print Recipe" button on this page.
Naturally Leavened Sourdough Bread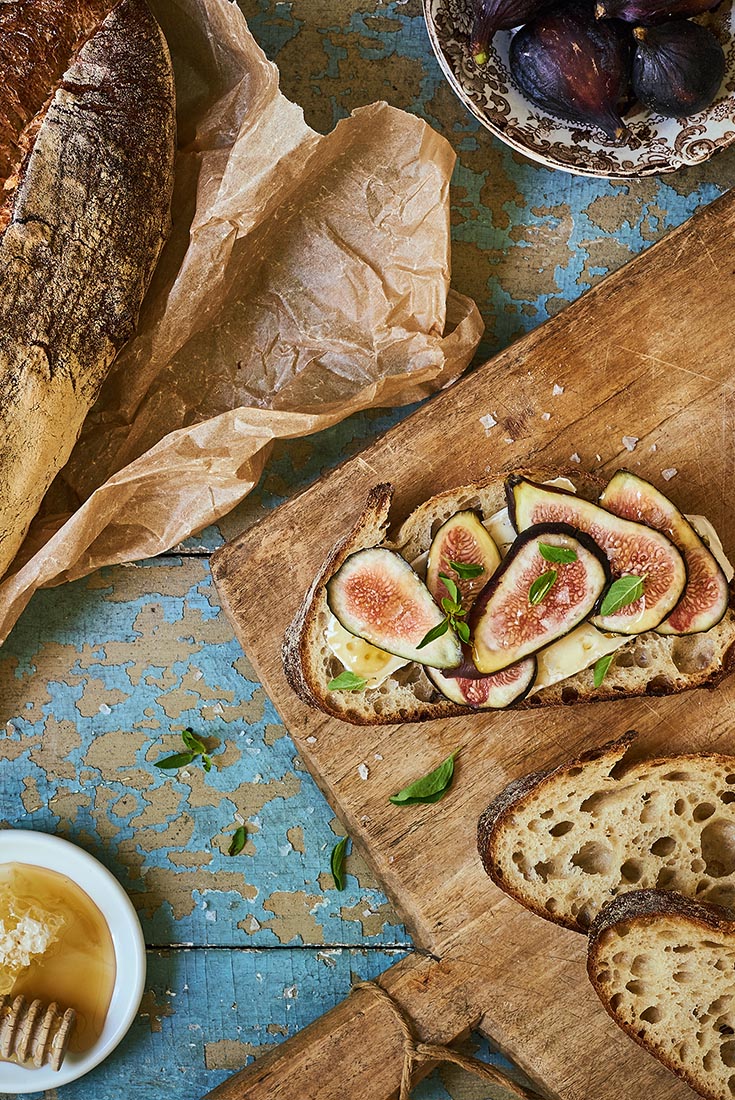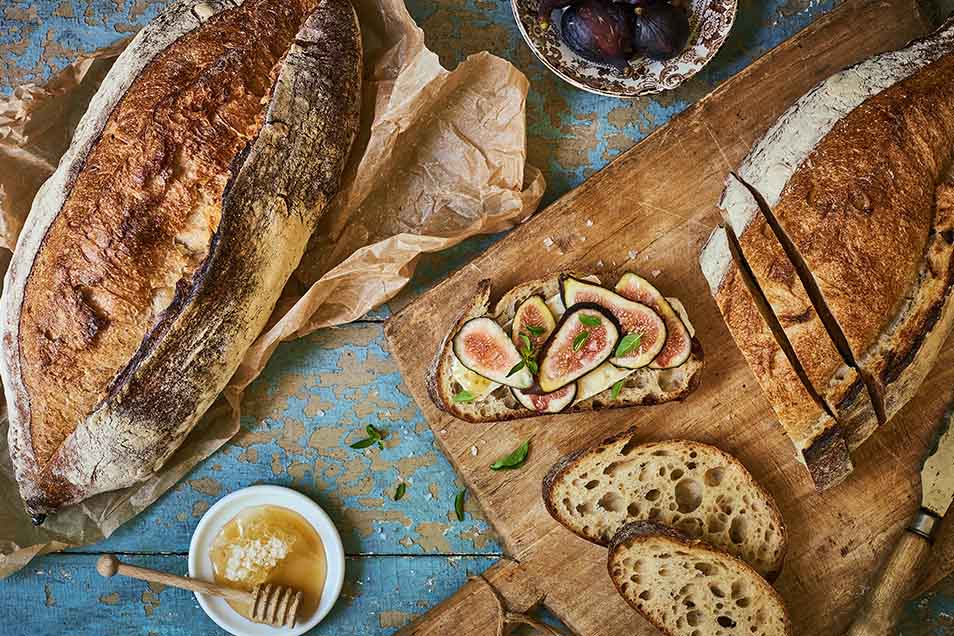 This bread, with its deep brown crust, rich, deep, flavor, and mild tang relies on ripe, active starter for its rise. Without the addition of commercial yeast, it's a true artisan loaf. Are you a beginning sourdough baker? Please start with our Rustic Sourdough Bread recipe, which offers the added security of commercial yeast. Once you master that, move on to this loaf, which is more appropriate for intermediate sourdough bakers.
Instructions
If you're measuring the sourdough starter using volume rather than weight, stir it down before measuring. Combine the starter, flours, and water in a large bowl and mix well, until all of the flour is moistened and the dough has formed a cohesive mass. Add extra water or flour if needed to form a soft, tacky dough.

Cover the dough and let it rest for 20 minutes. This rest, known as an autolyse, allows the flour to absorb the water, which starts the dough's gluten formation, and makes it easier to knead.

After the rest, add the salt and knead the dough until it's smooth and supple, though still somewhat soft and tacky. When fully kneaded, place the dough back in the bowl, cover, and let it rise for 1 hour.

Give the dough a fold: Turn it out onto a floured surface and, using a bowl scraper or bench knife, fold it like a business letter. Turn the dough 90 degrees. Gently flatten it a bit, and repeat the letter fold. Return the dough to the bowl, cover, and let it rise for another hour.

At the end of the rise, turn the dough out onto a lightly floured surface and divide it in half. Gently shape into two rounds, cover, and let rest for 20 minutes.

After this rest, shape the loaves into tight rounds, and place them seam side up in bowls lined with floured cloth, or on a cloth couche. Cover and let rise until light and airy, about 2 to 2 1/2 hours.

About 60 minutes before the bread is ready to bake, preheat the oven with a baking stone in it (if you have a stone) to 450°F. For the best crust, place an empty cast iron frying pan on the oven rack below the stone to preheat.

When the loaves are risen, gently turn them out of their bowls onto parchment, slash them with a sharp knife or lame, and slide the parchment directly onto the stone in the oven. If you're not using a stone, turn them out onto a parchment-lined (or lightly greased) baking sheet, slash them, and place the baking sheet in the oven.

Pour 1 cup of boiling water into the cast iron frying pan. Be sure to wear good oven mitts to prevent steam burns.

Bake the bread until it's crusty and golden, about 35 to 40 minutes. Remove the loaves from the oven and cool on a rack before slicing.

Store leftover bread, in a paper bag or loosely covered in plastic, for a day or so at room temperature; wrap and freeze for longer storage.
Reviews
Good afternoon, I have used this recipe previously but as I am travelling I have no starter with me, could you please tell me how to make the starter? My son-in-law is on a gluten-free/reduced diet, and I wonder how would this recipe work for him? If I use the commercial gluten-free baking flour will the recipe continue to work as well? Thank you for any assistance you may be able to provide.

Hi Johanna, you can find full instructions for making a sourdough starter in the recipe section of our website. Simply type "sourdough starter," into the search box above. We don't recommend converting yeast bread recipes to be gluten-free; instead we recommend using a designed-to-be-gluten-free recipe, like our Gluten-Free Sandwich Bread recipe. You can also consider following our recipe for Gluten-Free Sourdough Starter, which can also be found in the recipe section of our website. You can then try substituting the gluten-free starter into other gluten-free bread recpies to add a pleasant sour tang. Good luck and happy GF baking! Kye@KAF
I really appreciate your web site, and this recipe for bread using only flour, water and salt. I used the recipe here for making the starter, but had trouble getting the full yeasty action, so I've been adding one tablespoon whole wheat to every feeding. I like a traditional loaf, so I do my last rise in an oiled bread pan. My only trouble is that the top of the loaf always burns a little, even tonight, when I pulled it out at 30 minutes. I don't know if I should cover the loaf with foil halfway through, reduce the temperature, or something totally different. The bread tastes great, even so. Any advice would be appreciated. I had never heard of King Arthur flour before the search for making sourdough, but now I use it all the time.

We're so glad that this recipe has been a hit and that you've been enjoying our flour! To keep your loaf from burning, you can absolutely tent it with foil half way through. It may also help to bring the loaf closer to the bottom of your oven. If you have an upper heating unit, it could be toasting the top faster than the rest of the loaf. Happy baking! Annabelle@KAF
My second loaf is in the oven as I type this, and I couldn't hold back from commenting. I have been learning to bake sourdough bread for 4-5 months and consistently ended up with low rises, an impenetrable crust, and a less than ideal taste. THIS. RECIPE. IS. INCREDIBLE. This whole time I've been under the impression that I needed to dedicate the better part of my week to making a loaf. This was ready in 4 hours, with a GORGEOUS golden crust (that I could actually bite into without chipping a tooth), a beautiful rise, and it tastes like it just came out of a bakery. The only thing I'm wondering is whether I could store it in the fridge overnight for a tangier taste -- I will experiment. I don't think I'll be using another recipe for a long time. Thank you KAF!
Just read an article about naturally raised sourdough bread being easier on the digestive system. Need to be home to readjust dough a few times, worth the steps. My baking stone blew apart after preheating and pouring in boiling water. Should have used grill stone - thicker. Great crust

Luvncookies, while we're glad to hear that your sourdough bread turned out deliciously, we're sorry to hear about the loss of your baking stone. We recommend using extreme caution when pouring boiling water into a hot oven, as thermal shock can cause materials like baking stones and even the glass on your oven window to crack. If you or other bakers find this method to be too intimidating, you can try spritzing the loaves with water in a spray bottle right at the beginning of the bake. We hope you're able to replace your stone and get back to baking soon! Kye@KAF
I baked this bread after gathering the courage to make my own sourdough starter (following the KA recipe). I just started baking bread about a month ago, so I'm still a newbie, but things never went wrong with any of the KA recipes I've tried so far. This bread was delicious, I made it several times and it's my show-off recipe for sourdough bread!
Literally my first sourdough, made from my first starter, which is about three weeks old now (I know I was told to try the commercial yeast version first, but I tend to be stubborn about challenges). My dough required MUCH more than an hour for each of the rises before shaping; I just tried to monitor it by feel and size rather than time. I'm so happy with how it came out; I think I browned the crust a LITTLE too zealously but it's still delicious, and the crumb is better / more open than it's been with my added-yeast breads. This is going to be the recipe I keep repeating until I get better at this.
I could finally use my bubbly starter (which was from scratch using KAF recipe again). in this recipe without any additional assistance(commercial yeast). The flavor and the texture is unbeatable. I cut this recipe in half because its just too much for a household of two. I also substituted half of the all purpose flour with bread flour because I love bread with a bit more bite and I read that KAF all purpose flour supposed to have more gluten than other brand, but i couldnt find KAF flour at my local store. My only problem with this receipe is the outside of the loaf is a bit burnt to my taste. Should i lower the oven temperature? Or should i just shut it off sooner and let the residual heat finish cooking the bread?

Hi Karzi. Try lowering your oven temperature by 25°F. It might take a bit longer, but as soon as the center of your loaf reads 190°F on a thermometer it's ready to come out. Annabelle@KAF
Made this one twice, first time pretty much according to the instructions and in Dutch oven. Gorgeous bread, nice n chewy. Second time really stretched out the rise in the fridge over a full 24 hours. (Part of it was b/c I forgot I had left the starter in the oven, so with all that happy starter, I was on the hook for making it.) this one came out very nicely as well. After the fridge, I shaped it and left it out at room temp a few hours, to puff up. When I baked it, it was very big, maybe a little softer. Is it normal for a baked loaf to taste more sour over time? It seems very mild fresh baked, but the leftovers after a day or two.more tart.

It is normal, Marcia! Our former head bread baker used to say that sourdough won't really be sourdough until the day after it's been baked. That's when the sour flavor truly comes through after a thorough cooling. Who knew? Annabelle@KAF
Yes I made it, it's a very soft crumb bread, first time getting a bread like this one, so this will be my only recipe, thank you KAF! I only have a question: if I want ti bake it next day is it ok to leave it in the fridge overnight?

Absolutely, Anna! Once you've shaped your loaf, cover it loosely with plastic wrap (or put the lid on if you're using a Dutch oven) and pop it in the fridge over night. While your oven is preheating the next day, pull out your loaf and let it become puffy before putting it in the oven. Happy baking! Annabelle@KAF
This was the first sourdough recipe I've ever made. I followed the Sourdough Starter recipe from King Arthur and used that for this bread. I was intimidated by the wetness of the dough, however the bread turned out perfect in the end. I refrigerated the dough overnight in the fridge and baked it the next day. Will definitely be making this again. Feels very satisfying to have succeeded in making good sourdough on my first attempt!