A customized print-friendly version of this recipe is available by clicking the "Print Recipe" button on this page.
Naturally Leavened Sourdough Bread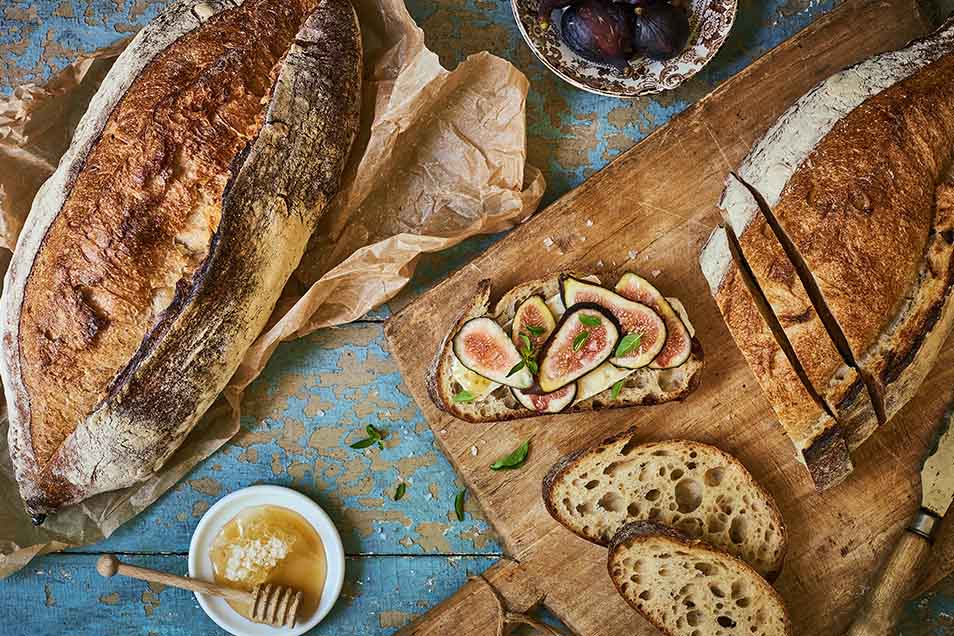 This bread, with its deep brown crust, rich, deep, flavor, and mild tang relies on ripe, active starter for its rise. Without the addition of commercial yeast, it's a true artisan loaf. Are you a beginning sourdough baker? Please start with our Rustic Sourdough Bread recipe, which offers the added security of commercial yeast. Once you master that, move on to this loaf, which is more appropriate for intermediate sourdough bakers.
Instructions
If you're measuring the sourdough starter using volume rather than weight, stir it down before measuring. Combine the starter, flours, and water in a large bowl and mix well, until all of the flour is moistened and the dough has formed a cohesive mass. Add extra water or flour if needed to form a soft, tacky dough.

Cover the dough and let it rest for 20 minutes. This rest, known as an autolyse, allows the flour to absorb the water, which starts the dough's gluten formation, and makes it easier to knead.

After the rest, add the salt and knead the dough until it's smooth and supple, though still somewhat soft and tacky. When fully kneaded, place the dough back in the bowl, cover, and let it rise for 1 hour.

Give the dough a fold: Turn it out onto a floured surface and, using a bowl scraper or bench knife, fold it like a business letter. Turn the dough 90 degrees. Gently flatten it a bit, and repeat the letter fold. Return the dough to the bowl, cover, and let it rise for another hour.

At the end of the rise, turn the dough out onto a lightly floured surface and divide it in half. Gently shape into two rounds, cover, and let rest for 20 minutes.

After this rest, shape the loaves into tight rounds, and place them seam side up in bowls lined with floured cloth, or on a cloth couche. Cover and let rise until light and airy, about 2 to 2 1/2 hours.

About 60 minutes before the bread is ready to bake, preheat the oven with a baking stone in it (if you have a stone) to 450°F. For the best crust, place an empty cast iron frying pan on the oven rack below the stone to preheat.

When the loaves are risen, gently turn them out of their bowls onto parchment, slash them with a sharp knife or lame, and slide the parchment directly onto the stone in the oven. If you're not using a stone, turn them out onto a parchment-lined (or lightly greased) baking sheet, slash them, and place the baking sheet in the oven.

Pour 1 cup of boiling water into the cast iron frying pan. Be sure to wear good oven mitts to prevent steam burns.

Bake the bread until it's crusty and golden, about 35 to 40 minutes. Remove the loaves from the oven and cool on a rack before slicing.

Store leftover bread, in a paper bag or loosely covered in plastic, for a day or so at room temperature; wrap and freeze for longer storage.
Reviews
I'm in the middle of the rise and it's not rising. Several questions: 1. Does kneading have a big effect on rise? It was hard to tell how much to knead compared to a drier dough. 2. Can I refrigerate it midway through the 2+ hour rise and then let it rise again the next day. Hoping this is ok, because it's what I'm going to have to do this time. 3. When increasing my starter to make enough for the recipe, I'm a little confused. I fed it, set it out for a couple of hours and then put back in the fridge. How do I know when it's ready, and how can I time it to plan ahead--I can only bake on the weekends.

It sounds like you have lots of questions, Kelly, and we'd love to have a conversation with you to go through them all, so we ask that you please call our free and friendly Baker's Hotline staff at 855-371-BAKE (2253). If you ever have questions in the midst of a recipe we definitely recommend calling because customers receive no notifications if we answer here. We want you to get your answers fast! Kindly, Annabelle@KAF
How to I remedy my dough after the 1hr rest if it is sticking to EVERYTHING? Help!

The sticky situation can end, Fiona! Search "How to knead wet dough by hand" in the search bar above to view our step-by-step blog article addressing this issue.

A quick solution is to liberally flour everything, including the top of the dough in the bowl, use a clean bowl scraper to plop the dough onto the counter flour-side-down, sprinkle the top with more flour and pat it in gently with clean hands. It should feel like you're patting a giant powdered sugar covered marshmallow. Cover it with plastic wrap and let it rest on the counter for 15 minutes.

It should be somewhat more cooperative after that, but the blog will be the best resource for dealing with this problem without adding a bunch of flour. Annabelle@KAF
Great recipe. I am curious about one thing: why do you wait for the kneading step to add the salt? Why not add it with all the other ingredients? Thanks.

Hi Jon, this process is known as autolyse, when some of flour and water (and sometimes a starter) are mixed together and allowed to rest for a brief period of time. The benefit is that it makes the dough more extensible (elastic, shapable, and easier to work with). It also adds flavor and makes the bread stay fresh longer. It's a simple step that's worth including in your process. Happy baking! Kye@KAF
Should the first rise go just for the 2 hours or should we look for it to double in size? Also, can these be baked in cast iron pots?

Hi Stephanie! Always follow what the dough is doing rather than the clock, so aiming for doubling in size is perfect. And you can use cast iron no problem, we'd just recommend lining it with parchment paper for easy removal. Annabelle@KAF
This is my first attempt at baking this bread. It came out wonderful. The starter took 9 days to make, but very worth it. I tried the bake in two ways, because I only have one stone, thank God I have two ovens. So, for one I baked it on the stone and added steam. The 2nd one I baked in an 8" cast iron kettle for 20 minutes covered, 15 without the cover. They both came out beautiful, the one on the stone was a bit darker. However, the crust is crispy and the interior is soft. Thanks KAF. Another good recipe to add to my baking book.
I'm in the middle of baking, and my dough is so sticky that I'm worried it's going to adhere to the couche and I wont' be able to get it off. Help!

Hi there fellow baker! This recipe does produce a soft, tacky dough but if your dough is so sticky that it sticking to absolutely everything you may want to gently work in a little more flour. Also, the couche should be well floured, so you'll want to keep that in mind when deciding if you should add more flour to your dough. Happy baking! Morgan@KAF
Can I use my Kitchen-aid to kneed the dough next time?

Hi K. You're welcome to use a mixer with this dough. You'll want to keep it at a low speed, 1 or 2, for about 5 minutes or until it's soft, fairly smooth, and marshmallow-like so it bounces back when you press on it. Happy baking! Annbelle@KAF
This recipe is amazing! It has become my weekly bread bake recipe! I have found that the weather really does impact the loaf: we are having unseasonable warm weather in California and my starter is about as happy and productive as can be! It might sound crazy, but the dough even smelled different (really lovely and "smooth" aroma). I have a question: I ran out of AP flour and used bread flour instead. I dont know if it was my robust, bubbly starter from the warm weather or the bread flour, but the rise and crumb were amazing on my bake this weekend. Can you please explain why you recommend AP flour in the recipe and/or if the flour was what helped my loaves this time? Maybe I just got really lucky!

Hello! Bread Flour has a higher protein content than All-Purpose Flour does, giving it a stronger gluten structure. That stronger structure lets things rise a little higher and give a chewier texture. You can totally use Bread Flour if you'd like, just know you might have to add in a little more water since it absorbs more liquid than an all-purpose flour does. Both flours will work just fine, so go with your favorite! Annabelle@KAF
Outstanding recipe! The 'Learn' tab on the main page was SO helpful in guiding me through this recipe. I finally have a successful starter, wonderful 'discrard starter' recipies and loaves of true sourdough bread that I am so proud of- I have never been more proud of my food before! The baker hotline was also very helpful when working through the starter phases. Thank you KAF!
I'm 52 and have been in culinary arts, my entire life. But! This is the first true Sourdough. I was always a tad intimidated. Not ANYMORE. Thank you King Arthur. What beautiful bread. I only have one problem. I haven't the heart to discard any starter. I hate waste and they're alive. Thank goodness for the holidays. I'll be giving Artisan Bread as gifts.