A customized print-friendly version of this recipe is available by clicking the "Print Recipe" button on this page.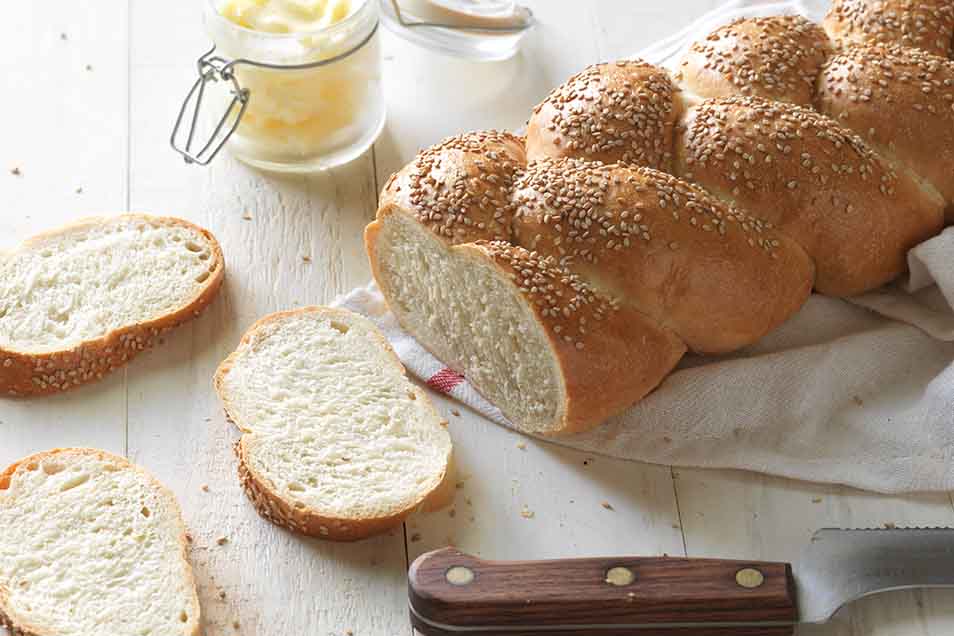 Crunchy and redolent of toasted sesame, this loaf is a great accompaniment to your favorite Italian feast.
Ingredients
Topping
3 tablespoons toasted sesame seeds or whole flax seeds, golden preferred
1 beaten egg white
Instructions
Mix and knead all of the dough ingredients — by hand, mixer, bread machine or food processor — until you've made a smooth, elastic dough.

Place the dough in a lightly greased bowl, turn to coat, cover, and allow it to rise for 1 1/2 to 2 hours, or until puffy.

Gently deflate the dough, and divide it into three equal pieces; each will weigh about 9 to 9 1/4 ounces. Roll each piece into a 20"-long rope, tapering the ends slightly.

Place the ropes on a lightly greased or parchment lined baking sheet. Braid them loosely; pinch the ends together, and tuck them under.

Brush the loaf with the beaten egg white, then cover the braid and let it rise for about 1 to 1 1/2 hours, or until it's quite puffy.

While the bread is rising, preheat the oven to 400°F.

Immediately before you put the loaf in the oven, brush it again with the egg white and sprinkle the sesame seeds or flax seeds on.

Bake the braid for 20 to 25 minutes, until it's golden brown. (Tent it lightly with aluminum foil after 15 minutes, if it appears to be browning too quickly.)

Remove the braid from the oven, and cool it on a wire rack.

Store, wrapped, at room temperature for up to 5 days, or freeze for up to 3 months.
Reviews
I used 8 oz sourdough starter in this recipe because I love how much flavor it puts into the bread. I reduced water by 4 oz and flour by 4 oz and brought the yeast down to 1 tsp. Refrigerated it overnight and baked in the morning after an additional rise. This came out amazing!! The second rise took a little bit longer than expected but otherwise this recipe is a keeper!
Excellent recipe that is also simple. I make this 2-3 times per month. I love the simplicity of ingredients and method. I usually make 150% of the recipe and skip the braiding, instead just doing 2 long loafs. I make mine with KAF bread and AP flour mix. I have done a partial whole wheat (20-30% of total flour) with success. Thank you KAF.
I love this recipe. My first loaf lost its shape and flattened out more than I expected. The braids merged together. Does that mean I over proofed it? Hi Lulu, next time try rolling the strands of dough in a bit of flour before braiding. This helps them stay distinct and prevents them from merging together in the oven. You can also consider adding just a touch more flour to the dough itself. Resist adding too much, as it can make the bread dry and heavy &emdash; just a few tablespoons more might be all you need to help the loaf keep its shape. Kye@KAF
Simple delicious and always perfect
I have been wanting to make this bread, but I am surprised there is no sugar to activate the yeast and what temp should the water be. I am very familiar to making homemade bread, but have never made it without lukewarm water.

Thanks for your interest, Isabelle! While sugar does help to jumpstart yeast activity, it's not necessary in bread, as yeast is able to break down the starches in flour into sugar. To your other point about the water, as with most yeast breads, lukewarm temp is preferable. Hope this helps to set you on the road towards a happy bake! Mollie@KAF
Finally, an Italian bread that has the perfect taste and texture! I must have done something wrong though, and would love to hear from KAF staff to enlighten me of what could be my problem: I use a kitchen scale to measure the flour and Red Star Active Dry Yeast and follow the recipe down to a T. Also, I'm afraid to put too much flour in my bread recipes and I choose to get a soft dough that remains a little bit sticky before laying it in a lightly oiled bowl. Furthermore, after the first rise, I lightly oil (with the same oil found in the bread recipe) the counter top when rolling the dough to make the ropes and maybe that could be the problem? Every time I've made a braided bread (egg bread, challah, etc), the braids are never as defined as the pictures (as if I had made a "failed attempt" to braid the bread - LOL). They don't rise that well as they are much larger than high once fully baked. This Italian Sesame Bread recipe was no exception and I brought it to share with friends to a New Year's Eve dinner party. They were all wowed by this bread as the taste and texture were perfect, but I know that my final result wasn't even looking as close to your picture. So I'm wondering what could be the probable cause for the mishapen top crust? Thank you in advance for your help! :D

Hi Josee, you're following all the right steps to make a soft-crusted, moist bread. However, if you want the strands in the braid to stay a bit more defined, try adding a bit more flour to the dough. A stiffer dough will hold its shape better; also try rolling the strands in a light dusting of flour before braiding. This will prevent them from forming together into one big braid while they rise. Last tip? Consider using King Arthur Bread Flour; its higher protein content will give the loaf the support it needs to rise high. Kye@KAF
A "go to" recipe. A real crowd please. Makes you look accomplished while ensuring that your true mediocrity as a baker remains unblemished. Just tried it out in preparation for a Christmas invasion at our house. Perfect for the mixed tasting plate we've planned as a starter. Slices of this will be turned into small squares of bruschetta.
Easy to make and delicious. I substituted 1/3 cup semolina for all purpose and used artisan bread topping instead of sesame seeds. Goes great with homemade soup for a fall dinner and makes excellent toast.
Thanks for another great recipe. It turned out perfectly. A pretty loaf and the sesame seeds add wonderful flavor. Using a scale to weigh ingredients produced dough that was easy to braid. This one, like most recipes here, is a keeper!
Oh my gosh! How easy it was to make it and it looks like the picture. Went by the recipe to the letter and it turned out great! I work in Hospice and I think this will make a good Christmas gift for the families that I see. Thx King Arthur flour...couldn't bake without you!!