A customized print-friendly version of this recipe is available by clicking the "Print Recipe" button on this page.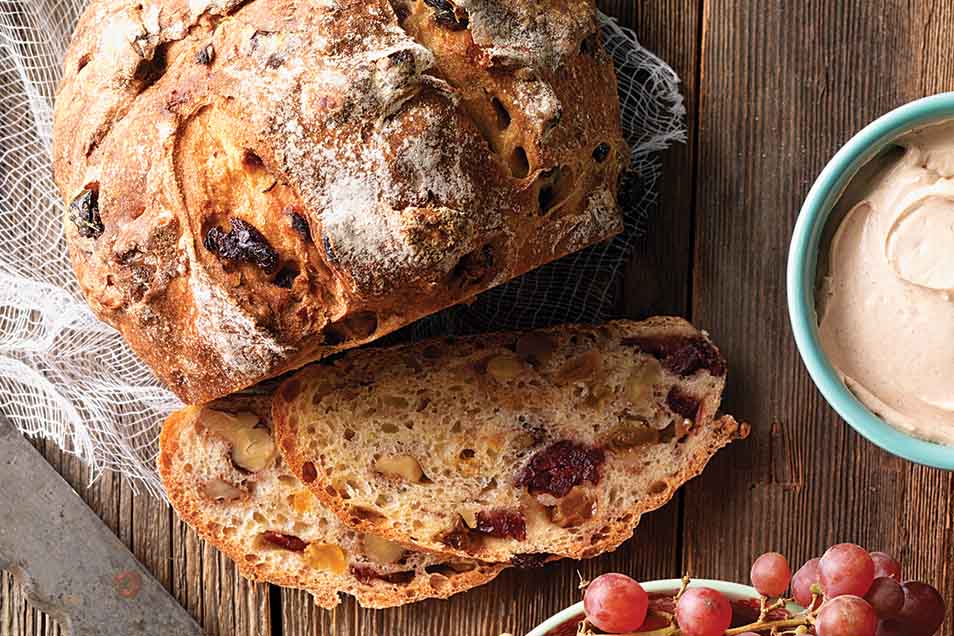 Plan ahead for this easy bread—an overnight or all-day rise gives it terrific flavor. For the best crust, bake in a ceramic bread crock, or a covered clay baker.
Instructions
Mix the flours, salt, yeast, and water in a large bowl. Stir, then use your hands to mix and form a sticky dough.

Work the dough just enough to incorporate all the flour, then work in the fruit and nuts.

Cover the bowl with plastic wrap, and let it rest at room temperature overnight, or for at least 8 hours; it'll become bubbly and rise quite a bit, so use a large bowl.

Turn the dough out onto a lightly floured surface, and form it into a log or round loaf to fit your 14" to 15" long lidded stoneware baker; 9" x 12" oval deep casserole dish with cover; or 9" to 10" round lidded baking crock.

Place the dough in the lightly greased pan, smooth side up.

Cover and let rise at room temperature for about 2 hours, until it's become puffy. It should rise noticeably, but it's not a real high-riser.

Using a sharp knife or lame, slash the bread in a crosshatch pattern. Place the lid on the pan, and put the bread in the cold oven. Set the oven temperature to 450°F.

Bake the bread for 45 to 50 minutes, then remove the lid and continue to bake for another 5 to 15 minutes, until it's deep brown in color, and an instant-read thermometer inserted into the center registers about 205°F. Remove the bread from the oven, turn out onto a rack, and cool before slicing.
Nutrition Information
Serving Size

77g

Servings Per Batch

16
Amount Per Serving:
Calories

196

Calories from Fat

49

Total Fat

5g

Saturated Fat

1g

Trans Fat

0g

Cholesterol

0
Sodium

293mg

Total Carbohydrate

33g

Dietary Fiber

3g

Sugars

7

Protein

5g
* The nutrition information provided for this recipe is determined by the ESHA Genesis R&D software program. Substituting any ingredients may change the posted nutrition information.
Tips from our bakers
Using High-Gluten Flour, with its higher protein level, allows this bread to rise higher than it will with all-purpose flour.
Walnuts sometimes give this bread a faint purple tinge. If this bothers you, use pecans instead.
Reviews
Nice bread for a fall day! I started baking the bread in my covered clay baker at 450 degrees. As my oven was pre-heating, I re-read some of the reviews. I decided to turn down the oven to 400 and am glad that I did. The bread was done in 45 minutes after the pre-heating alarm went off. I didn't uncover the baker and the bread was still a deep brown and yes, the top raisins were slightly burnt. After the bread cooled for a short time, I rolled my finger over the burnt raisins and they fell off. Problem solved! The bread was light and tender with a chewy, crisp crust. I'll definitely make the bread again. I'm anxious to try it with different nuts, dried fruits and maybe the cinnamon or orange zest. A keeper recipe!
I made this bread for the first time a little over two years ago, baked a loaf again today, still an excellent recipe. For those stressing over what to bake it on, or in, after rolling it into a log and proofing for an additional 2 hours, I put a Silpat mat on a cookie sheet pan and baked it just the way it was. The nice chewy crust is the way I like my artisan bread. Definitely going on my Thanksgiving table again this year. I'm still making French toast with it too.
I made this bread for the first time the other day and loved it. I did leave out the cranberries as I'm not a fan of them. I thought about adding extra raisins, decided not to, but will add a half cup extra next time I make it. I also noticed the raisins on the top burned, as did a little of the bottom of the loaf in a couple of small spots, so will make sure to not leave any raisins on the outside in the future. Or, I may try cooking this the same way I make other no-knead breads by pre-heating the oven and the Dutch oven I baked it in. This loaf makes great toast, but not sandwiches, IMO. I've been making bread for years (and years) and will definitely add this one to my rotation. Thanks!
Called in due to no whole wheat flour, Substituted half pumpernickel and half all purpose flour along with an eighth of a cup of extra water. Used dried cherries in place of cranberries. Found out baking time is from when oven beeps at 450F. Baked in a ceramic bowl and sealed the top with aluminum foil. Beautiful, delicious very crusty bread!
Made this for the first time today-- I would be able to eat the entire loaf if I allowed myself! Delicious especially this time of year, autumn! A warm slice with some salted butter, a meal!
Delicious Harvest bread recipe. Came out wonderful. The only thing I would change is the amount of salt. I little too salty for my taste and would decrease it to 1 teaspoon salt.
Delicious, airy, nice crust. I read the other reviews and turned my oven down to 420 degrees, for 40 min. and then 10 min. without the lid on. The loaf was great. I used 1/2 cup of rye flour and 1/2 cup of all purpose instead of 1 cup of wheat. I used an oval enamel pot. The loaf was a little short and flat --but didn't effect the taste. It sat overnight and the second rise was three hours because I wasn't home.
I wish I could send a picture. This bread came out delicious as well as beautiful. I did use the long lidded stoneware baker. I also used 2 teaspoons of instant yeast. (never had any luck with the small amount of 1/2 tsp in other no knead recipes). I let it rise overnight for about 12 hours and for the second rise I let it go for about 3 hours. I also cooked it at 400 degrees as others had stated the higher temperature had made it too dark. At 400 it came out perfect.

We'd love to see a picture, ChristieAnn! Head over to our Facebook page or Instagram paged linked in the Contact area of our website and we'd be thrilled to see them there. Just tag us with #kingarthurflour and we'll be sure to see it. Thanks for sharing your experience! Annabelle@KAF
I've made this bread twice in my 5 quart cast iron Dutch oven. The first time I worked the dried fruits and nuts in as the recipe is written, which was difficult. The second time I dumped everything in the mixing bowl and let my Kitchen-Aid mixer mix it all together. Much easier! This is the favorite bread in my house (so far) and I will definitely make it again. I put a sheet of parchment paper in the Dutch oven and spray lightly with cooking spray. When it is finished baking, just lift the loaf out of the pan by grabbing the corners of the paper. Super easy and very tasty toasted.
So good! Been making this for quite a few years in my clay baker. Lost the recipe a few weeks ago and am delighted it is still available. I often make it into your Harvest Bread Crisps for a nice treat without as much sugar as cookies. I don't sprinkle as much sugar on top as the crisp recipe calls for and they are just as good. When I do make crisps, I bake it in mini loaf pans so it slices into nice size pieces.