A customized print-friendly version of this recipe is available by clicking the "Print Recipe" button on this page.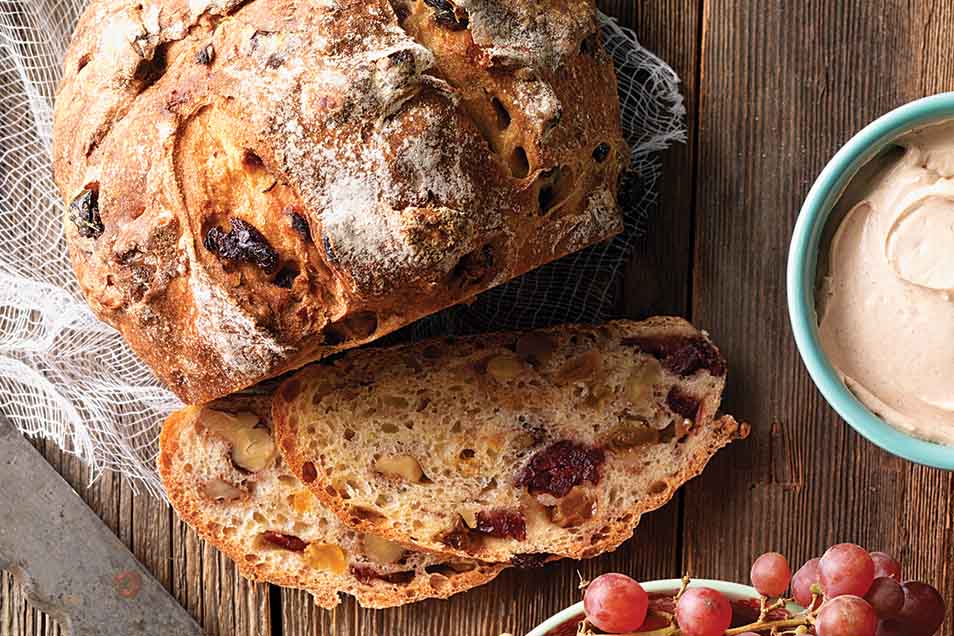 Plan ahead for this easy bread—an overnight or all-day rise gives it terrific flavor. For the best crust, bake in a ceramic bread crock, or a covered clay baker.
Instructions
Mix the flours, salt, yeast, and water in a large bowl. Stir, then use your hands to mix and form a sticky dough.

Work the dough just enough to incorporate all the flour, then work in the fruit and nuts.

Cover the bowl with plastic wrap, and let it rest at room temperature overnight, or for at least 8 hours; it'll become bubbly and rise quite a bit, so use a large bowl.

Turn the dough out onto a lightly floured surface, and form it into a log or round loaf to fit your 14" to 15" long lidded stoneware baker; 9" x 12" oval deep casserole dish with cover; or 9" to 10" round lidded baking crock.

Place the dough in the lightly greased pan, smooth side up.

Cover and let rise at room temperature for about 2 hours, until it's become puffy. It should rise noticeably, but it's not a real high-riser.

Using a sharp knife or lame, slash the bread in a crosshatch pattern. Place the lid on the pan, and put the bread in the cold oven. Set the oven temperature to 450°F.

Bake the bread for 45 to 50 minutes, then remove the lid and continue to bake for another 5 to 15 minutes, until it's deep brown in color, and an instant-read thermometer inserted into the center registers about 205°F. Remove the bread from the oven, turn out onto a rack, and cool before slicing.
Nutrition Information
Serving Size

77g

Servings Per Batch

16
Amount Per Serving:
Calories

196

Calories from Fat

49

Total Fat

5g

Saturated Fat

1g

Trans Fat

0g

Cholesterol

0
Sodium

293mg

Total Carbohydrate

33g

Dietary Fiber

3g

Sugars

7

Protein

5g
* The nutrition information provided for this recipe is determined by the ESHA Genesis R&D software program. Substituting any ingredients may change the posted nutrition information.
Tips from our bakers
Using High-Gluten Flour, with its higher protein level, allows this bread to rise higher than it will with all-purpose flour.
Walnuts sometimes give this bread a faint purple tinge. If this bothers you, use pecans instead.
Reviews
I love this bread - I love it! And I haven't even made it with the dried fruit additions. I just love the crust and crumb. However, I'm trying to eat less white flour. Is there a ratio I can use to up the amount whole wheat and lower the white flour yet still keep the texture? (Is this just wishful thinking?)

Swapping one more cup of all-purpose for whole wheat should be OK, Laura, you'll just want to add about 2 extra teaspoons of water to compensate for the extra absorption. Happy baking! Annabelle@KAF
Baker for 50+ years...some as professional when I was very young...and this recipe worked out very well with the problem I have with my current oven not letting me bake over 430 (independent thermometer cause stove thermo says 500 but isn't). I like to test out new recipes as a hobby but find my oven is my biggest problem. THIS recipe (I chose no nuts, just fruit)worked well at a lower temperature...and I picked it because it said you could put dough into baking pan to proof. I chose to do a stretch and fold 3 times in a 2 hr period in middle of the night...the shaped about 7 hours later...into a banneton (linen). Beautiful dough, good bubbles. I put proofed dough after 1 35 mins into an unheated pyrex dish covered with the unheated bowl portion of the 2.5 qt set. Removed 15 mins (cause dough was starting to touch top)...and finished baking. While it was NOT a dramatic ear singed loaf...it was a beautiful loaf with good height and moisture. I wrapped bread in towel after 20 mins...and the crust was still very friable...thin....and easy to chew. I share bread with neighbor seniors...and it is hard for them to eat a bread baked high temp, in dutch oven. This worked very well...and tasted wonderful.
Followed the recipe using 1C white whole wheat flour and 3-1/4C unbleached better for bread flour and 2 1/4oz instant yeast packets. The dough was quite dry, barely able to incorporate all the flour. 5-1/2 hours into the rising time and nothing has happened. No clue what went wrong. Normally using a mixer I just add flour as necessary to the desired dough consistency but since is the first time I tried this no-knead bread, I used the measures specified in the recipe. I would like for this to be successful

Hi there, Chuck! One of the most common reasons why a dough might be a bit dry and not rise well is because too much flour is used. To ensure you're using the right amount, we recommend checking out the "Recipe Success Guide," link next to the ingredients header above. You'll see that either measuring your flour by weight using a scale, or fluffing and sprinkling the flour into your measuring cup are the best ways to ensure your recipe turns out perfectly. If we can help troubleshoot or chat further about this recipe, please give our Baker's Hotline a call at 855-371-BAKE (2253). Kindly, Morgan@KAF
Thank you for the recipe it's easy and delicious.
Oh my goodness, I can't stop eating this bread. I have been baking "no knead" bread for several years right after I heard about Artisan Bread in 5 Minutes but this Harvest Bread is the best bread I have ever made or ever ate for that matter. I mixed the dough last night and baked it off this morning using packages of mixed dried fruit (cranberries, cherries, golden raisins and blueberries) from Trader Joe's and used all of it (about 1 1/4 cup. I measured everything in grams and baked in a cast iron dutch oven. Thank you so much for sharing this wonderful recipe.
Made with active, not instant, yeast, proofing it with the warm water. Used 1 tsp and with a very long proof of the dough (overnight, then room temp for 4 hours) tasted very yeasty. Any idea on how much active dry yeast to use? Made with dried tart cherries, chopped dried apricots and pecans. Nice crumb, loaf held its shape. Kind of a joke bothering to bake in Le Crueset dutch oven, the shape remained, and I forgot to heed other commenters who recommended parchment so had to carve it away from the sides of the pan. Try again, less yeast, shorter rise and just formed into a round loaf placed on parchement on a baking sheet to rise the seond time, and then bake.

Renee, we recommend using the same amount of yeast whether you're using active dry yeast or instant yeast. And modern manufacturing methods being what they are, you no longer need to activate either in water, you can just go ahead and add the yeast to your dough. Active dry yeast will rise a little bit more slowly than instant yeast, but you'll get the same wonderful results. Happy baking! Kat@KAF
Can this recipe be made in a Corning Corelle covered casserole which can withstand heat to 450? I Have made this recipe before but not inside a baking crock

Hi there, Pat! As long as your dish can withstand the higher temperature and is deep enough, it should be just fine to bake this bread in there. You want the baking vessel to be about 6" to 7" deep so that the dough doesn't rise up into the lid. We hope this helps and happy baking! Morgan@KAF
This bread turned out great! Perfect breakfast toast with butter or cream cheese - YUM. When I - somewhat embarrassingly - discovered I was out of AP flour, the KAF hotline came thru and recommended that, among all the other flours I had on hand, I substitute bread flour. It worked great, and next time I am going to try the high-gluten flour. I am wondering - is it possible to use my sourdough discard in this bread as part of the leavening and flavor? I'm trying to discover all the easy and delicious things to quickly make with the discard as it kills me to ever toss it. :) Thanks so much!

Hi Kirsten! Since it's discard, it won't do much in the way of leavening, but adding some sourdough discard will impart flavor. You can do this for pretty much any yeasted recipe. Replace 120 g (1 scant cup) flour and 120 g (1/2 cup) of water from the recipe with 240 (about 1 cup) of your sourdough discard. Happy baking! Annabelle@KAF
I have made this bread DOZENS of times and no matter how long I let it rise or where I let it rise (sometimes partly in the refrigerator-timing factor) it comes out perfect! I have tried different dried fruit/nut combinations, adding a pinch of cinnamon , or orange oil and each time giving it a slight variation, all successful. I have modified the actual process a bit but not the recipe....always weighing using grams. I think that is THE most important part of this recipe. It is delicious for days and freezes really well. I purchased reusable linen bread bags (on Amazon) that I love to keep this bread in because it helps keep the bread fresher...and helps eliminate some plastic use. As far as the changes go..... I mix all the dry ingredients , including the fruit/nuts, except the salt. Add the water and mix with a dough mixer (one of my favorite hand held tools) until it just comes together then sprinkle salt on top and continue mixing until it forms a loose mass. Cover and let it rise overnight. I then form into a round and let the second rise in a brotform basket for about 3 hours. I put my covered bread Baker in a cold oven and set the temp for 450. Once temp is reached I turn out dough onto parchment paper, score the top and place in baker covered. I bake it for 40 minutes, take top off and bake uncovered for 5 more minutes and it comes out perfect. The top is a rich brown color and the fruit on top is not charred.
Outstanding! I split it into 2 smaller loaves and baked them in ceramic Le Creuset bakers with lids and lined with parchment paper. Spread with Fromage Blanc for breakfast . Wish I could attach a photo for you