A customized print-friendly version of this recipe is available by clicking the "Print Recipe" button on this page.
Japanese Milk Bread Rolls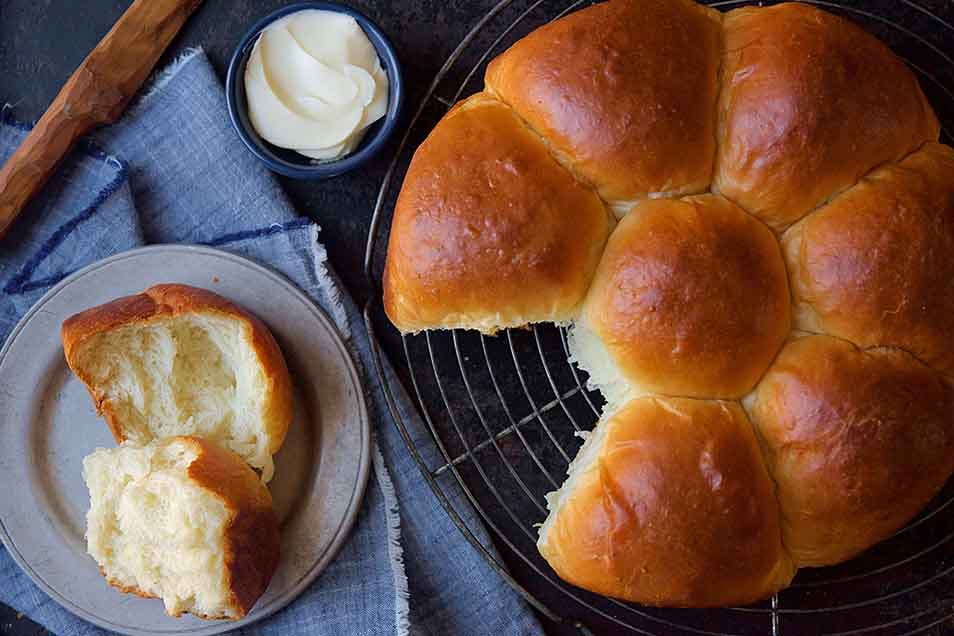 Also referred to as Hokkaido milk bread, these rolls are incredibly soft and airy thanks to a simple technique involving a roux "starter," known as tangzhong. The roux is mixed into the final dough, producing wonderfully tender bread each and every time.
Ingredients
Tangzhong (starter)
3 tablespoons water
3 tablespoons whole milk
2 tablespoons King Arthur Unbleached Bread Flour or Organic Bread Flour
Instructions
To make the tangzhong: Combine all of the ingredients in a small saucepan, and whisk until no lumps remain.

Place the saucepan over low heat, and cook the mixture, whisking constantly, until thick and the whisk leaves lines on the bottom of the pan, about 3 to 5 minutes.

Transfer the tangzhong to a small mixing bowl or measuring cup and let it cool to room temperature.

To make the dough: Combine the tangzhong with the remaining dough ingredients, then mix and knead — by hand, mixer, or bread machine — until a smooth, elastic dough forms.

Shape the dough into a ball, and let it rest in a lightly greased covered bowl for 60 to 90 minutes, until puffy but not necessarily doubled in bulk.

Gently deflate the dough, divide it into 8 equal pieces, and shape each piece into a ball.

Place the rolls into a lightly greased round bun pan. Cover the pan, and let the rolls rest for 40 to 50 minutes, until puffy. To use another pan, see "tips," below.

Preheat the oven to 350°F. Brush the rolls with milk or egg wash (1 large egg beaten with 1 tablespoon cold water), and bake for 28 to 32 minutes, until golden brown on top; a digital thermometer inserted into the center of the middle roll should read at least 190°F.

Remove the rolls from the oven. Allow them to cool in the pan for 10 minutes, then transfer them to a rack to cool completely.

Yield: 8 rolls.
Nutrition Information
Serving Size

1 roll (90g)

Servings Per Batch

8
Amount Per Serving:
Calories

250

Calories from Fat

70

Total Fat

8g

Saturated Fat

4.5g

Trans Fat

0g

Cholesterol

40mg
Sodium

320mg

Total Carbohydrate

37g

Dietary Fiber

1g

Sugars

9g

Protein

8g
* The nutrition information provided for this recipe is determined by the ESHA Genesis R&D software program. Substituting any ingredients may change the posted nutrition information.
Tips from our bakers
These rolls can also be baked in a 9" round metal pan for about 25 minutes.
To make a loaf: After the dough's initial rise, divide it into four equal pieces. Flatten each piece into a rectangle, then fold the short ends in towards one another like a letter. Flatten the folded pieces into rectangles again and, starting with a short end, roll them each into a log. Place the logs in a row of four — seam side down and side by side — in a lightly greased 9" x 5" loaf pan. Cover the loaf and allow it to rest/rise for 40 to 50 minutes, until puffy. Brush the loaf with milk or egg wash and bake at 350°F for about 30 minutes, until golden brown on top and a digital thermometer inserted into the center of the loaf reads at least 190°F. Remove the loaf from the oven, and cool it on a rack.
Reviews
It came out right in my first trial. I'm excited that it worked . My son who doesn't care much for bread loved it. I will share the recipe with friends. I followed the recipe to the point. The only difference is I used a different brand of flour.
Loved these rolls and also tried cinnamon buns loved working with this dough. And tangzhong starter.
I made these with part spelt flour and part bread flour. They were very good. Probably needed to let them rise in the pan a little longer. They didn't all attach in the pan. But I'll definitely make again.
I like this recipe a lot. There's a problem though: the base of the rolls often has a thin but very dense, gummy, grey layer. The rest of the rolls are very soft and fluffy, plus they are always 190F or hotter, so I don't think under baking is a problem. Do you know how to get rid of the dense layer?

Hannah, that's such an interesting issue, and not one we've encountered with this recipe before! It sounds like something is causing the very bottom of your dough to oxidize slightly just at the very bottom. We'd suggest switching out your baking pans and seeing if that helps, since that's what's touching them. Hopefully, the issue should go away. Happy baking! Kat@KAF
Tried this recipe 2 times. The first time came out great. The second time I may have messed up with the yeast. Does anyone know how to make this recipe with active dry yeast since it has to be activated beforehand?

Annie, that certainly used to be true about active dry yeast! These days, however, yeasts are processed differently, and there's no need to activate your yeast in water before use. Just toss it right in the same way you would instant yeast and let it grow! If you're interested in this topic, we have a great blog article called "Active dry yeast: do you really need to dissolve it first?" It's got side-by-side photos of yeast doughs using both methods with the same yeast. If you're a baking nerd, it's kind of fascinating. Happy baking! Kat@KAF
Super wet dough....incredibly hard to work with...tasted like a biscuit and not a roll. I'm not a beginner baker and was surprised at how wet this dough was. Are the measurements correct? It seems like the author of the recipe scooped the flour, because there's no way that 300g + 2 Tablespoons of flour with ALL of those liquids will create a shiny dough ball....I didn't add any additional flour as I didn't want the rolls to be dense, I kneaded it by hand, and they are literal biscuits lol Never making these again

Asia, this is definitely a wetter dough that can be tricky to work with. That being said, if you're mixing or kneading it and it's not looking done yet ... keep going! We all have our own kneading technique, and sometimes it needs more work than others. While we're sure you're careful about following this recipe, there's one not-uncommon issue that will often cause dough like you're describing: accidentally grabbing the bag of all-purpose flour instead of bread flour, or using a different brand of bread flour with a lower protein content. Either of these could result in a dough that's wet to the point of being unmanageable, as this recipe is designed specifically with King Arthur Flour's bread flour in mind. And if none of this works for you, you should always feel free to contact our Baker's Hotline at 855-371-BAKE (2253) so that our team can work with you to troubleshoot your dough and help you get the beautifully soft rolls that we know these can be. Happy baking! Kat@KAF
This recipe has been a *huge* hit in our house -- a fantastic sandwich bread for daily eating. It rises and browns beautifully; when sliced, it's delicate but still very sturdy. It makes excellent toast, and even thin slices stand up to fillings like PB&J or chicken salad And it does indeed keep a very long time. I was concerned that the four-roll loaf would end up pulling apart, but it is still very sliceable. I haven't had any of the dough consistency issues others report here -- I have used my bread machine to mix the dough, but have baked it off in the oven. For me, the hydration level has been spot on.
Oh... my... goodness!! Thank you KAF for introducing me to Hakkaido and the Tangzohng method. This bread is absolutely fabulous and I say this as I'm munching on some on the morning of day 3. It is soft, tender, delicious, and without a hint of staleness. Hmm, I did make changes, but not to the dough! I baked in a loaf pan using the instructions to quarter the dough, roll it out, roll it up, and place the rolls side by side in the loaf pan. One change I made was adding raisins during the last minute or so of baking, (well after achieving a good dough consistency.) After the first rise, quartering and resting the dough, I rolled the pieces out, brushed with an egg wash, and added a fairly heavy amount of the cinnamon filling from KAF's cinnamon swirl bread. This made the most fabulous raisin cinnamon swirl bread my family has ever had!! We love the stuff, so that's saying a lot. It was/is soooo good that it almost brought tears to my eyes. A note... I measure by weight, have read the Winter to Summer Baking blog, and have been experiencing cool and dry weather. Made as instructed, this would have been an impossible to work with, very sticky dough... just like many other reviewers have reported. Noticing this, I began adding flour after the first couple of minutes of kneading. 2 tablespoons at a time, waiting to see how the dough behaved with the addition before adding the next. In the end, it took a long time and about a half a cup of flour to bring this to the right consistency, which of course, was still slightly sticky and delectably soft. No worries in the end, because it turned out great! However, with so many reports of batter-like dough, I wonder if this recipe should be reviewed. I also read PJ's blog on the tangzohng method, and her words are like gold to me.:) I see that this recipe is just about right on with a 75% hydration level, but honestly feel it is too much when I too experienced the stickiness others have reported AND am baking in cool dry conditions.
Seriously such a great recipe! This is my fourth time successfully using the Tangzhong method and I am still amazed at how positively it affects my bread. I mixed my dough in my Kitchenaid with the dough attachment, and I have to confess, I forgot to put in the egg! Don't worry, I realized quickly after, but the dough had already started to form. I was worried this would change the bread somehow, but it didn't at all. Also, even though I weighed everything out in grams, when the dough first came together, I saw how wet it was and thought I needed to add more flour. However, something told me to wait a few minutes and I'm glad I did! The dough turned out to be just the right consistency and handled well. Even when forming the dough into the "letter folds" for the loaf, it never once stuck to my hands or my board. All in all, a great loaf that doesn't last in my house; I will definitely be making this again and again!
I love the recipe, the buns were great, but ths dough was very sticky, and i had to wet my hans with oil to manipulate the dought. but the result were a very soft and chewy and delicious bread

Odile, we're so happy to hear that the buns were delicious! If you are baking in warm and humid weather, you may want to try decreasing the liquid in your recipes by as much as 10%. There is a wonderful blog post on our website called "Winter to summer yeast baking" that you can find by typing the title into the search bar. This blog post includes photos that show how the exact same recipe can look very different depending on the local weather and climate, and gives good advice for how to adjust your recipes accordingly. Happy baking! Kat@KAF