A customized print-friendly version of this recipe is available by clicking the "Print Recipe" button on this page.
King Arthur Flour's Favorite Fudge Cake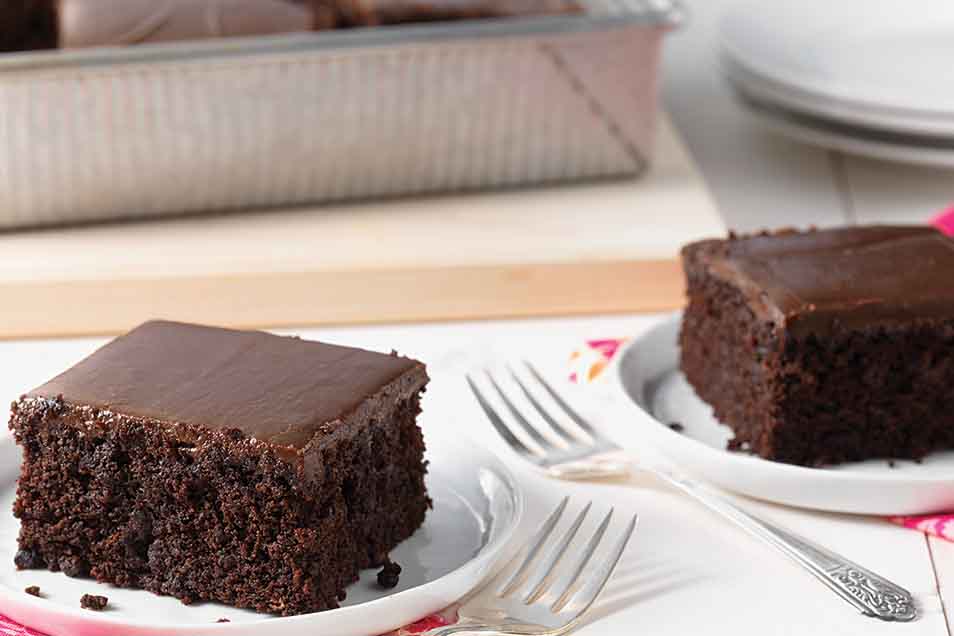 This old-fashioned chocolate sheet cake is incredibly moist, and can be stirred together by hand if need be. The fudge frosting is also stir-together simple, and creates a lovely thick layer on top. You can line the pan with parchment or foil before baking, grease it, and lift the cake out of the pan once it's cool before frosting. This makes cutting the cake easier to do, and individual portions nestle nicely into muffin papers. It's sure to be a hit at your next potluck.
Ingredients
Cake
1 cup (16 tablespoons) unsalted butter
1/2 cup Dutch-process cocoa; we like King Arthur Triple Cocoa Blend
1 cup hot water
2 cups granulated sugar
1 teaspoon baking soda
1/2 to 3/4 teaspoon salt, to taste*
1/2 cup buttermilk or yogurt (regular, not Greek)
2 large eggs
1 teaspoon vanilla extract
Use 3/4 teaspoon salt if you generally prefer your foods on the saltier side.
Frosting
1/2 cup (8 tablespoons) unsalted butter
1/4 cup natural cocoa or Dutch-process cocoa; we like King Arthur Triple Cocoa Blend
6 tablespoons buttermilk or yogurt (regular, not Greek)
4 cups confectioners' sugar
Instructions
Preheat the oven to 350°F. Grease and flour a 9" x 13" pan.

To make the cake: Melt the butter; stir in the cocoa and hot water. In a separate bowl, combine the flour, sugar, soda, and salt.

Pour the cocoa mixture over the dry ingredients, stirring to blend. Beat in the buttermilk or yogurt, eggs, and vanilla. Pour the batter into the prepared pan.

Bake the cake for 30 minutes, or until it tests done. You'll smell the chocolate aroma, and the cake will begin to pull away from the edge of the pan. Remove the cake from the oven and cool it on a rack.

To make the frosting: Melt the butter in a medium-sized saucepan. Stir in the cocoa and buttermilk or yogurt.

Bring the mixture to a boil, then remove it from the heat and mix in the confectioners' sugar, beating until smooth.

Pour the frosting over the cake while the frosting is still warm. Serve the cake right from the pan.
Tips from our bakers
This makes a typical sheet cake, which means it's fairly flat: about 1" to 1 1/4" tall. For a more substantial cake, one that's about 1 1/2" to 2" tall, increase all of the cake ingredients by 50%, and bake the cake for 40 to 45 minutes, until it tests done. The frosting measurements will remain the same.