A customized print-friendly version of this recipe is available by clicking the "Print Recipe" button on this page.
King Arthur Flour's Favorite Fudge Cake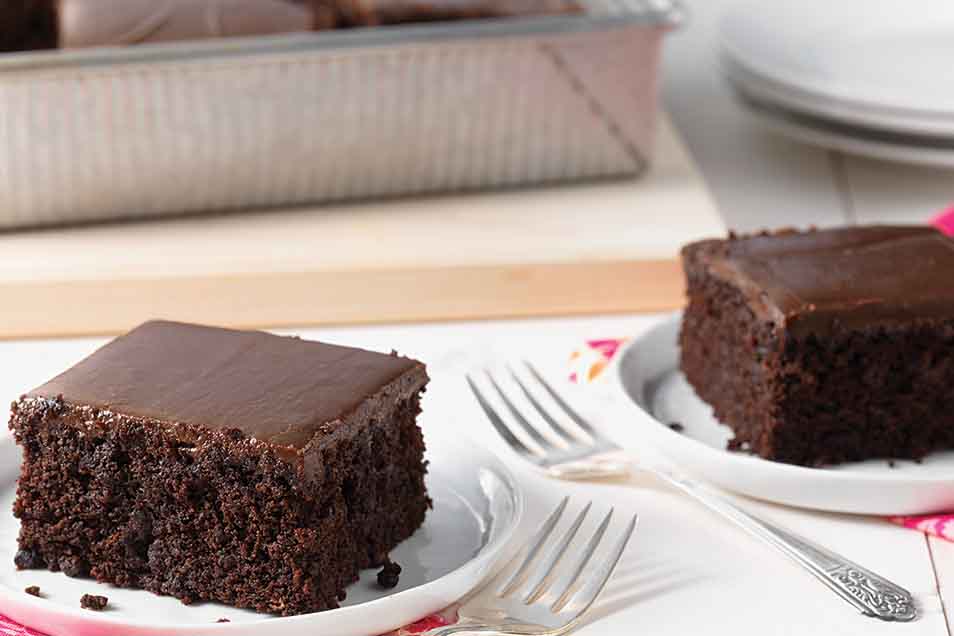 This old-fashioned chocolate sheet cake is incredibly moist, and can be stirred together by hand if need be. The fudge frosting is also stir-together simple, and creates a lovely thick layer on top. You can line the pan with parchment or foil before baking, grease it, and lift the cake out of the pan once it's cool before frosting. This makes cutting the cake easier to do, and individual portions nestle nicely into muffin papers. It's sure to be a hit at your next potluck.
Ingredients
Cake
1 cup (16 tablespoons) unsalted butter
1/2 cup Dutch-process cocoa; we like King Arthur Triple Cocoa Blend
1 cup hot water
2 cups granulated sugar
1 teaspoon baking soda
1/2 to 3/4 teaspoon salt, to taste*
1/2 cup buttermilk or yogurt (regular, not Greek)
2 large eggs
1 teaspoon vanilla extract
Use 3/4 teaspoon salt if you generally prefer your foods on the saltier side.
Frosting
1/2 cup (8 tablespoons) unsalted butter
1/4 cup natural cocoa or Dutch-process cocoa; we like King Arthur Triple Cocoa Blend
6 tablespoons buttermilk or yogurt (regular, not Greek)
4 cups confectioners' sugar
Instructions
Preheat the oven to 350°F. Grease and flour a 9" x 13" pan.

To make the cake: Melt the butter; stir in the cocoa and hot water. In a separate bowl, combine the flour, sugar, soda, and salt.

Pour the cocoa mixture over the dry ingredients, stirring to blend. Beat in the buttermilk or yogurt, eggs, and vanilla. Pour the batter into the prepared pan.

Bake the cake for 30 minutes, or until it tests done. You'll smell the chocolate aroma, and the cake will begin to pull away from the edge of the pan. Remove the cake from the oven and cool it on a rack.

To make the frosting: Melt the butter in a medium-sized saucepan. Stir in the cocoa and buttermilk or yogurt.

Bring the mixture to a boil, then remove it from the heat and mix in the confectioners' sugar, beating until smooth.

Pour the frosting over the cake while the frosting is still warm. Serve the cake right from the pan.
Tips from our bakers
This makes a typical sheet cake, which means it's fairly flat: about 1" to 1 1/4" tall. For a more substantial cake, one that's about 1 1/2" to 2" tall, increase all of the cake ingredients by 50%, and bake the cake for 40 to 45 minutes, until it tests done. The frosting measurements will remain the same.
Reviews
I have baked this cake about a month or two back. GREAT Recipe, NOT at all dense, very flavorful, the Icing was a Little to sweet to my liking, other then that it was very good. I'll be baking this again in the near future with "Dutch processed Chocolate" instead of Hersey chocolate.
Delicious chocolate cake with a true fudge texture. Added some espresso powder to enhance the chocolate flavor. Used homemade yogurt. Frosting is a touch too sweet, may cut back on the powdered sugar next time.
Exceeded my expectations...decadent and delicious!
After adding the high altitude adjustments, this cake was perfection.
Oh my goodness! Love this fudge cake and so did the folks at our church gathering! Moist, tender, deep rich flavor and color and topped off with thick chocolate frosting. Lots of compliments! I have found that fresh buttermilk in the recipe is best over reconstituted powdered buttermilk.
The cake is very good and has a milk chocolate flavor even using coffee instead of water. However I tried the frosting twice and both times the butter and cocoa mixture curdled when I poured in the buttermilk. This was even before it reached a boil. I will try putting it in the fridge to see if it will become smooth. No one else had this issue so i blame it on my 1% buttermilk.

Shana, you might want to try warming up the buttermilk slightly to ensure it incorporates with the other ingredients more easily next time. The mixture will also become homogenous more readily if you use a full-fat buttermilk as opposed to a low-fat. Try making these small changes next time and see your frosting comes together smoothly. Happy baking! Kye@KAF
Easy and turned out great. Made with 1 1/2 times recipe to make thicker. Used coffee instead of hot water.
super easy and quick to put together. And comes out perfectly - moist, fudgy. Big hit.
I've made this recipe before and LOVED it!! I want to make a large layered sheet cake version of it, and just wanted to know what time/temp/ingredient amount adjustments to make? I have two 15"x20" sheet pans. I want to bake this cake in both, then layer them with a whipped cream style frosting. Any advice you can give would be greatly appreciated!

Hi Lisa, thanks for reaching out to us with your question. We're honored to be your go-to resource for baking knowledge. While we'd love to offer you specific details that will help you bake Favorite Fudge (Sheet) Cake success, we don't currently develop recipes with pans of that size in mind. We do have a chocolate cake recipe that's developed for our half sheet pans, which measure 13" by 18". That recipes calls for baking the chocolate sheet cake at 350°F for 18 to 20 minutes, until a cake tester inserted into the center comes out clean. We recommend checking out that recipe by typing its name into the search box above and viewing the quantities of ingredients as a starting point. We hope that helps, and good luck! Kye@KAF
This cake is divine: Rich, fudgy, and oh-so-moist! This cake was for a birthday, and I didn't want it to be flat, so I followed the "Tips From Our Bakers," and increased the ingredients by 50%. That worked out beautifully (although I had to bake the cake for 60 minutes in my oven, rather than the 40-45 minutes listed). I used sour cream instead of buttermilk (or yogurt), and added some espresso powder. It was perfection. Thanks for another stellar recipe, KAF!