A customized print-friendly version of this recipe is available by clicking the "Print Recipe" button on this page.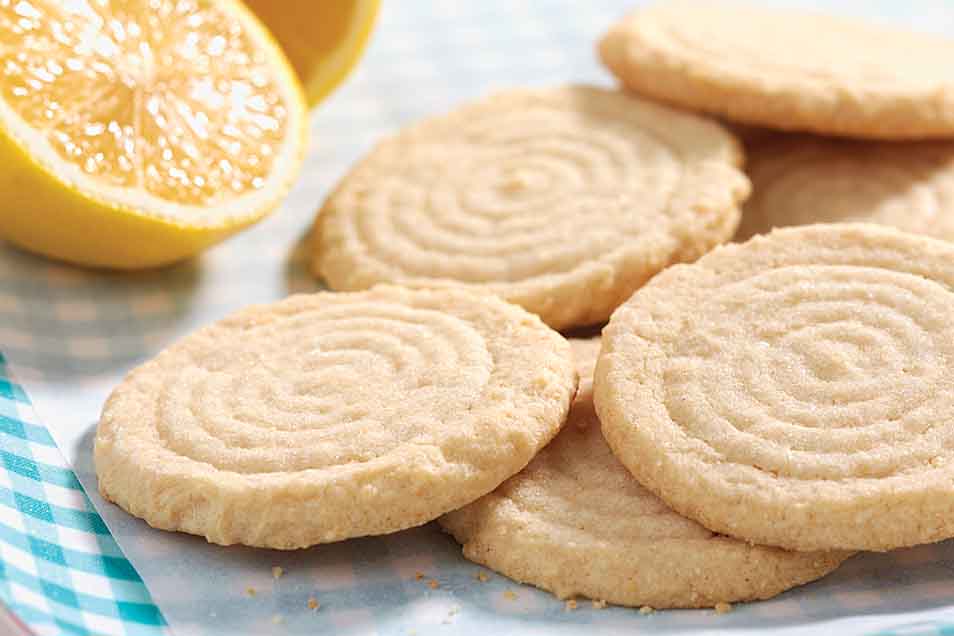 Crisp and chewy, these cookies have a bright lemon flavor that's distinctly their own. Each bite of cookie is a triple hit of citrus thanks to our lemon juice powder, European lemon zest, and lemon extract.
Ingredients
1 1/2 cups King Arthur Unbleached All-Purpose Flour
1 teaspoon cornstarch
1 teaspoon baking powder
1/2 teaspoon salt
2 tablespoons lemon juice powder*
1/2 cup (8 tablespoons) unsalted butter, at room termperature
1/2 cup granulated sugar
1/4 cup light brown sugar
1 tablespoon grated lemon rind (lemon zest)
1/2 teaspoon vanilla extract
1/2 teaspoon lemon extract, optional, for enhanced lemon flavor
1 large egg
*See "tips," below.
Instructions
Preheat the oven to 350°F. Grease (or line with parchment) two baking sheets.

In a small bowl, stir together the flour, cornstarch, baking powder, salt, and lemon juice powder. Set aside.

In a separate bowl, beat together the butter, sugars, and lemon zest until creamy.

Add the vanilla and lemon extracts and egg, beating until well incorporated.

Add the flour mixture and stir just until combined.

Drop the cookies by the tablespoonful onto the prepared baking sheets, spacing them about 2" apart (a tablespoon cookie scoop works well here), and flattening the balls slightly with a fork or the bottom of a glass dipped in granulated sugar.

Bake the cookies for 11 to 13 minutes, until golden.

Remove the cookies from the oven and cool for 2 minutes on the baking sheets before transferring them to a rack to cool completely.

Yield: 18 to 20 cookies.
Tips from our bakers
If you don't have lemon juice powder, substitute 1 tablespoon fresh lemon juice.
Reviews
I really like these. Are they *BAM POW* lemon? No. Theyre more like a lemon sugar cookie, which is exactly what I wanted. First bite has you thinking sugar cookie, but a second later you realise they're lemon. Perfectly balanced, in my opinion. They had a tendency to spread, but when they did, the edges got all delicious and crispy which was my favorite part. I did use Lemon juice instead of lemon powder, so I'm thinking that might be why my cookies spread as much as they did. I also rolled my cookies in sugar, instead of pressing them down with a sugar coated glass because I wanted to see what would happen. The sugar kinda added a slight crisp, which was pretty darn good, and I'll definitely continue to roll them in sugar if I make these again
I have been using another cookie recipe but the cookies were uncooked on the inside and burnt on the bottoms and edges. So I decided to use this KAF recipe. KAF usually has great recipes. I didn't have lemon powder, so I doubled the PURE Lemon Extract . I also increased the lemons since I don't like lemon zest. I followed the suggestions of several of the reviewers. One, I increased the white sugar to 3/4 cup (Omitted the brown sugar). Two, I rested the cookies in a Ziplock Freezer Bag for 30 minutes and finally used a meat mallet to add some design. With these modifications, the cookies were strumpscrous! Lemony goodness with a crisp outside and a soft inside. This is my new go to recipe. KAF Delish!
Decided to give this recipe a try yesterday. It was easy to come together, though I did have to rely on a fresh lemon for all my lemon flavor (I juiced it and grated the zest), but that worked out nicely. The lemon flavor wasn't as intense as we'd been expecting, but it does develop a lot more over time. By today the cookie is very lemony, but without it being overpowering or negative in any way. The kids loved these, so I know I'll be making more in the future.
Should this dough be chilled before baking? Tried to flatten the scoops and they kept sticking to the glass....

Hi Bern. While chilling isn't necessary it certainly wouldn't hurt if your dough is giving you trouble. You can also spray the bottom of your glass with pan spray or even water to keep it from sticking. Annabelle@KAF
I tend to bake this cookie recipe more than any other. I've had very consistent results, always using fresh lemon juice. They are not as crisp as a sugar cookie - they have a little chewiness in the center and are crisp around the edges, but not 'cakey' at all, just right. I usually use more lemon zest than the recipe calls for, but I like to max out the lemon flavor. Great cookie.
I did not have the lemon powder so I increased the zest and lemon extract. I think people who are getting cakey cookies are using lemon juice. I know from experience that extra liquids make them puffy. I thought they came out great. Just like a traditional sugar cookie. And I followed the advice of another reviewer and used the bumpy side of my meat pounder to press the cookies.
Cookies spread too much, even after chilling. Try another recipe!

We're sorry to hear that you had such a hard time with this recipe, fellow baker. We wonder if perhaps you were using another all-purpose flour that might have been lower in protein? We'd be happy to help troubleshoot or point you to a recipe that might better fit your preferences if you give us a call at 855-371-BAKE(2253). We're here seven days a week to help you get the most out of our recipes! Mollie@KAF
I just made these cookies for the third time, and doubled the recipe. I think I have found out why some may have had cookies that resulted in a cake-like texture. It could be the pan. I made my cookies on my Sur La Table ridged pan and the texture and browning was excellent as expected. I had a little dough left over and used my cookie sheet from Williams Sonoma and the cookies were not done even at 12 minutes, and the end result was cake like cookies that looked a bit anemic. Check out the Sur La Table ridged pan, or something similar. I love this recipe. I keep saying the next time I try it I will make sandwich filled cookies with cream cheese or mascarpone butter cream frosting.
This recipe is perfect. I substituted an additional tablespoon of lemon zest for the powder, this along with the lemon extract meant a wonderful bold lemon flavor. I was going to order the powder, but I can't imagine the powder being better than fresh zest. However, 2 Tablespoons of zest takes a lot of lemons. I took these to a wddding shower and they were devoured. I am making a batch for work now. This recipe is in my go-to file!
These cookies were good, but not very lemony at all. They almost tasted like sugar cookies, not lemon cookies. If I wanted sugar cookies, theses would be amazing, but they weren't what I was looking for.

We're surprised to hear that between the lemon zest, lemon extract, and lemon juice powder, you found these cookies to be lacking in lemon flavor. If you're not already doing so, we encourage you use all three of these ingredients for maximum lemon flavor. You're also welcome to increase the quantities of these ingredients to meet your lemon-loving taste preferences--that way they'll be like a delightful lemony sugar cookie! Kye@KAF