A customized print-friendly version of this recipe is available by clicking the "Print Recipe" button on this page.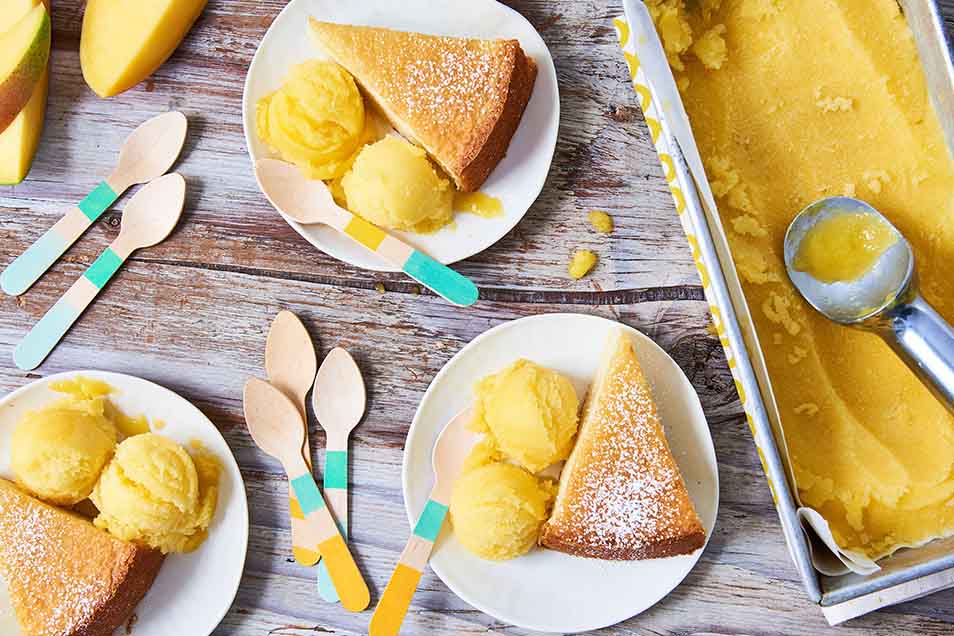 This bright-gold sorbet is packed with fresh, vibrant flavor. Enjoy it as is, or alongside a slice of cake — angel-food, pound cake, and yellow cake are all good choices.
Ingredients
3 to 3 1/2 cups mango purée, from about 4 large mangoes
1/3 cup water
1/4 cup light corn syrup or honey
1/3 cup freshly squeezed lemon or lime juice
1/8 teaspoon salt
3 tablespoons vodka, Grand Marnier, or Cointreau, optional; for texture
Instructions
Peel the mangoes, discard the pits, and process in a food processor or blender until nearly smooth; a few small lumps can remain. Measure to make sure you have 3 to 3 1/2 cups purée.

Add the water, syrup or honey, lemon or lime juice, and salt, stirring to combine.

Place the mixture in the refrigerator, and chill thoroughly; overnight is best. If you're going to use an ice cream maker, make sure the freezer bowl is in the freezer. Again, overnight is best.

Next day, pour the mango mixture into the bowl of the ice cream maker. Flip the switch, and let the sorbet freeze for 20 to 25 minutes, until thickened to the consistency of soft-serve ice cream.

If you're using the vodka or liqueur, add it at the end.

Transfer the sorbet to a freezer container, cover it, and place in the freezer compartment of your refrigerator until it's as hard as you like; this will probably take a minimum of several hours.

To make the sorbet without an ice cream maker: Place the mango mixture in a shallow pan; an 8" x 8" or 9" round cake pan are both good choices. Place the pan in the freezer. There's no need to cover it.

After 2 hours, use a fork or spoon to stir it around, bringing the frozen edges into the center. Return to the freezer.

Continue to stir every hour or so, until the sorbet is nearly as firm as you like. This may be as little as 4 hours total, start to finish; or it may take longer, depending on the temperature of your freezer.

Once the sorbet is entirely icy (like a slush drink), add the alcohol, if you're using it. Rather than add the alcohol while the sorbet is still in its shallow pan, transfer the sorbet to a lidded storage bowl. Stir in the alcohol, then cover the bowl and place it in the freezer. Let the sorbet "ripen" (freeze), undisturbed, for several more hours, until it's as hard as you like.

Yield: about 3 1/2 cups sorbet.
Tips from our bakers
Corn syrup is our first choice for sweetening; but if you don't like to use it, substitute honey. Or try 3 tablespoons of agave syrup.
We highly recommend using liqueur or vodka in this recipe; the alcohol prevents the sorbet from freezing into a rock-hard mass, keeping it beautifully scoopable. If you don't use alcohol, plan to remove the sorbet from the freezer 20 minutes or so before serving, so it can soften.
Reviews
Wonderful sorbet and not too sweet. I froze the empty mango skins on a cookie sheet, after the sorbet was done in the ice cream maker then filled the skins with sorbet and froze. Great way to serve individual portions. Absolut Mango, is a mango flavored vodka that I recommend using in this recipe.
I followed the recipe as written and it came out smooth with a great not too sweet taste. Be sure to use ripe mangoes for a sweeter taste. I stored this in the freezer and it remained scoopable.
Nice smooth sorbet. I made it with very ripe, fresh mangoes I'd just gotten from the fresh market - a great way to use tree-ripened mangoes quickly! Next time I'll reduce the amount of lime juice to see whether the mango shines through more. Question about the addition of alcohol: I usually add glycerin instead. Why do you mention adding it near the end of the churning? I find it difficult to stir in at that time. I'd rather combine it the day before with all the other ingredients, or at least right before pouring into the ice cream maker. Is there a reason to add it near the end?

Meg, your fresh mango sorbet sounds delicious! Alcohol has a very low freezing point, so it keeps ice cream (or sorbet) from freezing solid, as you might know. The alcohol is added at the end because the longer your base takes to freeze, the larger the ice crystals will be. If you want a smooth, velvety texture, you should try to get the ice cream/sorbet to be as close to frozen as possible before adding the alcohol, which will keep keep it soft. The right timing is a balance; feel free to add the alcohol a little earlier in the cycle while it's semi-frozen but still easily workable. Happy sorbet-making! Kye@KAF
Wonderful! Not too sweet, nice and fruity. I added Citron vodka. And a splash (half a tsp?) of vanilla extract.
It was very good and will make it again
I halved this recipe, using an ice cream machine and added the vodka at the end as directed to keep it scoopable. Vodka is tasteless, so it does the trick. I served this along side some coconut sorbet to friends for a tropical theme summer lunch gathering. I always keep and use mango puree in a can, can be bought online, so you don't need mangos in season to make this. The puree comes presweetened. It's a good thing. Lime is better than lemon in my humble opinion because lime and mango make a perfect marriage.
A little tart for my taste - even though I used more fruit and sweetener than called for. My daughter, who has been known to happily suck on lemons, thinks it's perfect. Next time I'll cut down the lemon juice so the taste of mango will shine a bit more. I also served it with a little scoop of vanilla ice cream - a nice combination.