A customized print-friendly version of this recipe is available by clicking the "Print Recipe" button on this page.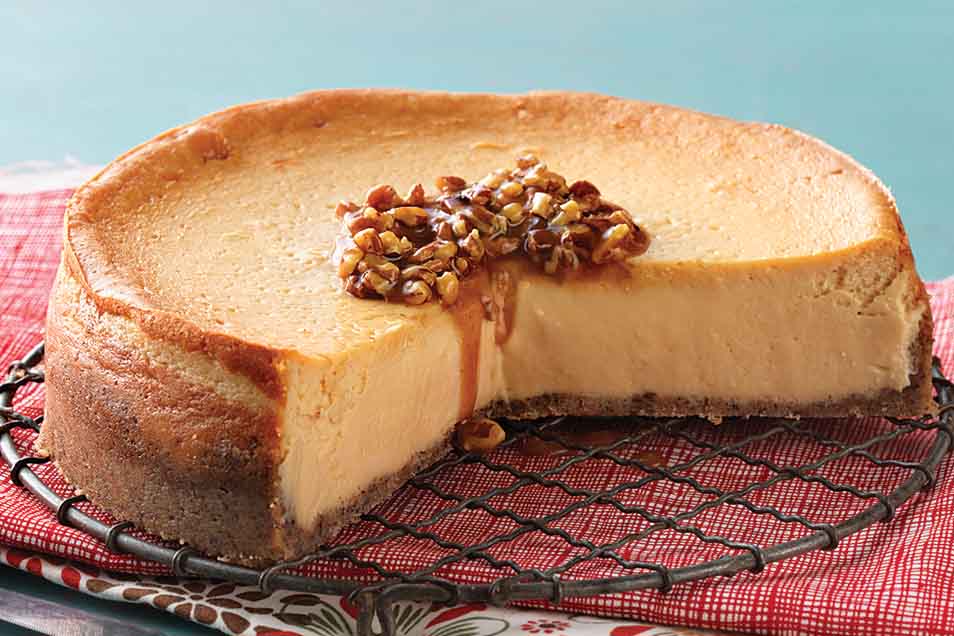 This cheesecake won the hearts of all our taste-testers, even those who were neither cheesecake nor maple fans. The texture of the filling is ultra-smooth and creamy, and the maple flavor is apparent, yet subtle. The pecan crust is a nutty, salty counterbalance to the filling.
Ingredients
Crust
3/4 cup pecan meal or ground pecans
3 tablespoons granulated sugar
1/2 teaspoon salt
1/2 teaspoon cinnamon
8 tablespoons unsalted butter, softened
Filling
1 1/2 pounds cream cheese, at room temperature
1 1/2 cups brown sugar
2 teaspoons vanilla extract
1 /4 teaspoon salt
1/8 teaspoon maple flavor, optional; for stronger flavor
4 large eggs
1/2 cup real maple syrup, Grade B maple syrup preferred
1/2 cup heavy cream
Instructions
Preheat the oven to 375°F. Lightly grease a 9" removable-bottom or springform pan.

To make the crust: Mix the crust ingredients until crumbly. Press into the bottom and 1" up the side of the prepared pan. Prick with a fork.

Bake the crust for 10 to 15 minutes, until it's light golden brown. Remove it from the oven, and reduce the oven temperature to 325°F.

To make the filling: Mix the cream cheese, brown sugar, vanilla, salt, and maple flavor at low speed until smooth, scraping the bottom and sides of the bowl.

Beat in the eggs one at a time, scraping the bowl between additions.

Stir in the maple syrup and cream. Pour the filling into the crust.

Bake the cake for 40 minutes. Reduce the oven temperature to 300°F, and bake an additional 15 minutes, until the edges of the cake are set; a digital thermometer inserted 2" from the edge of the pan should read 170°F.

Turn off the oven, crack the door open a couple of inches, and let the cake cool in the oven for 1 hour.

Remove the cake from the oven, and cool it at room temperature for 1 hour. Refrigerate for 8 hours (or overnight) before serving.

Yield: 12 servings.
Reviews
So easy to make and delicious. I made it for a.thanksgivng lunch for work in Sydney, everyone said it was the winning dessert. It didn't look pretty as it was hard to get out of the tin. But taste was amazing
Wow, this is a REALLY delicious cheesecake! I absolutely love both the filling (creamy, subtle maple flavor, almost reminded me of caramel cheesecake) and the crust (a delicious buttery pecan flavor!). I bookmarked it 3.5 years ago and am glad that I finally got around to trying it! Highly recommended! My husband wasn't such a big fan, but he noted that he doesn't like maple desserts. The additional 15 minutes of baking time at 300 degrees actually took me 35 minutes to get to the correct internal temperature (probably a bit longer since I kept opening the oven door expecting it to be done sooner).
Absolutely amazing cheesecake. The cooking time is way off though. It was still soup after those 'last' 15 minutes at 300 degrees, and it took at least another 25 after that until it was at 170 degrees (and I ended up putting the oven back at 325 too). And it cracked, but it's still one of the best cheesecakes I've had!
Baked this for the first time last weekend. Very easy to make, delicious flavor, and the crust is a perfect match. I must admit that although I followed directions and did test temperature, I ended up with a crack in the top of the cheesecake. However, the cake texture was smooth and creamy, just perfect, so the crack did not affect the quality (just the looks). Next time, I think I will use a water bath. Nevertheless, made a topping by cooking maple syrup and heavy cream together for about 15 minutes, then adding toasted, chopped pecans (I was taken by the picture on your website, you should include a recipe for that topping). People at work were eating it for breakfast. Delicious!!

A water bath can certainly help prevent cracks in your cheesecake, as well as a few other tips you might want to try. If you have an instant read thermometer, use it to monitor the internal temperature of the cheesecake. As soon as it reaches 160-165°F, turn the oven off. Crack the door to let the heat escape slowly, leaving the cheesecake inside. This gentle cooling process along with baking it just the right amount should give you a smooth-topped cake. Good luck! Kye@KAF
This recipe is great! I want to make this again and maybe not use the pecans in the crust to avoid an allergy. What should be substituted, and what amount? Thank you!

Tiff, if it's not a nut allergy, you can substitute almond flour, toasted hazelnut flour, or another nut flour of your choice. If it is a nut allergy, consider using the crust part of another one of the cheesecake recipes on our website. Happy baking! Kye@KAF
I've made this recipe twice and it came out great both times. No cracks. I used 2 pie pans because there was plenty of filling. Did have to double the crust recipe though. Brought it to 2 different party events and it disappeared fast! The guys all said "You should sell this!" I did throw in a handful of pure maple sugar and an extra drizzle of maple syrup in addition to the original recipe both times (I LOVE Maple!) Also toasted the pecans at 400 degrees F for about 5-10 minutes before grinding them into pecan meal. Saved 12 of the whole pecans and lightly glazed them with maple syrup to decorate the dessert to show where slices should be. This is now my go-to recipe for potlucks!
I would recommend using a water bath. I tried the recipe as is and my cake cracked.
Fabulous recipe! I made this for a dinner gathering of 8 two weekends ago. Everyone raved about it. I didn't have the time to fuss with the pecan crust - no pecan flour available and didn't feel like grinding meal in food processor - so just used regular graham cracker crumbs for crust. Still fab! It did take a little longer in the oven - abt. 20 mins more - though I had it on the right temperature per oven thermometer. Preheated oven at higher heat since I didn't prebake the crust and then turned down to recommended temps to bake cheesecake. Also cooled in fridge for only 6 hrs since my time was limited and it was fine. Made it in the AM of the dinner and took it with me that evening. GREAT!!
Another guest made this for Thanksgiving and it was out of this world!!!
I have one more question.... If I am making in a pie tin, will the amount in the recipe be too much for one tin? Maybe I should prep two tins?