A customized print-friendly version of this recipe is available by clicking the "Print Recipe" button on this page.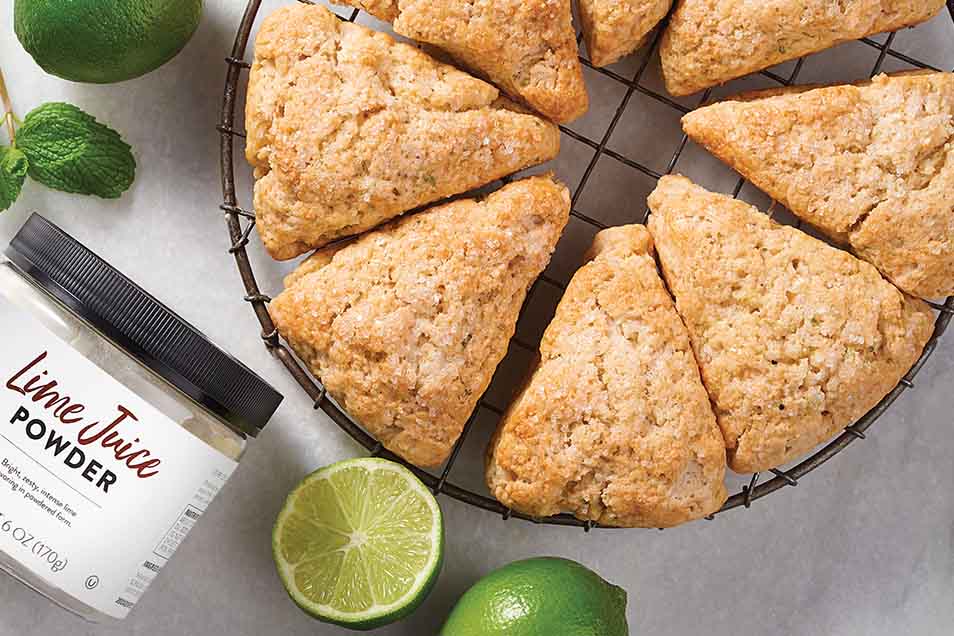 With an upfront kick of lime and a subtle hint of mint, these scones are sure to delight the palates of anyone familiar with the pleasure of an ice-cold Mojito on a hot summer's day. Attention, lime lovers: for enhanced lime flavor, be sure to use the lime oil.
Instructions
Preheat the oven to 400°F. Lightly grease a standard scone pan, or lightly grease a baking sheet; or line with parchment.

Combine the flour, baking powder, salt, sugar, lime juice powder or grated rind, and chopped fresh mint.

Work in the butter until the mixture is unevenly crumbly.

Add the lime oil.

Starting with 1/2 cup, add enough milk to make the dough cohesive. It should be evenly moist, but not so sticky that you can't work with it.

Turn the dough out onto a lightly floured surface, shape it into a rough ball, and roll or pat it into an 8" round.

Using a bench knife or sharp knife, cut the round into 8 wedges, and transfer each to the prepared pan.

Brush the scones with milk or cream, and sprinkle with coarse sparkling white sugar, if desired.

Place the pan in the freezer for 15 minutes; this will help the scones rise higher.

Bake the scones until they begin to brown, 18 to 24 minutes.

Remove them from the oven, and transfer to a rack.

Serve warm, or at room temperature. Wrap any cooled leftovers airtight, and store at room temperature for several days; freeze for longer storage.

Yield: 8 scones.
Tips from our bakers
To add more lime flavor to the scones, substitute or supplement the 2 tablespoons grated lime rind with 2 to 4 tablespoons lime juice powder (more if you're substituting, and less if you're supplementing the rind).
Reviews
I love these scones - make them all the time! I've never used the lime oil, but it doesn't seem super necessary to me. Both the amount of lime and mint are more things to eyeball than anything that needs to be exact. I've used as much as the zest of two limes and two or three tablespoons of mint depending on the day, and they're good any which way. Definitely take the time to brush on milk and freeze them, as it will make a huge difference in the rise (and use fresh baking powder!). I typically glaze them with a simple vanilla glaze but they're also good on their own. Easy and delicious!
Very subtle flavor (like most scones I've experienced, really) but nice. I don't have lime oil or powdered lime juice concentrate or whatnot but I did add the juice that I squeezed from the lime I zested and I think it made a difference. Topped with demerara sugar (Sugar in the Raw) which is my readily-available coarse sugar. 5 of 5, will make again!
I did not use the lime oil. I don't think it is essential, but it might be nice if you had it (I had lemon and orange). Rather than guessing or risking overhandling the dough, I used 4 oz of milk and a egg beaten together (most scone recipes I use call for an egg). I didn't need to make any adjustments. After baking, I made a powdered sugar and lime juice drizzle for the tops. The flavor was mild and more lime than mojito. The variety of mint you use could have a deinite impact on that. I would give my results a 4. They were good, but not fabulous. I think the 3 stars is more appropriate for a recipe where the flavor seems to need tweakng more often than not and there is a 50% swing in the amount off milk called for in a recipe where you want to handle the dough as little as possible. Just because of the way the recipe is written, I think it will be more difficult for everyone to get consistent results. I would still recommend it, but with with some caution.
I made these scones for a baby shower afternoon tea. They were a great hit. Everyone said that they loved them! The only complaint that I have is that they didn't rise as much as I thought they should. I've used KAF basic scone recipe for years (adding various fruit) and they rise beautifully. Next time I make this recipe I'll be using the basic scone recipe adding mint and lime. BTY: I didn't use lime oil. Glad I didn't, I think it would have been overpowering.
These took a blue ribbon today in the Wisconsin State Fair - the judge loved them! My boyfriend and best friend said they may have been the best things they have ever eaten. I was skeptical - for naught!! I did not have lime oil this time and my presentation was a smoother scone (I like your picture better!). Wonderful texture and very easy.
The lime and mint flavors are a tasty surprise in this scone recipe. We're thrilled to hear it's a prize winning entry - Congrats to you, and continued Happy Baking! Irene @ KAF
I used lime zest - 2 smallish limes worth to make the 2 tablespoons and lime oil. I could hardly taste the mint and would add another tablespoon next time. My daughter who doesn't like scones in general really liked this one. The texture was a bit cake like, but the scones were very tasty.
What a brilliant idea! I love mojitos and I love scones so I was very excited to see this recipe. I followed it exactly, using the optional lime oil, and they were wonderful! They had a lovely texture and the fresh taste of lime and mint. I will definitely make these again and again. Next time, though, I may serve them as an afternoon snack with a cold glass of limeade rather than for breakfast with coffee.