A customized print-friendly version of this recipe is available by clicking the "Print Recipe" button on this page.
Multi-Grain Molasses Bread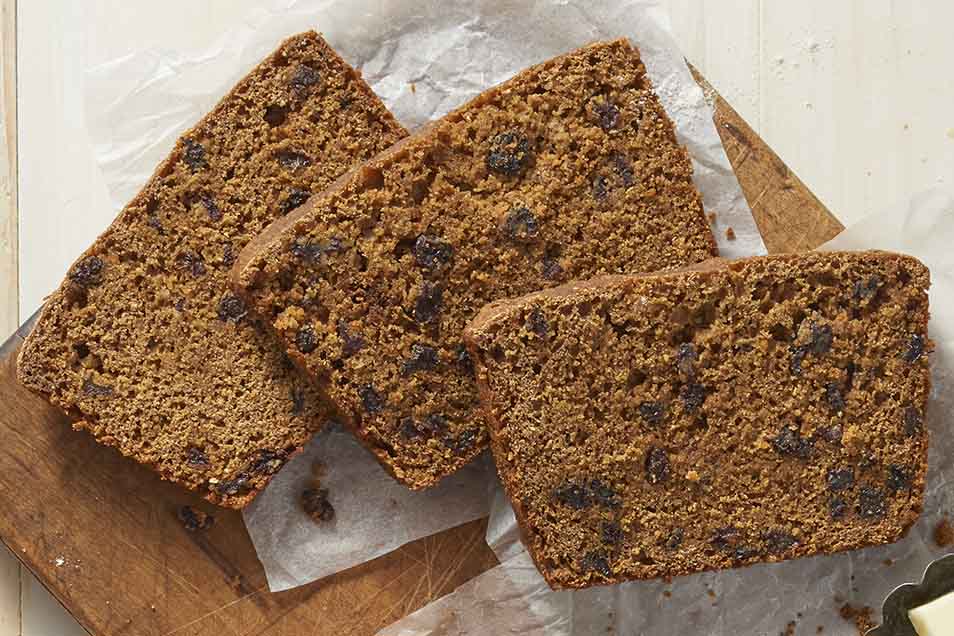 Much like Boston brown bread, this loaf is sweetened with molasses, studded with currants, and features the multi-grain combination of whole wheat, cornmeal, and teff flour. Unlike traditional brown bread it's baked rather than steamed, for crusty edges that will hold up to toasted or butter-fried slices.
Ingredients
3/4 cup teff flour
3/4 cup yellow cornmeal
3/4 teaspoon baking soda
3/4 teaspoon salt
3/4 cup currants
1 1/2 cups buttermilk
1/2 cup molasses
Instructions
Preheat the oven to 325°F. Lightly grease an 8 1/2" x 4 1/2" loaf pan.

In a medium-size mixing bowl, whisk together the teff and white whole wheat flours, cornmeal, baking soda, salt, and currants.

In a separate bowl or measuring cup, mix together the buttermilk and molasses until smooth.

Add the wet ingredients to the dry ingredients and stir just until evenly moistened.

Pour the batter into the prepared pan, and cover it with lightly-greased aluminum foil, fastening the foil tight to the edges of the pan (so the bread will steam a bit), but leaving about 1/4" to 1/2" of room over the pan so the bread can expand without hitting the foil.

Bake the bread for 1 hour, then remove the foil (the middle may be slightly sunken; that's OK), and bake for an additional 10 minutes.

Remove the bread from the oven, and after 5 minutes turn it out of the pan onto a rack to cool completely.

Slice the cooled bread and serve, or wrap the loaf in plastic and store at room temperature for 2 to 3 days. Freeze for longer storage.