A customized print-friendly version of this recipe is available by clicking the "Print Recipe" button on this page.
No-Knead Cheddar, Tomato, and Garlic Bread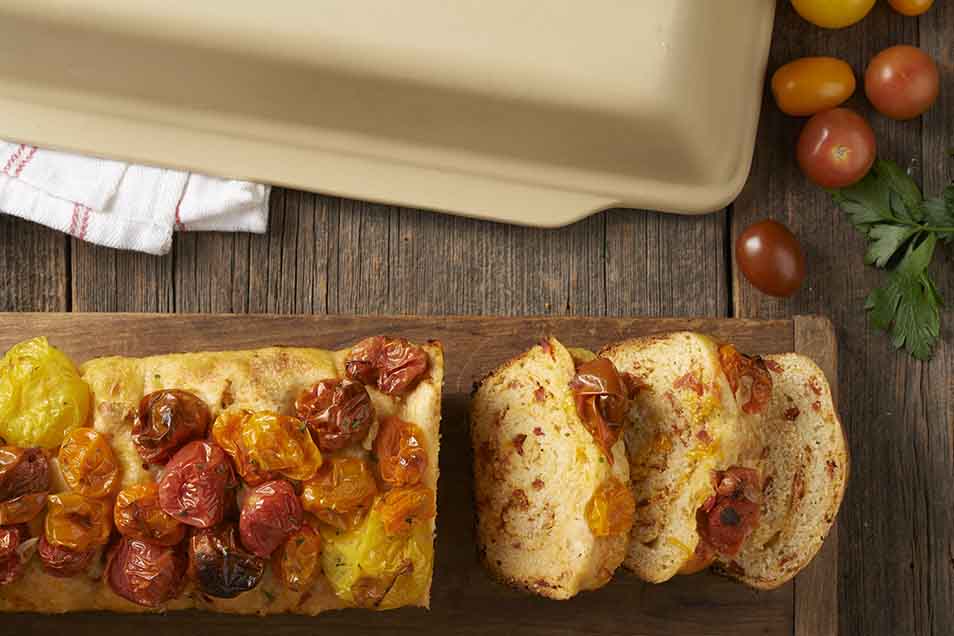 Cheese, garlic, and sun-dried tomatoes are rolled into this savory, no-knead loaf, creating layers of bold flavors beneath a golden, chewy crust. You can use slices of this bread to make everything from exceptional grilled cheese and open-faced sandwiches to simple toast for breakfast or snacking.
Ingredients
Filling
1/2 cup dry-packed sun-dried tomatoes, julienned
6 garlic cloves, peeled and minced
1 cup diced and/or grated cheddar cheese
Topping
1 medium tomato or 1 pint assorted cherry tomatoes
3 to 6 garlic cloves
Instructions
Weigh the flours, or measure them by gently spooning them into a measuring cup and sweeping off the excess. Combine the flours, yeast, cheese powder, salt, garlic oil, and water in a large mixing bowl, or a large (6-quart), food-safe plastic bucket.

Mix and stir everything together to make a sticky, elastic dough; this will take about 90 seconds on medium speed in a stand mixer or 3 to 4 minutes by hand.

Place the dough in a lightly greased bowl or rising bucket, cover it, and let it rest at room temperature overnight, or for at least 8 hours; the dough will become bubbly and rise quite a bit, so make sure it's in a large container.

When you're ready to continue, turn the dough out onto a lightly greased surface, and pat it into a 12" x 14" rectangle.

Spread the sun-dried tomatoes, garlic, and cheese over the surface of the dough. Starting with a long side, roll the dough into a log.

Place the dough in a lightly greased long covered baker.

Cover the baker with its lid and allow the dough to rise until it's very puffy, about 1 1/2 to 2 hours.

In the meantime, cut the tomato into five slices (if using a full-size tomato). Peel the garlic cloves; slice them, if desired.

Towards the end of the rising time, preheat your oven to 450°F.

Line the tomato slices or scatter the cherry tomatoes down the loaf, and use the garlic cloves (whole or sliced) to fill any empty spaces.

Re-cover the baker. Place the pan in the oven, and bake the bread for 40 minutes.

Remove the cover of the baker and bake the bread for 15 to 20 minutes longer, until the crust is golden brown; a digital thermometer inserted into the center of the loaf will read 200°F.

Remove the bread from the oven, allow it to cool for 10 minutes, then turn it out of the baker onto a rack to cool completely.

Store leftover bread in a plastic bag at room temperature for several days; freeze for longer storage.
Tips from our bakers
If you don't have a long covered baker, bake the bread on a lightly greased or parchment-lined baking sheet for 35 to 40 minutes in a preheated 425° oven. Tent it with aluminum foil about half-way through the bake time to prevent the top from browning too much. The loaf won't be quite as neatly shaped, but will be just as tasty.
Reviews
I had some trouble getting the dry-pack sundried tomatoes for this recipe, but on sucess I prepared it - leaving off the tomato topping on reading an earlier review's problems with that. Ironically, the dried tomatoes are hard and really do not add anything much in the way of flavor! The semolina flour seems to make the overall texture very dense, and despite the cheese powder and the grated cheddar there was not much cheese flavor. My spouse ate part of his first slice and then discarded the rest. Although I am interested in recipes for the long-covered baker, I won't make this again.

Helen, we're sorry this recipe didn't do the trick for you! If your dry-packed tomatoes were hard, we definitely recommend using a different brand, as they can vary quite a bit from one to the next. As far as the density and blandness go, both tend to be caused by the same thing: too much flour. Since semolina and all-purpose flour have the same protein content, the addition of semolina (which is really just for improved color and flavor) shouldn't really impact the texture and density in any way, but you're welcome to try this same loaf with just all-purpose if you prefer it. If you're careful with your flour amounts, we think you'll have much better luck with this bread. Happy baking! Kat@KAF
Loved making this bread. I did not have a covered baker but the taste is super wonderful. I am going to try it in a 9 X 5 inch pan next time. Also started it in the early morning and finished it after supper, still awesome! A friend made it before me and thought it "fun" to make. It really is easy and fun.
I don't have a long bakers box and have limited space. One the the reviews said they bake the bread in a Dutch oven, which I do have. I was wondering how large should the Dutch oven be and would the baking time change. Thanks

Lynn, if you don't have a long covered baker, we recommend baking the bread on a lightly greased or parchment-lined baking sheet for 35 to 40 minutes in a preheated 425° oven. Tent it with aluminum foil about half-way through the bake time to prevent the top from browning too much. The loaf won't be quite as neatly shaped, but will be just as tasty. We haven't experimented with this particular recipe in a Dutch oven ourselves, but we suspect it would work there too. We don't have an exact size to recommend, but because it is a relatively small amount of dough, the narrower the base of the pot, the more it will help the dough to hold its shape and rise upwards rather than out. Mollie@KAF
This bread has really great flavor and texture, and a nice crisp crust that was not hard and crunchy. It was delicious the same day and later on, buttered and heated in the oven. I love the flavor semolina flour gives to any dough. The loaf had great cheese flavor, even tho I forgot to add the cheese to the filling! I put some on top instead. I used my own roasted tomatoes. I baked it in a Romertopf lidded clay baker (remember those?) with an unglazed interior which I think gave a result very similar to the pan specified in the recipe. I won't put the cherry tomatoes on top next time, though. They produced a lot of juice in the oven, which overflowed the pan and dripped down onto the floor of the oven and burned. Had to soak and scrub the pan (top and bottom) to get off the burned stuff.
Nice specialty bread recipe. I wanted to share my adjustments. I scaled up the recipe by 25% so that I could make two nice sized loaves. I did not have a covered baker, but they baked nicely shaped and placed on a parchment lined cookie sheet. I rolled my rectangles into about 9" x 11" each, which worked out fine. I used grated parmesan instead of Vermont cheese powder. In the filling, I used roasted garlic cloves instead of raw garlic which I was afraid would give it too much of a garlic punch (even though I am a garlic lover). Wasn't sure if the recipe required sundried tomatoes in the bag, or in jars packed in oil. I used the latter, just draining the oil well. Didn't put cherry tomatoes on top. Just studded the top with more roasted garlic cloves and sprinkled parmesan on top about 10 minutes before they were done. Nice recipe - Impressive bread to serve!

Thanks for sharing your experience making this bread, Sandi. We're glad you liked the flavor and presentation. We've made it more clear that the sun-dried tomatoes should be dry-packed for best results. It adds a wonderfully rich flavor to the bread without altering the hydration of the dough. Happy baking! Kye@KAF
This is a really pretty bread and is not difficult to make, but I didn't care for the taste or texture. I recommend Pane Bianco or even Gruyere-stuffed crusty loaves for anyone interested in rolling cheese into bread dough. The semolina flour in this recipe made the crumb of the loaf very dense, and I don't think it added to the flavor. Glad I tried it once, but I won't make it again.
Loved the crumb and flavor. Baked in cast iron Dutch oven as a snail instead of long. My husband and I ate half before it got cool. A keeper recipe.
I made this no knead cheddar tomato bread with our wild yeast instead of instant. I used 185 grams for the entire recipe. The bread is quite delicious. I'll definitely bake it again. I don't have the ceramic rectangle baker. I baked it in my Pullman pan (without the lid) and I really like the results. The cheese, garlic and tomato flavor combination is perfect.