A customized print-friendly version of this recipe is available by clicking the "Print Recipe" button on this page.
No-Knead Crusty White Bread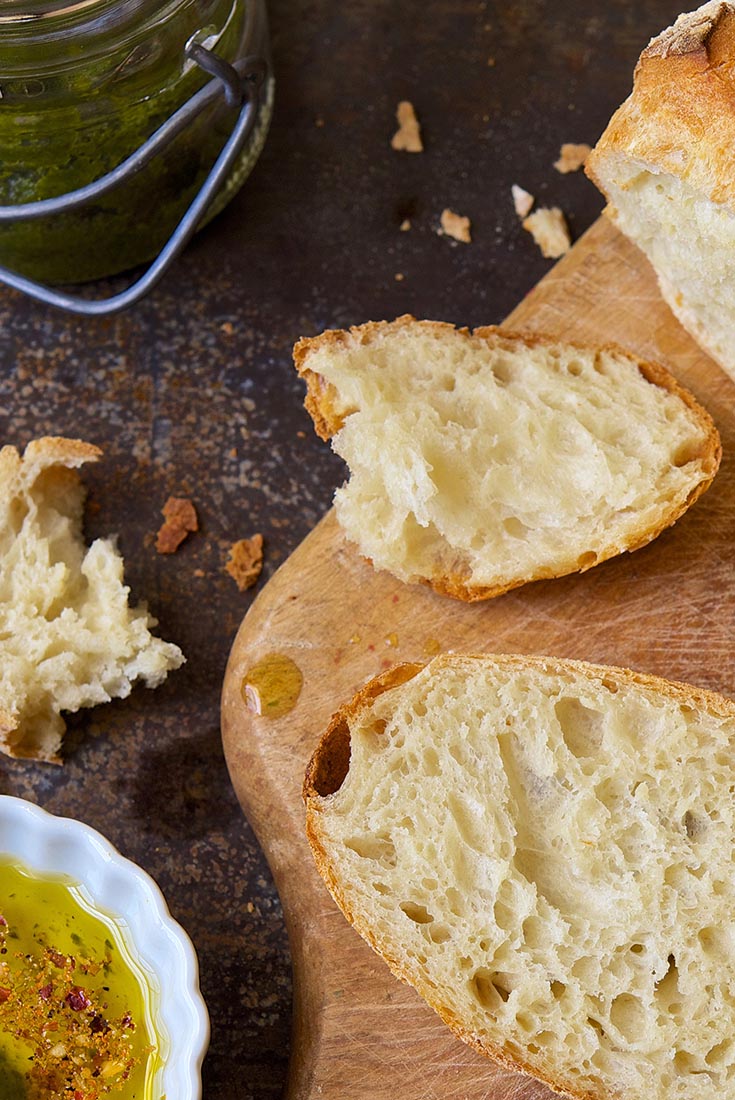 The most basic of all no-knead loaves, this is a wonderful way to get into yeast-bread baking. The easy stir-together dough rests in your refrigerator, developing flavor all the time, till you're ready to bake. About 90 minutes before you want to serve bread, grab a handful of dough, shape it, let it rise, then bake for 30 minutes. The result? Incredible, crusty artisan-style bread. If you're a first-time bread-baker, you'll never believe this bread came out of your own oven. And even if you're a seasoned bread baker, you'll love this recipe's simplicity.
Ingredients
3 cups lukewarm water
6 1/2 to 7 1/2 cups King Arthur Unbleached All-Purpose Flour* or Organic All-Purpose Flour
1 tablespoon salt
1 1/2 tablespoons instant or active dry yeast
*See "tips", below
Instructions
Combine all of the ingredients in a large mixing bowl, or a large (6-quart), food-safe plastic bucket. For first-timers, "lukewarm" means about 105°F, but don't stress over getting the temperatures exact here. Comfortably warm is fine; "OUCH, that's hot!" is not. Yeast is a living thing; treat it nicely.

Mix and stir everything together to make a very sticky, rough dough. If you have a stand mixer, beat at medium speed with the beater blade for 30 to 60 seconds. If you don't have a mixer, just stir-stir-stir with a big spoon or dough whisk until everything is combined.

Next, you're going to let the dough rise. If you've made the dough in a plastic bucket, you're all set — just let it stay there, covering the bucket with a lid or plastic wrap; a shower cap actually works well here. If you've made the dough in a bowl that's not at least 6-quart capacity, transfer it to a large bowl; it's going to rise a lot. There's no need to grease the bowl, though you can if you like; it makes it a bit easier to get the dough out when it's time to bake bread.

Cover the bowl or bucket, and let the dough rise at room temperature for 2 hours. Then refrigerate it for at least 2 hours, or for up to about 7 days. (If you're pressed for time, skip the room-temperature rise, and stick it right into the fridge). The longer you keep it in the fridge, the tangier it'll get; if you chill it for 7 days, it will taste like sourdough. Over the course of the first day or so, it'll rise, then fall. That's OK; that's what it's supposed to do.

When you're ready to make bread, sprinkle the top of the dough with flour; this will make it easier to grab a hunk. Grease your hands, and pull off about 1/4 to 1/3 of the dough — a 14-ounce to 19-ounce piece, if you have a scale. It'll be about the size of a softball, or a large grapefruit.

Plop the sticky dough onto a floured work surface, and round it into a ball, or a longer log. Don't fuss around trying to make it perfect; just do the best you can.

Place the loaf on a piece of parchment (if you're going to use a baking stone); or onto a lightly greased or parchment-lined baking sheet. Sift a light coating of flour over the top; this will help keep the bread moist as it rests before baking.

Let the loaf warm to room temperature and rise; this should take about 60 minutes (or longer, up to a couple of hours, if your house is cool). It won't appear to rise upwards that much; rather, it'll seem to settle and expand. Preheat your oven to 450°F while the loaf rests. If you're using a baking stone, position it on a middle rack while the oven preheats. Place a shallow metal or cast iron pan (not glass, Pyrex, or ceramic) on the lowest oven rack, and have 1 cup of hot water ready to go.

When you're ready to bake, take a sharp knife and slash the bread 2 or 3 times, making a cut about 1/2" deep. The bread may deflate a bit; that's OK, it'll pick right up in the hot oven.

Place the bread in the oven — onto the baking stone, if you're using one, or simply onto a middle rack, if it's on a pan — and carefully pour the 1 cup hot water into the shallow pan on the rack beneath. It'll bubble and steam; close the oven door quickly.

Bake the bread for 25 to 35 minutes, until it's a deep, golden brown.

Remove the bread from the oven, and cool it on a rack. Store leftover bread in a plastic bag at room temperature.
Nutrition Information
Serving Size

1 slice

Servings Per Batch

12 per loaf
Amount Per Serving:
Calories

100 cal

Calories from Fat

5

Total Fat

0g

Saturated Fat

0g

Trans Fat

0g

Cholesterol

0mg
Sodium

220mg

Total Carbohydrate

20g

Dietary Fiber

1g

Sugars

0g

Protein

4g
* The nutrition information provided for this recipe is determined by the ESHA Genesis R&D software program. Substituting any ingredients may change the posted nutrition information.
Tips from our bakers
The flour/liquid ratio is important in this recipe. If you measure flour by sprinkling it into your measuring cup, then gently sweeping off the excess, use 7 1/2 cups. If you measure flour by dipping your cup into the canister, then sweeping off the excess, use 6 1/2 cups. Most accurate of all (and guaranteed to give you the best results), if you measure flour by weight, use 32 ounces. Using the same ratio/measuring, you can make a half-recipe if you prefer. While it's great to have dough on hand, it's fine to make less.
Want to try this with whole wheat flour? You can absolutely make up to half of the total flour whole wheat, either our Premium or white whole wheat flours. Add an additional 2 teaspoons water per cup of whole wheat flour to prevent the dough from being too dry.
Would it be better to use bread flour here? Bread flour has more gluten-forming protein, so if you choose to use it in this recipe, the crust will be a bit thicker and you won't get quite the same open-holed structure as with all-purpose. We really prefer the texture of both crust and crumb when all-purpose flour is used. If you do use bread flour, increase the water by about 2 teaspoons per cup of flour to make the requisite sticky dough.
Want to cut this recipe in half? Go right ahead; simply reduce each ingredient by 50%, including the yeast, and proceed as directed.
For super-crusty artisan-style bread, try baking your dough in a Dutch oven. See the details in our blog post: Bread baking in a Dutch oven: the best way to bake no-knead bread.
Our thanks to Jeff Hertzberg and Zoë François, whose wonderful book, "Artisan Bread in Five Minutes a Day," is the inspiration for this recipe.
Reviews
Best no-knead crusty bread recipe out there. Followed instructions completely until it was time to bake. I used a Dutch oven (preheated with the oven) and when it was time to bake I transferred the dough with the parchment entirely to the Dutch oven, then baked it with the lid on for 30 minutes, then I removed the lid and baked for another 15-20 min. And I also added a slash into the dough before I baked it after the final rise and it made a beautiful mark and let the dough rise even more in the oven. Highly recommended recipe!
I made this recipe half whole wheat and it came out perfectly after 25 minutes in the oven. I shaped it into three loaves. Will definitely be making this recipe again!
I tried this recipe 3 times already but it is not coming out right to my satisfaction. I have weighed all the ingredients, used Emile Henry Bread and Potato pot, baked @450 deg F, covered up to 35 minutes and then removed the lid baked for another 10 minutes. I checked the inside temperature of the bread and it was reading close to 210 deg F. Loaf sounded 'hollow'. Outside was totally golden brown and crusty. When I sliced, I saw a very large number of holes just like it is shown the picture. However, I am totally disappointed the way it turned out to be. First, after I sliced, the slices felt very heavy not airy and light. Second, when I touched the middle portion of the slice, it has got a slight 'gummy' feel to it and I could sense some wetness through my fingers. I baked the bread around 7 PM and left it overnight to cool down. Then I sliced the bread next day around 11 AM. So the entire loaf was totally cooled down to room temperature. Being a highly trained chemist myself, I take a lot of precautions while weighing the ingredients and subsequent baking/cooking. To me everything should be 100% accurate. It is really driving me crazy, why this recipe is not working out. I am looking for a real light and airy slice of bread but it is not coming out this way. I have a strong suspicion that the recipe might have called for too much of water. Besides, while the empty bread pot is heating in the oven, I started working with the dough to make a nice round ball. After I made the dough ball and kept it on the counter and in less than 3-5 minutes, it is NOT staying as a round ball but it is flattening out. This lead me to think that there is too much of water in the recipe. Or there is no strength in the dough. In any case, I am hoping that the expert bakers at KAF will solve this problem for me and provide me with proper directions on baking this bread. If someone from KAF wants to discuss about this problem, please let me know. Thanks very much.

We'd love to discuss the finer points of this recipe, as well as baking it in the Bread and Potato Pot with you, fellow baker. You're clearly very passionate and dedicated to making the best loaves possible, so our bakers would love to take a deeper dive into this with you. Consider giving our Baker's Hotline a call at 855-371-BAKE (2253) so we can do just that. We look forward to assisting you further. Kindly, Kye@KAF
I love this recipe! Great to have some sitting in the fridge just waiting to be baked. I have made it several times but last night it came out different. Came out with a nice hearty (crispy) crust but three hours later, after sitting on the cooling rack, the crust softened, a lot. The bottom was pale but the top was just right when it came out of the oven. I cooked it on a stone and had the water bath below, per directions. I took its temperature and it was what it should be. Any idea why the crust would get soft?

Hello Stephanie! We're glad you enjoyed this recipe. Flour will absorb any moisture it can, including from the air, so it's possible that if it was a humid day, the loaf just took all of the moisture it could from the air. Loaves also tend to be crisper if you let it cool in the oven with the door propped open, so we recommend trying that. Thankfully, you can always re-toast a slice when you're ready to enjoy some if the humidity takes its toll. Kindly, Annabelle@KAF
What a fantastic loaf of bread! Due to my work schedule, my dough sat in the fridge for 5 days, and when baked had a mild, gorgeous sourdough flavor. My British husband loved this bread as it has body and flavor---he can't stand packaged American bread! I'm going to try and make the next loaf in a pan to make a sandwich loaf. Any reason this wouldn't work or is a bad idea?

Feel free to bake this as a sandwich loaf, Cyd. Try portioning off about 1 1/2 pounds of dough if you're using a standard 8 1/2" by 4 1/2" loaf pan. Shape the dough into a sandwich loaf and let it rise in the pan until it's visibly expanded and puffy. Follow the same general baking instructions provided here, checking for doneness around the 25-minute mark.

If the loaf starts to brown on the top too quickly, you can tent it with foil to prevent it from over-baking. If you have an instant-read thermometer, insert it into the center of the loaf to test for doneness. It should reach at least 190°F when it's finished. Happy baking! Kye@KAF
So...I haven't made this yet but I'm betting it's a five star. I'll find out tomorrow. My King Arthur aP stock is running low so my dough is a mix of King Arthur whole grain, white whole grain, bread and AP flours. I added additional water for the bread and grain flour cups. I'm nervous but I hope what I have is artisan like loaves. Did I go a little too crazy mixing all the flours?

You sound like an adventurous baker to us! You did precisely what we would have recommended by adding additional water to account for the whole grain flour and bread flour, which are more absorbent than all-purpose flour. Based on how you like the outcome of the final loaves, you may want to check out the recipe called No-Knead Crusty Whole Wheat Bread, which can serve as a guideline for using whole grain flours. Good luck and happy baking! Kye@KAF
This recipe is practically fool-proof, IF you measure everything correctly and allow it to rise. I found that, in the summer when the temperature in our house is at 78(ish) degrees, it takes about two hours for the dough to rise nicely. In the winter, when the house is cooler, it takes about three hours. I always double the recipe because we have a big family and we always run out. People start eating it BEFORE we even sit down for dinner! It's the best and easiest bread recipe ever!
Ive made this many and many times before however, today I messed up and halved the recipe and added 1/4 cup too much water will that ruin the bread? Please help

It should be just fine! If the dough is sticky just use a bit more flour on your counter while you're shaping. If you ever have a question, please call our free and friendly Baker's Hotline staff at 855-371-BAKE (2253) so you can have your questions answered right away as customers don't receive notifications when we respond here. Kindly, Annabelle@KAF
The bread tasted delicious! I thought it was too good to be true, but it was a hit with my family as well as two lunch guests. I was a bit critical for two reasons... 1) My loaves seemed to be a bit close-textured. I didn't have anywhere near the beautiful puffy holes seen in this photo. It didn't rise a ton while I was bringing it to room temp, but did puff up nice and tall in the oven. Perhaps I should have let it cool completely before cutting it? 2) Which brings me to my second issue. The crust was so thick that I really struggled to cut it. I felt like I was literally sawing with the bread knife. Since I was using this for egg salad sandwiches yesterday, it was frustrating because the sawing then mashed the bread. Do you think, given everyone has their own preferences, maybe I just don't love a crusty bread? Or, maybe my issue in both cases was just that I tried to cut it while it was too warm? Thanks so much! I really am a tough critic on my own baking. Everyone who tried this bread RAVED about it. And it was so so easy!!

We're glad this recipe made for tasty bread, Renee! You might be onto something that you just don't prefer really crusty bread. You can make the crust softer by baking without steam on a sheet pan without any lids or anything. You will want to let the loaf cool completely before cutting, otherwise, it can make parts of the loaf dry out and get crunchy, and other parts will feel gummy when eaten warm. For larger holes, the key is moisture, so, just in case you don't already, we recommend weighing your ingredients to make sure extra flour isn't getting into there to absorb the precious water. For ideal measurement accuracy when not using a scale, we recommend fluffing the flour with a whisk or spoon, sprinkling it into the measuring cup, and scraping off the excess. A couple of tweaks and we think this loaf will not only be tasty, but easier to cut too! Annabelle@KAF
I made this recipe last week. The first loaf (24 hours) was really good. The second loaf a day later was EXCELLENT. I say that you should wait 48 hours to begin with. Patience (or forethought) is highly rewarded in this recipe. Recommendation to KAF, you need to add a new recipe measurement category: Baker's scale recipe. Ever since I purchased a good digital scale with bakers percentage I am much more pleased with all my recipes, and the ease of the entire process is worth it. I am currently having to convert measure to weight to percentages in many recipes. The benefit: no measure needed at all! Decide what looks like enough flour (or use what flour you have left) and then hit the % key!