A customized print-friendly version of this recipe is available by clicking the "Print Recipe" button on this page.
Orange-Cranberry-Nut Fruit Cake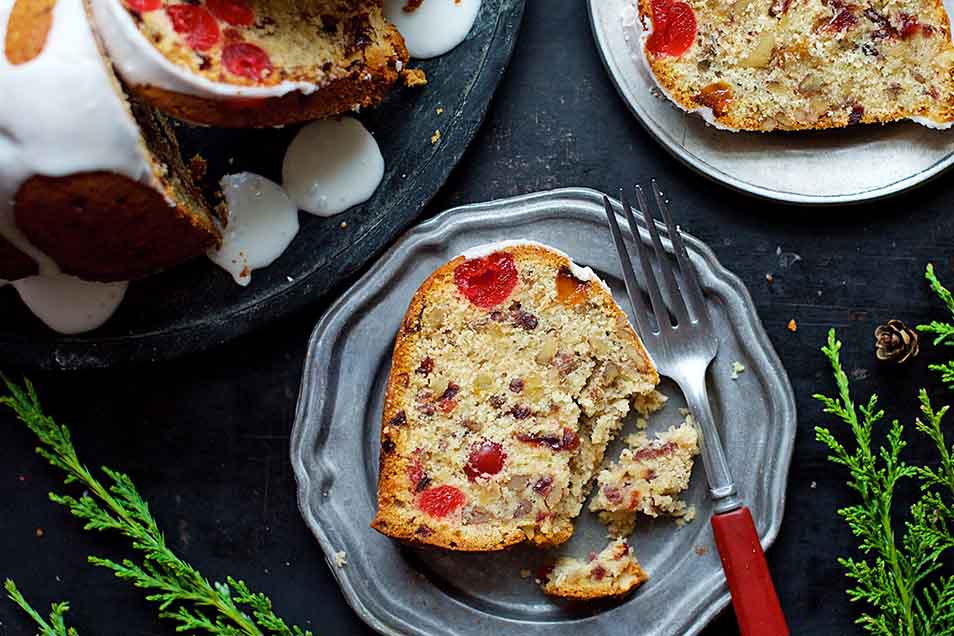 More of a cake with fruit than a traditional "fruitcake," this cake is stuffed with apricots, cherries, cranberries, and toasted nuts (in place of the usual fruitcake's citron and peel), then glazed with a sweetened orange juice syrup. Moist and nicely dense, it's a revelation to those who think they don't like fruitcake; and a nice change for aficionados of the typical dark, liquor-soaked loaf. While the picture shows a full-size bundt-style cake, the recipe translates easily to smaller gift-size cakes; see step #2; and baker's tips, below.
Ingredients
Fruit
2 cups dried cranberries or orange-flavored dried cranberries; or Orange Jammy Bits
2 cups dried fruit blend or dried apricots, chopped; or Apricot Jammy Bits
1/2 cup water, cranberry juice, or brandy
1 3/4 cups candied red cherries
Cake
1 cup unsalted butter
2 cups sugar
2 teaspoons baking powder
1 teaspoon salt
1/4 teaspoon orange oil, 1/8 to 1/4 teaspoon Fiori di Sicilia, or 1 teaspoon vanilla extract, optional
4 large eggs
3 3/4 cups King Arthur Unbleached All-Purpose Flour
1 cup orange juice
2 cups diced pecans or walnuts, optional*
*For enhanced flavor, toast nuts for 8 to 10 minutes in a preheated 325°F oven, until golden brown.
Glaze
1/3 cup orange juice
1/3 cup sugar
Icing, optional
3/4 cup confectioners' sugar
enough milk or water to make a thick but pourable icing
Instructions
To prepare the fruit: Combine the dried fruit (except the candied cherries) with liquid in a bowl. Cover and microwave for 1 to 2 minutes, stir, then set aside to cool.

Preheat the oven to 325°F.

To prepare the cake: In a large bowl, beat together the butter and sugar until light-colored and fluffy. Beat in the baking powder, salt, and flavors.

Beat in the eggs one at a time. Scrape the bottom and sides of the bowl, and beat again briefly, to incorporate any sticky residue.

Stir in the flour alternately with the orange juice.

Stir in the undrained fruit, the candied cherries, and the nuts.

Lightly grease the pans of your choice: two 8 1/2" x 4 1/2" loaf pans; or five 7" wooden bakers; or six 7" paper bake & give pans; or one 12-cup bundt-style pan; or two 6-cup bundt-style pans. For smaller loaves, see baker's tips, below.

Spoon the batter into the lightly greased baking pans, filling them about three-quarters full. If you have a scale, dividing the batter evenly among the pans is simple math. If you've included the nuts, the batter weighs about 90 oz. (2552g).

Bake the cakes for 50 to 90 minutes; smaller pans will bake for the shorter length of time. Half-size bundt-style cakes may need to bake up to 80 minutes, while one full-size bundt may need up to 90 minutes. When done, the cakes will be a light golden brown all over, and a long toothpick or skewer inserted into the center will come out clean.

To make the glaze: Stir together the orange juice and sugar while the cakes are baking. Warm briefly in the microwave; about 45 seconds should do it. Stir to help dissolve the sugar. Set aside to rest at room temperature, stirring occasionally to continue to dissolve the sugar.

Remove the cakes from the oven. If you're removing them from the pan(s), wait about 10 minutes, then turn them out onto a rack. Brush the warm cakes all over with the glaze, continuing to brush until you've used it all.

When completely cooled, wrap well and let "age" at least 24 hours; the cake improves with a 24-hour rest.

If desired, drizzle with icing just before serving.

Store cake, well wrapped, at room temperature; it should keep well for a couple of weeks. Freeze for longer storage.
Nutrition Information
Serving Size

1 slice

Servings Per Batch

28 (2 loaves)
Amount Per Serving:
Calories

330

Calories from Fat

110

Total Fat

13g

Saturated Fat

5g

Trans Fat

0g

Cholesterol

45mg
Sodium

140mg

Total Carbohydrate

53g

Dietary Fiber

2g

Sugars

34g

Protein

4g
* The nutrition information provided for this recipe is determined by the ESHA Genesis R&D software program. Substituting any ingredients may change the posted nutrition information.
Tips from our bakers
To make mini loaves: Lightly grease a mini loaf pan. Prepare the batter, then spoon it into the pan, filling each well about three-quarters full — you'll use about 4 1/2 ounces of batter in each well. Bake the cakes for 28 to 30 minutes until a cake tester inserted into the center of one comes out clean. Remove the cakes from the oven. Wait 5 minutes, turn them out of the pan, then brush the tops of the warm cakes with a coat of glaze. Repeat with the remaining batter — you'll need to bake two full batches, plus an additional half batch.
Reviews
AMAZING! I used the recipe that I cut out of a catalog a few years ago - featured with the mini loaf pan - back in those blissful days before jammy bits started showing up everywhere. (I firmly believe that fruitcakes deserve real fruit.) Back to the recipe - for some reason, I assumed making mini fruitcakes would be a long complicated process, but these were so simple and delicious. I highly recommend the mini loaf pan - turned out bakery-quality loaves, great for sharing with neighbors and friends. Thank you, KAF!
man oh man is this delicious! I used dried cranberries, apricots, golden raisins and cherries. I am making this every year from now on.
Delicious! I made it with only dried apricots, Craisins, and toasted pecans. Soaked the fruit in Triple Sec, glazed the cakes with honey bourbon (and a little for the cook.) Oh my my. So good. Now I'm wondering if it would be evil to have it for breakfast.
This was a big hit with my family, but I found it a little dry compared to other fruitcake recipes. I'm not sure if it was because this one isn't aged and this was simply how it should be, if it's because I made it nonalcoholic, or if I didn't wrap my bundt as tightly while it rested 24 hrs as I could have if I had used loaf pans, but the cake didn't have the moist texture that I was expecting. That said, the cake still was delicious, and dryer texture wouldn't keep me from making it again when my go-to boozy recipe isn't appropriate for the crowd I'm serving to. I made a few small tweaks to the flavor. To get some of the depth of flavor that rum has without using alcohol, I soaked my fruit in black tea. I also added 1 tsp of cinnamon, 5/8 tsp of cloves, and 1/8 tsp of cardamom to the batter, and I added a splash of almond extract to the icing. All of those flavor additions went really well with the fruits.
Made this 2 days ago, and it was a big hit. I used dried cranberries, dried cherries, dried apricots, golden raisins, and toasted pecans. For liquid, I used brandy for the fruit, orange juice in the batter and glaze, and fiorI di sicilia for the flavoring. It made 3 loaves that cooked for about 80 minutes. It's definitely worth making again. Thank you King Arthur !
I made this for my 89 year old mother who grew up in Alabama, and whose family received a fruitcake in the mail every Christmas. She said it was one of the best she'd ever eaten (although she didn't put neon green and red cherries on top!). I made it in my mini-bundt pans, so she got 4 individual, adorable cakes of different designs. The recipe freezes beautifully. I used the dried fruits and nuts I had on hand, as well as a good 1/4 cup of candied ginger. I soaked the dried fruit in Cointreau first. I have to say, there is something cool about making a recipe that everyone makes fun of, especially when it's this delicious!
The best fruit cake ever! I added some cranberry juice to craisins along with orange juice. I also added a little honey bourbon . I also added about 4 oz of cream cheese . The cake is light and delicious !
I absolutely loved this fruit cake! It's really fun to make; the batter is unbelievably thick and the finished cake is heavy! The brandy is a lovely addition. We used craisins, currants, golden raisins, diced apricots, pecans, and maraschino cherries -- allowing it to age for several days wrapped in plastic and foil at room temperature. I topped it with icing on Christmas morning -- yum! It kept well for several more days on a plate under a dome. However, the icing did not age well -- it turned brown and started to look unpleasant. It certainly tasted fine, but if you aren't going to use the whole cake within a day, I'd skip the icing.
This recipe has some really wonderful flavors and I love that it uses dried fruit instead of all candied fruit. I used almond and orange flavored brandy and some spiced rum to soak my fruit and almond extract. My only critical comment is that the batter is way too sweet. 2 cups of sugar, plus the orange juice makes for an extremely sweet cake portion, too sweet to balance all of the fruit and I am someone who has a huge sweet tooth!
I loved this cake! I got seven mini loaves (6" x 3") from the recipe to share with my family. Used a combination of dried cranberries, pineapple, and apricots. I chopped all of the fruit and nuts the day before to save myself some time. I tossed the dried fruit with spiced rum, then covered the bowl with plastic wrap and let it sit on the counter overnight. I did not have any orange oil, so instead I used about a teaspoon each of orange zest and vanilla. Fantastic. I will be making it again this week!