A customized print-friendly version of this recipe is available by clicking the "Print Recipe" button on this page.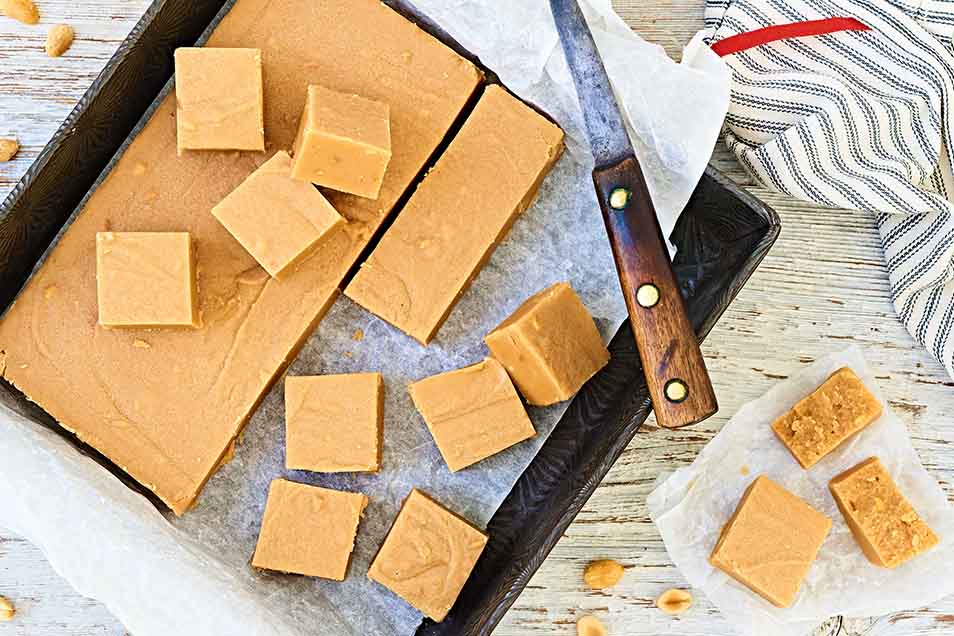 How can anyone possibly let the holidays go by without making some fudge? Chocolate is the most popular flavor, followed by maple, butterscotch, and vanilla. But peanut butter has always been one of our favorites; the slightly savory flavor of peanuts is a nice counterpoint to that oh-so-sweet fudge base of cream and sugar.
Ingredients
1 cup evaporated milk or light cream
2 cups sugar
pinch of salt
1/4 cup (1/2 stick) butter
1 cup mini marshmallows
1 1/3 cups peanut butter, chunky or smooth
1 teaspoon vanilla extract
Instructions
Butter an 8-inch square pan, set it aside. If you're giving the fudge for a gift, you may want to line the pan with foil and butter that, so you can lift the fudge out before cutting it.

In a heavy saucepan, combine the milk or cream, sugar, butter and salt. Heat over medium heat, stirring until the butter is melted and the sugar dissolves.

Continue heating until the mixture comes to a full, rolling boil; this is when the entire surface is covered with vigorously popping bubbles.

Boil without stirring for 8 to 10 minutes, or until the mixture registers 234° to 236°F on an instant-read or candy thermometer. (If you don't have a thermometer, see tips section on the right.)

When the fudge has reached the 234° to 236°F, immediately remove it from the heat, and stir in the marshmallows, peanut butter and vanilla until the mixture is smooth.

Pour the fudge into the prepared pan and allow it to cool overnight at room temperature, before cutting into 1-inch squares.
Nutrition Information
Serving Size

1-inch square, 14g

Servings Per Batch

64
Amount Per Serving:
Calories

65

Calories from Fat

31

Total Fat

3g

Saturated Fat

1g

Trans Fat

0

Cholesterol

2mg
Sodium

27mg

Total Carbohydrate

8g

Dietary Fiber

0

Sugars

7g

Protein

1g
* The nutrition information provided for this recipe is determined by the ESHA Genesis R&D software program. Substituting any ingredients may change the posted nutrition information.
Tips from our bakers
Fudge should be cooked to the soft-ball stage. If you don't have a thermometer, use this method to determine if the fudge has boiled long enough; however a thermometer is much more reliable. Once the boiling liquid begins to make a snapping sound as it cooks, drop a quarter teaspoon of the liquid into a glass of ice water. If it forms a soft ball that you can shape with your fingers, it's ready.
Reviews
I just made it and I messed it up , I thought everything was going good but when I added the marshmallows and peanut butter and vanilla and started stirring, it was burnt on the bottom.
This is my go to recipe for peanut butter fudge. Creamy, simple and straightforward. This makes a lighter and creamier fudge since it has marshmallows. If you want a thicker, denser peanut butter fudge, you have to find a recipe without marshmallows.
Love the taste of this fudge! I made last night per the recipe, but it turned out dry and crumbled like someone else stated. The milk, sugar, and butter also burned a little even though I continued to stir from time to time. I love peanut butter fudge, but really looking for a recipe to produce a creamy texture. Guess I boiled it too long but wanted it to be firm and be able to cut into pieces. Any suggestions on what I did wrong?

Freida, it's great to hear you liked the flavor of this fudge. Let's see if we can help you achieve the texture you're looking for too. Try heating the milk and cream mixture over a medium-low heat so that it gently reaches the full temperature. It will take more time this way, but it won't burn and will maintain a creamy texture. Also, be sure you're using an accurate instant read thermometer so that you know when you're reach the proper temperature. Shoot for 236°F if you want a sliceable texture. Good luck! Kye@KAF
Love this fudge, not overly sweet, and easy to make.
I tried this recipe and it failed. It was dry and crumbly. I'm sure it's due to the higher altitude. I don't make candy a lot so never thought about it until my sugars started to turn dark and it wasn't even to 225 degrees on my candy thermometer. What temp would you recommend for higher altitude (3500 feet)?
It does sound like altitude was the culprit here. Since water boils at a lower temperature at high altitude, you need to cook your candies to a lower temperature as well. Check what temperature your water boils at (after 10 minutes of boiling). Subtract that number from 212 degrees, and that is the number of degrees you'll need to subtract from your final cooking temperature. Barb@KAF
I tried this today, December 8, to test this recipe for my peanut butter fudge lovers. It turned out great so I will be making more batches to mail for Christmas treats. I was wondering if you would recommend this same recipe for chocolate fudge, simply replacing the peanut butter with the same amount of chocolate? In other words, in your opinion, would it work? Thanks for all your great recipes.
I am pleased you love this recipe! I would recommend rather than making the substitution, finding a recipe that has been tested and you can trust. Elisabeth@KAF
Fudge is always tricky but this recipe was easy and almost fool proof. Definitely need a candy thermometer. Also I stirred occasionally to avoid burning/sticking to the bottom.
I put my own spin on this recipe, and used sunflower seed butter in place of peanut butter. It made a really special treat, not oversweet like some fudge recipes - in fact, that is its only downfall....you could just eat the whole pan (or a good portion of it) in a sitting, it tastes that good.
This is a great peanut butter Fudge recipe. I followed the amounts listed exactly but cooked it in a microwave safe bowl. I cooked the sugar, butter, milk, and salt on high for about 12 minutes, stirring every 3 minutes. The last 3 minutes I stirred at 60 second intervals, checking the temperature with my candy thermometer each time. I cooked until it reached 234 F. then stirred in the remaining ingredients until smooth. I poured it up and let it cooled. It set up and cut beautifully. It is smooth and creamy, not grainy at all. Thanks for the recipe.
I wanted to try this recipe because it sounds delicious, but we are vegetarians and marshmallows are from meat byproducts. Can you suggest any substitutes for the marshmallows???
I'm sorry, this recipe as written must be made with marshmallows. I would search for a "cooked" peanut butter fudge for options that do not contain marshmallow. Jon@KAF