A customized print-friendly version of this recipe is available by clicking the "Print Recipe" button on this page.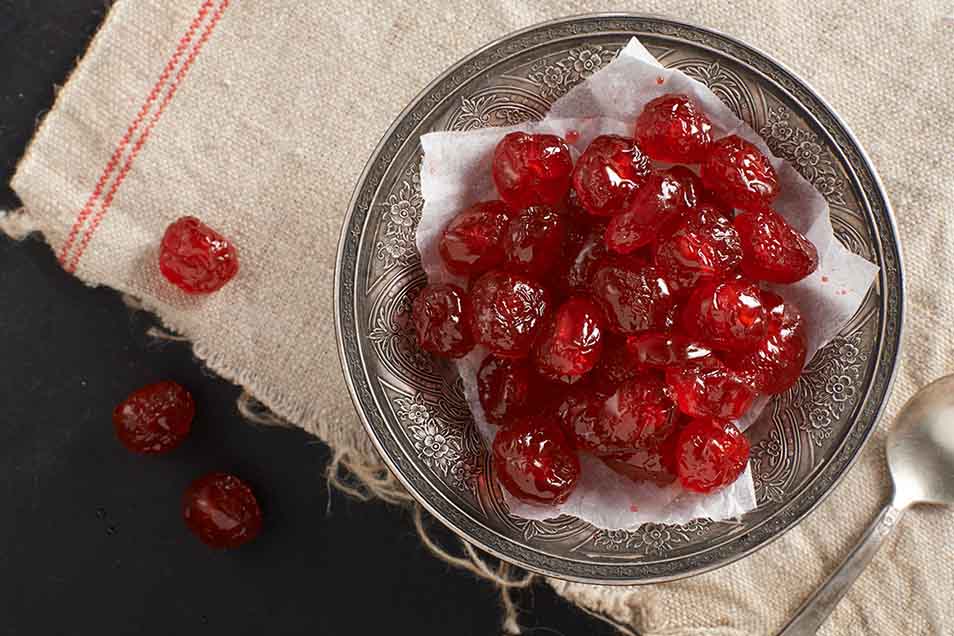 We love the way candied cherries enhance some of our favorite holiday baked goods, from fruitcake to sweet breads to cookies. When we discovered just how easy it was to make these little jeweled cherries ourselves, we immediately decided to share this recipe with all our fellow bakers. We think these taste much fresher than anything you'll buy at the supermarket.
Ingredients
16-ounce jar maraschino cherries
3/4 cup sugar
Instructions
Drain the cherries, reserving 1/4 cup of the juice.

Combine the cherry juice and sugar in a medium-sized saucepan, and cook over medium heat until the sugar is mostly dissolved (it should be more liquid than granular), 2 to 3 minutes.

Add the cherries to the pot, and bring the mixture to a boil. Cover the pot and reduce the heat so the liquid is simmering.

Simmer for 45 to 55 minutes, checking on the cherries and stirring them gently every 10 minutes or so, until they're slightly wrinkled and firm when you touch them with a spoon. At this point the syrup should have reached about 235°F, known as soft-ball stage.

Remove the cherries from the heat, uncover the pan, and allow them to cool to room temperature.

Remove the cherries from the pot with a slotted spoon or strainer to a parchment-lined sheet pan or plate.

Use cherries immediately, or store them in an airtight container in the refrigerator for up to 6 months.
Tips from our bakers
Although the cherries can cook unattended, we don't recommend venturing too far away; everyone's stove simmers at different levels, and we know how easy it is to end up with pitch-black jewels rather than brilliant red!
Reviews
Absolutely delicious. I do have a question...I cooled them to room temperature. When I removed them from the pan, they would not drain. Th syrup was too thick. Does anyone have a suggestion? I rolled them on the parchment. However, too much of the syrup remained and the red ran during baking. Thank you for a great recipe.

Hi there, Nancy! It sounds like the syrup got cooked a little bit further than soft-ball stage (235°F) causing too much liquid to evaporate and creating a thicker syrup. You might try adding a little additional warm water to thin out the syrup and then straining the cherries again. We hope this helps! Morgan@KAF
Everybody is correct. These are absolutely fantastic. They taste better than anything you can find in the store. Very easy to make. I used these in the KA Everyone's Favorite Fruitcake recipe any they were great.
This recipe is wonderful! Super easy and my cherries came out perfect.
The fruit has a much better flavor and I candied pineapples too. I saved the syrup. It taste wonderful. I used the syrup in place of corn syrup in my fruit cake recipes and I mixed 1:1 syrup and alcohol to brush my fruit cakes with after baking. I will be doing this every year now.
Thank you so much for this recipe! I needed candied cherries for my upcoming Christmas baking. I did not want to resort to buying the candied cherries available at the grocery store. Their bright red colour is that bright for a reason--chock full of Red40 dye. Ugh. I found a brand of natural maraschino cherries that had no dye, no high fructose corn syrup and no chemicals plus they were not all that much more than the jars of the more common Red40 maraschino cherries. The candied cherries I made with the natural maraschinos came out a lovely dark red. Much preferable to the neon bright red of those Red40 candied cherries!
These cherries turn out beautifully. I saved so much money on my holiday baking using this recipe.
Can this be done with canned pineapple in heavy syrup?

We haven't tried making candied pineapple using this method, but we think it could work well. Just be sure to drain the pineapple and save 1/4 cup of the syrup to mix with the sugar. Use a 16-ounce can of pineapple for best results (or use a 20-ounce can and use about 3/4 of the fruit). We hope you'll share your results with us if you decide to give it a try. Happy baking! Kye@KAF
Can honey be used instead of sugar? I believe the ratio would be 2/3 cup honey to 1 cup sugar?

We haven't tested this recipe using honey, Carol, so we're not sure if the syrup it creates will give you the desired smooth texture. The flavor of the honey may also overtake that of the cherries. If you're up for a little experimentation, we'd say your estimation of 2/3 cup sounds like it's on the right track. Happy experimenting! Annabelle@KAF
I followed the recipe to the "T" and my cherries turned out PERFECT!!! Very awesome of you to share this recipe!!! I make about 75 fruit cakes during the holiday season and "Candied Cherries " are my biggest expense along with pecans!!!! Thanks so much, Larry J
I ended up with burnt cherries after 25 minutes :-( Heat too high?

We're surprised to hear about your burnt cherries, Melissa, and we're so sorry for your disappointment. It sounds your pan got hot too quickly. It should take about 45 minutes for the sugar mixture to reach soft-ball stage (235°F). If it reaches this temperature faster than that, turn the heat down to prevent them from burning. Also be sure you're stirring every 10 minutes or so to prevent the bottom from becoming too hot, and use a medium-sized sauce pan. One that's larger may cause the cherries to burn too quickly. We hope this helps, and happy baking! Kye@KAF