A customized print-friendly version of this recipe is available by clicking the "Print Recipe" button on this page.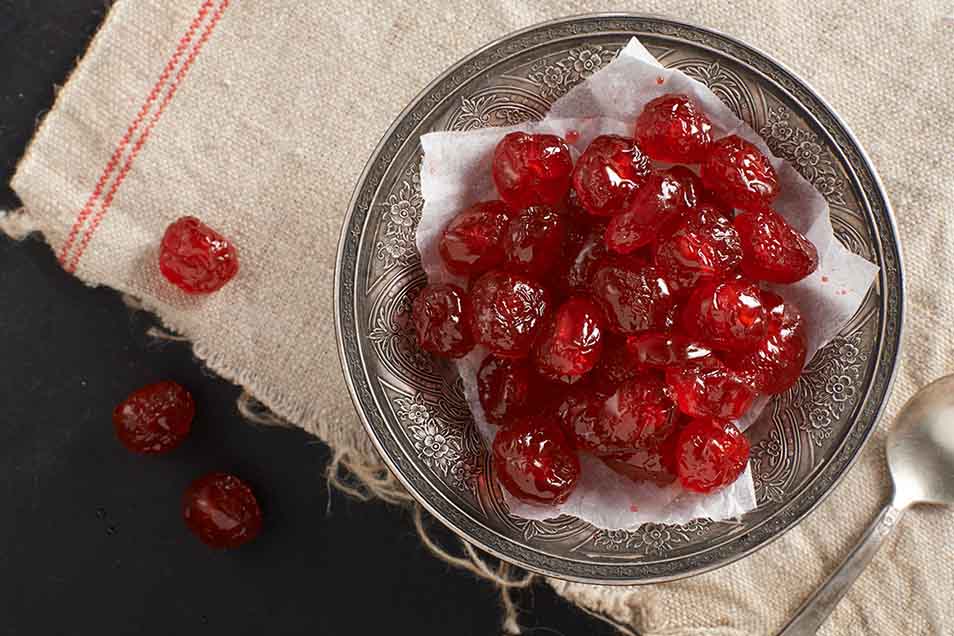 We love the way candied cherries enhance some of our favorite holiday baked goods, from fruitcake to sweet breads to cookies. When we discovered just how easy it was to make these little jeweled cherries ourselves, we immediately decided to share this recipe with all our fellow bakers. We think these taste much fresher than anything you'll buy at the supermarket.
Ingredients
16-ounce jar maraschino cherries
3/4 cup sugar
Instructions
Drain the cherries, reserving 1/4 cup of the juice.

Combine the cherry juice and sugar in a medium-sized saucepan, and cook over medium heat until the sugar is mostly dissolved (it should be more liquid than granular), 2 to 3 minutes.

Add the cherries to the pot, and bring the mixture to a boil. Cover the pot and reduce the heat so the liquid is simmering.

Simmer for 45 to 55 minutes, checking on the cherries and stirring them gently every 10 minutes or so, until they're slightly wrinkled and firm when you touch them with a spoon. At this point the syrup should have reached about 235°F, known as soft-ball stage.

Remove the cherries from the heat, uncover the pan, and allow them to cool to room temperature.

Remove the cherries from the pot with a slotted spoon or strainer to a parchment-lined sheet pan or plate.

Use cherries immediately, or store them in an airtight container in the refrigerator for up to 6 months.
Tips from our bakers
Although the cherries can cook unattended, we don't recommend venturing too far away; everyone's stove simmers at different levels, and we know how easy it is to end up with pitch-black jewels rather than brilliant red!