A customized print-friendly version of this recipe is available by clicking the "Print Recipe" button on this page.
Pumpernickel-Rye Hearth Bread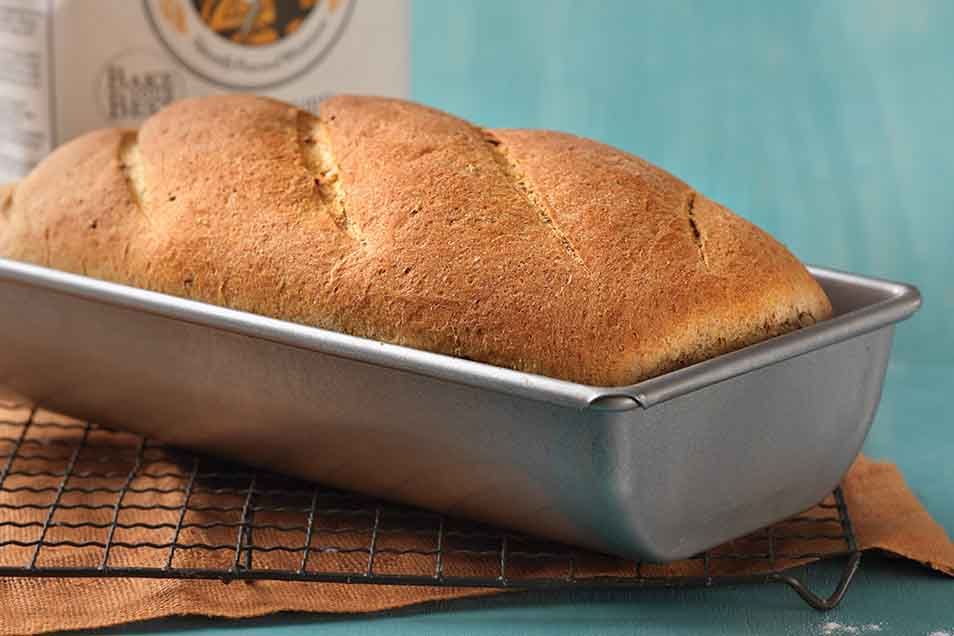 This hearty rye loaf is flavorful sliced, toasted, and smeared with a generous quantity of melting butter. It also makes a dynamite Reuben Panini.
Instructions
Combine all of the ingredients, stirring until the dough comes together.

Knead the dough until smooth, adding additional water or all-purpose flour if needed — the dough should be soft and somewhat sticky.

Cover the dough, and let it rise until puffy, 60 to 90 minutes.

Lightly grease a hearth bread pan (or other 2-pound capacity loaf pan); a 10" x 5" loaf pan; or a long covered baker or 13" pain de mie pan, both without the cover, work well here.

Gently deflate the dough and shape it into a log the length of your chosen pan. Place it in the prepared pan, and let the dough rise until it's just about doubled in size, 60 to 90 minutes. If you're using a long baker, it will crown about 1/2" over the lip of the pan. Towards the end of the rising time, preheat the oven to 350°F.

Bake the bread for 40 to 45 minutes, tenting it with aluminum foil after about 20 minutes to prevent it from getting too dark. The bread should be a nice golden brown when finished, and its internal temperature will register at least 200°F on a digital instant-read thermometer.

Remove the bread from the oven, turn it out of the pan, and allow it to cool completely before slicing.

Yield: 1 large (about 2-pound) loaf.
Tips from our bakers
Tip: If you don't have a 2-pound capacity bread pan, you can shape the dough into a freeform log or boule, and place on a greased or parchment-lined baking sheet. When ready to bake, slash the bread several times to give it room to expand; then bake for 40 to 45 minutes, until it tests done.
Reviews
Want to do a rye bread that isnt so complicated? This is it! I did this a little different. I put all ingredients in the bread machine....drys first, wets last and let it do the mixing and kneading for the first 20 mins of the cycle. Watched it closely and thought the dough ball was too dry. Slowly added about 4 tbsp water. Recipe notes say its suppose to be somewhat sticky. Pulled the ball and let its rise 90 mins in a lightly greased bowl. Everything else I did per recipe. The loaf turned out great! This recipe didnt rise as fast as others Ive tried. Maybe that just a characteristic of this type bread.
I followed the recipe exactly. This is perfect rye bread. The texture and flavor are better than I ever expected. I used the pan shown and my bread looked just like the picture. I have toasted it and eaten a slice with butter and ginger preserves for breakfast, made plain and grilled sandwiches and eaten a slice with meals. I made it 7 days ago and have kept it in a Ziploc bag on the counter. It is still moist and shows no sign of staleness or spoilage. I have about 1/3 of the loaf left and want to see how long it will last when kept this way. This will be my go-to rye bread recipe.
My search for rye bread is over; this is it. Didn't have either the vital wheat gluten or the deli rye flavor, but did have the "rye bread improver" (added 3 tablespoons), and also added 2 tsp onion powder and 2 T dried minced onion which I let soak in the warm water for 15 minutes or so. After mixing everything I let it rest for 20 minutes before I kneaded it in my stand mixer. It seemed a bit dry, so I added about 2 T water. It took a good 90 minutes for the first rise, the second rise in the hearth pan little less than an hour. I baked it in the pan about 45 minutes, after which the internal temp was still only 161 degrees, so I took it out of the pan and baked it another 15 minutes or so, until the temp finally got to 201. I let it cool overnight, and when my husband sliced it, it was simply wonderful. He said to me, "Why haven't you made this before?" Oh, almost forgot to mention that the smell while it was baking and then cooling was a heavenly experience.
For my tastes, this is the perfect bread for a ham-and Swiss cheese sandwich. Here in the cold New England weather, the dough took somewhat longer to rise, both in the bowl and in the pan, but patience was rewarded with a beautiful, high-rising, flavorful loaf. Thanks, as always, KAF!
Wonderful flavor and texture. Took two tries to get it right. First time kneaded by hand and second time with Kitchenaid mixer. Great results. Used it today at my small deli to make Reuben sandwiches and got rave reviews.
This is a great tasting rye bread! I've made it twice exactly to the recipe. Love it toasted with breakfast every morning. Got compliments on it right off and relatives asking for it. Will make it frequently. This recipe is easy and less complicated than other rye recipes I've tried and tastes a lot better! Dough is easier to work with. Will make good gifts. I purchased your 2 lb. capacity bread pan for this and it works well. Really looking forward to Reuben paninis with this. Also want to make 2 smaller loaves from this recipe. Any suggestions on baking time, etc.?
You might want to test your smaller loaves after 30 minutes of baking. I am so glad your loved ones are enjoying this loaf!~Jaydl@KAF
An excellently flavored easy rye that's adaptable to what you have around. I used strong brewed coffee instead of 1/3 of the water and added 1 tbl cocoa powder to mimic the malliards reactions in a true pumpernickel, and it was lovely. The texture is light compared to other ryes and slices nicely for sandwiches.