A customized print-friendly version of this recipe is available by clicking the "Print Recipe" button on this page.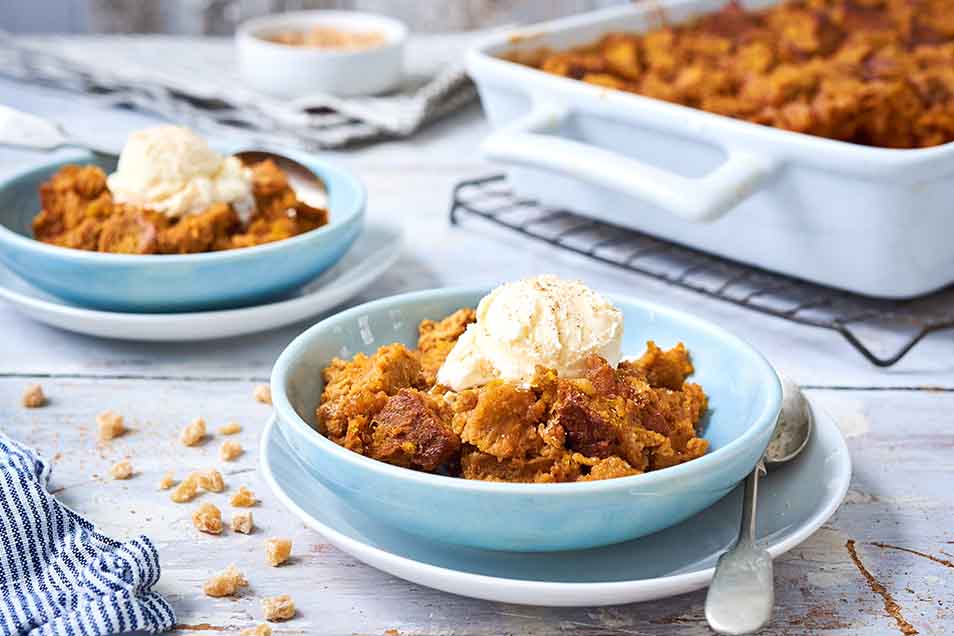 This smooth and creamy, golden-orange bread pudding gets rave reviews from all of our taste testers here at King Arthur Flour. It's a great change-of-pace autumn dessert (think Thanksgiving).
Ingredients
6 large eggs
1 1/2 cups (15-ounce can) pumpkin or squash purée
2 cups light cream or half & half
1 cup milk
3/4 cup granulated sugar
1/3 cup brown sugar
1/4 cup rum, optional
1/2 teaspoon salt
1 teaspoon ground cinnamon
1 teaspoon ground ginger
1/4 teaspoon ground cloves
1/4 teaspoon ground nutmeg
2 teaspoons vanilla extract
8 cups bread, cut in 3/4" cubes (See "tips", below.)
Instructions
In a large mixing bowl, combine the eggs, pumpkin, cream or half & half, milk, sugars, rum, salt, spices, and vanilla, stirring to blend.

Lightly grease a 2-quart baking dish or a 9" x 13" pan; if you're going to refrigerate the pudding before baking, be sure to use a dish that can go from the fridge to a hot oven.

Place the cubed bread in the dish in an even layer, and pour the liquid mixture over it. Let it rest at room temperature for 30 minutes, or for up to 24 hours in the refrigerator.

Preheat your oven to 350°F.

When you're ready to bake the pudding, stir it together to redistribute the custard; quite a bit of it will have been absorbed by the bread.

Sprinkle with grated nutmeg, if desired; and bake until set and beginning to brown, about 40 to 50 minutes.

Serve warm with whipped cream or ice cream; garnish with minced crystallized ginger, if desired.

Store, covered, in the refrigerator for up to 5 days.
Tips from our bakers
Try using our Pumpkin Yeast Bread. Or use any non-savory bread: brioche, a sweet bread, or plain white or whole wheat bread.
This basic formula can be used to make bread pudding from all kinds of leftover bread, even savory herb or cheese-type breads. Simply leave out the pumpkin and add a cup of dried raisins or other dried fruit, if desired. If you're making a savory bread pudding, leave out the sugar and spices (though adding a bit of dry mustard and a cup or two of grated cheese is delightful). Also, if you have just a small amount of leftover bread, cut back the recipe proportionately and bake in a smaller pan, cutting back the baking time accordingly.
Reviews
I used a home made multi-nut and grain bread and froze it prior to making this recipe. I did not use Rum! I let it stand at room temperature for 30 minutes before baking. This result was so fantastic it has become a new staple and will definitely be added to all holiday gathering.
Made this tonight and used a cup of eggnog in the liquid along with the rum.... I ramped up the spices a bit and added pecans too.... it's a great, easy recipe. Thanks!
I use an egg brioche bread as the base, rather than plain bread. You can use any egg bread, such as brioche or challah. This bread pudding is a winner. It's hands-down one of the best bread pudding recipes I've made, and I've made quite a few. Pay attention to the baking time so it doesn't come out dry around the edges. I have made the whole recipe and have also have halved it. Both come out perfect. I'll be making it as one of a selection of desserts we'll be bringing to Thanksgiving dinner. It's a perfect dessert to bake ahead as it keeps and travels well. You can top it with a bit of whipped cream if you choose, but either way, plain or fancy, is delicious.
I made this yesterday and put it in the refrigerator over night and baked it in the morning and took it to work. It was such a hit. I don't usually like bread pudding but this recipe, using the pumpkin bread suggested really works well. I brought the 9x13 inch pan home empty. Couple people wanted some to take home to their spouse. The pumpkin bread recipe can stand on it's own it is that good and even better warmed up. This recipe is a keeper and just in time for Thanksgiving. Now I will give it five stars. And thank your team for getting back to me about the miss understanding on the recipe for the bread pudding. I recommended this recipe to 3 people who ate some of mine, I told them to go to this website to get it.
I have not baked it yet I am trying to figure out if I was supposed to use half and half or light cream. the ingredients read 2 cups of light cream and the directions read (mix the half and half, milk) so which is it? I bought the light cream so that is what I am using. Please correct this recipe it is very confusing. will return and put in another review after I have made it and tasted it.

Either light cream or half and half can be used here, with light cream adding a little more richness with its higher fat content. You're right, though, that it's confusing to have two different types of cream listed separately, so we will get that wording updated. Hope all went well with your bake! Mollie@KAF
This recipe is a keeper! Very moist on the inside and slightly crunchy on the top, it's better than any bread pudding recipe I've made (mine always turns out dry and too crunchy but this wasn't)! And the aroma in the house while this was being baked in the oven was just wonderful!
This was a very good, very basic pudding, but a little bland. I had added some chopped pecans (on the stale sweet rolls) and thew in a handful of whole frozen cranberries. I really wish I had added more of both, as the pecans were just lovely texture and the cranberries gave a wonderful tartness and little bursts of juice. So it was a very solid recipe, just a bit bland and would add to it.
I have not actually made this recipe following the directions exactly.... I substitute low-fat buttermilk for the cream and milk, and I use all whole wheat cubed bread also, not slices. That way I can justify eating it foe breakfast! It's delicious!
My favorite bread pudding recipe. I enjoy it anytime of the year. Tastes like pumpkin pie. You must use good bakery or homemade yeast bread for the best flavor.
Make this for thanksgiving . I put it in fridge over nite and baked it while we had our dinner it was a big hit will be making this again