A customized print-friendly version of this recipe is available by clicking the "Print Recipe" button on this page.
Ridiculously Easy No-Knead Sticky Buns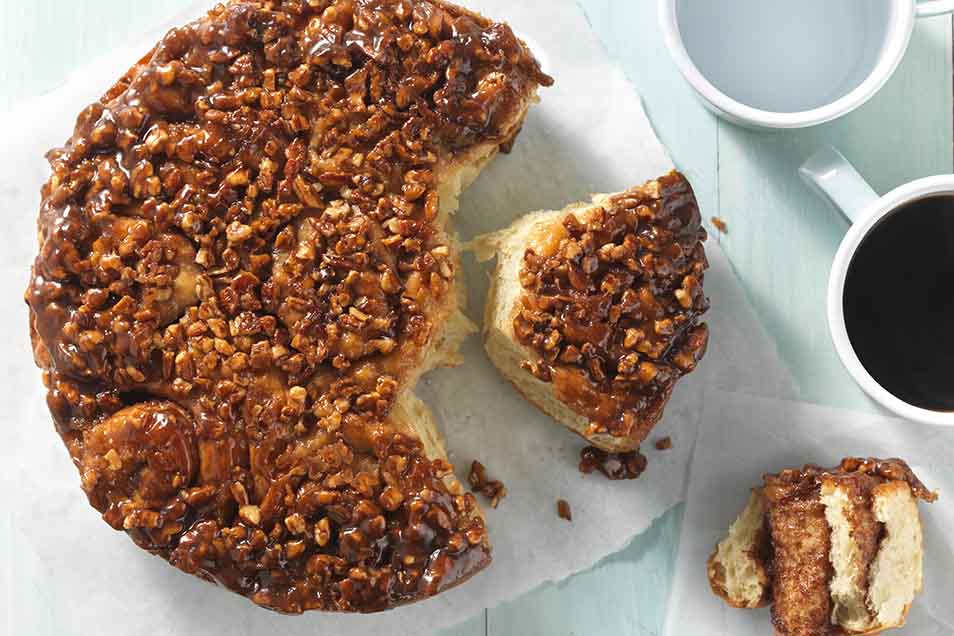 Jeff Hertzberg and Zoe Francois' wonderful book, "Artisan Bread in Five Minutes a Day," is the inspiration for these sticky buns. We took the authors' dough recipe, and tweaked it a tiny bit; then added our own favorite filling and topping. If you're someone who enjoys over-the-top sweet rolls, without a lot of fuss, this recipe's for you.

Note that you have some choices for the filling. Our Baker's Cinnamon Filling mixed with water yields a dark, thick, rich cinnamon filling. But if you choose not to use it, simply mix granulated sugar with cinnamon (NO WATER!), and sprinkle it over the dough for a lighter, milder filling.
Ingredients
Filling
2/3 cup Baker's Cinnamon filling* mixed with 3 tablespoons water
*Substitute 2/3 cup granulated sugar and 1 tablespoon ground cinnamon for the Baker's Cinnamon Filling and water, if desired. If you use sugar and cinnamon, DO NOT ADD THE WATER.
Topping
3 tablespoons butter, melted
2 tablespoons maple syrup, honey, or corn syrup, light or dark
3 tablespoons Sticky Bun Sugar*
1/3 cup brown sugar
2/3 cup pecan halves or coarsely chopped pecans
*Substitute brown sugar for the sticky bun sugar, if desired
Instructions
The flour/liquid ratio is important in this recipe. If you measure flour by sprinkling it into your measuring cup, then gently sweeping off the excess, use 7 3/4 cups. If you measure flour by dipping your cup into the canister, then sweeping off the excess, use 6 3/4 cups. Most accurate of all, and guaranteed to give you the best results, if you measure flour by weight, use 33 ounces.

To make the dough: Combine all of the dough ingredients, in the order written, in a very large bowl (at least 6 quarts). Stir to make a sticky dough. You can do this in a stand mixer and then transfer to a larger bowl; or simply use a big bowl and spoon (or dough whisk).

Cover the bowl, and let the dough rise for 2 hours at cool room temperature.

Refrigerate the dough for at least several hours, to chill it and make it easier to work with. It can be refrigerated for up to 3 days before using.

When you're ready to make sticky buns, make the filling. Combine the Baker's Cinnamon Filling and water, stirring till smooth. Set aside.

To make the topping: Spread the melted butter and syrup (or honey) in a lightly greased 9" round cake pan. Sprinkle the sugar(s) atop the butter, then scatter the nuts atop the sugar(s). Set aside.

To make sticky buns: Spray your hand with non-stick vegetable oil spray, and dip it into the dough in the bucket. Pinch off/pull out 1/3 of the dough; this is about the size of a large softball or a large grapefruit, a scant 22 ounces. For best accuracy, weigh on a scale. Place the remaining dough back in the refrigerator, to use another time. Or wrap and store in the freezer. This dough recipe is enough to make three 8" or 9" round pans of sticky buns.

Transfer the dough to a floured work surface, and roll it into a rectangle approximately 15" x 10".

Spread the filling over the dough, leaving a narrow margin around the edges uncovered.

Starting with a long edge, gently roll the dough into a log. Don't roll it too tightly; if you do, the centers of the buns will pop up as they bake.

Cut the log into 8 pieces.

Space the buns in the pan. Lightly press each down till they're touching one another.

Cover the pan, and allow the buns to rise till they're quite puffy, about 1 hour. Towards the end of the rising time, preheat the oven to 350°F.

Uncover the pan, and bake the buns for 40 to 45 minutes, until they're a deep golden brown.

Remove the pan from the oven, and turn it over onto a piece of parchment, or onto a cooling rack set over a piece of parchment or waxed paper (to catch any drips).

Lift off the pan, and scrape any nuts or sugar in the pan onto the buns.

Serve immediately, or let the buns cool a bit. Wrap any leftovers securely, and store at room temperature.

Yield: 8 sticky buns per batch; the dough will yield three batches of buns.
Nutrition Information
Serving Size

1 bun (95)

Servings Per Batch

8
Amount Per Serving:
Calories

280

Calories from Fat

80

Total Fat

9g

Saturated Fat

4g

Trans Fat

0 g

Cholesterol

45mg
Sodium

360mg

Total Carbohydrate

44g

Dietary Fiber

2g

Sugars

13g

Protein

6g
* The nutrition information provided for this recipe is determined by the ESHA Genesis R&D software program. Substituting any ingredients may change the posted nutrition information.
Tips from our bakers
Want to make four batches of buns instead of three? Simply divide the dough into four 1-pound pieces (instead of three 22-ounce pieces), and bake each batch of 8 buns in an 8" round pan, instead of in a 9" round pan. There's no need to change the amounts of any of the filling or topping ingredients.
Want warm sticky buns in the morning? Shape the buns, place them in the pan, cover, and let rise overnight in the fridge. Next morning, remove from the fridge, preheat your oven, and bake till golden brown. It might take about 5 minutes longer than the recipe indicates; just keep your eye on them towards the end.
The filling/topping amounts listed above are enough for one pan of buns. Simply scale up the amounts if you're making more than one pan of buns at a time.
Reviews
I received this mix as a gift. I like to cook but I'm not great at baking so it was not too "ridiculously easy" for me. However, after some self-encouragement, I started making the dough. I don't have a mixer so I stirred the dough by hand and was worried about how well I mixed it. The dough is very heavy. It was pretty easy until I read it made 3 batches and I'd have to chill it for hours. I started making it after dinner so I had to let it chill overnight. I was a not prepared for how much the dough rises. It definitely needs the 6 qt bowl as the recipe calls for. Then the next day, I made the filling and topping. I mixed all of the topping together instead of layering and liked the way it came out. I also substituted walnuts for pecans and it was good. I was also questioning if the filling and topping were for 1 serving or 3 as other comments stated, since the dough makes 3 servings. The call lines were busy on Sunday afternoon so I decided to make both and it seemed like they are for 1 serving so my question was answered. Luckily I checked the buns after 30 minutes of baking in the KAF round pan and they were golden brown. Glad I didn't let them go for 40 minutes or I would have been discouraged to continue baking the other batches. I made the second batch and have one more to go. I am starting to feel like a pro! The sticky buns are light and chewy and flavorful. The filling and topping are a bit sweet for my taste but overall they are very good as other KAF mixes I have tried. Great quality and no one would ever guess they were from a mix. I impressed myself at the way they came out. Highly recommend these but they are a bit of work for a non-baker.
Has been my go to recipe for Christmas morning and Christmas gifts for family. Usually make 10-12 batches a year. Need to make a couple gluten free batches this year - anyone know if I can use this recipe with a one for one gluten free flour?

We're glad to hear this recipe has served you well in the past, Lesley. We appreciate your desire to make this recipe suitable for the gluten-free folks in your group, but alas, yeast doughs are a particularly tough nut to crack in the gluten-free world, (though there are some exceptions). Gluten happens to be uniquely good at supporting the rise and structure of yeast bread and rolls/buns, and subbing in a gluten-free flour won't provide quite the love needed to make these sticky buns turn out well.

Rather than attempting to convert this existing recipe to be gluten-free, we recommend using a recipe specifically developed for gluten-free ingredients, like our Gluten-Free Cinnamon Buns recipe. (Find it in the recipe section of our website by searching for its title.) We hope this helps make everyone at your holiday celebration happy! Kye@KAF
Yummy! I fretted a bit about making these as I only had Red Star Platinum quick rise yeast and I didn't have the special sugar mixture but, wow, what a success anyway. I followed the instructions on the package of yeast (using 2 of the 3 on the strip yields 1.5T) to incorporate it into the flour and salt. Then proceeded as directed. For the filling I melted 4T butter and stirred in about 3/4c. of a sugar, cinnamon, cardamom, garam masala mixture and allowed it to cool and thicken up to spreading consistency. When baked I had the most delicious pecan rolls ever- a tiny bit crispy on the outside with an inside that was just wonderfully tender and flavorful.
These were very good and easy to make, but time consuming. The recipe did not say to seal the dough when it was shaped into a log so some of them kind of came apart as they were rising. Also when I cut the dough into 8 pieces much of the cinnamon sugar filling came out, so I scraped it up with my bench scraper and just put it on top of the rolls all ready in the pan. They turned out very good and were a hit with my family. They were even good reheated the next day.
The idea behind this is five stars (making it a day ahead of time, sticky buns etc) but the cook time is WAY off. I check at 30 min and wish I had removed it at that time - I had two pans in and they were a beautiful light brown and I could see the sticky topping happily bubbling at the sides. Against my better judgement I waited until 39 minutes at which point they were way too dark. The topping had basically become hard candy and the rolls were incredibly dry. i unfortunately did two batches at once so I ruined two but I've got one more that sat overnight so I'm going to try it again. Looking at cinnamon roll recipes from other sites most cook a 9x13 pan for 20-30 minutes. The cooking time has got to be a mistake.

We're glad you think this is a five-star recipe Marie, but we're sorry you had trouble with the baking time. 40-45 minutes of bake time seems to work for most other bakers who review the recipe, so we're wondering if perhaps your oven was running hot or if you used a convection setting, which can increase the oven temperature by about 25°F. Another common cause of over-baking is the use of dark metal pans. If you are using this kind of pan, try turning the temperature down by 25°f and checking for doneness about ten minutes early. (This general rule of thumb holds true for almost all recipes made in dark metal pans.) We hope this helps! Kye@KAF
I bought the ingredients (cinnamon filling, sticky bun sugar, round pan) for this recipe with the intention of opening it as a present on Christmas Eve and making the Sticky Buns with my boyfriend for Christmas morning. Oops! I broke my foot and was out of commission, so Morgan was on his own with the recipe. He's good at rolling out pizza dough, but that's about as far as he's got with his baking skills. He followed the recipe with care, and they turned out incredibly good. Couldn't have been better from the bakery. Well done, sweety! We got lazy and hungry one morning, and he made the next pan without letting them rise, just rolled em up and popped in the oven. Still delicious! We live at 6230' altitude and had no surprises with this recipe. And in our opinion: 1) go for the cinnamon filling mix; 2) more pecans, more better! thank you KAF!!
Honestly, I wanted a make-ahead dough for dinner rolls for Christmas. My dad is a baker and told me that sweet dough is what dinner rolls are made with. So I made this and left it in the fridge overnight. They did rise too much for the Parker House style I attempted but would probably make great cloverleaf or bun for little sandwiches or knot. They really rise! I did add one tsp extra salt because mine is the lower sodium sea salt. It was perfect for the rolls.
This was a hit, but I think the filling is a little excessive and a bit overly sweet to my tastes, with the sweet dough and sweet sticky topping, I don't think 2/3c sugar per filling is necessary. I would like to try with the suggested Bakers Cinnamon filling paste, as the granular nature of the sugar/cinnamon mixture caused a lot of filling to fall out when cutting the log into rolls.
Big hit, excellent texture to the dough. I substituted the cinnamon filling from one of your other recipes (4 tbsp cinnamon, 1/2 cup brown sugar, 2 tsp cinnamon) and the result was delicious. Very easy to make, you just need to decide at least the night before you want to eat them. Will definitely make again.