A customized print-friendly version of this recipe is available by clicking the "Print Recipe" button on this page.
Salami and Herb Star Bread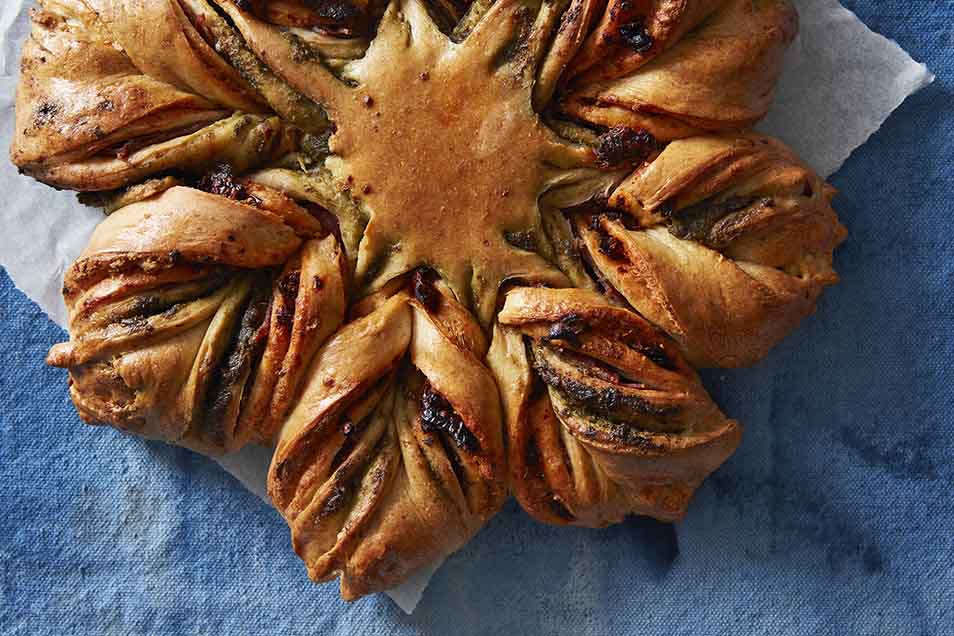 With a dramatic shape that's easy to execute, this savory loaf impresses just as much with its flavors as it does with its look.
Ingredients
Dough
1/2 cup lukewarm milk
1/4 cup lukewarm water
2 teaspoons active dry or instant yeast
1 large egg
3 tablespoons olive oil
1 teaspoon salt
Egg wash
1 large egg beaten with 1 tablespoon water
Filling
1/2 teaspoon ground paprika
3/4 cup grated Parmesan or Asiago cheese
1/4 cup finely diced sun-dried tomatoes
3 ounces Genoa salami or thinly sliced pepperoni
1/4 cup basil pesto
Instructions
To make the dough: Place the milk, water, yeast, and whole wheat flour in a large mixing bowl and stir to combine. Cover and let rest for 15 minutes.

Add the egg, olive oil, salt, and all-purpose flour. Mix to make a soft dough, then knead for 6 to 8 minutes, until smooth and supple. Place in an oiled bowl, cover, and let rise for 45 minutes to 1 hour, until doubled.

To assemble: Divide the dough into four pieces and shape into balls. Cover and let rest for 10 minutes.

Place one piece of dough on a piece of parchment. Roll it into a 10" circle. Brush the circle all over with egg wash.

Stir the paprika into the cheese, then sprinkle over the dough, leaving 1/2" around the outside edge uncovered. Scatter the sun-dried tomatoes over the cheese.

Roll another ball of dough to the same size as the first. Place it on top of the first circle, brush with egg wash, and shingle slices of salami over the dough, again leaving the outer 1/2" around the edge uncovered.

Roll out the third ball of dough, place on top, and brush with egg wash. Spread with pesto, leaving the outer edge uncovered. Roll out the last ball of dough and place it on top.

Place a 2" round biscuit cutter or drinking glass in the center of the dough to serve as a guide. Using a sharp knife, cut the circle into 16 equal strips, from the outside edge to the cutter/glass in the center, through all the layers.

Using two hands, pick up two adjacent strips of dough and twist them away from each other twice, so the top side is facing up again. Repeat with the remaining strips of dough all the way around the circle. Remove the cutter/glass.

Pinch the ends of adjacent strips together all the way around the bread to create eight star-like points. Transfer the star on the parchment to a baking sheet. Cover with greased plastic and let rise until noticeably puffy, about 45 minutes.

While the bread is rising, preheat the oven to 400°F.

When risen, remove the plastic and brush the star with a thin coat of the egg wash. Bake for 20 to 23 minutes, until nicely golden.

Remove the bread from the oven and cool for 10 minutes before serving warm.

Store any leftovers, well wrapped, in the refrigerator for a day or so. Freeze for longer storage.
Nutrition Information
Serving Size

1 spoke (63g)

Servings Per Batch

16
Amount Per Serving:
Calories

195

Calories from Fat

90

Total Fat

10g

Saturated Fat

3g

Trans Fat

0g

Cholesterol

33mg
Sodium

417mg

Total Carbohydrate

20g

Dietary Fiber

2g

Sugars

1g

Protein

7g
* The nutrition information provided for this recipe is determined by the ESHA Genesis R&D software program. Substituting any ingredients may change the posted nutrition information.
Reviews
I've made this bread so many times and never have made it with the same filling. It is the best dough recipe because it tastes so good, is the easiest dough to work and is always a show stopper. I'm sure people look st the picture of it and get put off because it looks difficult. Please just go for it. Anyone who cooks can do it. You'll love the reaction of your diners!!!
I made this recipe for my mother's birthday today, she doesn't like cake so I chose this stuffed/twisted bread to be the main feature of the night. I followed the recipe, the only changes I made was to add a 1/2 tsp of extra water help bring the dough together for the second step, and I used pizza sauce instead of sun dried tomatoes. I am happy I found this recipe, no one was disappointed, it was fun to make and I will make it again with new variations! 4.5 out of 5 stars.
Having never made anything like this, I found it to be a bit tricky, but not overly so. Next time I'll know what to expect. The trickiness was in handling a rising stuffed dough and having to work fairly quickly. But the result was satifsfyingly good. I wanted something a littIe heartier for dinner so I added some mozzarella in with the cheese. It was good, and my husband really liked it visually and gastronomically. It held over well the next day for lunch. It made more than enough for the 2 of us, so this would work real well for a get together with friends, and a salad would round it out for a simple fun meal.
This was delicious and easy to make! I didn't have whole wheat flour so used AP for the whole thing, with no problems. I misread the instructions and brushed the egg on the top layer before letting it go through the final proof, but it didn't seem to make any difference. I think next time I will add a bit more pesto, but otherwise no changes.
This marks the first time a King Arthur recipe has ever let me down. I am an experienced baker. I work as a chef. I know how to measure flour, when dough has been properly kneaded and when it it fully baked. Based on the reviews, I made the decision to use all white flour. This recipe just isn't right. I don't know if it's the egg, the dairy, the layered effect, or the fact that it is baked at 400, but once it's baked the bread feels dry in your mouth. It's swimming in oil from the salami, and it's still dry! You want it to be as delicious as a calzone or a gourmet version of a hot pocket or something.... Maybe that's what it is... you're expecting pizza and instead you get a stale tea sandwich. In any case, I'd say spend your time baking something else. This website is full of EXCELLENT recipes, this just isn't one of them.

We're so sorry to hear this recipe wasn't what you were looking for, Emily, and thank you for letting us know! We'd love the chance to talk through the recipe with you, so we encourage you to reach out to our friendly Baker's Hotline staff to help troubleshoot at 855-371-BAKE (2253). Kindly, Annabelle@KAF
Great recipe! I used all white flour and maybe a note could be added about dryer climates? I am in Arizona and it needed about 1/8 cup more warm water to bring the dough together but otherwise fantastic!
Wow! I made this bread and loved it! I used Pepperoni because I prefer that to salami and I omitted the paprika. But other than that, I followed directions exactly and weighed all the ingredients. It came out beautifully and was absolutely delicious. Since making that first loaf for my husband and myself, I have made two more loaves and shared it with others. In fact, I just finished making a loaf to add to our holiday family brunch. To make sure everyone at the brunch gets a taste, I did not press the adjacent strands together to make eight star points, but rather, I left each strand stand alone to create sixteen points. Just a little easier to share with a bigger group that way! This is a five star recipe and will be a staple in our house. Thanks, King Arthur Flour!
I gave this a 4 star rating because I had to make modifications to get a 5 star outcome. With some tweaking, this is as impressive as the cinnamon sugar star bread, but much tastier and just as easy to do. Here are my suggestions: 1) measure ingredients by weight. (If you don't have a scale, buy one. Scales are not expensive and make all the difference in baking; 2) use KAF white whole wheat flour for this, instead of traditional whole wheat flour; 3) if using homemade pesto (I make my own), use less oil or allow it to drain a bit to reduce the amount of oil -otherwise, it can seep out of the bread; 4) sub out olive tapenade (mix of green and kalamata olives) or chopped kalamatas for the sun dried tomatoes. If using the sun dried tomatoes, dry thoroughly before using. Finally, make sure the salami is sliced very thinly.
Made recipe using exact ingredients for dough. When assembling, I spread a coat of pizza sauce on bottom layer, cheese and chopped salami on 2nd layer, spread pesto on 3rd layer and finished and baked as directed. I found the end product to be rather dry. Want to try again. Could I make using a standard pizza dough recipe? I guess I want the dough to have a softer texture.

Feel free to use your favorite pizza dough recipe if you have one that yields the results you're looking for, and divide it into four equal balls. You could also try using 3 cups of all-purpose flour and omit the white whole wheat flour, which can lend a stiffer/drier texture. Last tip? Be sure you're either measuring your flour using a scale, or gently fluff, sprinkle, sweep the flour into the measuring cup one spoonful at a time. Light cups of flour will make a light and tender dough. We hope this helps! Kye@KAF