A customized print-friendly version of this recipe is available by clicking the "Print Recipe" button on this page.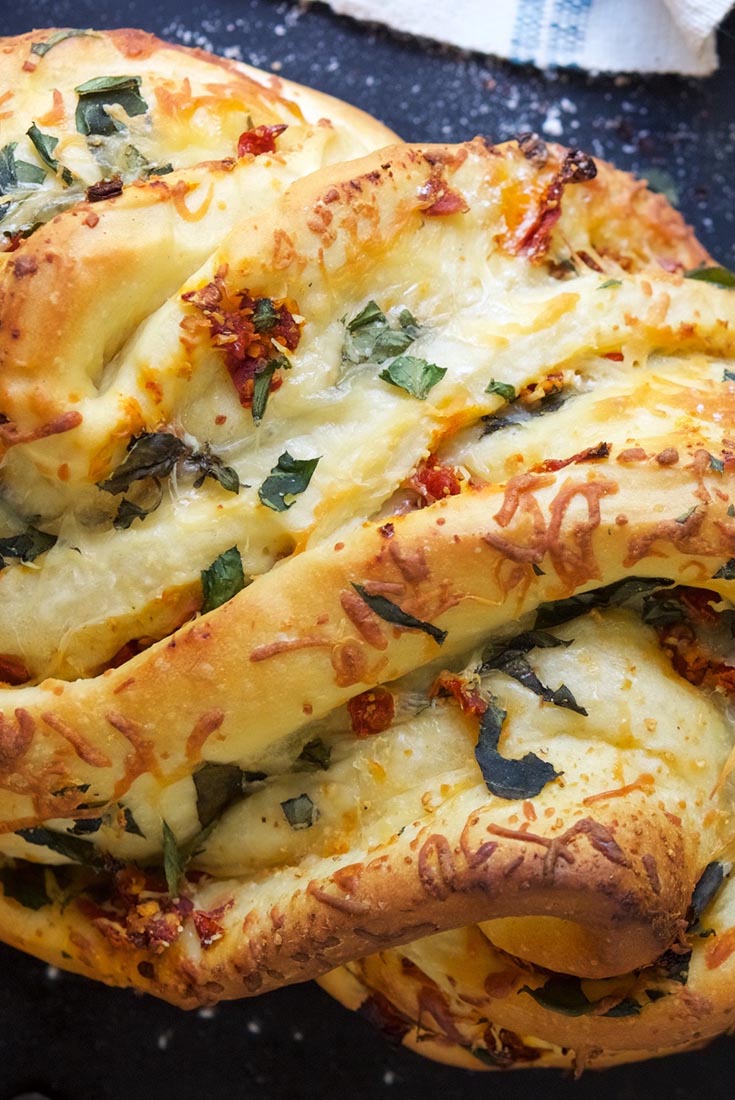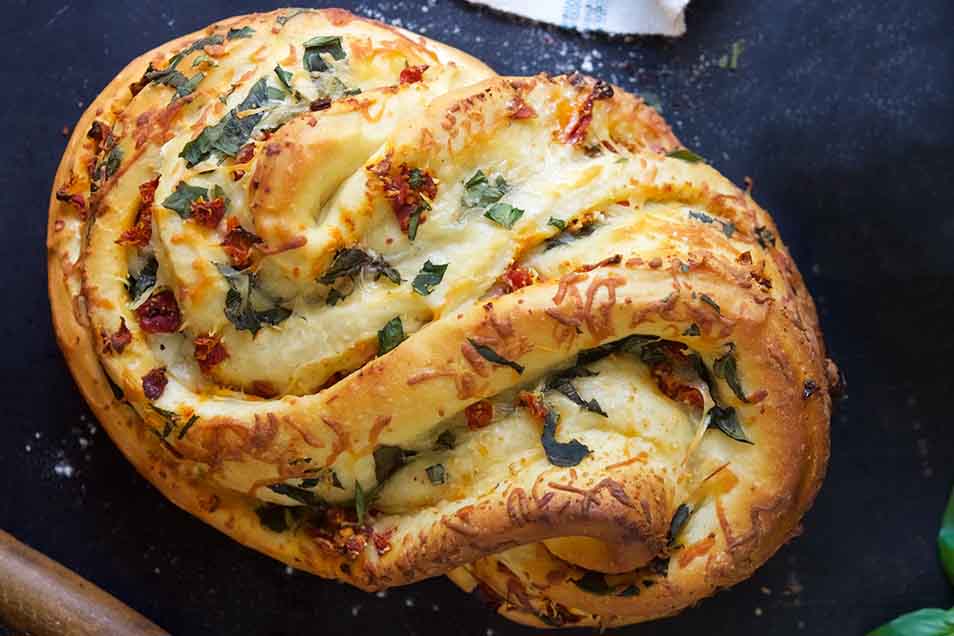 This recipe makes a tasty loaf filled with fresh basil, tomatoes, garlic, and shredded cheese; the bread has wonderful soft texture, and is packed with flavor. The unique shape is simple to achieve, and makes an impressive presentation.

Dianna Wara of Washington, Illinois, took first place in the first-ever National Festival of Breads with this recipe — which we've since simplified a bit, while retaining its award-winning characteristics. Thanks, Dianna!
Ingredients
Dough
2 teaspoons instant yeast
1 1/4 teaspoons salt
1 large egg
1/2 cup lukewarm milk
1/3 cup lukewarm water
3 tablespoons olive oil
*See "tips," below.
Filling
3/4 cup shredded Italian-blend cheese or the cheese of your choice
1/2 cup oil-packed sun-dried tomatoes or your own oven-roasted tomatoes
3 to 6 cloves garlic, peeled and minced
1/3 cup chopped fresh basil, green or purple
Instructions
To make the dough: Combine all of the dough ingredients in a bowl (or the bucket of your bread machine), and mix and knead — by hand, using a mixer, or in your bread machine set on the dough cycle — to make a smooth, very soft dough. The dough should stick a bit to the bottom of the bowl if you're using a stand mixer.

Place the dough in a lightly greased bowl, cover, and let it rise for 45 to 60 minutes, or until it's doubled in size.

Meanwhile, thoroughly drain the tomatoes, patting them dry. Use kitchen shears to cut them into smaller bits.

Gently deflate the dough. Flatten and pat it into a 22" x 8 1/2" rectangle. Spread with the cheese, tomatoes, garlic, and basil.

Starting with one long edge, roll the dough into a log the long way. Pinch the edges to seal. Place the log seam-side down on a lightly greased or parchment-lined baking sheet.

Using kitchen shears, start 1/2" from one end and cut the log lengthwise down the center about 1" deep, to within 1/2" of the other end.

Keeping the cut side up, form an "S" shape. Tuck both ends under the center of the "S" to form a "figure 8;" pinch the ends together to seal.

Cover and let rise in a warm place until double, 45 to 60 minutes.

While the loaf is rising, preheat the oven to 350°F.

Uncover the bread, and bake it for 35 to 40 minutes, tenting it with foil after 20 to 25 minutes to prevent over-browning.

Remove the bread from the oven, and transfer it to a rack to cool. Enjoy warm or at room temperature. Store, well-wrapped, at room temperature for a couple of days; freeze for longer storage.
Nutrition Information
Serving Size

1 slice, 44g

Servings Per Batch

1 loaf, 20 slices
Amount Per Serving:
Calories

58

Calories from Fat

17

Total Fat

2g

Saturated Fat

1g

Trans Fat

0g

Cholesterol

7mg
Sodium

86mg

Total Carbohydrate

8g

Dietary Fiber

1g

Sugars

0g

Protein

2g
* The nutrition information provided for this recipe is determined by the ESHA Genesis R&D software program. Substituting any ingredients may change the posted nutrition information.
Tips from our bakers
Substitute all-purpose flour 1:1 for the bread flour in the recipe, if desired. Reduce the water to 1/4 cup.
When making anything with yeast, including this bread, let the dough rise to the point the recipe says it should, e.g., "Let the dough rise until it's doubled in bulk." Rising times are only a guide; there are so many variables in yeast baking that it's impossible to say that bread dough will ALWAYS double in bulk in a specific amount of time.
Chop your basil with kitchen shears, just as you do the sun-dried tomatoes.
Want to make a gluten-free version of this bread? See our gluten-free focaccia recipe, with its tips for adding filling.
Reviews
The texture of the dough was like play doh. The instructions should say to knead the dough until the window pane effect. After patting into a rectangle the dough should rest for 10 minutes before shaping and filling. Only score the shaped loaf before putting in the oven. If you incise it as directed in the recipe the filling will spill out during second proofing. I used freshly grated Parmesan and herbes de Provence because my basil plant is currently anemic. I brushed it with an egg wash before baking. About 8 minutes before removing from oven I sprinkled more grated Parmesan on top.

We're sorry to hear that this well-loved recipe didn't turn out as well as we would hope, Marie. We may be able to offer some guidance for a more successful next bake and encourage you to give us a call at 855-371-BAKE(2253) to chat directly with one of our bakers. Mollie@KAF
I've made this recipe twice now and it has turned out beautifully both times! The second time, I omitted the tomato for a more savory bread (I roasted my own tomatoes the first time and they added a bit too much sweetness for my liking). Very easy to do and looks beautiful. Will make again!
My daughter and I made this yesterday...it came together easily and, while the final product did not look as beautiful as the photo, we enjoyed it, though found it lacking in flavor due to having used mostly pre-shredded mozzarella and some freshly grated Parmesan, along with the fresh basil as directed. We plan to make it again with the following adjustments: a full cup of cheese, with maybe half cheddar or Asiago, and pesto instead of fresh basil. Also, after cutting the rolled log before twisting, we will open it up more. (We expected it to open up more during the final rise and baking, but it didn't.) Thank you for the recipe!
Delicious! Beautiful! Easy! Versatile! I am always on the lookout for recipes that meet these criteria for my students. I'll get a lot of mileage out of his recipe/concept. Thanks!
Made this today and loved it. I patted the dough out on my silicon KAF pie mat which I had first lightly rubbed with olive oil and it didn't stick at all. Then I can just put the pie mat in the dishwasher. It was so tasty and the bread was so soft inside. I would love to add olives next time. I used provolone and Parmesan and it was good. This is a great recipe and so pretty. Will definitely make again. Family loved it.
have made this many many times ! a real favorite of our family. Highly recommend question re: bread machine : i make this ( & other breads) in my machine on the bread cycle. The dough rises a couple of times , and when done , the dough has more than doubled in the machine. do i need step 2 if using a bread machine ? step 2 says to put in a bowl , allow it to rise for 45-60 mins . Is this rise in addition to the bread machine rise , or do i skip step 2 if using a machine.

The bread needs to rise just once after it has been kneaded, before being shaped. If the dough cycle your bread machine includes a rise, then you can skip step 2, the rise at room temperature and move straight to shaping. Enjoy! Kye@KAF
Spectacular, easier than you think.
Let me say, first of all, that I did everything wrong. Used too much flour (dough DID NOT rise); used too much filling; tented for the first 10 minutes of baking instead of last. I also changed out the filling, based on other reviews: I used basil, oregano, 5 cloves of garlic, a 7.25 oz. jar of red pepper and tomato bruschetta, grated Regianno Parmagiano cheese, mozzarella cheese, and finely chopped provolone cheese. I also smeared the outside with olive oil and sprinkled with sea salt. End result? AMAZING, WONDERFUL, DELICIOUS! I can't tell you how delighted I was! This recipe is certainly a keeper, and one that is especially fun because you can really let your creativity run wild!
I made this recipe and it turned out fabulous! I make a lot of bread and my husband proclaimed this was his favorite to date! I am making the dough again tonight with a cinnamon sugar apple filling variant for work tomorrow!
Looks beautiful, but tastes awful. I made this loaf and it looked wonderful. But the flavor was terrible. I expected bread, but it was more of a strong gallimaufry of flavors that might be better on a pizza, not in a loaf of bread. I ate a slice (slathered with a lot of butter it was edible), but the entire loaf went into the trash. One additional note: Looking at the photo, it looked like the loaf had been brushed with an egg wash and garnished before baking (not mentioned in the recipe). I reserved an egg white and a little of the filling for a final garnish. The finished loaf looked close to the loaf in the photograph.

Charmagine, we're sorry to hear this recipe fell flat on flavor for you. It sounds like it was the filling ingredients that wasn't quite right for your palate. Feel free to consider the dough a versatile, blank canvas that can be filled to your liking if you'd like to experiment with alternative flavors. The loaves pictured here weren't brushed with an egg wash, but if you'd like to achieve a dark golden crust, then it's a worthwhile step to include. Garnishing with freshly chopped basil does add a pop of color that can be pleasing. Kye@KAF