A customized print-friendly version of this recipe is available by clicking the "Print Recipe" button on this page.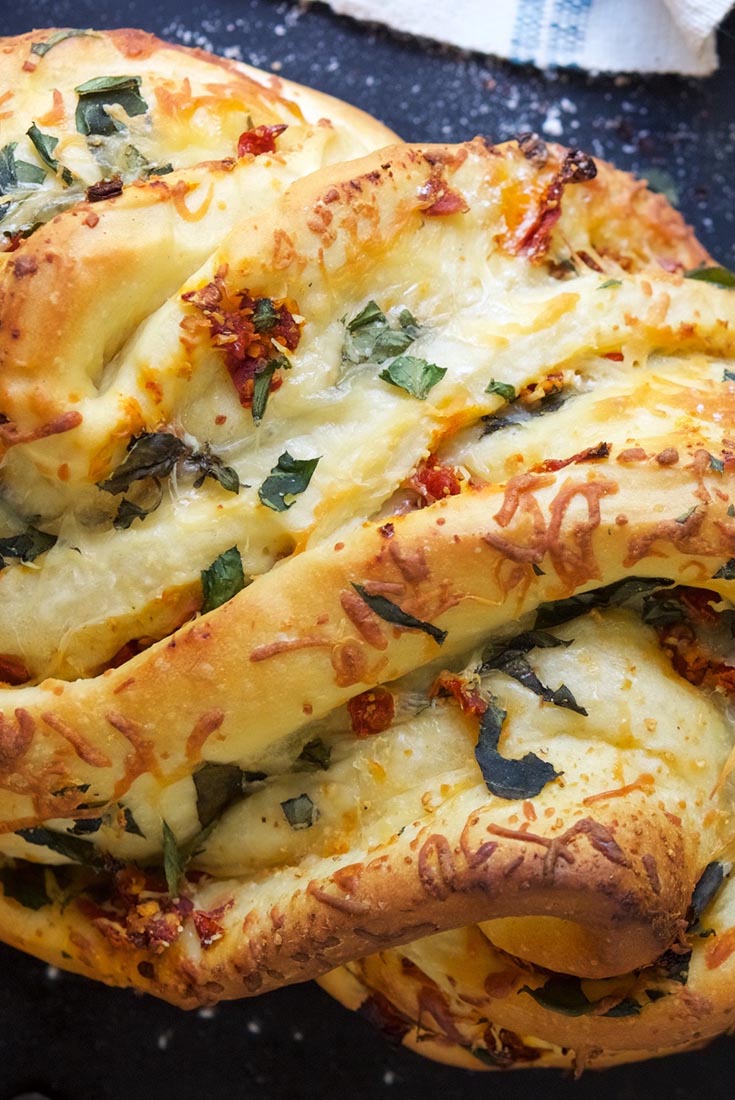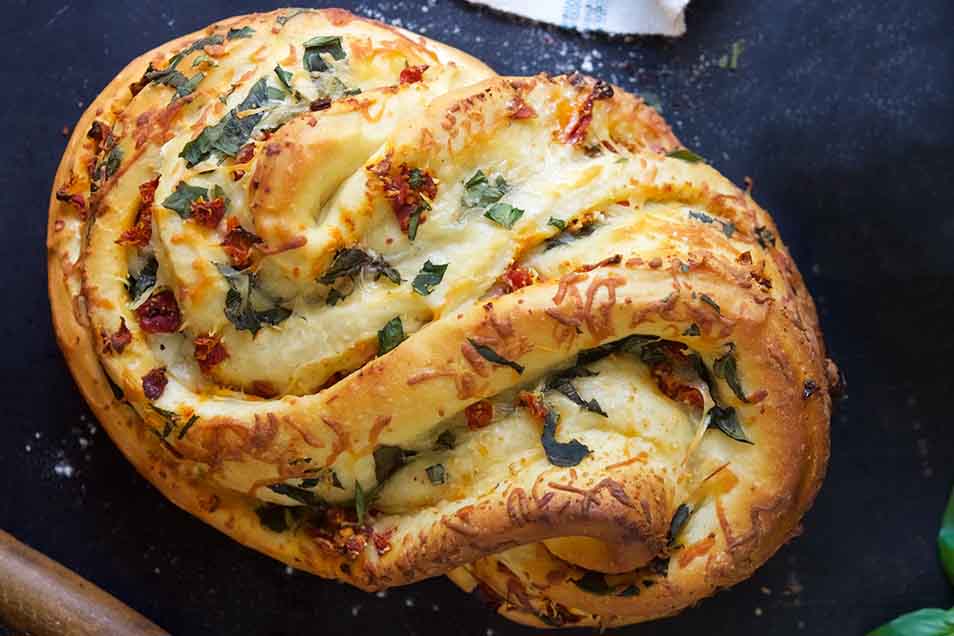 This recipe makes a tasty loaf filled with fresh basil, tomatoes, garlic, and shredded cheese; the bread has wonderful soft texture, and is packed with flavor. The unique shape is simple to achieve, and makes an impressive presentation.

Dianna Wara of Washington, Illinois, took first place in the first-ever National Festival of Breads with this recipe — which we've since simplified a bit, while retaining its award-winning characteristics. Thanks, Dianna!
Ingredients
Dough
2 teaspoons instant yeast
1 1/4 teaspoons salt
1 large egg
1/2 cup lukewarm milk
1/3 cup lukewarm water
3 tablespoons olive oil
*See "tips," below.
Filling
3/4 cup shredded Italian-blend cheese or the cheese of your choice
1/2 cup oil-packed sun-dried tomatoes or your own oven-roasted tomatoes
3 to 6 cloves garlic, peeled and minced
1/3 cup chopped fresh basil, green or purple
Instructions
To make the dough: Combine all of the dough ingredients in a bowl (or the bucket of your bread machine), and mix and knead — by hand, using a mixer, or in your bread machine set on the dough cycle — to make a smooth, very soft dough. The dough should stick a bit to the bottom of the bowl if you're using a stand mixer.

Place the dough in a lightly greased bowl, cover, and let it rise until it's doubled in size, about 45 to 60 minutes. Note: When making anything with yeast, it's best to let the dough rise to the point the recipe says it should, e.g., "doubled in bulk," rather than watching the clock. Rising times are only a guide; there are so many variables in yeast baking that it's impossible to say that bread dough will ALWAYS double in bulk in a specific amount of time.

Meanwhile, thoroughly drain the tomatoes, patting them dry. Use kitchen shears to cut them into smaller bits. Shears are also useful for slicing/chopping the basil.

Gently deflate the dough. Flatten and pat it into a 22" x 8 1/2" rectangle. Spread with the cheese, tomatoes, garlic, and basil.

Starting with one long edge, roll the dough into a log the long way. Pinch the edges to seal. Place the log seam-side down on a lightly greased or parchment-lined baking sheet.

Using kitchen shears, start 1/2" from one end and cut the log lengthwise down the center about 1" deep, to within 1/2" of the other end.

Keeping the cut side up, form an "S" shape. Tuck both ends under the center of the "S" to form a "figure 8;" pinch the ends together to seal.

Cover and let rise in a warm place until double, 45 to 60 minutes.

While the loaf is rising, preheat the oven to 350°F.

Uncover the bread, and bake it for 35 to 40 minutes, tenting it with foil after 20 to 25 minutes to prevent over-browning.

Remove the bread from the oven, and transfer it to a rack to cool. Enjoy warm or at room temperature. Store, well-wrapped, at room temperature for a couple of days; freeze for longer storage.
Nutrition Information
Serving Size

1 slice, 44g

Servings Per Batch

1 loaf, 20 slices
Amount Per Serving:
Calories

58

Calories from Fat

17

Total Fat

2g

Saturated Fat

1g

Trans Fat

0g

Cholesterol

7mg
Sodium

86mg

Total Carbohydrate

8g

Dietary Fiber

1g

Sugars

0g

Protein

2g
* The nutrition information provided for this recipe is determined by the ESHA Genesis R&D software program. Substituting any ingredients may change the posted nutrition information.
Tips from our bakers
Substitute all-purpose flour 1:1 for the bread flour in the recipe, if desired. Reduce the water to 1/4 cup.
Want to make a gluten-free version of this bread? See our gluten-free focaccia recipe, with its tips for adding filling.
Want to make a softer loaf with extended shelf life? Try the tangzhong technique, a Japanese method for increasing the softness and shelf life of yeast rolls. Begin by measuring out the flour and milk you'll be using in the recipe. Now take 3 tablespoons of the measured flour and the 1/2 cup milk; put them in a saucepan set over medium-high heat. Cook the mixture, whisking constantly, until it forms a thick slurry; this will take about 1 1/2 to 2 1/2 minutes. Transfer the cooked mixture to a bowl, let it cool to lukewarm, then combine it with the remaining flour and the other dough ingredients, increasing the amount of water to 3 1/2 ounces (1/2 cup less 1 tablespoon). Proceed with the recipe as directed. Well-wrapped and stored at room temperature, your loaf should stay soft and fresh for several days.
Reviews
I absolutely loved it!!! The recipe is so straightforward and you cannot go wrong with it! I brushed it with melted garlic butter after baking and it's just heavenly!
Wow this bread is fantastic! Not difficult - just follow the directions. I made a few substitutions: 1 cup provolone cheese and 1/4 cup Parmesan cheese, pesto instead of chopped basil, oil from the sun dried tomatoes instead of plain olive oil, sprinkled salt and pepper, everything else according to recipe. Plenty of flavor. Also, thanks to the person who recommended cutting the dough after shaping it into a figure 8 - worked perfectly. I lightly brushed the dough with olive oil before baking as well as after baking - don't know if it needed it but it turned out great. Thank you KAF for all your wonderful recipes and guidance!
Fantastic recipe, and it's easy to modify the filling ingredients, (I added snipped up bits of pepperoni). My wife loves this, and demands I bake this whenever she has company coming over. Question though. My wife has a quilting show coming up, and she wants me to make several of these for the associated bake sale. Since we only have the single oven, my plan is to assemble several, and complete the recipe through the rolling stage, then refrigerate. I'll pull them one at a time to complete the snipping, rising, and baking. Staggering them so that I have several loaves freshly baked, and ready to go. Thoughts?

Hi Steve, it sounds like you've got a solid plan to us, as long as you have the fridge space. Allow the shapes loaves to rest at room temperature until they're properly proofed and visibly expanded. Bake as directed in the recipe, and cross your fingers that you don't run out of space! Kye@KAF
Three stars due to my foibles. Test drive for Labor Day barbecue, - Used diced ham and cheddar Gruyere cheese instead of tomato/herb filling, weight of ham/cheese seemed to suppressed half of the rise in the oven. - Used tangzong method, love the tender texture this brings to bread. - Misread the instructions and cut the roll all the way through, which made shaping into figure 8 difficult. I was mistakenly thinking danish courrone instructions. Tastes great, looks beautiful, needed a big bowl of tomato bisque to really make it shine. Will try this again with garlic/shallot/butter as filling.
I made this bread precisely according to the recipe. The KAF bread flour was weighed (12.75 oz), not measured. The dough was kneaded by stand mixer. It was so slack and sticky that it couldn't be handled. I don't see any other review with this complaint, so I suppose I did something wrong but I don't know what. Any suggestions?

We're also surprised to hear about your slack dough, Steve. Often times dough can turn out sticky and wet during the wet, humid months of the year. During this time of year, we typically recommend holding back the last 10% of the water and adding it only if needed. You can also add a few tablespoons of additional flour to help the dough come together. The dough consistency should be soft and just slightly tacky to the touch when properly kneaded. We hope you decide to give the Pane Bianco recipe another try. It's a recipe worth mastering! Kye@KAF
I made this yesterday using Asiago cheese and the dough cycle of my bread machine. Beautiful and tasty! I'd like to make 3 for a party next week. Can I freeze them and how would I wrap them? Alternately, could I make them partially, then bake that day? Would you recommend storing the dough after the first rise, or forming the loaf and storing that way? That would be more challenging with refrigerator space. Thank you for your help!

Hi Cheryl! We'd recommend baking the loaves until they're almost done, pulling them when there are about 5 minutes left on the timer. Once they've cooled, wrap and freeze them. When you're going to serve them, let them thaw on the counter for a couple of hours, and give them a final bake at 350°F for about 5 to 7 minutes, or until they're warmed through and thoroughly golden. Happy baking! Annabelle@KAF
I just made this today to go with our dinner and we LOVE it! Not only is it a beautiful presentation, but the flavors are wonderful. I used oil packed sundried tomatoes that also had a little herbs in the oil. Their flavor alone was very deep and rich. I had Mozzarella and Asiago in the fridge, so that's what I used. I used 4 large garlic cloves and fresh basil from my garden. The bread itself was soft and flavorful. It smelled so good, we cut into it as soon as it was pulled from the oven. I will definitely make this again.
I made this for a pot-luck and it was a big hit. It was easy to shape and looked wonderful. However, I was a little disappointed that all the filling rose to the top as the dough expanded. While it tasted good, the flavor was mostly on top and the bottom was mostly bread. I would prefer to have the filling evenly distributed throughout. But I will definitely make it again!
I baked this bread twice and each time it looked spectacular, even though it is very easy to prepare and shape. However, both times it tasted bland. I think if I make it again, I will brush garlic olive oil before baking and sprinkle sea salt on the top.

Hi Roberta, thanks for sharing your feedback about this recipe with us. We're sorry to hear the stunning presentation wasn't matched with outstanding flavor. We like your idea of using garlic-infused olive oil and flaky sea salt for garnish. You can even consider using garlic-infused oil in the dough itself. Sprinkling a little feta cheese in with the other filling ingredients will also add a little salty flavor that will make your Pane Bianco pop! Kye@KAF
I used the end of last year's oven-dried tomatoes and an aged gruyere. Fantastic flavor and my friends thought it was beautiful. Will make this again.