A customized print-friendly version of this recipe is available by clicking the "Print Recipe" button on this page.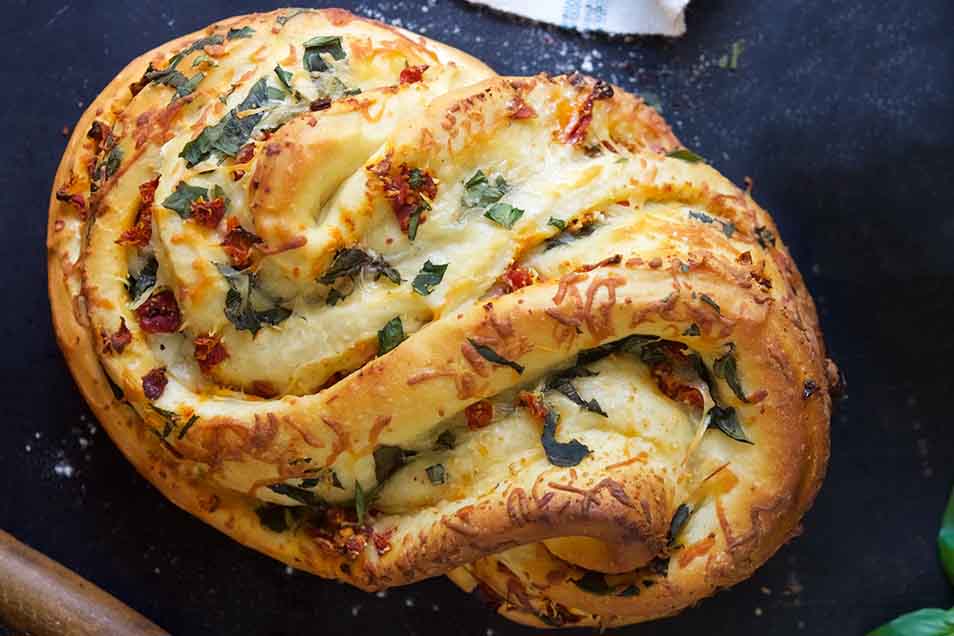 This recipe makes a tasty loaf filled with fresh basil, tomatoes, garlic, and shredded cheese; the bread has wonderful soft texture, and is packed with flavor. The unique shape is simple to achieve, and makes an impressive presentation.

Dianna Wara of Washington, Illinois, took first place in the first-ever National Festival of Breads with this recipe — which we've since simplified a bit, while retaining its award-winning characteristics. Thanks, Dianna!
Ingredients
Dough
2 teaspoons instant yeast
1 1/4 teaspoons salt
1 large egg
1/2 cup lukewarm milk
1/3 cup lukewarm water
3 tablespoons olive oil
*See "tips," below.
Filling
3/4 cup shredded Italian-blend cheese or the cheese of your choice
1/2 cup oil-packed sun-dried tomatoes or your own oven-roasted tomatoes
3 to 6 cloves garlic, peeled and minced
1/3 cup chopped fresh basil, green or purple
Instructions
To make the dough: Combine all of the dough ingredients in a bowl (or the bucket of your bread machine), and mix and knead — by hand, using a mixer, or in your bread machine set on the dough cycle — to make a smooth, very soft dough. The dough should stick a bit to the bottom of the bowl if you're using a stand mixer.

Place the dough in a lightly greased bowl, cover, and let it rise until it's doubled in size, about 45 to 60 minutes. Note: When making anything with yeast, it's best to let the dough rise to the point the recipe says it should, e.g., "doubled in bulk," rather than watching the clock. Rising times are only a guide; there are so many variables in yeast baking that it's impossible to say that bread dough will ALWAYS double in bulk in a specific amount of time.

Meanwhile, thoroughly drain the tomatoes, patting them dry. Use kitchen shears to cut them into smaller bits. Shears are also useful for slicing/chopping the basil.

Gently deflate the dough. Flatten and pat it into a 22" x 8 1/2" rectangle. Spread with the cheese, tomatoes, garlic, and basil.

Starting with one long edge, roll the dough into a log the long way. Pinch the edges to seal. Place the log seam-side down on a lightly greased or parchment-lined baking sheet.

Using kitchen shears, start 1/2" from one end and cut the log lengthwise down the center about 1" deep, to within 1/2" of the other end.

Keeping the cut side up, form an "S" shape. Tuck both ends under the center of the "S" to form a "figure 8;" pinch the ends together to seal.

Cover and let rise in a warm place until double, 45 to 60 minutes.

While the loaf is rising, preheat the oven to 350°F.

Uncover the bread, and bake it for 35 to 40 minutes, tenting it with foil after 20 to 25 minutes to prevent over-browning.

Remove the bread from the oven, and transfer it to a rack to cool. Enjoy warm or at room temperature. Store, well-wrapped, at room temperature for a couple of days; freeze for longer storage.
Nutrition Information
Serving Size

1 slice, 44g

Servings Per Batch

1 loaf, 20 slices
Amount Per Serving:
Calories

58

Calories from Fat

17

Total Fat

2g

Saturated Fat

1g

Trans Fat

0g

Cholesterol

7mg
Sodium

86mg

Total Carbohydrate

8g

Dietary Fiber

1g

Sugars

0g

Protein

2g
* The nutrition information provided for this recipe is determined by the ESHA Genesis R&D software program. Substituting any ingredients may change the posted nutrition information.
Tips from our bakers
Substitute all-purpose flour 1:1 for the bread flour in the recipe, if desired. Reduce the water to 1/4 cup.
Want to make a gluten-free version of this bread? See our gluten-free focaccia recipe, with its tips for adding filling.
Want to make a softer loaf with extended shelf life? Try the tangzhong technique, a Japanese method for increasing the softness and shelf life of yeast rolls. Begin by measuring out the flour and milk you'll be using in the recipe. Now take 3 tablespoons of the measured flour and the 1/2 cup milk; put them in a saucepan set over medium-high heat. Cook the mixture, whisking constantly, until it forms a thick slurry; this will take about 1 1/2 to 2 1/2 minutes. Transfer the cooked mixture to a bowl, let it cool to lukewarm, then combine it with the remaining flour and the other dough ingredients, increasing the amount of water to 3 1/2 ounces (1/2 cup less 1 tablespoon). Proceed with the recipe as directed. Well-wrapped and stored at room temperature, your loaf should stay soft and fresh for several days.
Reviews
Delicious bread I use mix of edam, chedar ans mozzarela. I did not finish the dough cycle in my bread machine and continue baking in my oven
This was amazing and gorgeous! With the detailed instruction from KAF, looked like a professional baked it and so delicious. As others have written, with the different filling possibilities this will make repeat appearances in my kitchen.
I've made this a lot. It has become my go to for a single loaf to take to dinners/parties/holidays. I've played with other fillings and my favorite is smoked gouda and prosciutto with minced garlic and Italian seasonings. That one always gets tore up fast! I've been playing with the idea of different shapes. The "S" is always visually pleasing but do you have any recommendations for different shape ideas? I've made this many times but have had to adjust it because every time I follow the recipe exactly, my dough comes out extremely dry and shaggy until I add in about another half cup of either milk or water. I know the main culprit for shaggy dough is that the flour is "too packed" but I have gone to the limits to make sure my flour is not (put flour in a gallon bag, shake the bejeezus out of it to separate it, cup it, swipe the top with knife and then I still sift it into the bowl). Do you have any other recommendations as to what the issue may be? I've thought "maybe humidity" but a half a cup's worth? Any help would be very appreciated! Have a great day!

Hi Tom! For best results (and to take the guess work out of baking) we'd highly recommend investing in a kitchen scale and measuring your ingredients by weight. A measuring cup can hold between 4 and 6 oz of flour depending on how much gravity decides to push the flour down, but an gram is always an gram on a scale.

If measuring by volume is the method you'd prefer to stick with, try holding back 1/4 to 1/2 cup of the flour from the start and sprinkling it in as needed. That way, you likely won't have to add the extra liquid.

For shapes, check out our blog article "How to shape babka" for some really fun shaping ideas. Happy baking! Annabelle@KAF
Delicious and such a beautiful loaf... next time I will increase salt to 1 3/4 tsp. as the bread was a bit bland unless you got some of the filling in each bite... and cheese to 1 cup... because you can never have too much cheese! Will definitely make again and will also try different fillings. I mixed my ingredients and did the first rise in my bread machine. The rest of the bread came together very quickly and easy.
Oh my! This was so good! Actually...amazing!Will definitely be making again!
This is simply a shows stopper! It's my go to recipe for dinner parties or guests plus the family loves it. To coax a little more flavor out of the dough I made a "sponge" of 10oz of the flour and all the milk and water; stirred it and put in the frig over night. Seemed to help. As others said you can add different cheese and I've used chives in lieu of the basil.
I am absolutely blown away by what just came out of the oven... I used a different filling with what I had on hand: 200g Roquefort and 150g walnut pieces, and I am absolutely floored. I want to just smother my face in this. It's an absolute dream! Such a simple, mix all-together, quick dough with endless possibilities for fillings and such an elegant and impressive presentation! This one is a total winner!!!! PS: I would recommend about 350-400g filling PPS: I had to leave un-tented for about 30 minutes and bake the last 10-15 tented (I imagine from the extra moisture from the Roquefort?) Keep an eye on your loaf!
Fairly simple recipe that looks sophisticated. Easy to substitute fillings - a good base for different flavors. I used pesto in one loaf and it came out perfectly.