A customized print-friendly version of this recipe is available by clicking the "Print Recipe" button on this page.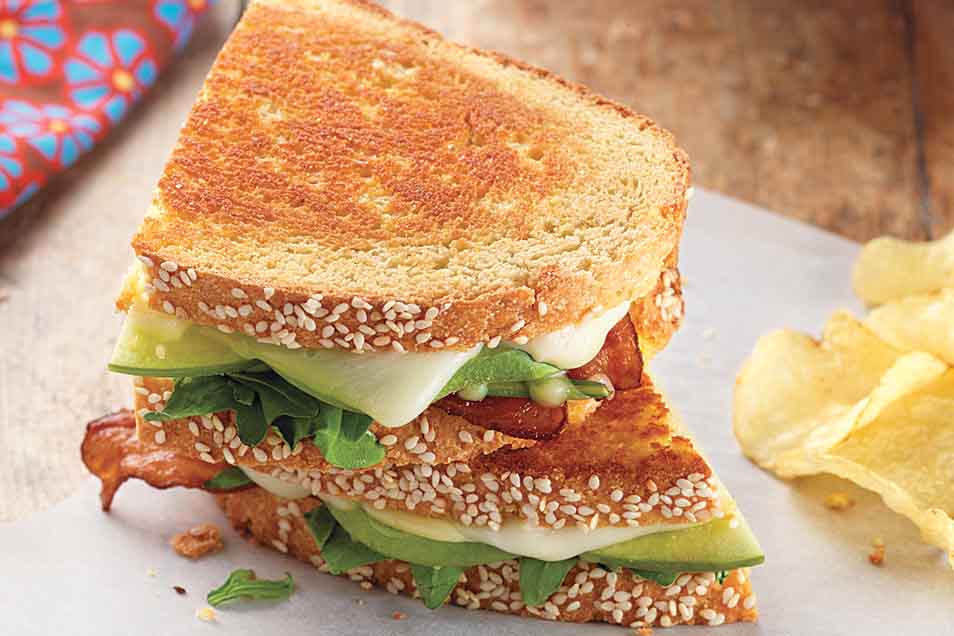 This tasty sandwich loaf has a beautiful golden interior, and its crust is coated with a crunchy layer of sesame seeds. It makes lovely toast and sandwiches — especially grilled cheese!
Instructions
In a large mixing bowl, or in the bowl of an electric mixer, combine all of the ingredients except the sesame seeds and milk, mixing to form a shaggy dough.

Knead the dough, by hand or by machine, for 10 minutes, or until it's smooth and supple.

Place the dough in a lightly greased bowl, and allow it to rest for 1 hour; it'll become quite puffy, though it may not double in bulk. You may also use your bread machine, set on the dough cycle, to prepare the dough to this point.

Transfer the dough to a lightly greased work surface, and shape it into a log. Grease an 8 1/2" x 4 1/2" bread pan, and sprinkle it heavily with sesame seeds.

Place the loaf in the pan, brush it with milk or a bit of beaten egg white, and sprinkle it with additional sesame seeds. Cover the pan with lightly greased plastic wrap, or a shower cap. Allow the loaf to rise for 45 minutes to 1 hour, or until it's crowned about 1" above the rim of the bread pan.

Preheat the oven to 350°F.

Bake the bread for about 40 minutes, or until its interior registers 190°F on a digital thermometer.

Store the cooled bread, well wrapped, at room temperature for several days. Freeze for longer storage.
Reviews
Tried this recipe today. Followed the recipe for the most part. I found I did not have enough Baker's Special Dry Milk on hand and no powdered milk at all. So I used 1 cup milk in place of the water, heated to a bare simmer and tossed in the 0.4 oz of Baker's Special from the bottom of my jar. Also left off the sesame seeds as I had none on hand. Weighed out all the other ingredients and added just a tiny smidge more yeast. When I took it out of the oven, the crust seemed a tad tough, so I brushed it with butter. A plain slice with butter is fantastic. Just about perfect. Will being using some for grilled cheese tomorrow.
I used my stand mixer for kneading and used a small loaf pan (8x4). It was strange not to add any flour whatsover, but I wanted to follow the recipe exactly. I did add one tablespoon of vital wheat gluten. The sesame seeds on top were a perfect touch. I always paint on egg wash to the 'bald loaf', then add seeds, and then give it another egg wash to lock the seeds in place. It's wonderful with soup and I'm sure it will be great when it is grilled. The texture was rather cake-like. I just toasted a slice to have with a cup of afternoon tea and thoroughly enjoyed it with a little butter. It is the smallest loaf of bread I have ever made...kind of like a ramped up corn bread in loaf form.
Followed the recipe exactly. The loaf came out of the oven looking perfect, and had a nice texture when we sliced it. Unfortunately we found it rather tasteless. We like hearty grain breads so I admit our disappointment was due more to our taste buds than to the recipe. Since I love this flour, I think I will try a recipe for rolls with cheeses and hot peppers that is on the back of the flour package. That may be more to our liking.
This was just lovely. I didn't have powdered milk, so I warmed up 3/4 cup milk in lieu of the water. I also made sure the butter was really soft. It baked up absolutely perfectly.
followed the recipe using anything available from KAF including the loaf pan. first two loaves were definitely a little dense, the loaves even a bit 'heavy'...... nonetheless we tore threw them like a chainsaw. I added a half teaspoon extra of instant yeast to the third loaf in hopes of an 'airy'er' loaf which was a definite success. This time I gave the dough a second, thorough knead before shaping it into a loaf The dough when risen even filled the 9X5 loaf pan I bought from KAF....... instead of the 4 1/2 X 8 1/2 spec'd in the recipe. Finished loaf was definitely lighter, larger and tasty. ~ next loaf I'm also adding a 1/4 teaspoon extra of salt. Thanks for the recipe KAF.
I forgot to mention that I took the lid off after 30 minutes. After about 10 minutes more, it was nicely browned with a temperature of around 190.
I made this in my small pullman pan, following all of the directions here except that I let it rise the second time until about 3/4 inch below the rim of the pan (per pain de mie recipes) before putting on the lid and baking. It came out beautifully, not too dense an great for sandwiches and toast.
There is no all-purpose flour in this recipe. Is that a mistake? The dough was very slack. Like other reviewers, I found it dense and crumbly with an unpleasant texture. It literally fell apart when I grabbed the crust to pull it out of the toaster. I tried this recipe because of the semolina and the sesame seeds, but won't be making it again.

We're sorry this wasn't to your liking, it is designed to be a dense loaf with the semolina and cornmeal. Bryanna@KAF
Like the last reviewer, I like this bread very much. (I happen to love both semolina and cornmeal.) It IS denser than, for example, white sandwich bread, but I find the crumb to be perfect for toasting. First recipe I've made using my bread baking bowl -- makes a nice-looking loaf.
Made this yesterday and it came out great. I thought when I made it again, I'd add some seeds to the dough itself, logged in to see if anyone else had tried this, and was surprised by the negative reviews. Needed to put in my two cents. I used my KA mixer with dough hook and followed the directions for the double knead with the 5 minute rest in between. I used a fine grind corn meal, and toasted sesame seeds (which is what I had in the freezer). I baked the loaf in the stoneware bowl (not sure if that made the difference) because it was not the least bit dry or dense. It had both a great crumb and crust. My husband and I thought it would be great toasted, and it was. My only complaint is that like most breads with seeds on the outside, many fall off when the loaf is sliced. Next time I will add some seeds to the dough itself. I like to use the toasted sesame seeds because I think they have more flavor.