A customized print-friendly version of this recipe is available by clicking the "Print Recipe" button on this page.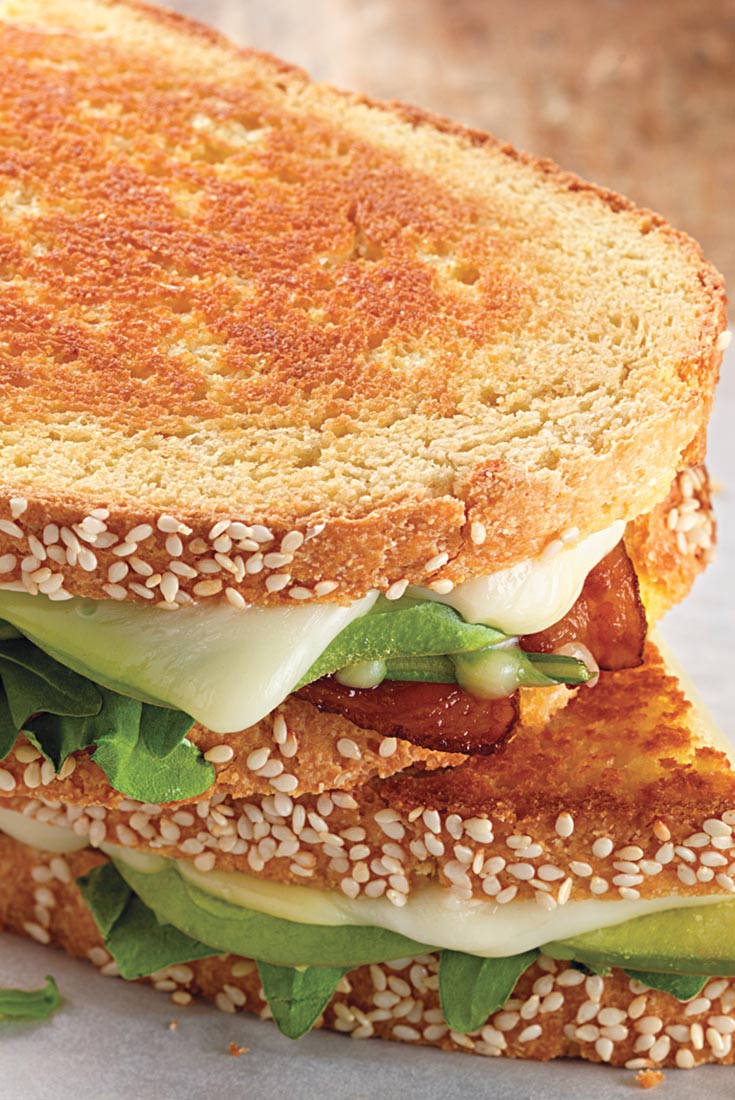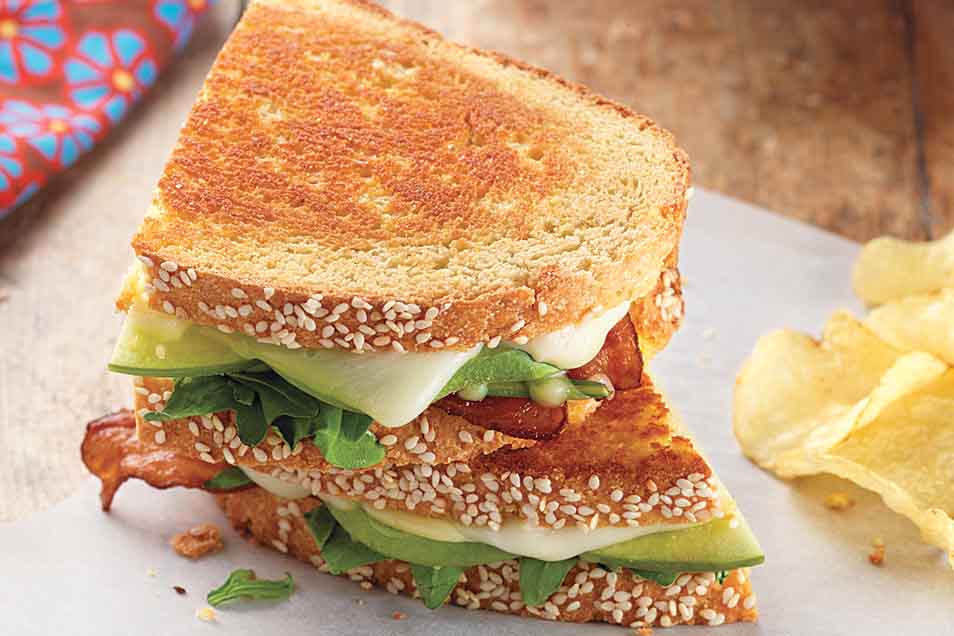 This tasty sandwich loaf has a beautiful golden interior, and its crust is coated with a crunchy layer of sesame seeds. It makes lovely toast and sandwiches — especially grilled cheese!
Instructions
In a large mixing bowl, or in the bowl of an electric mixer, combine all of the ingredients except the sesame seeds and milk, mixing to form a shaggy dough.

Knead the dough, by hand or by machine, for 10 minutes, or until it's smooth and supple.

Place the dough in a lightly greased bowl, and allow it to rest for 1 hour; it'll become quite puffy, though it may not double in bulk. You may also use your bread machine, set on the dough cycle, to prepare the dough to this point.

Transfer the dough to a lightly greased work surface, and shape it into a log. Grease an 8 1/2" x 4 1/2" bread pan, and sprinkle it heavily with sesame seeds.

Place the loaf in the pan, brush it with milk or a bit of beaten egg white, and sprinkle it with additional sesame seeds. Cover the pan with lightly greased plastic wrap, or a shower cap. Allow the loaf to rise for 45 minutes to 1 hour, or until it's crowned about 1" above the rim of the bread pan.

Preheat the oven to 350°F.

Bake the bread for about 40 minutes, or until its interior registers 190°F on a digital thermometer.

Store the cooled bread, well wrapped, at room temperature for several days. Freeze for longer storage.
Reviews
followed the recipe using anything available from KAF including the loaf pan. first two loaves were definitely a little dense, the loaves even a bit 'heavy'...... nonetheless we tore threw them like a chainsaw. I added a half teaspoon extra of instant yeast to the third loaf in hopes of an 'airy'er' loaf which was a definite success. This time I gave the dough a second, thorough knead before shaping it into a loaf The dough when risen even filled the 9X5 loaf pan I bought from KAF....... instead of the 4 1/2 X 8 1/2 spec'd in the recipe. Finished loaf was definitely lighter, larger and tasty. ~ next loaf I'm also adding a 1/4 teaspoon extra of salt. Thanks for the recipe KAF.
I forgot to mention that I took the lid off after 30 minutes. After about 10 minutes more, it was nicely browned with a temperature of around 190.
I made this in my small pullman pan, following all of the directions here except that I let it rise the second time until about 3/4 inch below the rim of the pan (per pain de mie recipes) before putting on the lid and baking. It came out beautifully, not too dense an great for sandwiches and toast.
There is no all-purpose flour in this recipe. Is that a mistake? The dough was very slack. Like other reviewers, I found it dense and crumbly with an unpleasant texture. It literally fell apart when I grabbed the crust to pull it out of the toaster. I tried this recipe because of the semolina and the sesame seeds, but won't be making it again.

We're sorry this wasn't to your liking, it is designed to be a dense loaf with the semolina and cornmeal. Bryanna@KAF
Like the last reviewer, I like this bread very much. (I happen to love both semolina and cornmeal.) It IS denser than, for example, white sandwich bread, but I find the crumb to be perfect for toasting. First recipe I've made using my bread baking bowl -- makes a nice-looking loaf.
Made this yesterday and it came out great. I thought when I made it again, I'd add some seeds to the dough itself, logged in to see if anyone else had tried this, and was surprised by the negative reviews. Needed to put in my two cents. I used my KA mixer with dough hook and followed the directions for the double knead with the 5 minute rest in between. I used a fine grind corn meal, and toasted sesame seeds (which is what I had in the freezer). I baked the loaf in the stoneware bowl (not sure if that made the difference) because it was not the least bit dry or dense. It had both a great crumb and crust. My husband and I thought it would be great toasted, and it was. My only complaint is that like most breads with seeds on the outside, many fall off when the loaf is sliced. Next time I will add some seeds to the dough itself. I like to use the toasted sesame seeds because I think they have more flavor.
This bread was a disappointment for our household. We are used to good bread, and I'm an experienced break baker, but as tempting as the recipe was, well tempting enough so that I made a loaf, it left much to be desired. Uniformly people said it was dense, dry, and tasteless. Thinking it might toast well, I toasted a few slices for breakfast, and again it was tasteless, but also brittle. Our favorite crows and wild turkeys got the rest of the loaf. I won't make it again. I'm so sorry to hear that this bread didn't work out! Pleas give us a call at the Baker's Hotline at 1-855-371-2253 and we can calk it over. Happy baking! Laurei@KAF
Big fan of King Arthur but not of this recipe. It is more corn bread like then sandwich bread as advertised . Good for morning toast with jam but disappointing. The reviews that gave it good marks were from King Arthur Community??? I think it is the reviews of the others that were more reliable. Still a fan of KA but disappointed in this recipe. Karen Robbins

Hi Karen- I'm sorry to hear you were unhappy with this recipe, and just to clarify, King Arthur Community posts are just from other customers who like to participate in the community board on our webpage, not from anyone who is in the company itself. Anyone is allowed to post reviews and we encourage a wide range of bakers to comment so you do have a selection of reviews to consider. If you have any further questions, please feel free to contact our baker's hotline at 1-855-371-2253 and we'd be happy to further assist you at that time. Happy Baking! Jocelyn@KAF
I've just made this bread for the first time and it is delicious! My 4 star rating reflects only the 1/4 cup of butter...too rich for a sandwich bread for us....I will make it again with oil (a little less). This is a kind of a cross between sandwich and sweet dough. Also, I had no Special Dry Milk on hand so used reduced fat milk with a shot of lemon juice for the liquid. I used (for the first time) the KAF bread baking bowl which produced a beautiful loaf....(I was not paid to say that). It will be a frequent bread at our table.
The bread was VERY dense and dry. Will not make again .I followed the recipe to the letter. I order everything need to bake this loaf. A total waste of money.
We're very sorry this recipe did not meet your expectations, but do appreciate your feedback. We'd love to help you troubleshoot this or any recipe at the Baker's Hotline: 855-371-2253. Barb@KAF