A customized print-friendly version of this recipe is available by clicking the "Print Recipe" button on this page.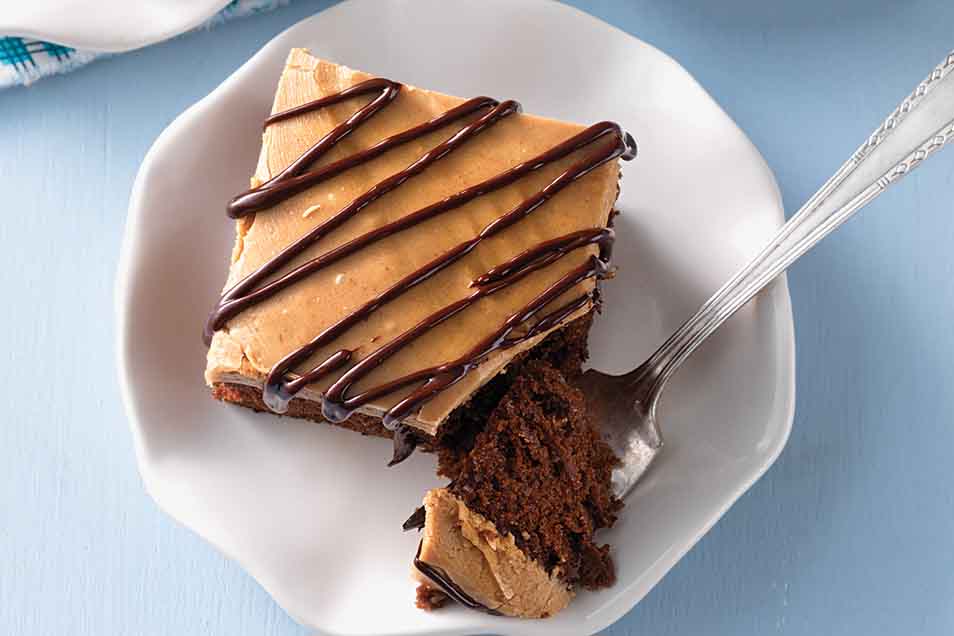 Chocolate cake made with sourdough starter? Don't worry; you'll never taste the sour, just the rich, full flavor of chocolate. The coffee icing, with its pretty dark chocolate drizzle, takes this cake to another level.

New to sourdough? Find the help you need for all of your sourdough baking at our Sourdough Essentials page.
Ingredients
Cake
1 cup sourdough starter, ripe (fed) or discard
1 cup milk (whole milk or 2% preferred) or evaporated milk
1 1/2 cups granulated sugar
1 cup vegetable oil
2 teaspoons vanilla extract
1 teaspoon salt
1 1/2 teaspoons baking soda
3/4 cup unsweetened baking cocoa (not Dutch process)
1 teaspoon espresso powder, optional
2 large eggs
Icing
6 cups confectioners' sugar
3/4 cup butter
1/2 cup plain yogurt or buttermilk
1 tablespoon + 1 1/2 teaspoons espresso powder
1 tablespoon hot water
Instructions
Combine the starter, milk, and flour in a large mixing bowl. Cover and let rest at room temperature for 2 to 3 hours. It won't necessarily bubble, but it may have expanded a bit.

Preheat the oven to 350°F. Lightly grease a 9" x 13" pan.

In a separate bowl, beat together the sugar, oil, vanilla, salt, baking soda, cocoa. and espresso powder. The mixture will be grainy.

Add the eggs one at a time, beating well after each addition.

Gently combine the chocolate mixture with the starter-flour-milk mixture, stirring till smooth. This will be a gloppy process at first, but the batter will smooth out as you continue to beat gently.

Pour the batter into the prepared pan.

Bake the cake for 30 to 40 minutes, until it springs back when lightly pressed in the center, and a cake tester inserted into the center comes out clean.

Remove the cake from the oven, and set it on a rack to cool while you make the icing.

Sift the confectioners' sugar into a large mixing bowl, and set it aside.

In a small saucepan set over medium heat, melt the butter and add the buttermilk or yogurt. Dissolve the espresso powder in the hot water, add to the pan, and bring the mixture just to a boil.

Immediately pour the simmering liquid over the confectioners' sugar in the bowl, and beat until smooth.

Pour the warm frosting over the cake. If you wait too long and the frosting stiffens up, spread it over the cake.

Combine the chocolate chips, milk, and corn syrup in a microwave-safe cup. Microwave until the chips soften, then stir until smooth.

Drizzle/drip the chocolate over the icing. You can do this while the icing is still warm, or wait until it's cooled.
Nutrition Information
Serving Size

1 piece

Servings Per Batch

18
Amount Per Serving:
Calories

500

Calories from Fat

180

Total Fat

21g

Saturated Fat

7g

Trans Fat

0 g

Cholesterol

40mg
Sodium

260mg

Total Carbohydrate

78g

Dietary Fiber

2g

Sugars

60g

Protein

5g
* The nutrition information provided for this recipe is determined by the ESHA Genesis R&D software program. Substituting any ingredients may change the posted nutrition information.
Tips from our bakers
Do you really need the espresso powder in the cake? Well, certainly it's not critical to the cake's structure. But we find espresso powder heightens chocolate flavor, just as vanilla does. You can't really taste either one; but each is a lovely accent to chocolate, bringing out the nuances of its flavor.
How do you tell when a cake is done? Start with the time it's been in the oven, certainly, but don't depend on that; ovens vary wildly in how they bake. Rely instead on the usual tests: is the cake barely beginning to pull away form the sides of the pan? Does it spring back when pressed lightly in the center (rather than your finger leaving an imprint)? And, most importantly, does a cake tester or toothpick inserted into the center come out clean, or with perhaps only a few solid crumb clinging to it? Then, no matter what your timer says, the cake is done.
Reviews
I baked this cake simply because I was intrigued by the wide range of comments in the reviews. After reading the reviews, and the issues some folks had with combining the 'dough' and the batter, I tried a technique most often used when combining beaten egg whites with a batter. Using my Kitchen Aid on it's lowest speed, I added about 1 cup of the chocolate mixture to the sourdough starter mix, using my flat beater with the rubber scraping edge, in order to lighten the sourdough starter mix. When it was completely combined with no white spots of dough, I added the rest of the chocolate mixture, and it combined nicely in less then a minute. I used a 10"X3" springform pan, not having a 9X13. It rose beautifully, though because of the greater depth of batter it took about 40-45 min. I live at 3300', so also factored in high altitude time and temp. The glaze/frosting was plenty sweet, so I omitted the choc. glaze. All of my 'guinea pigs' (friends with widely differing tastes) that I took cake to, found it wonderfully moist, tender and nicely chocolate-y. Only 1 out of the 4 found the glaze a bit too sweet. If someone is going to be doing this by hand, however, I can see where the frustration would lie. To my thoughts, it's a keeper.
I'm not sure if I did something wrong but I've made this twice and each time my dough won't mix to chocolate mix. It says mix gently and I don't own a mixer yet. I would love to know how to fix it. It taste good just hard dough pieces that make you not able to eat it.

Hi there, Kiersten! It sounds like your mixture of starter, milk, and flour might be a little too thick. It should be the consistency of a thick pancake batter — similar to your sourdough starter which is also made up of equal parts flour and water. To ensure you're using the right amount of flour, we recommend checking out the "Recipe Success Guide," link next to the ingredients header above. You'll see that either measuring your flour by weight using a scale, or fluffing and sprinkling the flour into your measuring cup are the best ways to ensure you've got the right amount of flour for the recipe. We hope this helps and happy baking
This is a great chocolate cake! It is even better than my old standby recipe I've used for nearly 50 years. I didn't use your icing recipe.....instead I used my favorite which is as follows. In a small saucepan melt 5 Tbsp. Butter, add 1/3 C milk (2% or whole milk is best), and 1 C sugar. Bring to a full rolling boil stirring constantly and boil 1 minute. That's right only "one" minute. Remove from heat and add 1 C Nestle's semi-sweet chocolate chips and stir until melted. Add 1/2 tsp. vanilla and chopped nuts if desired. Pour over warm cake. Don't wait too long as this sets up fairly fast. It's easy, quick and very good. Love King Arthur Flour Co.!

Hi there, fellow baker! We're so glad to hear that you enjoyed this cake and thank you for sharing your beloved frosting recipe. Happy baking! Morgan@KAF
I made this cake for the first time. It is a very moist delicious cake. I used my stand mixer on the lowest speed to make sure the starter was completely incorporated. For the frosting, I used 1/2 cup of sifted cocoa powder and 5 1/2 cups sifted powdered sugar. I wanted more of a fudge flavored frosting. Instead of semi-sweet chocolate chips in the drizzle, I used white chocolate chips so it would stand out better against the darker frosting. This will probably become my go-to chocolate cake.
This cake is delicious. I never made the frosting because the cake really doesn't need it. I've added roughly a 1 1/2 tsp cinnamon instead of the espresso powder. For those struggling to blend the two mixtures I use a danish dough whisk and that makes things way easier.
I'm stunned by all the good reviews on this recipe. Since it was the first time I made this or anything like it, I followed the recipe as it was. Ok, I cheated and added a tsp of almond extract too bc every chocolate cake needs that and it was only a teaspoon. Incorporating the starter mixture with the sugar mixture was a nightmare. I couldn't do it by hand and I don't have a stand mixer so I had to pour it into my bread machine and use the "cake" setting. Even that took awhile. Baking was easy and it was easy to tell when it was done, which for me was right at 30 minutes. The flavor is very good, but the texture is awful. It's crumbly and odd, so that even though the flavor is good you don't want to eat it because of the weird texture. No one here likes icing so I didn't bother with that. Maybe it only tastes good with icing?

We're sorry to hear that this well-loved recipe didn't do the trick for you, Lori. If we can help pick out a recipe that better fits your tastes or troubleshoot your experience with this one, please give our Baker's Hotline a call at 855-371-BAKE (2253). Kindly, Annabelle@KAF
I loved this recipe the first time I baked it, and I've make it a number of times since then, but I have a problem about 50% of the time where the sourdough sponge doesn't fully blend with the chocolate and sugar. The result is hard white chunks in the resulting cake, ruining the otherwise lovely texture. I have a hard time recommending this when it's russian roulette whether or not I can serve this cake to other people. I've tried mixing it more thoroughly but sometimes hard chunks remain no matter how much I mix it. I am wondering how stiff the sponge is supposed to be--mine is quite stiff so perhaps more milk would help. I don't know.

Hi there, Colleen! We're glad that you have enjoyed this recipe but are sorry to hear that you're having some troubles with it recently. It does sound as though your mixture of flour, water and starter is little too stiff. It should be a very thick pancake batter — similar to your sourdough starter which is also made up of equal parts flour and water. To ensure you're using the right amount of flour, we recommend checking out the "Recipe Success Guide," link next to the ingredients header above. You'll see that either measuring your flour by weight using a scale, or fluffing and sprinkling the flour into your measuring cup are the best ways to ensure you've got the right amount of flour for the recipe. We hope this helps and happy baking! Morgan@KAF
It's 20 degrees below zero in Chicago today so I am homebound and I had way too much sourdough starter (and can't stand to throw all that flour away) and some time on my hands. What better way to indulge in comfort than with chocolate cake? This one was a real pantry cleaner - I was not going out of the house for any reason, so I subbed all kinds of stuff in this cake (didn't have enough cocoa powder, so I used grated baking chocolate and even two packets of Swiss Miss to make up the cocoa content - I decreased the sugar.) I didn't have enough whole milk, so I used vanilla unsweetened almond milk. I didn't have enough vegetable oil (canola) so I used half canola and half olive). I used instant coffee (my mom gave me a random jar of it....?) instead of espresso powder. My starter isn't very old, so I was feeling some kind of way about the leavening and threw in a 1/2 tsp baking powder. And guess what? This cake is forgiving and phenomenal. I could have skipped the extra leavening. I ended up with a tall chocolatey cake with a fluffy crumb. I didn't have the stuff for the icing, but I did have a random jar of french salted caramel, so that is what topped it. Where there is a will, there is a way, and I now know how I will be using up that sourdough discard. I do have to say that this one does a number on your beaters if you have a rinky dink hand mixer like I do. I highly recommend starting this one off with a dough whisk until you get the chocolatey stuff well incorporated into the sourdough-y stuff. Will bake again.
I have baked this 4 times so far. The cake itself it always delicious. I am having trouble with the icing... it says to add the yoghurt or buttermilk after melting the butter. I have tried to do it immediately after (hot butter) as well as after the butter cools... but both times I get this curdling effect so the icing gets smallish lumpy dots? I hv very little experience with icing so am at a loss. The icing is also usually much too sweet for my Asian palette so I cut the amt of icing sugar. Doing that will not make the icing set, however, so I have to be content with a kind of runny drippy icing (altho it tastes delicious!).

Hi Sharon! We recommend checking out the blog article that accompanies this recipe, linked to the right of the main photo. It shares some helpful tips and visuals of the icing, including a note about the necessity to sift the confectioners' sugar to prevent those little lumps. If you find it's getting lumpy before you add the sugar, you can always either throw the mixture in the blender for a few seconds or strain it through a sieve. Happy baking! Annabelle@KAF
Loved this cake! I'm not a big fan of chocolate cake because I find them too fudgy or too dry. This cake was just right. I had to use a hand mixer to combine the sourdough mixture with the flour & cocoa because it just wouldn't combine by hand. My sourdough starter was active enough that I think I could've omitted some if not all of the extra rising agent (I got a bit of a dome). I overbaked by like 2 minutes and it was still moist. This was a hit with my friends and coworkers!