A customized print-friendly version of this recipe is available by clicking the "Print Recipe" button on this page.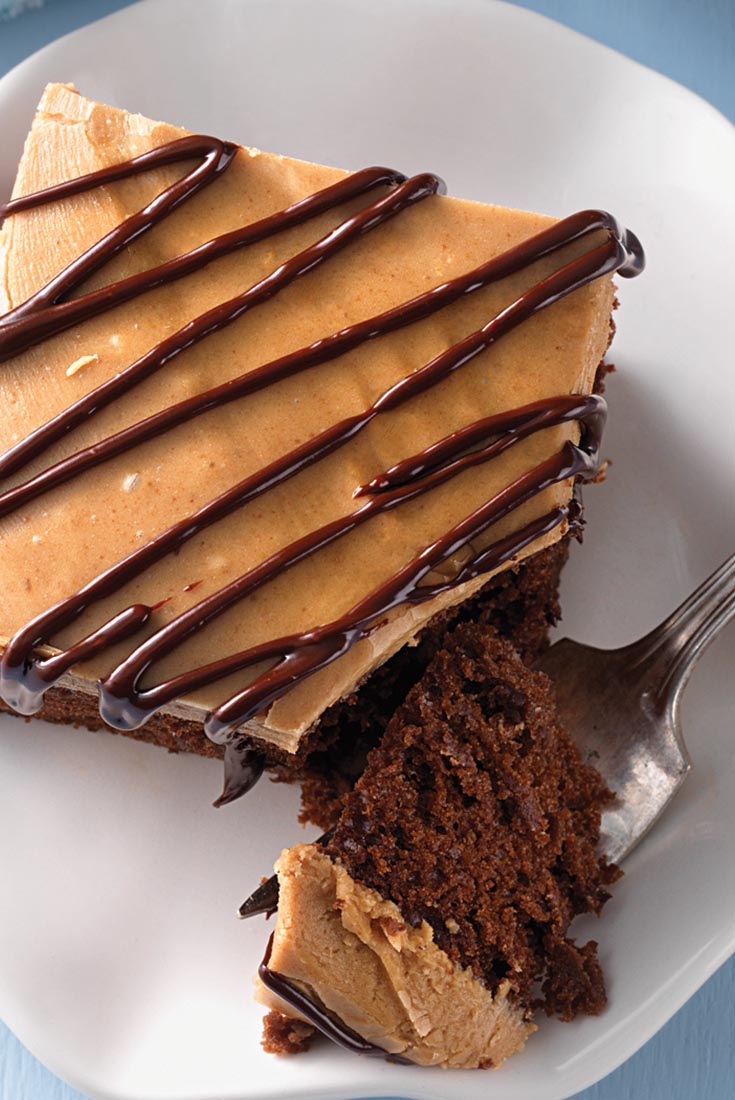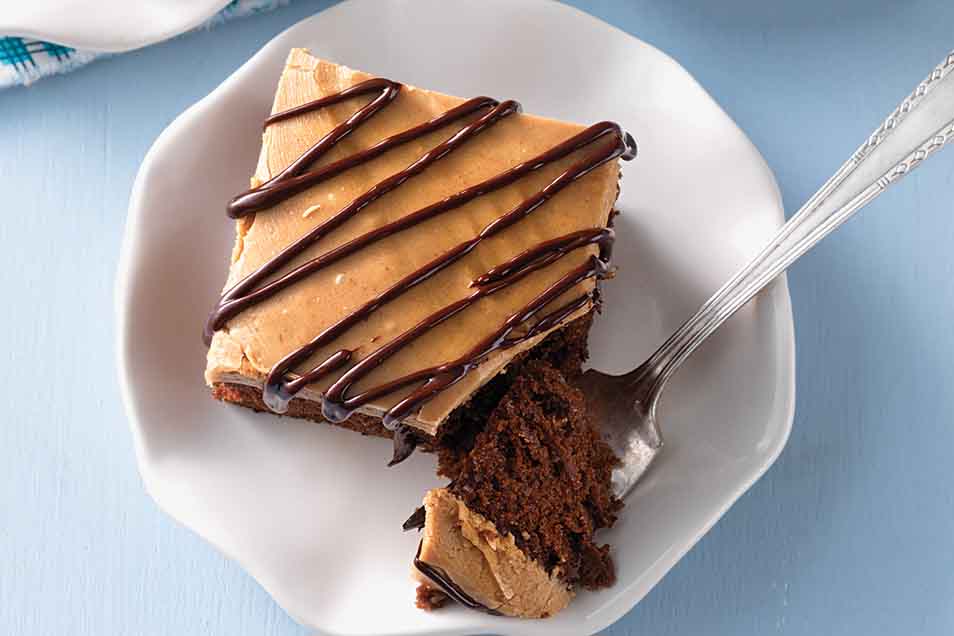 Chocolate cake made with sourdough starter? Don't worry; you'll never taste the sour, just the rich, full flavor of chocolate. The coffee icing, with its pretty dark chocolate drizzle, takes this cake to another level.

New to sourdough? Find the help you need for all of your sourdough baking at our Sourdough Essentials page.
Ingredients
Cake
1 cup sourdough starter, ripe (fed) or discard
1 cup milk (whole milk or 2% preferred) or evaporated milk
1 1/2 cups granulated sugar
1 cup vegetable oil
2 teaspoons vanilla extract
1 teaspoon salt
1 1/2 teaspoons baking soda
3/4 cup unsweetened baking cocoa (not Dutch process)
1 teaspoon espresso powder, optional
2 large eggs
Icing
6 cups confectioners' sugar
3/4 cup butter
1/2 cup plain yogurt or buttermilk
1 tablespoon + 1 1/2 teaspoons espresso powder
1 tablespoon hot water
Instructions
Combine the starter, milk, and flour in a large mixing bowl. Cover and let rest at room temperature for 2 to 3 hours. It won't necessarily bubble, but it may have expanded a bit.

Preheat the oven to 350°F. Lightly grease a 9" x 13" pan.

In a separate bowl, beat together the sugar, oil, vanilla, salt, baking soda, cocoa. and espresso powder. The mixture will be grainy.

Add the eggs one at a time, beating well after each addition.

Gently combine the chocolate mixture with the starter-flour-milk mixture, stirring till smooth. This will be a gloppy process at first, but the batter will smooth out as you continue to beat gently.

Pour the batter into the prepared pan.

Bake the cake for 30 to 40 minutes, until it springs back when lightly pressed in the center, and a cake tester inserted into the center comes out clean.

Remove the cake from the oven, and set it on a rack to cool while you make the icing.

Sift the confectioners' sugar into a large mixing bowl, and set it aside.

In a small saucepan set over medium heat, melt the butter and add the buttermilk or yogurt. Dissolve the espresso powder in the hot water, add to the pan, and bring the mixture just to a boil.

Immediately pour the simmering liquid over the confectioners' sugar in the bowl, and beat until smooth.

Pour the warm frosting over the cake. If you wait too long and the frosting stiffens up, spread it over the cake.

Combine the chocolate chips, milk, and corn syrup in a microwave-safe cup. Microwave until the chips soften, then stir until smooth.

Drizzle/drip the chocolate over the icing. You can do this while the icing is still warm, or wait until it's cooled.
Nutrition Information
Serving Size

1 piece

Servings Per Batch

18
Amount Per Serving:
Calories

500

Calories from Fat

180

Total Fat

21g

Saturated Fat

7g

Trans Fat

0 g

Cholesterol

40mg
Sodium

260mg

Total Carbohydrate

78g

Dietary Fiber

2g

Sugars

60g

Protein

5g
* The nutrition information provided for this recipe is determined by the ESHA Genesis R&D software program. Substituting any ingredients may change the posted nutrition information.
Tips from our bakers
Do you really need the espresso powder in the cake? Well, certainly it's not critical to the cake's structure. But we find espresso powder heightens chocolate flavor, just as vanilla does. You can't really taste either one; but each is a lovely accent to chocolate, bringing out the nuances of its flavor.
How do you tell when a cake is done? Start with the time it's been in the oven, certainly, but don't depend on that; ovens vary wildly in how they bake. Rely instead on the usual tests: is the cake barely beginning to pull away form the sides of the pan? Does it spring back when pressed lightly in the center (rather than your finger leaving an imprint)? And, most importantly, does a cake tester or toothpick inserted into the center come out clean, or with perhaps only a few solid crumb clinging to it? Then, no matter what your timer says, the cake is done.
Reviews
First time making this recipe and wow am I impressed. I've made many chocolate cakes and love the super moist texture of them. This recipe did not disappoint. Got a great rise out of this cake. Texture is different than a traditional chocolate cake recipe. It's very moist and delicious and also different in all the right ways. Will definitely make it again.
I experimented with half the recipe, partly because I wasn't sure I could find the right cocoa and I'd run out of bicarbonate soda and had to use baking powder. The chocolate half was fantastic. It rose well and the texture is amazing - dense, soft and rich. So I guess the chocolate and soda alchemy was ok. The other half was also fantastic. I added some sultanas, grated lemon rind, a couple of tablespoons of 'fromage frais' or petit swiss, and put some frozen gooseberries and sugar pearls on top. The cheese worked to turn it into more of a dessert or pudding - but again - both have a wonderful texture. This is a mixture which supports experiments!
Absolutely delicious! I used the discard of a starter I've been feeding with half buckwheat flour and half whole wheat flour and it was so good we couldn't stop eating it. The pour-on frosting with chocolate drizzle makes the cake, in my opinion. A total winner!
I was looking for a recipe to use up my sourdough starter discard, and this fit the bill! It is unique and delicious. I baked the batter in smaller ramekins because I wanted to give mini cakes away to friends, and I wanted to practice using buttercream frosting on small surface areas. This might also bake up nicely as cupcakes. I will definitely make this again when I need a trusty chocolate cake recipe.
This is delicious. I made it for a brunch party, figuring a sweet end after a lot of salty bagels and lox would be a nice contrast. I followed the directions exactly (using fed sourdough) and non-dutch process cocoa powder. Based on others' recommendations, I did cut the frosting by 1/3. The cake was a delicious fudgy consistency (I used a glass 9x13, so lowered the temp 25 degrees, which may have contributed, not sure on that) and absolutely delicious. I thought the frosting was delicious, but it is sweet (so the reduced amount was perfect). It's also not a great color, so I might just make the cake without frosting if doing it in the 9x13 again; though I think I will try it as a layer cake, with the frosting in the middle next time. The espresso powder (KA) added a great depth of flavor in the chocolate, but not at all a coffee taste (my husband doesn't like coffee and didn't notice it at all) The frosting does have a mocha profile, but again, not overwhelmingly. It was a huge hit and everyone left asking for the recipe. It will be a regular in my recipe file.
It was.... ok. The cake was a bit tough, and not chocolately enough. I made the cake exactly as written. I will try it again with more cocoa next time, and will make 9' rounds that I'll split and fill. Based on comments from other reviewers, I skipped the frosting and made a peanut butter frosting with the chocolate drizzle instead - that was a hit. Everyone appreciated that the cake wasn't too sweet, but it wasn't very interesting either.
I dont review recipes unless I follow them. It drives me crazy when someone says, "I followed the recipe except..." and then lists four substitutions in a six ingredient list! So I followed it, even verifying my oven temperature. And I have to say that it looks delicious, but the taste was just okay. I have several recipes I greatly prefer, including the classic from the Hershey's cocoa box. I didn't bother with the icing once I had tasted the cake. I was intrigued by the idea, but it just wasn't special.
This recipe is fantastic! it is a moist and chocolatey cake. It has a nice bite to it, from the starter and it is the best recipe for a starter cake! I prefer it without the icing or drizzle, whipped cream gives it a better flavor. I do warn you, if you do not follow the recipe exactly (Except for starter amount) it will taste awful. But this is a lovely cake and can't wait to make it again. Also, it gets finished quickly........:)
This is my go to chocolate cake recipe, and it has been for about as long as I have been using sourdough starter - 10 years or so. That being said, I don't know how to follow a recipe exactly, I never have and never will. My suggested and preferred substitutions are: Melted and cooled extra virgin coconut oil, the best cocoa powder I have (any kind works though), 1/4-1/2 cup less sugar, a tablespoon or so of really good dark rum instead of vanilla extract, and 2 tablespoons or so of strong espresso. The extra liquid doesn't seem to make much difference. Years ago the recipe stated that the starter+ flour + milk was should ferment overnight so that's what I still do, making my cake really rich and moist. I agree with the others that the frosting is waaaay too sweet and too much. I usually dust with confectioners sugar, ganache or today, a tangy cream cheese frosting garnished with coconut flakes.
I followed the recipe exactly. The cake was amazing, moist, and with a slighty tangy bite to it. However, I found the icing to be way too much, and way too sweet. The icing was almost half an inch thick in the 9x13 pan. We ended up having to scrape a lot, or all of it off in order to enjoy it. I'd recommend at least halving the amount of icing the recipe calls for, maybe even 75%. The cake itself is great, and lends itself to other types of icing as well. I'd definitely make the cake part again.