A customized print-friendly version of this recipe is available by clicking the "Print Recipe" button on this page.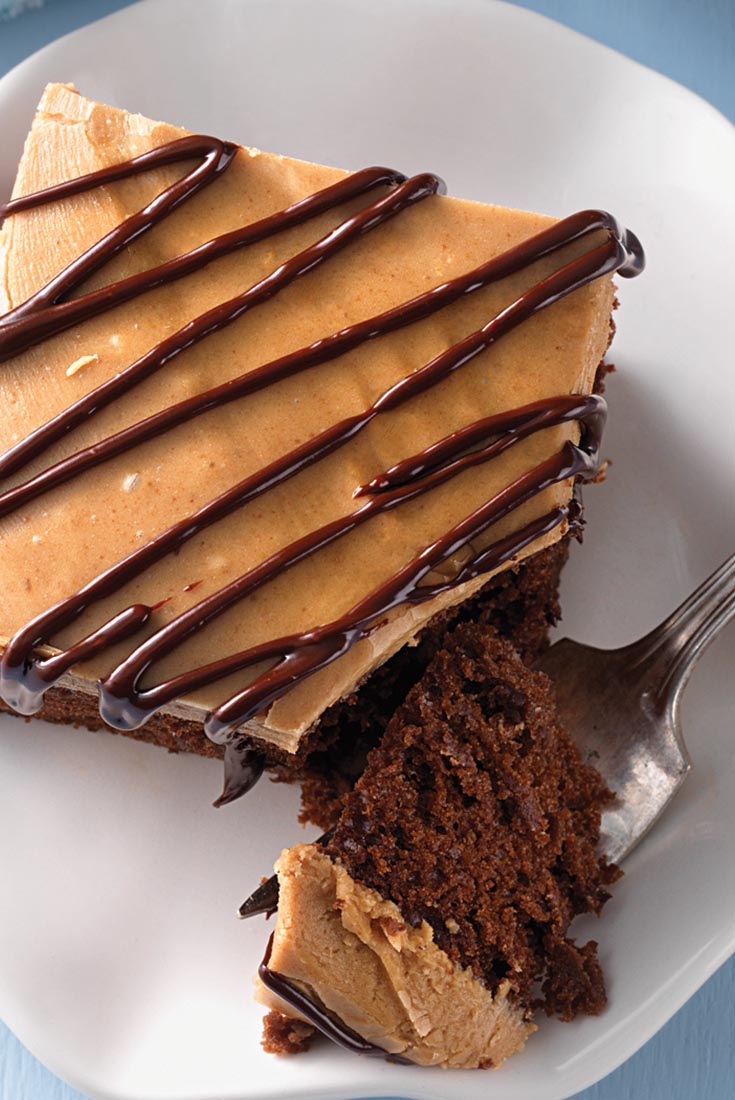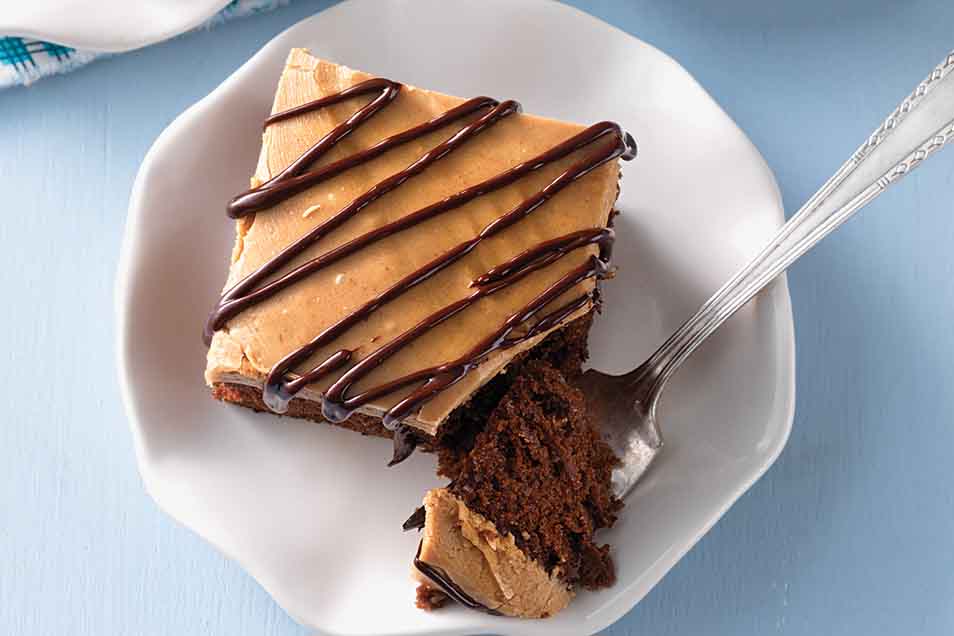 Chocolate cake made with sourdough starter? Don't worry; you'll never taste the sour, just the rich, full flavor of chocolate. The coffee icing, with its pretty dark chocolate drizzle, takes this cake to another level.

New to sourdough? Find the help you need for all of your sourdough baking at our Sourdough Essentials page.
Ingredients
Cake
1 cup sourdough starter, ripe (fed) or discard
1 cup milk (whole milk or 2% preferred) or evaporated milk
1 1/2 cups granulated sugar
1 cup vegetable oil
2 teaspoons vanilla extract
1 teaspoon salt
1 1/2 teaspoons baking soda
3/4 cup unsweetened baking cocoa (not Dutch process)
1 teaspoon espresso powder, optional
2 large eggs
Icing
6 cups confectioners' sugar
3/4 cup butter
1/2 cup plain yogurt or buttermilk
1 tablespoon + 1 1/2 teaspoons espresso powder
1 tablespoon hot water
Instructions
Combine the starter, milk, and flour in a large mixing bowl. Cover and let rest at room temperature for 2 to 3 hours. It won't necessarily bubble, but it may have expanded a bit.

Preheat the oven to 350°F. Lightly grease a 9" x 13" pan.

In a separate bowl, beat together the sugar, oil, vanilla, salt, baking soda, cocoa. and espresso powder. The mixture will be grainy.

Add the eggs one at a time, beating well after each addition.

Gently combine the chocolate mixture with the starter-flour-milk mixture, stirring till smooth. This will be a gloppy process at first, but the batter will smooth out as you continue to beat gently.

Pour the batter into the prepared pan.

Bake the cake for 30 to 40 minutes, until it springs back when lightly pressed in the center, and a cake tester inserted into the center comes out clean.

Remove the cake from the oven, and set it on a rack to cool while you make the icing.

Sift the confectioners' sugar into a large mixing bowl, and set it aside.

In a small saucepan set over medium heat, melt the butter and add the buttermilk or yogurt. Dissolve the espresso powder in the hot water, add to the pan, and bring the mixture just to a boil.

Immediately pour the simmering liquid over the confectioners' sugar in the bowl, and beat until smooth.

Pour the warm frosting over the cake. If you wait too long and the frosting stiffens up, spread it over the cake.

Combine the chocolate chips, milk, and corn syrup in a microwave-safe cup. Microwave until the chips soften, then stir until smooth.

Drizzle/drip the chocolate over the icing. You can do this while the icing is still warm, or wait until it's cooled.
Nutrition Information
Serving Size

1 piece

Servings Per Batch

18
Amount Per Serving:
Calories

500

Calories from Fat

180

Total Fat

21g

Saturated Fat

7g

Trans Fat

0 g

Cholesterol

40mg
Sodium

260mg

Total Carbohydrate

78g

Dietary Fiber

2g

Sugars

60g

Protein

5g
* The nutrition information provided for this recipe is determined by the ESHA Genesis R&D software program. Substituting any ingredients may change the posted nutrition information.
Tips from our bakers
Do you really need the espresso powder in the cake? Well, certainly it's not critical to the cake's structure. But we find espresso powder heightens chocolate flavor, just as vanilla does. You can't really taste either one; but each is a lovely accent to chocolate, bringing out the nuances of its flavor.
How do you tell when a cake is done? Start with the time it's been in the oven, certainly, but don't depend on that; ovens vary wildly in how they bake. Rely instead on the usual tests: is the cake barely beginning to pull away form the sides of the pan? Does it spring back when pressed lightly in the center (rather than your finger leaving an imprint)? And, most importantly, does a cake tester or toothpick inserted into the center come out clean, or with perhaps only a few solid crumb clinging to it? Then, no matter what your timer says, the cake is done.
Reviews
Cake was a hit! I did convert it to Gluten Free by using a gluten free sourdough starter, switched flour to Measure for Measure GF Flour. I, also used almond milk for the milk in the recipe. I think people were worried about a gluten free sourdough cake but everyone said it was delicious and there were no leftovers.
I baked this yesterday for a dinner party and it was a hit. It makes a rich, moist cake with a light, airy crumb. I made the recipe with two modifications: cocoa powder and espresso powder. I prefer the flavor and color of Dutch-process cocoa, so I used that and replaced the 1.5t of baking soda with 2t of baking powder, as one of the bakers suggested below. The cake rose beautifully and was delicious, though as the other reviewer who has been experimenting with Dutched cocoa noted, there were a few cracks on the surface (not a big deal to me). And I don't have espresso powder in my pantry, so I used a small amount (maybe 1t) of very strong coffee that I brewed. Everything turned out beautifully. I iced the cake in the pan with a simple chocolate icing, and the whole thing was delicious.
I made the cake as written. The flavor is great and my coworkers loved it, especially the frosting. I thought the texture was a bit crumbly. My starter is a few years old and was a bit thick. I'm not sure if that affected the texture or not. I will try adding cake enhancer next time but I'm wondering if there is something I should do to thin the starter before adding it?

We think that a couple of tablespoons of Cake Enhancer would be a great help with the crumbliness! You want your sourdough starter to have the consistency of a thick pancake batter, so we encourage you to drizzle in a bit of extra water until it gets to about that thickness. Happy baking! Annabelle@KAF
I love this recipe but I love it with Dutch process cocoa. But, my cake does not hold together, I'm not sure why, and it cracks all over the top (not the normal amount of cracking). How do I make this cake with Dutch process cocoa? I've been trying with 1 tsp of baking soda and 1/2 teaspoon of baking powder and the cake holds together, the cake tastes great, but it cracks all over the top.

Thanks for reaching out to us, Shalini. While you're welcome to try using Dutch-process cocoa powder in this recipe, you'll need to use quite a bit of baking powder in order to get the same kind of rise and texture in the finished cake. Typically, we recommend using 2x the amount of baking powder as baking soda but that would mean you'd need 1 full tablespoon of baking powder, and us bakers are worried about the cake tasting metallic with that quantity. You could try scaling it back to 2 teaspoons, or if possible, you might consider using natural cocoa powder and baking soda as called for in the recipe. This results in a delightful flavor and may also solve the cracking problems you experienced. We've designed the recipe to produce phenomenal results! Kye@KAF
If I didn't already have a go-to recipe for chocolate cake, this recipe would be a knockout, which is why I gave it 3 rather than 4 stars. It wasn't quite as moist as I thought it would be. The taste and texture were very nice. I used coffee extract as I didn't have access to espresso powder. My standard is the Hershey cookbook chocolate cake...I believe someone also mentioned it in a previous review. The icing was lovely...

It sounds like this recipe is close to being just what you want it to be, Elissa. If you want to make a cake that's even more moist, try using whole milk or even whole milk yogurt if you have some on hand. This added fat will contribute additional richness to the cake.

Also, be sure you're using the right amount of flour, as using too much is one of the most common reasons why baked goods turn out dry. We recommend either using a scale to measure your flour by weight or gently fluffing and sprinkling the flour into your measuring cups one spoonful at a time. Light cups of flour will ensure a perfectly light and tender chocolate cake. We hope this helps your future cakes turn out wonderfully. Happy baking! Kye@KAF
Today it was the second time baking this chocolate cake, it's a winner, my family devoured it so I'll be making it over and over again, thank you KAF for this awesome recipe
The first time I made these, there were hard lumps of flour in the cake and I realized I may not have mixed the sourdough mix well. Baked it again. This time I made sure I mixed it well before letting it ferment. I added dark and white choc chips as well as walnuts. YUM! I do have a question though KAF, why is the cake crumbly, what can I do to improve the texture?

This is one of those cakes, Pauline, that just has a looser crumb structure. You're welcome to try adding 2 to 4 tablespoons of our Cake Enhancer to give your cake a more moist and fluffy texture, as well as extend its shelf life. Annabelle@KAF
First time making this recipe and wow am I impressed. I've made many chocolate cakes and love the super moist texture of them. This recipe did not disappoint. Got a great rise out of this cake. Texture is different than a traditional chocolate cake recipe. It's very moist and delicious and also different in all the right ways. Will definitely make it again.
I experimented with half the recipe, partly because I wasn't sure I could find the right cocoa and I'd run out of bicarbonate soda and had to use baking powder. The chocolate half was fantastic. It rose well and the texture is amazing - dense, soft and rich. So I guess the chocolate and soda alchemy was ok. The other half was also fantastic. I added some sultanas, grated lemon rind, a couple of tablespoons of 'fromage frais' or petit swiss, and put some frozen gooseberries and sugar pearls on top. The cheese worked to turn it into more of a dessert or pudding - but again - both have a wonderful texture. This is a mixture which supports experiments!
Absolutely delicious! I used the discard of a starter I've been feeding with half buckwheat flour and half whole wheat flour and it was so good we couldn't stop eating it. The pour-on frosting with chocolate drizzle makes the cake, in my opinion. A total winner!