A customized print-friendly version of this recipe is available by clicking the "Print Recipe" button on this page.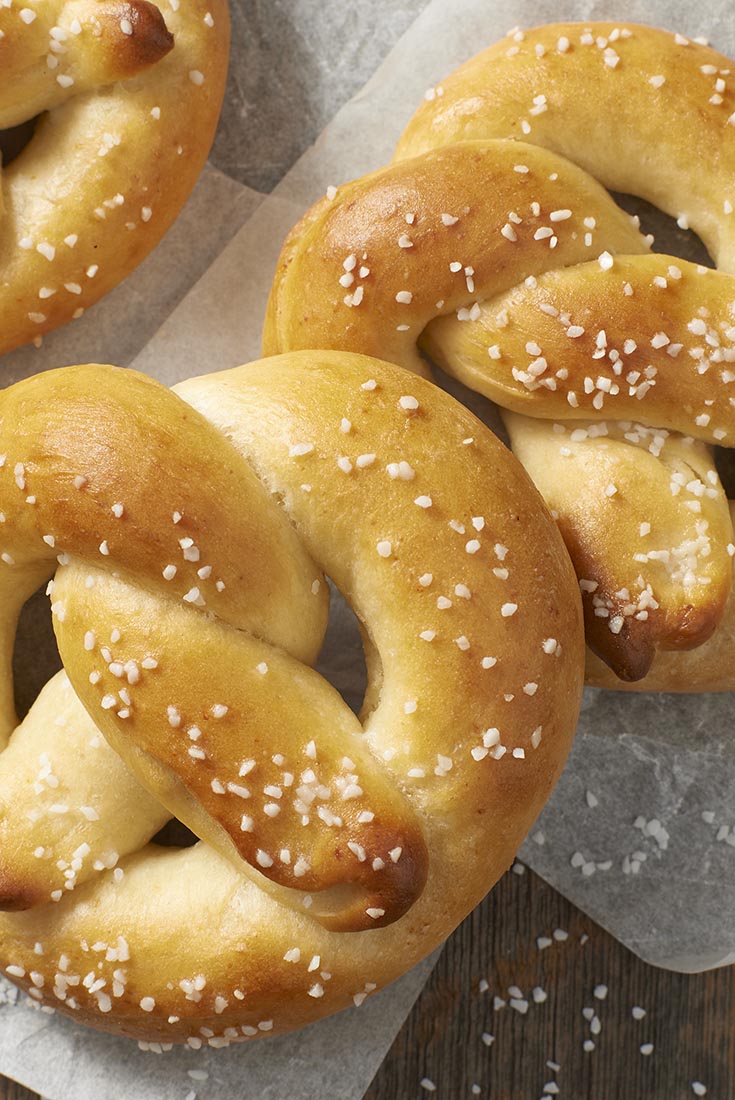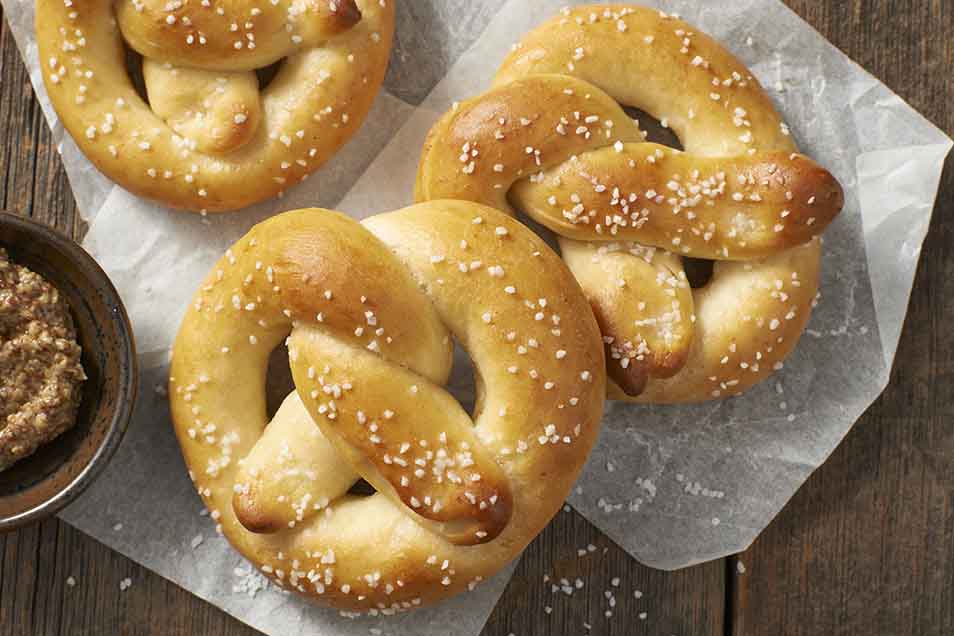 There's nothing better than soft, chewy, warm pretzels from a street vendor — except possibly making them yourself, using this easy recipe. You can make these pretzels on a moment's notice, too: the recipe calls for sourdough starter straight from the refrigerator, no need to feed it first.

New to sourdough? Find the help you need for all of your sourdough baking at our Sourdough Essentials page.
Instructions
Mix and knead the dough ingredients — by hand, mixer, or bread machine — to make a cohesive, fairly smooth dough. It should be slightly sticky; if it seems dry, knead in an additional tablespoon or two of water.

Cover the dough and let it rest for 45 minutes. It will rise minimally. Towards the end of the rising time, preheat the oven to 350°F.

Turn the dough out onto a lightly greased work surface, fold it over a few times to gently deflate it, then divide it into 12 pieces, each weighing about 2 1/4 to 2 1/2 ounces.

Roll each piece of dough into an 18" rope. Shape each rope into a pretzel.

Dissolve the malt in the water. Brush the pretzels with the solution, and sprinkle lightly with coarse pretzel salt.

Bake the pretzels for 25 to 30 minutes, until they're a light golden brown. Note: This is correct; there's no need to let the shaped pretzels rise before baking.

Remove the pretzels from the oven, and brush with melted butter, if desired.

Yield: 12 pretzels.
Nutrition Information
Serving Size

1 (80g)

Servings Per Batch

12
Amount Per Serving:
Calories

190

Calories from Fat

30

Total Fat

3.5g

Saturated Fat

2g

Trans Fat

0g

Cholesterol

10mg
Sodium

770mg

Total Carbohydrate

34g

Dietary Fiber

1g

Sugars

4g

Protein

7g
* The nutrition information provided for this recipe is determined by the ESHA Genesis R&D software program. Substituting any ingredients may change the posted nutrition information.
Reviews
These tasted great, but instead of brushing them with malt, I boiled them in baking soda and water before baking them in a hot oven. They turned a deep mahogany brown color and were even crispier than before. One question: Could I make this recipe with white whole wheat flour? This may not be possible but I thought I would give it a shot.

You can use white whole wheat for up to 50% of the flour no problem, John! Just add water a teaspoon at a time until the dough is the consistency you're used to. Annabelle@KAF
I took all the comments written about this recipe to heart, and I decided to briefly boil the pretzels in about 6 cups of water with two tablespoons of baking soda. Perfection! The pretzels browned beautifully. Today is the second time I am making these pretzels, and this time I was very stingy with the pretzel salt. It must be particularly salty salt since my generous amount the last time was even too much for my husband, the resident salt-o-holic.
What a great use of sourdough discard! I made these using AP flour as I don't have any Lancelot flour. After reading the reviews I did choose to use a water bath before baking - I used the bath from the Everything Pretzel recipe that uses both baking soda and non-diastatic malt powder since I couldn't decide whether baking soda or the malt powder would be best! They browned nicely and tasted great. I would like a little more chew, which I know the Lancelot flour would give. Can I substitute bread flour? Or maybe add vital wheat gluten? Would either of those (and if the gluten, how much?) make the pretzels a little chewier? Thanks for another great recipe.

You're right in thinking that High-Gluten (also known as Sir Lancelot) Flour will give your pretzels a chewier texture, so we'd encourage you to look into acquiring a bag if possible. We think you'll love the results! If that's not an option, King Arthur Bread Flour (with its 12.7% protein content) is your next best option. Vital Wheat Gluten won't impart a chewier texture here; save it for when you're baking with whole grains and want to give your loaves more support. Happy pretzel baking! Kye@KAF
I usually make a recipe as written the first time, and I did with these knowing I may not get the 'traditional' pretzel. While I wasn't too disappointed in how these turned out, I think KAF needs to update their photo or add some comments. The pretzels are nowhere near as pictured, since they do not brown. Either a photo with pale pretzels should be shown, or there should be a disclaimer that the golden brown hue comes only with a bath of some sort before baking.

We appreciate your genuine feedback, Karen, as it's our goal to give bakers as much information about what to expect from a recipe as possible before beginning. We've shared your suggestions with the right team, and if you'd like to get a darker crust, next time you can try brushing the melted butter onto the pretzels after about 15 minutes of baking. They should brown up nicely during the last portion of the bake. We hope that helps, and happy baking! Kye@KAF
Having made traditional pretzels where you boil in a baking soda solution first, these just weren't cutting it. Surface had none of that special pretzel finish that makes them so good. The sugar solution imparting sweet to the pretzel was also not particularly great, and the dough needs a little more salt. Recipe was also dry and while I almost adjusted the dough, I didn't know if this recipe was supposed to be that way. Lesson learned on that point. In future I'll just use a traditional pretzel recipe and throw in some starter.
Excellent and these soft pretzels are my favorite! Alterations I made since I've made these type pretzels before but not this recipe...shape and then put on oiled parchment covered baking sheets and freeze until firm. Boil 10 cups water, add 1/2 cup baking soda and turn heat down to low boil. Dip pretzels in for 60 seconds total and take out with slotted spoon or spyder and place back on baking sheet. Once all done take 1 egg mixed with 1 teaspoon of water and do an egg wash (no glopping on). Sprinkle with coarse salt (not Kosher) or sesame seeds and bake at 400 degrees for 15 min or until reaches the color you like. Remove to rack to cool. Again awesome recipe and what a great way to use your SD discard!!
I love using up my discard on these rather than throwing it away or badgering all my friends to take some! I have made these 3 or 4 times. I tried brushing on the sugar water. I bought the non-diastatic malt powder and tried brushing that on. No real browning still. Will try the water bath next time. Which water bath is better--baking soda and water? Or non-diastatic malt powder and water?

Hi Carol, the answer depends on what you're looking for in your pretzels. The Non-Diastatic Malt Powder water bath will give your pretzels a bit of shine in the crust, as well as that quintessential pretzel flavor. If you prefer a slightly more robust taste, then opt for the baking soda bath. We also tend to see slightly less browning with the baking soda bath. We encourage you to give both a try so you can find your favorite method! Kye@KAF
How would I go about freezing, need to thaw(?) and reheat instructions? Thank you.

Hi Petie. Once the pretzels have baked and cooled, wrap them in plastic wrap and freeze them for 4-6 weeks. When you're ready to enjoy them, let them thaw on the counter for 2-4 hours, wrap them in tinfoil, and reheat them at 350°F for about 10 minutes. They'll be good as new! Annabelle@KAF
These pretzels are outstanding. Definitely recommend using a water bath. Boil 6 cups of water in 12 inch skillet with 3 tablespoons of baking soda. Boil each pretzel 30 seconds per side. I do 4 at a time. Also, we like a dark crust, so baking at 450 for 15-17 minutes gives us the color and texture we prefer.
I've made this three times in short order. The best version, I did the soda bath AND substituted rye for 1/4 of the flour. I also added 1 T of rye bread enhancer (offset by removing 1 T of white flour). This really gave the pretzel a more authentic and finished flavor, while only making the dough marginally stickier to work with. Either way, the pretzels really benefit from the soda bath. A revision of this recipe should simply include it, so you don't have to look all over for it.