A customized print-friendly version of this recipe is available by clicking the "Print Recipe" button on this page.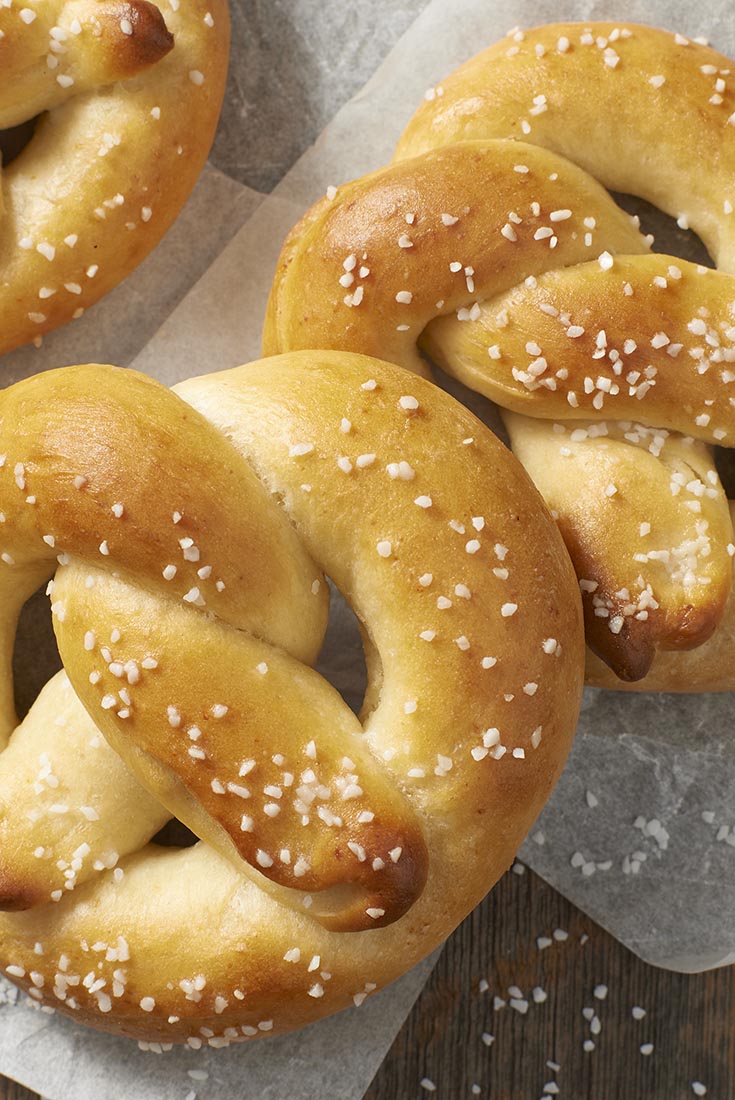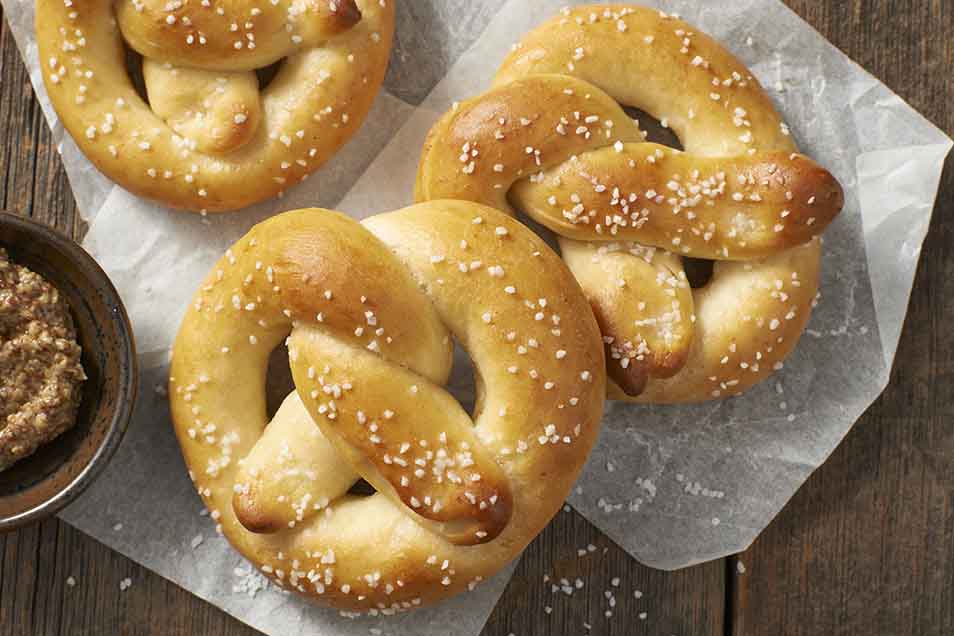 There's nothing better than soft, chewy, warm pretzels from a street vendor — except possibly making them yourself, using this easy recipe. You can make these pretzels on a moment's notice, too: the recipe calls for sourdough starter straight from the refrigerator, no need to feed it first.

New to sourdough? Find the help you need for all of your sourdough baking at our Sourdough Essentials page.
Instructions
Prepare a baking sheet by spraying it with vegetable oil spray, or lining it with parchment paper. If you're not using King Arthur Flour's brand, grease the parchment with vegetable oil spray to make double-sure the pretzels won't stick.

Mix and knead the dough ingredients — by hand, mixer, or bread machine — to make a cohesive, fairly smooth dough. It should be slightly sticky; if it seems dry, knead in an additional tablespoon or two of water.

Cover the dough and let it rest for 45 minutes. It will rise minimally. Towards the end of the rising time, preheat the oven to 350°F.

Turn the dough out onto a lightly greased work surface, fold it over a few times to gently deflate it, then divide it into 12 pieces, each weighing about 2 1/4 to 2 1/2 ounces.

Roll each piece of dough into an 18" rope. Shape each rope into a pretzel.

Dissolve the malt in the water. Brush the pretzels with the solution, and sprinkle lightly with coarse pretzel salt.

Bake the pretzels for 25 to 30 minutes, until they're a light golden brown. Note: This is correct; there's no need to let the shaped pretzels rise before baking.

Remove the pretzels from the oven, and brush with melted butter, if desired.
Nutrition Information
Serving Size

1 (80g)

Servings Per Batch

12
Amount Per Serving:
Calories

190

Calories from Fat

30

Total Fat

3.5g

Saturated Fat

2g

Trans Fat

0g

Cholesterol

10mg
Sodium

770mg

Total Carbohydrate

34g

Dietary Fiber

1g

Sugars

4g

Protein

7g
* The nutrition information provided for this recipe is determined by the ESHA Genesis R&D software program. Substituting any ingredients may change the posted nutrition information.
Reviews
Recipe is mostly straightforward and the results were outstanding. Big Flaw! Choose a baking method since there is nothing in the recipe to indicate baking them on the rack or pan. If we presume baking sheet then is it greased, covered with parchment paper ot, as in many sourdoughs, baking sheet with corn meal on it. A greased sheet worked for me but I'll try cornmeal the next time.

We apologize for any confusion, fellow baker. The Sourdough Pretzels should be baked on a lightly greased baking sheet or a baking sheet lined with parchment paper. This will ensure the pretzels don't stick to the pan while they bake. We've asked our Recipe Team to make a note about this in the recipe. We hope this helps, and happy baking! Kye@KAF
I'm super excited to make this and am wondering about freezing. At what point is it best to freeze? Totally raw? Par baked? Fully baked? Can't wait to try these out!

We recommend freezing your pretzels once they're fully baked, Kate, in order to ensure the best texture and overall result. You can let the pretzels thaw at room temperature and then reheat them by wrapping in foil and placing in a warm oven for about 5 to 10 minutes until warmed throughout. This will make this taste like they've just come out of the oven for the first time. They'll be delicious! Kye@KAF
I made these with my 6 YO great-niece yesterday. She had a blast. I did all the mise en place and let her put everything together. I had to take over the mixing and then the kneading as her little hands weren't quite strong enough. I too used sugar instead of the malt as that was what I had. Taste and texture are great! Not worried about lasting. Only 3 left! I will be making them again. Maybe order the malt and try them with that. I give 4.5-5 Stars, but for some reason selecting the stars doesn't work in Chrome.
aAbaker's dozen plus a little ring, of Sourdough pretzels just came out of the oven. I weighed all of my ingredients and weighed each piece of dough to between 2.2 and 2.4 oz each and I still wound up with "extra." Perhaps i mixed the dough too long? it rose quite a bit after mixing and my discard was looking pretty bubbly. anyway, the flavor is nice as is the texture. i used the non-diastatic malt powder for the dough and the wash. They baked up very pale. I think I will do a water bath for the next batch. If I like the effect of the water bath I will come back and add a star.

Having an extra sourdough pretzel seems like the opposite of a problem to us, but if you're intent on making 12, we recommend weighing all of your dough and dividing that amount by 12 so they'll all be even. It sounds like it rose beautifully, so we don't suspect that it was over-kneaded. Over-worked dough tears. Either using the water bath as you suggested or brushing the pretzels with egg wash before sprinkling the salt on will help them bake up a little browner. Happy experimenting! Annabelle@KAF
I made these pretzels today, and they are delicious!!! While tasty, I do have to say these taste more like dinner rolls than pretzels. I wonder if it's because you don't quickly boil the pretzels in a baking soda bath first? Either way, a super easy and wonderful recipe!

Hi Brittany, we're so glad you enjoyed these pretzels! While the baking soda is often used to give your pretzels (or bagels) a nice shine, they wouldn't impart a detectable flavor. Rather, the non-diastatic malt powder or sugar lends a slightly sweet crust which really enhances the flavor of the inside as well as the salt often used for a topping. One thing you could try is to make our Hot Buttered Pretzel recipe, which is a more traditional pretzel. You can still incorporate some of your sourdough if you'd like — simply replace 113g of flour and 113g of water with 226g of your sourdough discard. That recipe may be closer to the pretzel flavor you're looking for. Annabelle@KAF
Second time using my discarded starter and I decided to try these pretzel. Holy moly! These have to be the best pretzels I've ever eaten. I followed the recipe exactly and used sugar instead of the malt because it's what I had on hand. So glad we can skip the baking soda bath with this recipe because the brushed sugar water mixture worked perfectly. The outside crust is golden brown with a nice bite while the inside is chewy and tangy. I used kosher salt because it's all I had on hand but will definitely be picking up some pretzel salt for the next batch. My only questions is what's the best way to store these? I'm thinking about freezing them so I can just pop one into the toaster or microwave whenever I have a craving. Any tips are helpful!

We're glad they were such a hit, Candice! Freezing is the best way to go for long-term storage. They'll keep in a baggie on the counter for a few days, but the freezer is perfect for anything beyond that. Annabelle@KAF
After reading the comments, I divided the bake into 4 sections. Half of them were boiled; half of them were not. I brushed half of them with egg white and half of them with butter (I did not have diastic malt.) I baked them on two trays, rotating front-to-back and top-to-bottom at the 10 minute mark (of 25). The boiled ones got nicely browned. Not dark-pretzel-brown, but visibly darker. The not-boiled ones did not brown at all. Egg wash resulted in a tiny bit of browning and a nice shine on top. The browning effect was visible on those that were NOT boiled (which were very pale). The boiled-egg-wash pretzels were not much darker than the boiled-butter pretzels. It's a very slight difference, noticeable only because the not-boiled-pretzels remained so light. The butter did not impart shine or browning. I'd definitely recommend boiling for about 30 seconds per side, 6 cups of water with 2 tbsp baking soda. Just make sure that they are solidly shaped beforehand, as the twist can separate if the end is not pressed in. If you don't have diastic malt, an egg wash is an adequate substitute.
I made these last night. Super easy and turned out really well. I boiled them in water with some baking soda and brushed with egg wash. Turned out a really nice colour.
These tasted great, but instead of brushing them with malt, I boiled them in baking soda and water before baking them in a hot oven. They turned a deep mahogany brown color and were even crispier than before. One question: Could I make this recipe with white whole wheat flour? This may not be possible but I thought I would give it a shot.

You can use white whole wheat for up to 50% of the flour no problem, John! Just add water a teaspoon at a time until the dough is the consistency you're used to. Annabelle@KAF
I took all the comments written about this recipe to heart, and I decided to briefly boil the pretzels in about 6 cups of water with two tablespoons of baking soda. Perfection! The pretzels browned beautifully. Today is the second time I am making these pretzels, and this time I was very stingy with the pretzel salt. It must be particularly salty salt since my generous amount the last time was even too much for my husband, the resident salt-o-holic.