A customized print-friendly version of this recipe is available by clicking the "Print Recipe" button on this page.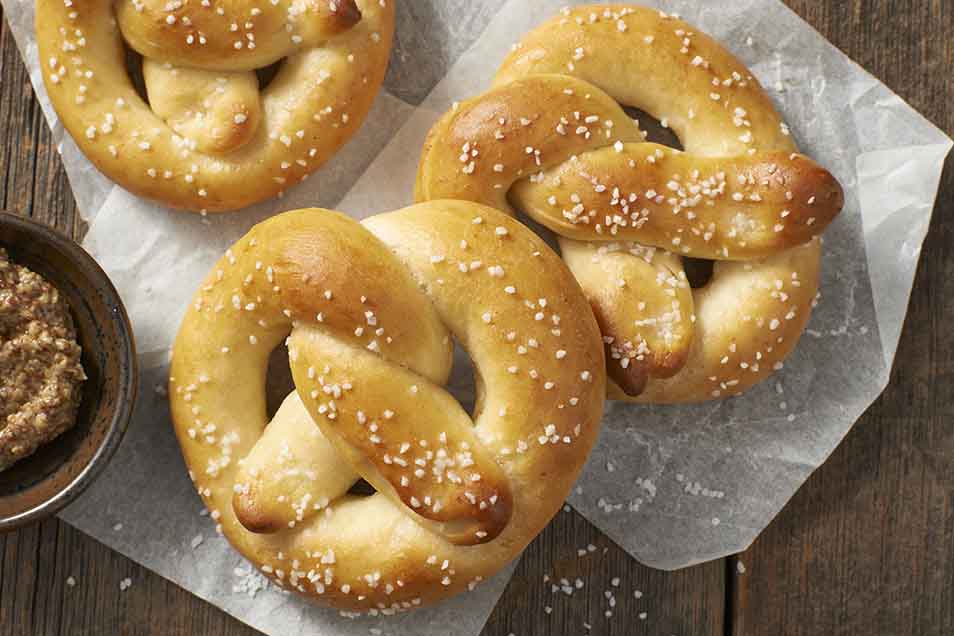 There's nothing better than soft, chewy, warm pretzels from a street vendor — except possibly making them yourself, using this easy recipe. You can make these pretzels on a moment's notice, too: the recipe calls for sourdough starter straight from the refrigerator, no need to feed it first.

New to sourdough? Find the help you need for all of your sourdough baking at our Sourdough Essentials page.
Instructions
Prepare a baking sheet by spraying it with vegetable oil spray, or lining it with parchment paper. If you're not using King Arthur Flour's brand, grease the parchment with vegetable oil spray to make double-sure the pretzels won't stick.

Mix and knead the dough ingredients — by hand, mixer, or bread machine — to make a cohesive, fairly smooth dough. It should be slightly sticky; if it seems dry, knead in an additional tablespoon or two of water.

Cover the dough and let it rest for 45 minutes. It will rise minimally. Towards the end of the rising time, preheat the oven to 350°F.

Turn the dough out onto a lightly greased work surface, fold it over a few times to gently deflate it, then divide it into 12 pieces, each weighing about 2 1/4 to 2 1/2 ounces.

Roll each piece of dough into an 18" rope. Shape each rope into a pretzel.

Dissolve the malt in the water. Brush the pretzels with the solution, and sprinkle lightly with coarse pretzel salt.

Bake the pretzels for 25 to 30 minutes, until they're a light golden brown. Note: This is correct; there's no need to let the shaped pretzels rise before baking.

Remove the pretzels from the oven, and brush with melted butter, if desired.
Nutrition Information
Serving Size

1 (80g)

Servings Per Batch

12
Amount Per Serving:
Calories

190

Calories from Fat

30

Total Fat

3.5g

Saturated Fat

2g

Trans Fat

0g

Cholesterol

10mg
Sodium

770mg

Total Carbohydrate

34g

Dietary Fiber

1g

Sugars

4g

Protein

7g
* The nutrition information provided for this recipe is determined by the ESHA Genesis R&D software program. Substituting any ingredients may change the posted nutrition information.
Reviews
I've made these several times without flaw. I usually use sugar but recently bought some malt powder and will never go back. The malt almost makes them taste cheesy.
I LOVE this recipe! It's a smashing success every time I've tried it (which is over 5 times now!), and I've been able to adjust it to accommodate vegans, and to accommodate for when I lack dry milk. Truly one of the best recipes I've tried with my discard starter. I had 2 batches where I added too much liquid (whoops! Don't add much water if you're using liquid milk!), but even though they were incredibly hard to work with, I was able to salvage them and they tasted wonderful.
Authentic, delicious and easy. I made this using my sourdough starter only, let it rest for 2 hours as suggested by another reviewer( thanks for the tip). I also boiled them in 6 cups water and 2 Tbsps baking soda, they didn't stick and baked up beautifully. Thank you for another great recipe and thanks to the reviewer about using sourdough only
Baked this today; used the dough to wrap hotdogs. Baked for 25 minutes, pulled them out, raised temperature to 375, brushed with the butter, baked another 5 minutes. They turned out amazing! Next time I'll have to try it with cheddarwrust. I did not have diastolic malt powder so I used the sugar water to brush the pretzel dogs.
Easy recipe and great way to use discard starter. After combining dough ingredients I let it rest for about 20 minutes, then I kneaded it more thoroughly and let rise for 45 minutes. It raised very little but the pretzels baked up beautifully.
I baked this recipe and ended up with bread rolls shaped as pretzel rather than the soft pretzels I was looking forward to. I checked up some other recipes, and it seems one step is missing, that is boiling the pretzels in a pot of boiling water with 2/3 cup of bicarb soda. I've tried again that recipe, adding that step, and they turned out great!
I made these today for the 1st time ever for making any pretzels! I was shocked at how easy they are and these are so delicious! I baked one in my air fryer - 360 for 6 minutes, then I put all the rest in the freezer so I am not tempted to keep eating all of them!
Really like making these, but recently I'm having problems with shaping. The pretzels keep falling apart. Any tips?

Hi there, Anthony! We're glad you've been enjoying this recipe! The recent change in the texture of your dough and difficulty shaping is probably a result of the change in the weather. Because of the drier weather this time of year, many bakers find that their bread doughs need a little extra water to properly hydrate the flour and make them easier to shape. We'd suggest adding a couple extra tablespoons of water. We hope this helps and happy baking! Morgan@KAF
every King Arthur recipe I follow is Amazing! This pretzel recipe is delicious. I have now made it 4 times.
I baked a batch of these pretzels yesterday. It was my second time working with this recipe. Both times I used sourdough discard and High Gluten flour. I mixed the dough in my Ankarsrum and it looked magnificent texture wise and just a tad sticky when decided it had been worked enough. However, I had. hard time getting it out of the bowl, as it was a lot stickier than it looked. At that point I should have given it bother few spins in the Ank bowl, or hand kneaded for a few minutes, but I didn't. Still, I got a nice little rise out of the dough. Yet, working with and twisting the dough was a challenge only a few of my, carefully weighed, 13.5 pretzels had that classic pretzel shape. The first time I baked this recipe the finished product was horribly pale, despite brushing the pretzels with the malt solution. Though they taste was just right. Yesterday I opted to make a bath solution using .5 cup of nondiastatic malt in a big pot of boiling water. Even with the KAF HG flour, the pretzels stuck to the parchment. Next time around i will spray the parchment before hand. Each pretzel got a nice 60 second bath. Several of them popped to the top of the pot as if to tell me they were ready for the oven. Once back on the trays each piece got a gentle sprinkling of pretzel salt (a great little addition to the overall taste and appearance of the pretzel.) I baked two trays at the same time, rotating and swapping shelves at the half way mark, with a total bake of 30 minutes. The malt bath was the ideal solution to a beautifully tanned pretzel. They are big and puffy! The aroma, taste and texture were exactly what i was hoping for. This batch came out quite well. I really need to get the dough consistency right, though. Maybe hold off on the two extra table spoons of water til the end? Maybe a longer knead? Not sure. I have enough discard to make a batch this weekend, but not enough HG flour. I have plenty of AP and bread flour, so I wonder how different the dough will be at lower protein levels. The first time around i made a mental note to make the pretzels half-size, as they are pretty big - bigger than I care for - snack wise. I did note heed the note this time. I did, though, write it on my recipe page along with my other notes. I will be back for another review after batch three.

Hi there, Milo! It sounds like you're on the right track by holding back some of the liquid. If your dough is smooth and springy to the touch, you won't want to mix any longer because you'll start breaking down the gluten strands. A dough that is less wet will make it easier to shape into a pretzel and be easier to transfer to and from the bath and baking sheet. If you try this recipe with a lower protein flour, you probably won't need all the water. We'd suggest using about a 1/2 cup (4 ounces) of water and then adding the remainder slowly until you get a soft, supple dough. Happy baking! Morgan@KAF