A customized print-friendly version of this recipe is available by clicking the "Print Recipe" button on this page.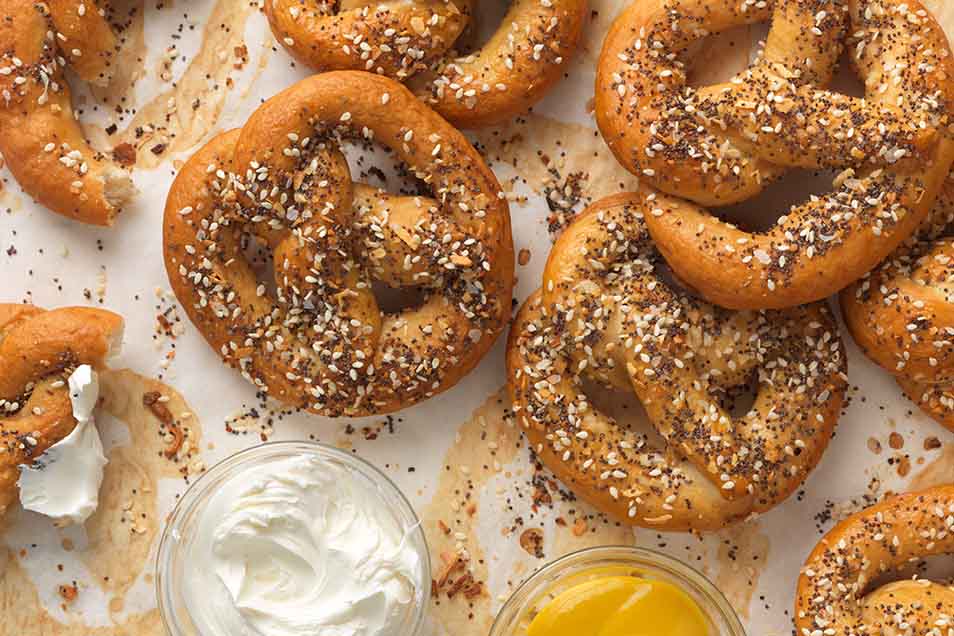 Similar to bagels, these pretzels are soft on the inside, chewy on the outside, and sport the aromatic, salty, and delicious flavors of our Everything Bagel Topping. Enjoy them as is or with your favorite mustard or even cream cheese.
Ingredients
Topping
1 large egg beaten with 1 tablespoon water
2 tablespoons Everything Bread and Bagel Topping
Instructions
Mix and knead the dough ingredients — by hand, mixer, or bread machine — to make a cohesive, fairly smooth dough. It should be slightly sticky; if it seems dry, knead in another tablespoon or two of water.

Cover the dough and let it rest for 45 minutes. It will rise minimally.

Towards the end of the rising time, preheat the oven to 350°F.

Transfer the dough to a lightly greased work surface, and fold it over a few times to gently deflate it.

Put the water into a large, shallow pan — the water should be about 3" deep — and add the baking soda and malt powder. Bring the water to a boil while you're shaping the pretzels.

Divide the dough into 12 pieces; if you have a scale, each piece will weigh about 2 1/4 ounces.

Roll each piece of dough into an 18" rope, allowing the ropes to rest for a brief period if they start to shrink back.

Shape each rope into a pretzel and place them on two parchment-lined baking sheets.

Reduce the boiling water bath to a very gentle simmer. Gently transfer the pretzels, 3 or 4 at a time, to the water bath.

Simmer the pretzels for about 30 seconds on each side, then return them to the baking sheet.

Brush the pretzels with the beaten egg/water and sprinkle with the topping.

Bake the pretzels for 25 to 30 minutes, until they're a light golden brown.

Remove the pretzels from the oven, and cool on a rack.
Reviews
I've made a lot of soft pretzel recipes and this is definitely the best. I made it exactly as written, with high gluten flour, malt powder, and everything bagel topping. They were also great with just some pretzel salt. The family loved them. Next time, I'm going to try to make a few of them with cinnamon sugar---I think they'll be great!
Hard to imagine that anything with Everything Bread and Bagel Topping could be other than fabulous :-) That said, these pretzels are utterly fantastic. They have a soft, chewy texture and a terrific flavor. Thanks to the earlier posters who warned about sticking; I rested the pretzels on a cooling rack for a couple of minutes after dipping them in the water bath and before transferring them to the baking sheet, and I didn't have any trouble. Yummy!
To prevent pretzels from sticking to parchment paper, when ladling them out of the bath. Allow your ladle with the pretzel still in it, to rest on a dish towel for a few seconds to absorb excess liquid before putting on parchment paper.
This is the only pretzel recipe I have ever been able to make work properly. I made them on a cold, damp winter day; not ideal for baking bread as my house is quite cool. This is not a finicky dough, the fact that it does not rise much makes it pretty much bomb-proof. I lined my baking sheets with parchment and gave them a quick spritz of cooking spray, there was no sticking whatsoever. Even with having to simmer the pretzels in water, this is a quick and easy recipe to make. As the other reviewer noted, cooking them longer than the directions call for makes them the proper beautiful brown color.
While enjoying a snow day, I decided to test out this recipe to see how it might work for an upcoming event. It was surprisingly easy. The dough mixed up quickly and was quite forgiving. After a quick swim in the water bath, the pretzels puffed up nicely and started to take on the characteristic leathery outside I had hoped for. Sadly, I, too, neglected to spray the parchment and experienced a bit of sticking. But the pretzels were tasty and properly chewy. Next time I will definitely use butter instead of oil to get a richer flavor.
Tasty recipe! Soft on inside and just slightly crispy on outside. The recipe was easy to follow since I bought the starter kit. I did end up baking them for 30-35 minutes to get a darker color.
My wife and I made these today. They stuck to the parchment for some reason. We made our own topping with granulated garlic, dried onion, salt, sesame and poppy seeds. Tasted great but had to cut the bottoms of the pretzels off to remove the parchment.

After you dip or brush the pretzels, the liquid drips onto the paper, and it does stick. You can use pan spray on the parchment to minimize this, or try using a reusable silicone mat, which will allow easy removal from the pan. Happy baking! Laurie@KAF