A customized print-friendly version of this recipe is available by clicking the "Print Recipe" button on this page.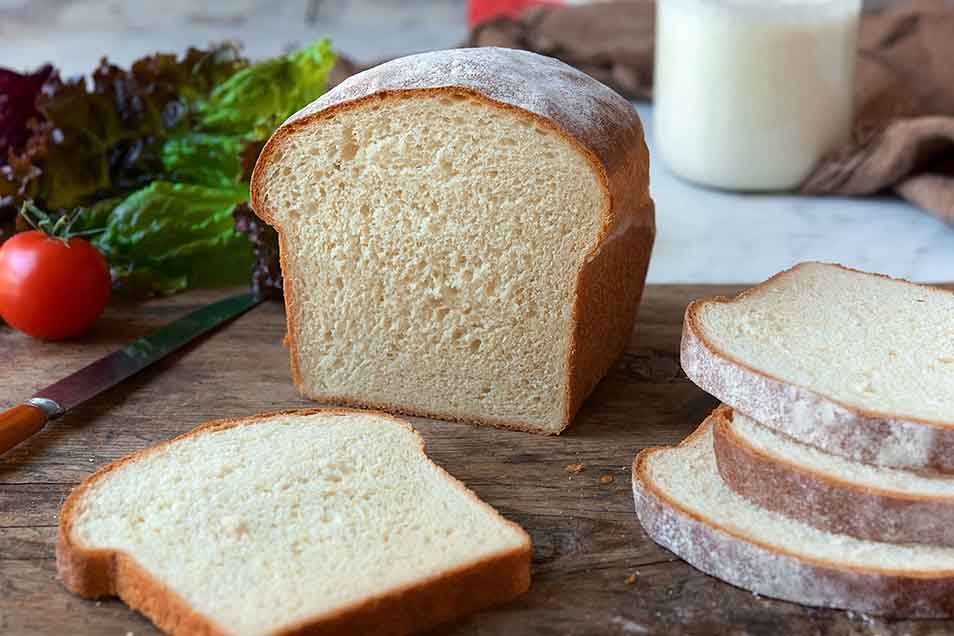 When you think of sourdough bread, you probably envision a crusty, chewy, artisan-style loaf. But this bread, made with levain (an overnight starter based on sourdough starter) is a richly flavored, soft-textured sandwich loaf, perfect for all of your favorite sandwich fillings and for breakfast toast as well.
Ingredients
Dough
5 1/4 cups King Arthur Unbleached Bread Flour or King Arthur Unbleached All-Purpose Flour*
scant 6 tablespoons Baker's Special Dry Milk or nonfat dry milk
1/4 cup sugar
2 1/2 teaspoons salt
2 teaspoons instant yeast
1/4 cup (4 tablespoons) unsalted butter, room temperature
1 1/2 cups water (70° to 80°F)
all of the ripe levain
*All-purpose flour will produce a somewhat stickier dough.
Instructions
To make the levain: Mix all of the levain ingredients together and place in a covered container with room for the levain to grow. It will almost double in size, and will take about 12 hours to ripen (ferment) at room temperature (70°F). When perfectly ripened, there'll be large bubbles (mostly below the surface) creating a somewhat rippled effect. It'll appear almost fluffy. If the levain is covered with a froth of tiny bubbles, it's a bit over-ripened; but don't worry, you can still use it.

To make the dough: Mix and then knead together all of the dough ingredients, including the levain, to make a smooth, supple, and not overly sticky dough.

Place the kneaded dough in a lightly greased bowl, cover the bowl, and let the dough rise for 1 to 2 hours, until doubled in size.

Divide the dough in half, and shape each half into 8" logs. Place the logs in two lightly greased 8 1/2" x 4 1/2" bread pans. Cover the pans with lightly greased plastic wrap (or a couple of plastic shower caps), and let the loaves rise until they've crowned about 1" over the rim of the pan, about 1 to 2 hours.

Towards the end of the rising time, preheat the oven to 375°F.

Bake the bread for 30 to 35 minutes, until the crust is golden brown and the sides of the loaf feel firm. Remove the loaves from the oven, and turn them out of the pans onto a rack to cool. Let them cool completely before slicing.
Tips from our bakers
Does your baked yeast bread ever develop a wrinkled top surface? Here's a tip to help prevent that. Slash the top of the loaf several times before baking, much as you would a baguette. This helps release the steam that gathers under the crust, which can produce wrinkles as the baked loaf cools.
Reviews
Just made this bread and fell in love! It's be awhile since I have baked bread but this was easy and absolutely delicious. Loved the firm yet tender texture. Will make again.
I just baked this recipe with a couple substitutions. I omitted the active yeast and opted for 100% naturally leavened. I also substituted whole wheat and spelt for some of the white flour. Haven't cut into it yet but even though I allowed it much longer to proof, I should have put all of the dough in a single loaf pan. I now have two half height loaves. Nicely domed and they feel sparingly and light, but they just didnt rise to the top of the pans.
This is a fantastic recipe! My loaves rose beautifully and had a tremendous oven spring! I would not say that it had a noticeable sour flavor, but that may be due to my higher hydration starter. The loaves were golden on the outside, with a soft, pillowy interior. I used 1% milk instead of the dry milk and water. I would like to know what salt you recommend, as I used kosher salt and feel it could have used a little more than 2.5 teaspoons. Love your website and blog, as they are tremendously helpful and educational!

Joelle, we use regular, (non-iodized) table salt when testing our recipes. We recommend using this for best results, but you can also use a different kind of salt if you wish; just be sure to use rounded measuring if you use coarsely ground salt. Happy baking! Kye@KAF
I have been looking for the perfect fluffy sandwich bread and this is it! It is pillowy soft and delicious!
I baked this recipe yesterday and my family loves it. I followed the recipe exactly, using KA Bread Flour and Special Dry Milk. The texture and taste and ease of slicing means I'll make it again for sure. Can this recipe be made without a sourdough starter in the Levaine, but just using yeast? I think the Levain goes a long way in making the bread's texture so nice. If it can, would I need to adjust the other ingredients? Thanks!

We haven't tested that, Pete, but you're more than welcome to experiment replacing the starter with yeast! It may not have quite as sour of a flavor, but it will still make for great sandwich bread. Annabelle@KAF
The bread was easy to make. The texture is soft and taste was awesome. This will be my go to white sandwich bread recipe. Thanks KAF!
I have also made this bread using 2 cups active sourdough starter and no extra yeast. I used 1/4 cup veg. oil instead of butter; 1/4 cup honey instead of sugar; reduced the salt to 2 tsp; used 1 cup KA Whole Wheat Flour in place of one cup of KA Bread Flour. I didn't have the dry milk powder, so I used 5 Tb of KA Potato Flour. By not using the yeast it does take longer to rise, about 3-4 hours for the first rise and 1&1/2 hours for the second rise. This is an excellent bread for toast or sandwiches and has a good flavor and texture! As I am writing this, there is a bowl of this dough rising in my kitchen. Once again, I played with the ingredients by measuring out 1 cup regular oats then grinding them in the food processor. I used the oats in place of some of the bread flour. It handled well and I am sure it will be tasty.
Can I overnight the 2nd rise in refrigerator to get A little more sour taste? When I remove from Frig, how long should I wait to bake? Love the Bread. HusbZnd likes to taste the sour.

Hi Kathy. With such a long rise-time, there's a chance the dough could over-rise and give you a dense finished loaf, but you're welcome to experiment! When removing dough from the fridge, you just want it to become puffy. Sometimes it's already puffy and risen when you take it out, sometimes it needs 30 minutes or so, it'll vary from loaf to loaf. Annabelle@KAF
This is our "every day" bread. Everyone loves it. Great for sandwiches, toast or whatever else you may want to use it for. I use the Kitchen Aide to knead it since I have arthritis in my hands. I use APF and it takes more than the recipe calls for, but the loaves come out beautiful, slices nicely and tastes wonderful.
Have baked this recipe about 5 times now, using my well-fed sourdough starter. It's fantastic and turns out great every single time! I've started experimenting with reducing the all purpose flour, subbing in some whole wheat and flaxmeal. So far, so good. Is there any nutrional info available for the basic recipe?

We don't have any nutritional info on this recipe, Jess, but encourage you to use an online recipe calculator such as Spark Recipe's if you're curious. If we have nutritional information for any of our recipes, you'll find a link to view it in the "At a glance box." Annabelle@KAF