A customized print-friendly version of this recipe is available by clicking the "Print Recipe" button on this page.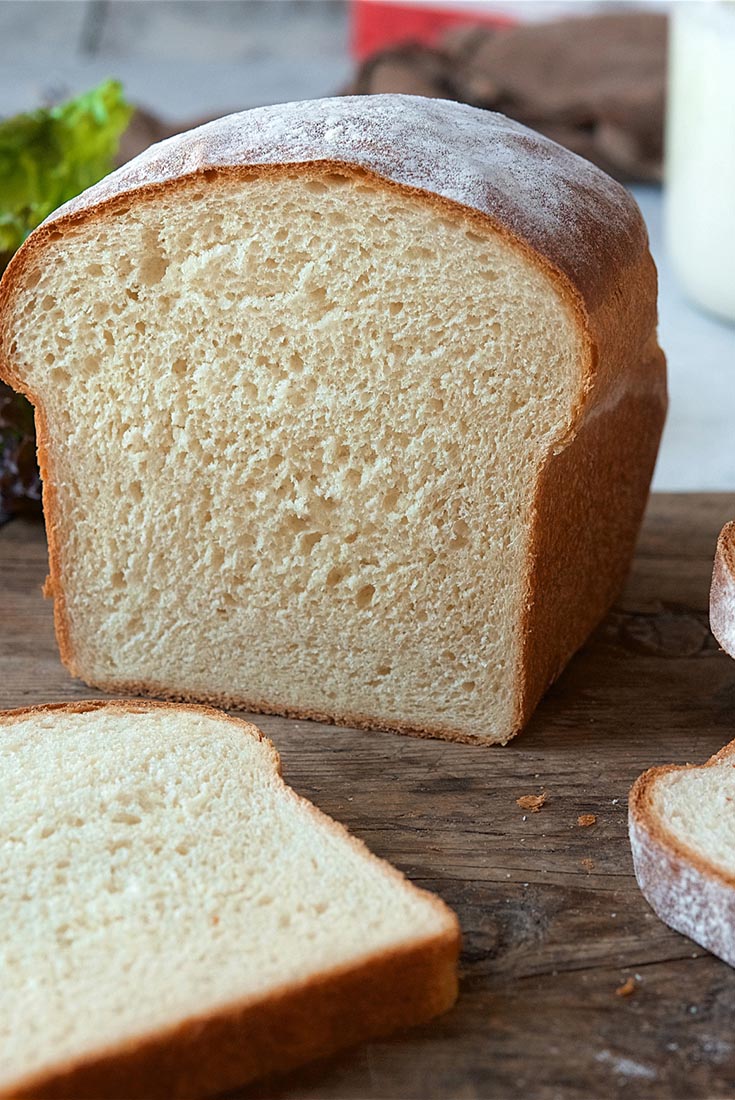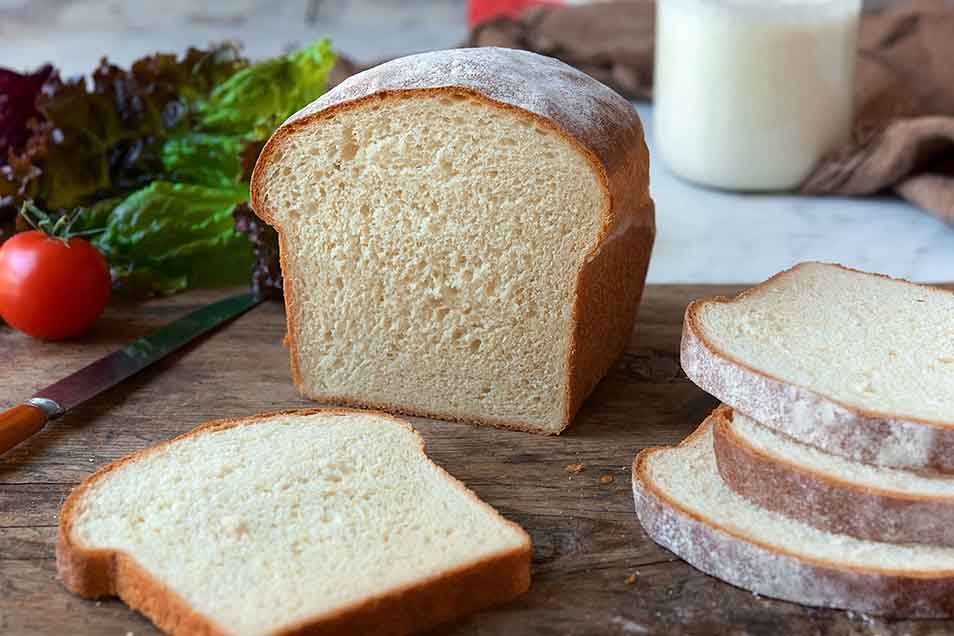 When you think of sourdough bread, you probably envision a crusty, chewy, artisan-style loaf. But this bread, made with levain (an overnight starter based on sourdough starter) is a richly flavored, soft-textured sandwich loaf, perfect for all of your favorite sandwich fillings and for breakfast toast as well.
Ingredients
Dough
5 1/4 cups King Arthur Unbleached Bread Flour or King Arthur Unbleached All-Purpose Flour*
scant 6 tablespoons Baker's Special Dry Milk or nonfat dry milk
1/4 cup sugar
2 1/2 teaspoons salt
2 teaspoons instant yeast
1/4 cup (4 tablespoons) unsalted butter, room temperature
1 1/2 cups water (70° to 80°F)
all of the ripe levain
*All-purpose flour will produce a somewhat stickier dough.
Instructions
To make the levain: Mix all of the levain ingredients together and place in a covered container with room for the levain to grow. It will almost double in size, and will take about 12 hours to ripen (ferment) at room temperature (70°F). When perfectly ripened, there'll be large bubbles (mostly below the surface) creating a somewhat rippled effect. It'll appear almost fluffy. If the levain is covered with a froth of tiny bubbles, it's a bit over-ripened; but don't worry, you can still use it.

To make the dough: Mix and then knead together all of the dough ingredients, including the levain, to make a smooth, supple, and not overly sticky dough.

Place the kneaded dough in a lightly greased bowl, cover the bowl, and let the dough rise for 1 to 2 hours, until doubled in size.

Divide the dough in half, and shape each half into 8" logs. Place the logs in two lightly greased 8 1/2" x 4 1/2" bread pans. Cover the pans with lightly greased plastic wrap (or a couple of plastic shower caps), and let the loaves rise until they've crowned about 1" over the rim of the pan, about 1 to 2 hours.

Towards the end of the rising time, preheat the oven to 375°F.

Bake the bread for 30 to 35 minutes, until the crust is golden brown and the sides of the loaf feel firm. Remove the loaves from the oven, and turn them out of the pans onto a rack to cool. Let them cool completely before slicing.
Tips from our bakers
Does your baked yeast bread ever develop a wrinkled top surface? Here's a tip to help prevent that. Slash the top of the loaf several times before baking, much as you would a baguette. This helps release the steam that gathers under the crust, which can produce wrinkles as the baked loaf cools.
Reviews
Have baked this recipe about 5 times now, using my well-fed sourdough starter. It's fantastic and turns out great every single time! I've started experimenting with reducing the all purpose flour, subbing in some whole wheat and flaxmeal. So far, so good. Is there any nutrional info available for the basic recipe?

We don't have any nutritional info on this recipe, Jess, but encourage you to use an online recipe calculator such as Spark Recipe's if you're curious. If we have nutritional information for any of our recipes, you'll find a link to view it in the "At a glance box." Annabelle@KAF
I made the recipe as written, with the exception of using powdered coconut milk as we are dairy free. I also used regular APF as I didn't have bread flour on hand. It was quite sticky, and I had to sprinkle in a little extra flour to be able to handle the dough (not sure if that was using the coconut milk or APF). It makes an AMAZING bread. I intend to try a few variations, as ideally I would like to do without commercial yeast and have a longer ferment time, not necessarily for flavor but for nutrition. I'm also going to try 30-50% whole wheat flour and see how that goes. My family doesn't like the extreme crustiness or density of traditional sourdough loaves, so I am hoping to use this to find a happy medium.

Hi Jessica, we've made this recipe with all white whole wheat flour (except for in the levain) and it works great! Barb@KAF
I have baked this bread twice now, and while the flavor is excellent and the dough is very easy to work with, the texture is very dense (almost like pound cake). My family still gobbles it up. Perhaps a longer rise in the pan would make an airier loaf?

Perhaps a longer rise could help, Morgan, but it's also possible that there's a bit too much flour being added to the dough. (This is one of the most common causes of dense, heavy baked goods.) To ensure you're using the right amount, we recommend checking out the "Measuring Standards," link next to the ingredients header above. You'll see that either measuring your flour by weight using a scale, or fluffing and sprinkling the flour into your measuring cup are the best ways to ensure your recipe turns out perfectly. We hope this helps, and happy baking! Kye@KAF
This recipe turned out very nicely, and I appreciate the comments about making it 100% levain without commercial yeast. It was great fun to knead by hand, especially kneading in the softened butter. Sliced perfectly thin for sandwiches
Thank you for this very nice soft bread recipe. Next time I make it, I would like it to be a little more dense...less soft. If I reduce the amount of sugar & butter will it produce the result I am seeking?

Hi Babs, reducing the sugar and butter in this recipe will definitely give you a less tender crumb, but I don't think it will cause your dough to be denser. If you're looking for a denser, less delicate loaf I would suggest putting it in the oven a little earlier. If the dough is allowed to rise too high in the pan, this tends to lead to a taller, airier loaf that can seem drier and more delicate when you slice it. Try putting the bread in the oven earlier and this should yield a slightly denser, moister loaf. Barb@KAF
This turned out a very nice loaf of bread. I used half the amount of sugar and substituted about a 100 grams of wheat flour, might increase that next time. I used a little over half the dough in a standard 9 inch bread pan and made 6 hamburger buns with the rest. The flavor of the bread is good. I often wish that KAF would give alternate directions for making sourdough without the yeast and may convert the recipe another time.

Hi Kathy, We're glad to hear you enjoyed this recipe! I've made it without adding any yeast and it worked fine. Be sure your levain is added when it's ripe and very active. Rise times will be longer, but you can still get a good rise. You just need to be patient! I would estimate the first rise will be 2-3 hours, and the second rise about the same, but this may vary quite a bit, depending on how healthy and active your starter is and how warm your house is. Barb@KAF
This is a beautiful bread with great crumb and soft texture. I did not like the amount of sugar in the recipe but I replaced half the weight of the butter with nonfat dry milk powder, which worked out great. Thank you as always for your recipes!
This recipe truly knocked it out of the park for what I was looking for in a sandwich bread, and even my picky husband liked it. I will definitely be making this again to enjoy. Thank you KAF for such an awesome recipe.
I made this recipe yesterday as an entirely wild cultured loaf (read: I forgot to add the yeast). The starter had it doubled in 5 hours for the bulk ferment. Then another 5 hours in the loaf pans had it 1" above the rim. Baked per the recipe. The crumb came out the same as when I made it according to the recipe last week. Very good sandwich bread!
Hi! I've made this recipe twice now and I always seem to get the baking time wrong. I have a really old oven, so maybe that's the problem. I left it in for 35 minutes the first time, and the loaf was underdone. The second time I baked it for 40 and that was a little better. It would be easier for me if I knew an optimal internal temperature to reach, since I have a thermometer I use. What temp would you suggest? Thanks!

Amy, sourdough breads need to be baked to a slightly higher temperature than typical sandwich breads: shoot for around 195-200°F. The crust should also be golden brown and the loaf should feel light for its size. Happy baking! Kye@KAF