A customized print-friendly version of this recipe is available by clicking the "Print Recipe" button on this page.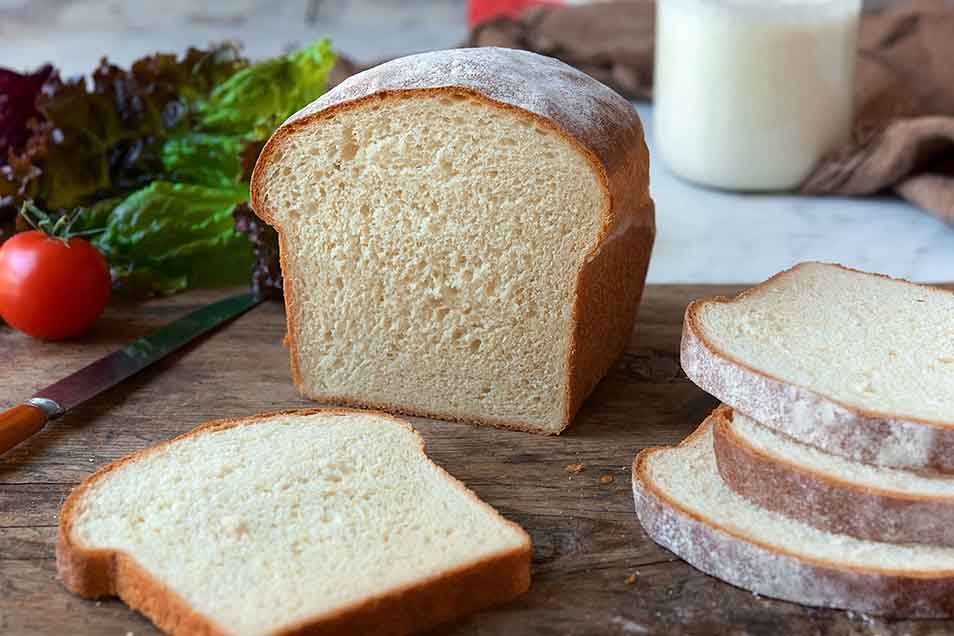 When you think of sourdough bread, you probably envision a crusty, chewy, artisan-style loaf. But this bread, made with levain (an overnight starter based on sourdough starter) is a richly flavored, soft-textured sandwich loaf, perfect for all of your favorite sandwich fillings and for breakfast toast as well.
Ingredients
Dough
5 1/4 cups King Arthur Unbleached Bread Flour or King Arthur Unbleached All-Purpose Flour*
scant 6 tablespoons Baker's Special Dry Milk or nonfat dry milk
1/4 cup sugar
2 1/2 teaspoons salt
2 teaspoons instant yeast
1/4 cup (4 tablespoons) unsalted butter, room temperature
1 1/2 cups water (70° to 80°F)
all of the ripe levain
*All-purpose flour will produce a somewhat stickier dough.
Instructions
To make the levain: Mix all of the levain ingredients together and place in a covered container with room for the levain to grow. It will almost double in size, and will take about 12 hours to ripen (ferment) at room temperature (70°F). When perfectly ripened, there'll be large bubbles (mostly below the surface) creating a somewhat rippled effect. It'll appear almost fluffy. If the levain is covered with a froth of tiny bubbles, it's a bit over-ripened; but don't worry, you can still use it.

To make the dough: Mix and then knead together all of the dough ingredients, including the levain, to make a smooth, supple, and not overly sticky dough.

Place the kneaded dough in a lightly greased bowl, cover the bowl, and let the dough rise for 1 to 2 hours, until doubled in size.

Divide the dough in half, and shape each half into 8" logs. Place the logs in two lightly greased 8 1/2" x 4 1/2" bread pans. Cover the pans with lightly greased plastic wrap (or a couple of plastic shower caps), and let the loaves rise until they've crowned about 1" over the rim of the pan, about 1 to 2 hours.

Towards the end of the rising time, preheat the oven to 375°F.

Bake the bread for 30 to 35 minutes, until the crust is golden brown and the sides of the loaf feel firm. Remove the loaves from the oven, and turn them out of the pans onto a rack to cool. Let them cool completely before slicing.
Tips from our bakers
Does your baked yeast bread ever develop a wrinkled top surface? Here's a tip to help prevent that. Slash the top of the loaf several times before baking, much as you would a baguette. This helps release the steam that gathers under the crust, which can produce wrinkles as the baked loaf cools.