A customized print-friendly version of this recipe is available by clicking the "Print Recipe" button on this page.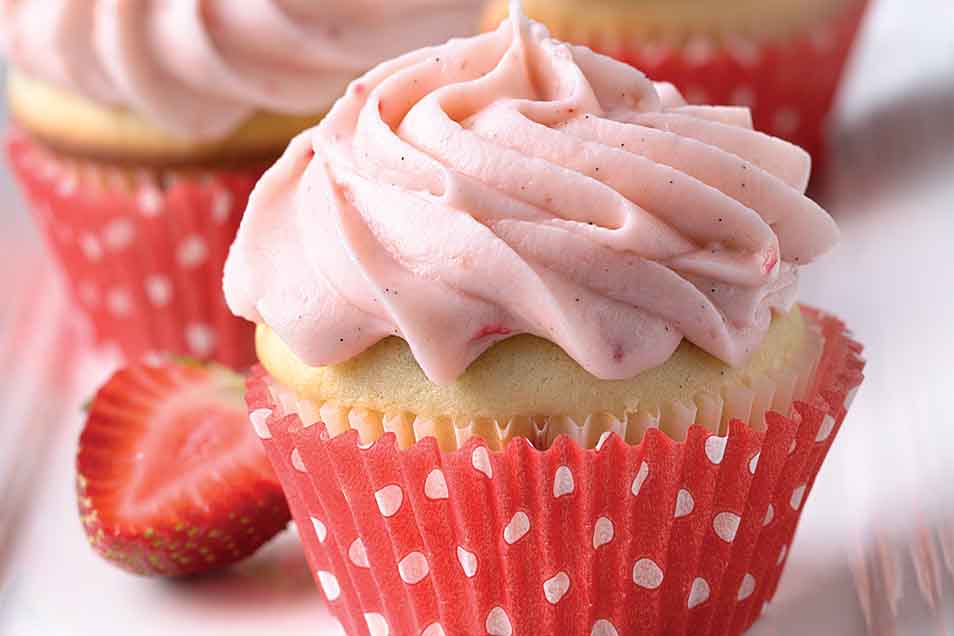 These light and tender cupcakes wear a sweet, fruity hat of fresh strawberry frosting.
Ingredients
Cupcakes
6 tablespoons soft unsalted butter
2/3 cup sugar
1/2 teaspoon salt
1 teaspoon baking powder
1 teaspoon King Arthur Pure Vanilla Plus; or Vanilla Bean Crush, vanilla paste, or vanilla extract
1/8 teaspoon strawberry flavor, optional; for enhanced flavor
2 large eggs
1 3/4 cups King Arthur Unbleached Cake Flour Blend
1/2 cup milk, at room temperature
1/2 cup strawberry Jammy Bits, optional; for flavor and texture
Frosting
1/2 cup sliced fresh strawberries
1/2 cup (8 tablespoons) soft unsalted butter
1 tablespoon meringue powder, optional; for holding power
1/8 teaspoon salt
1 teaspoon King Arthur Pure Vanilla Plus; or vanilla bean crush, vanilla paste, or vanilla extract
1/8 teaspoon strawberry flavor, optional; for enhanced flavor
4 to 5 cups glazing sugar or confectioners' sugar
Instructions
Preheat the oven to 350°F. Grease a 12-cup muffin pan, or line it with paper, and grease the papers.

To make the cupcakes: Beat together the butter, sugar, salt, baking powder, and flavor(s) until the mixture lightens in color.

Beat in the eggs one at a time, scraping the bottom and sides of the bowl after each addition.

Gently beat in a heaping 1/2 cup of the flour, then 1/4 cup of the milk; repeat the process, finishing with the remaining flour.

Fold in the Jammy Bits. Divide the batter among the cups.

Bake the cupcakes for 18 to 20 minutes, until cupcakes are very light brown and a toothpick inserted into the center of one comes out clean.

Remove the cupcakes from the oven and, after 5 minutes, transfer them to a rack to cool completely.

To make the frosting: Beat together the strawberries, butter, meringue powder, and flavor(s) using an electric mixer, until the strawberries have broken down and tinted the mixture pink.

Gradually add 4 cups of the sugar, and beat until the frosting is light and fluffy. Add enough additional sugar, if necessary, to make the frosting nicely spreadable.

Spread or pipe the frosting onto the cooled cupcakes.

Yield: 12 cupcakes.
Reviews
Interesting. The cupcakes came out like little hockey pucks (tasty nonetheless). They were super dense. The frosting was very good, but only after adding an additional 1/2 cup of strawberries and an additional stick of butter. Before then, it was WAY too sweet. I'll make the frosting again with those adjustments, but will find a different cake recipe and add the strawberry extract and the jammy bits to that.

We're sorry to hear this recipe didn't turn out the way you hoped it would initially, Birdiemae. We're wondering if your baking powder and soda were still fresh, which is often a cause of heavy, dense baked goods. It's also possible that too much flour was added, which is a common occurrence if the flour was scooped straight from the bag into the measuring cup rather than measured by weight. We recommend using a scale if possible or using the fluff, sprinkle, sweep method to fill the measuring cup lightly with flour. (Check out the "Measuring standards," link above to see a full explanation of this technique.)

We've passed your feedback regarding the sweetness of the frosting forward to our Recipe Team to consider in future discussions about this recipe. We hope your next batch of cupcakes turns out perfectly. Kye@KAF
This makes a nice, easily spreadable frosting. I did not use the meringue powder, and used only four cups of sugar. I did add extra vanilla. It tasted nice; I pureed the berries, since they weren't breaking up with my electric mixer. Piped onto mini vanilla cupcakes in a swirl with a star-tip and topped with a pink "Mento" candy. Cute and tasty!
would you recommend making mini cupcakes? would I keep the same temperature? And how long do I cook them for? Thanks!

Sure thing! Same temperature, and start checking them for doneness around the 11-minute mark. Happy baking! Annabelle@KAF
Baked these for a ladies crafting day and got rave reviews. Just be sure not to overcook the cakes--one of my batches went from undone to overdone quickly. Just dried them out a little more than I would've liked.
Like others, I only made the frosting (used it to top KA's golden vanilla cake), and it is amazing! No need for the strawberry flavoring, the fresh berries produce a distinct, ripe strawberry flavor, even the sad off-season berries available this time of year. I did use the meringue powder and had no issues with the consistency.
A rainy day project for me and my 8 year old granddaughter. Delicious! I did not have the strawberry jammy bits, but we had some lemon bits, so we added those. For the frosting, I did not use the meringue powder, but I would recommend it because the frosting was a bit too soft. Or possibly use half butter, half shortening.
Frosting was amazing but like the others the cupcakes where quite dense, I followed the recipe and also the mixing the flour very gently and still very dense. Bummer.
This cake pulls out all the stops for using the cake method or process of mixing. This means paying careful attention to using the paddle of the stand mixer for creaming the butter, adding the eggs one at a time and scraping down the bowl, adding the flour and milk alternately (maybe even folding them in) as you mentioned. We appreciate your frank review and hope you try this recipe again. Irene@KAF
These are sooo good! They've become a family favorite! They come out perfect everytime and the fresh strawberry frosting is delicious!!!
This rating is only for the frosting (didn't make the cupcakes) - it was wonderful! I didn't add any extra strawberry flavoring and was amazed at the beautiful pink color and perfect natural strawberry flavor - just from adding real strawberries. Definitely a keeper! I will say the frosting is not stiff, but I didn't want to keep adding sugar and end up with it being too sweet. Didn't bother anyone, but I might try the meringue powder next time.
Disclaimer: I am just rating the strawberry frosting - I used a different cake recipe. I'm a fruit-flavored frosting skeptic at heart, finding that they usually taste artificially-flavored, but this is a big exception to that rule. This frosting was AMAZING. Without the strawberry flavoring, the fruit was enough to give it a strong, real flavor that screamed fresh fruit. We did use an extra cup of sugar, and for pipe-ability could probably have added more. The amount of sugar will vary substantially depending on how ripe and juicy the strawberries you use are.