A customized print-friendly version of this recipe is available by clicking the "Print Recipe" button on this page.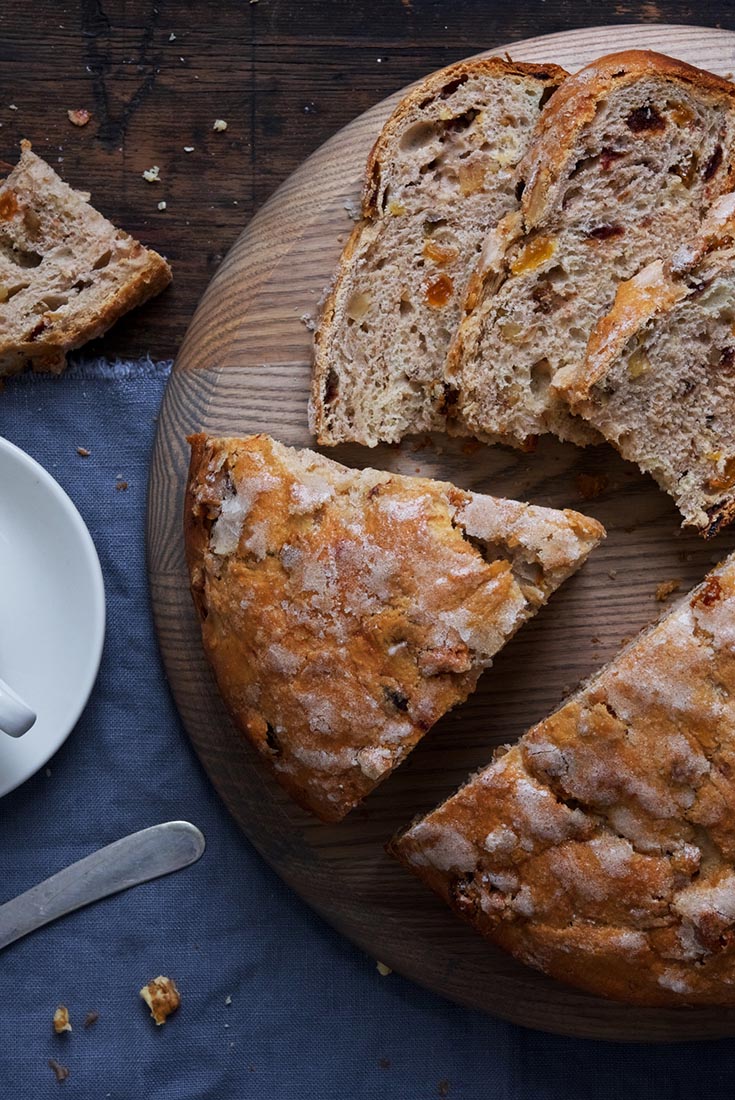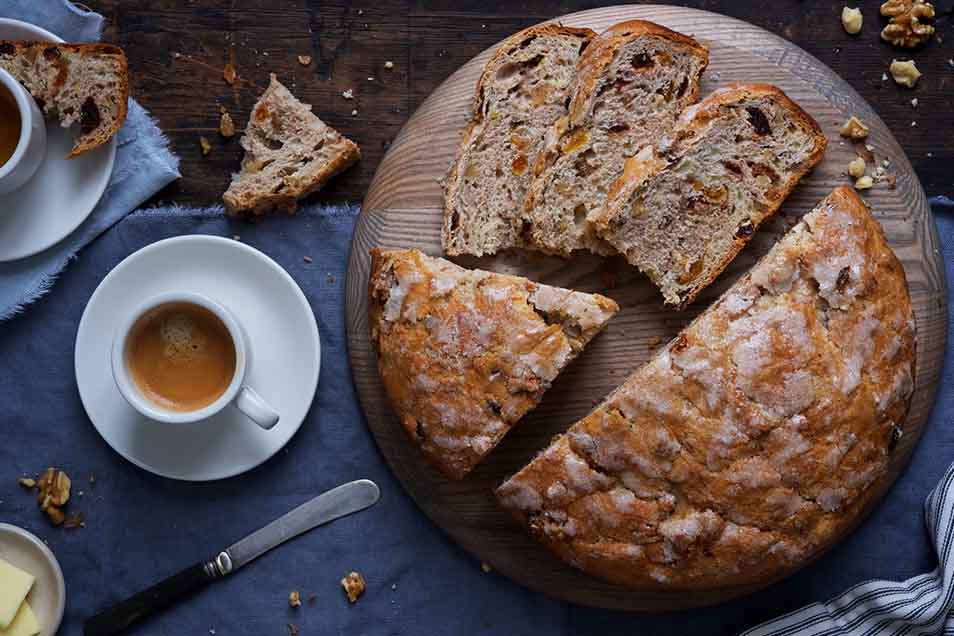 This recipe was inspired by a wonderful yeast-raised Tuscan-style coffeecake at Pane E Salute, an Italian bakery/restaurant in Woodstock, VT. This high-rising yeasted coffeecake — truthfully, more bread than cake — is surprisingly tender. The sugar topping drizzled on top before baking gives it a pretty, crunchy sugar glaze. And, unlike American-style coffeecakes, this isn't super-sweet; the glaze on top, and the fruit inside, are a wonderful complement to the bread itself, which truly isn't sweet at all.
Ingredients
Filling
1 cup toasted walnuts, very coarsely chopped
3/4 cup chopped dates
3/4 cup raisins, golden preferred
Instructions
To make the starter: Mix the starter ingredients in a small (about 1-quart) bowl, cover, and let rest overnight at room temperature.

To make the dough: Combine the dough ingredients, mixing and kneading to form a smooth, supple dough. It'll be very slack; for this reason, we suggest kneading in a bread machine, or with a mixer, rather than by hand.

Place the dough in a bowl, cover the bowl, and let the dough rise for about 1 hour. It may not double in bulk; that's OK.

Gently deflate the dough, and knead the nuts and fruit into it.

Shape the dough into a flat ball, and place it in a lightly greased 9" round cake pan. Cover the pan with lightly greased plastic wrap, and allow the loaf to rise for 60 minutes, or until it fills the pan side to side and barely crests over the top.

Towards the end of the rising time, preheat the oven to 350°F.

To glaze the coffeecake: Combine the sugar, vanilla and water, and drizzle this mixture over the top of the risen cake.

Bake the coffeecake on a lower oven rack for 50 to 60 minutes, or until it's golden brown. Tent lightly with foil for the final 20 minutes, if it appears to be browning too quickly. The internal temperature of the finished bread should be at least 190°F.

Remove the coffeecake from the oven, and after 5 minutes, carefully turn it out of the pan onto a rack to cool. Cool completely before slicing. Serve at room temperature; or pop slices into the toaster and spread with butter, for a special treat.

Store the coffeecake at room temperature, well wrapped, for several days. Freeze for longer storage.
Tips from our bakers
Not a fan of raisins? Try other dried fruits: chopped apricots, cranberries, apples, and cherries are all good.
Reviews
This is bread another of the many, really great King Arthur recipes, in part because it allows alteration. (Pane bianco is another superb example of this.) The bread is wonderful when made as printed, but it is also delicious if you substitute (or add) dried blueberries, cherries, pecans etc to the printed ingredients. We have taken to baking it in two 6' pans with removable bottoms for a single recipe. This makes the loaf easier to give as a gift or to freeze for a small household like ours.
This. Is. A. Hit. It's a total showstopper. It makes a huge loaf, so is great for a crowd. I've made it a few times, but we even really liked it on the side of an Easter ham dinner - the sweetness really seems to work with ham. I did add vanilla to it, because I add vanilla to pretty much any baked good that isn't savory. It's definitely not a plain bread, not a coffeecake, not a brioche - just a delightful mix of all three. Because it's so huge, I will probably play around with splitting the dough in two at some point. But as is, it's spectacular to bring to someone else's house to present. They'll be happy all week long.
Wow. This recipe is perfect. Made it as written...used all purpose flour for the sponge, and 1 cup of whole wheat pastry flour and 1 3/4 cup bread flour for the dough. The crumb and texture are lovely. The rise was beautiful. The glaze baked into a crusty top that adds just the right amount of sweetness. Don't hesitate to make this delicious bread!
I made this cake but used my freshly fed sourdough starter that was left over from bread baking. This is a soft crumb cake that doesn't taste too sweet, so all the sweet dried fruit works very well with it. My glaze did not turn out very nice because the sugar would not dissolve in the small amount of water. I wonder if I had to have the water boiling, or if next time I could use honey instead. I'll definitely make it again though!
Any thoughts on if you can use KA sprouted wheat flour instead in this recipe?

Hi Samantha. Feel free to use Sprouted Wheat Flour for half the flour in the dough itself. It will add a wonderful nutty flavor! Annabelle@KAF
How long can the starter sit before you actually use it? If you made it on Monday night, could it sit until Wednesday morning before you used it? Thank you!

We recommend letting your overnight starter rest for 12-16 hours, roughly overnight. If it rests for longer than that, it might start to get "funky," or a bit too fermented. If you can't get to your starter within that time frame, consider refrigerating the starter. (This isn't recommended for optimal results, but consider it a Plan B if you must!) Kye@KAF
I have made this several times and love the texture. Do you think this would be good as a savory bread with sun dried tomato, feta and olives? I divide this in three and use my little 6" cake pans to turn out the cutest rounded little breads for gifts. If you don't think it would be good as a savory, could you suggest another recipe for me to try. Thanks.

We think a savory version of this Tuscan Coffeecake could be delicious. Prepare the starter and dough as instructed here, omitting the 2 tablespoons of sugar and the glaze. Use up to 2 1/2 cups of mixs in for the filling, trying to choose ingredients that won't add additional moisture to the dough if possible. (If you use sun-dried tomatoes packed in oil, drain them before using.) Add some herbs for extra flavor, and enjoy! Kye@KAF
This was very tasty! I modified it to make it a true sourdough by substituting fed starter for the yeasted ferment and leaving out the yeast from the dough. I lengthened the rising time accordingly (overnight for the first rise and 4 hours for the proofing stage). I also used bolted einkorn flour because that's what I use in almost all my baking now. (It subs 1:1 with regular white flour.) The bread came out beautifully and I will definitely be making this again. I think next time I might cut back the fruit a little (I used raisins and chopped apricots) and add some spice. Just personal preference.
I made this recipe as instructed, using my stand mixer with the dough hook to knead the dough for about 10 minutes. It was a very loose dough, but after the first rise, it was easy enough to knead in the fruit (dried cranberries and blueberries) and walnuts, using the bench scraper to help with the kneading without adding too much additional flour. It was absolutely delicious, with a very light texture. I did have one issue, however. It was over-risen. It more than doubled during the first rise, and came way over the top of my 9' cake pan on the second rise. It also fell slightly in the oven (which usually means over proofing), so that it looked more like a pie than a cake. I did use SAF Gold Instant Yeast, instead of SAF Red Instant Yeast. Since this is a coffeecake and not a bread, I though that would be okay. Could that yeast have had too much 'oomph' for this recipe? In any case, we devoured almost half of it as soon as it was ready to be eaten. This is definitely a keeper!

Hi Janis, this recipe is a great opportunity to use SAF Gold Yeast. We recommend following your baker's instinct and going by the progress of your dough rather than the time on the clock. That's why we say to allow the dough to rise for about one hour; most definitely move along if it's doubled in size before then. It may be that your ingredients were a bit warm or the yeast liked your cozy kitchen environment. Regardless, next time you may want to reduce the yeast to to 1 1/2 or 1 3/4 teaspoons in the final dough to have a more controlled rise. Good luck, and happy baking! Kye@KAF
I baked this coffeecake gluten free using KAF Measure for Measure and Teff - 3/4 cup to 1/4 cup ratio (to make it multi-grain). The starter raised perfectly. I also can not eat eggs, so I substituted a starch egg and added a tablespoon of olive oil. The resulting dough doubled in the first rise. I then added toasted pecans, dates, raisins and some left over candied cherries. Then baked it in the 9' cake pan. Baking GF is always tricky. My cake is heavy and the bottom crust difficult to slice through. This said, it tastes delicious. I plan to try again. Perhaps add more fat to adjust for the fat loss of no egg. Any suggestions on adjusting flour ratios? Perhaps a different egg substitute?

Hi Lari. We've had great success using an egg substitute of flax meal and water. Simply search "egg replacer" on our site and it will pull up the formula along with a couple of other ideas for egg substitutes. Happy baking! Annabelle@KAF