A customized print-friendly version of this recipe is available by clicking the "Print Recipe" button on this page.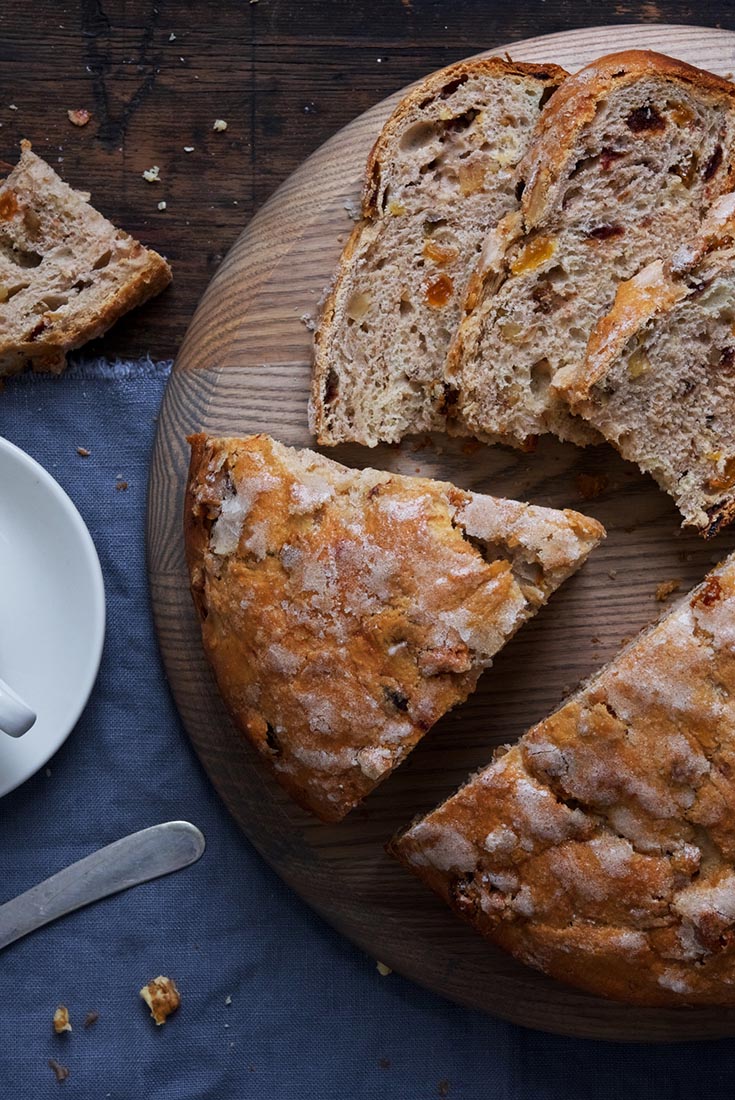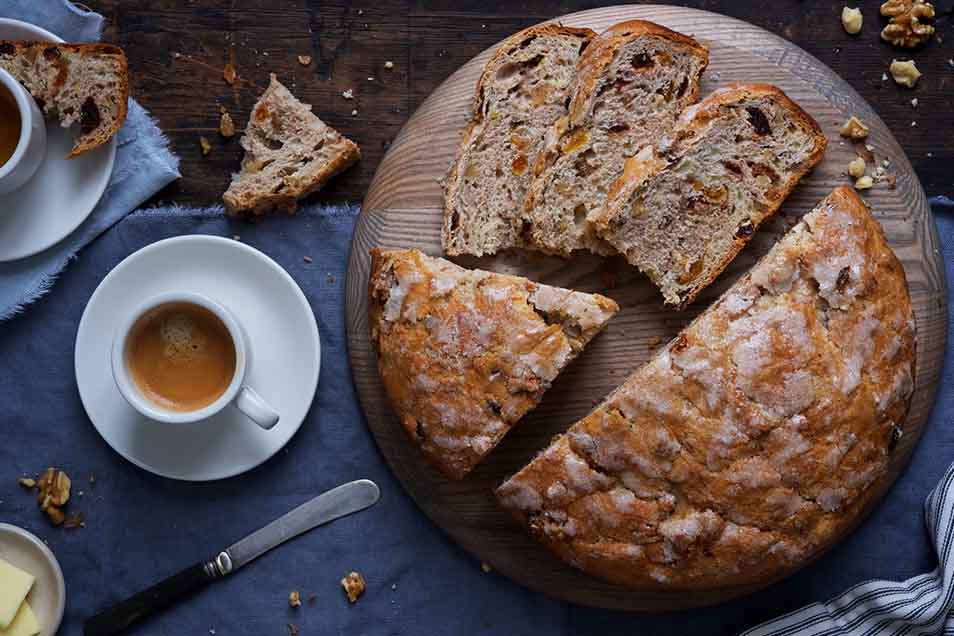 This recipe was inspired by a wonderful yeast-raised Tuscan-style coffeecake at Pane E Salute, an Italian bakery/restaurant in Woodstock, VT. This high-rising yeasted coffeecake — truthfully, more bread than cake — is surprisingly tender. The sugar topping drizzled on top before baking gives it a pretty, crunchy sugar glaze. And, unlike American-style coffeecakes, this isn't super-sweet; the glaze on top, and the fruit inside, are a wonderful complement to the bread itself, which truly isn't sweet at all.
Ingredients
Filling
1 cup toasted walnuts, very coarsely chopped
3/4 cup chopped dates
3/4 cup raisins, golden preferred
Instructions
To make the starter: Mix the starter ingredients in a small (about 1-quart) bowl, cover, and let rest overnight at room temperature.

To make the dough: Combine the dough ingredients, mixing and kneading to form a smooth, supple dough. It'll be very slack; for this reason, we suggest kneading in a bread machine, or with a mixer, rather than by hand.

Place the dough in a bowl, cover the bowl, and let the dough rise for about 1 hour. It may not double in bulk; that's OK.

Gently deflate the dough, and knead the nuts and fruit into it.

Shape the dough into a flat ball, and place it in a lightly greased 9" round cake pan. Cover the pan with lightly greased plastic wrap, and allow the loaf to rise for 60 minutes, or until it fills the pan side to side and barely crests over the top.

Towards the end of the rising time, preheat the oven to 350°F.

To glaze the coffeecake: Combine the sugar, vanilla and water, and drizzle this mixture over the top of the risen cake.

Bake the coffeecake on a lower oven rack for 50 to 60 minutes, or until it's golden brown. Tent lightly with foil for the final 20 minutes, if it appears to be browning too quickly. The internal temperature of the finished bread should be at least 190°F.

Remove the coffeecake from the oven, and after 5 minutes, carefully turn it out of the pan onto a rack to cool. Cool completely before slicing. Serve at room temperature; or pop slices into the toaster and spread with butter, for a special treat.

Store the coffeecake at room temperature, well wrapped, for several days. Freeze for longer storage.
Tips from our bakers
Not a fan of raisins? Try other dried fruits: chopped apricots, cranberries, apples, and cherries are all good.
Reviews
Made this bread in bread machine. It was YUMMmm
Fantastic! Followed the recipe exactly - as one should the first time. Everything went as the recipe indicated. Followed the recommendation to use stand mixer as the dough is soft before the first rise. Hand kneading in the fruit and nuts was easy enough. I use a bench scraper to assist kneading. The dough is soft, but sturdier than Brioche dough. The result is stunningly beautiful, golden brown and shining with the sugar glaze. The flavor is excellent, just sweet enough to go with black coffee. The texture is light with a nice chew. I cannot wait to use the base recipe to experiment. Next time I will add cinnamon, raisins, and nuts; and then drizzle with glaze after baking. Or, perhaps orange, cranberry, pecan? Maybe even chocolate! Needless to say, I will be making this again.
This is so delicious -- it walks that fine line between cake and bread. For the raisins and dates I substituted KAF Fruitcake Fruit Blend that I had in the pantry (Love to use up ingredients!). I poured boiling water on the fruit and let it sit and soften for about 30 minutes, stirring occasionally. Also I used toasted Pecans instead of Walnuts. Whether you enjoy it as a fancy breakfast with a cuppa, or wrap up a big hunk of it to take with you while hiking the Long Trail, this recipe is definitely a KEEPER.
I have made this several times, sometimes with 8 oz of sourdough starter, sometimes with the recommended starter. I substitute 1/4 cup soy creamer for the egg as I'm vegan, and the last time I made it, my friend declared I should quit my job and open a bakery! (Last time I filled it with Cointreau-soaked raisins, pecans, and some poppy seeds.) I did have a question, though--is it possible to convert this recipe to fit into a loaf pan rather than a circular tin, so I could pop it in the toaster? Would it be too much dough for that, or could I bake two loaves?

Congratulations on your successful bakes, Molly! If you'd like to make this recipe into a loaf shape, you should use a 9" by 5" loaf pan. If you only have an 8 1/2" by 4 1/2" pan, then you'll want to divide off a portion of the dough to bake separately (perhaps as a few spare muffins) so that it fits within the smaller pan. The baking time may need to be extended by 5-10 minutes to ensure it bakes all the way through; tent with foil as necessary if the top is getting brown too quickly. Kye@KAF
I used the Artisan Bread flour, no need for starter or 60 minuets in the oven. Love it. & and the husband is a big fan will make again
I just finished baking this coffeecake. I used equal amounts of dried tart cherries and golden raisins,along with the 1 cup of toasted walnuts. I used all the recommended amounts of ingredients. I found the dough to be very "sloppy" and hard to handle.( I even added an additional 1/4 C of AP flour). I did not soak the cherries or raisins per the suggestions. I used my kitchen-Aid to knead the dough. It would have been impossible to knead by hand. I compared the photo in PJ"s Blog, my dough was way too slack. Has anyone else had a similar experience? By the way, the texture and taste were wonderful! I"ll make this one again...

Ingrid, it sounds like you may not have used King Arthur All-Purpose Flour, which has a higher protein content than most other brands. If you do end up using something else, you'll likely need to add more of it to get comparable results. The dough should be soft and slightly tacky to the touch, so you can safely add additional flour by the tablespoon until it reaches this consistency, whether you're using King Arthur Flour (which we hope you are!) or not. Happy baking! Kye@KAF
This coffeecake turned out to perfection! I feel like a pro with the results! I used the fiori di sicilia instead of vanilla in both the dough and the topping. Also, for the filling I substituted toasted pecans, dried cranberries and currants. Wow!
I have made this coffeecake on a couple of occasions. I used my sourdough starter in place of the starter mentioned and I also substituted chopped raisins and chopped dry apricots for my first run and for the second batch I just used cinnamon and raisins. Both were delicious, light, fluffy and after a couple of days PERFECT for french toast. This is definitely one of my most favorite recipes, it reminds me of Pannetone which I love during the holidays.
Love the fabulous crust on this slightly sweet bread! I used dates, golden raisins and walnuts as specified in the recipe. I added 3/4 tsp Fiori Di Sicilia to the dough, and I loved the flavor it added. Instead of the starter as written in the recipe, I substituted my sourdough starter in an equivalent amount. Next time I will try SAF Gold Star yeast.
I made this recipe and it ROCKS. I followed the instructions given - ended up with a loaf of Italian Coffee Cake that is light, fluffy, and not too sweet. I did not have dates or golden raisins. I used Montmarancy (sp) cherries and Thompson raisins. The reviews from the home crew were stellar. I appreciate the guidance in the recipe, including the internal temp for the finished product. This helped me remove bread from the oven at the right time. Definitely will pull this one out again. Thanks. P.S. I almost used anise extract instead of vanilla - I think it would work really well....but know your audience if you stray from vanilla.