A customized print-friendly version of this recipe is available by clicking the "Print Recipe" button on this page.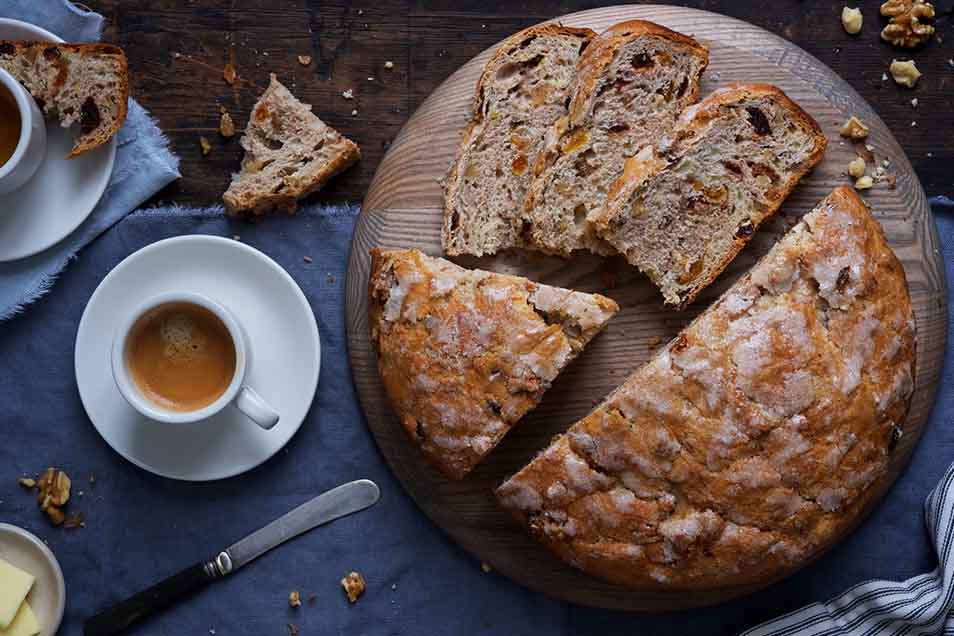 This recipe was inspired by a wonderful yeast-raised Tuscan-style coffeecake at Pane E Salute, a long-time Italian bakery/restaurant in Woodstock, VT (since closed). This high-rising yeasted coffeecake — truthfully, more bread than cake — is surprisingly tender. The sugar topping drizzled on top before baking gives it a pretty, crunchy sugar glaze. And, unlike American-style coffeecakes, this isn't super-sweet; the glaze on top, and the fruit inside, are a wonderful complement to the bread itself, which truly isn't sweet at all.
Ingredients
Filling
1 cup toasted walnuts, very coarsely chopped
3/4 cup chopped dates
3/4 cup raisins, golden preferred
Instructions
To make the starter: Mix the starter ingredients in a small (about 1-quart) bowl, cover, and let rest overnight at room temperature.

To make the dough: Combine the dough ingredients, mixing and kneading to form a smooth, supple dough. It'll be very slack; for this reason, we suggest kneading in a bread machine, or with a mixer, rather than by hand.

Place the dough in a bowl, cover the bowl, and let the dough rise for about 1 hour. It may not double in bulk; that's OK.

Gently deflate the dough, and knead the nuts and fruit into it.

Shape the dough into a flat ball, and place it in a lightly greased 9" round cake pan. Cover the pan with lightly greased plastic wrap, and allow the loaf to rise for 60 minutes, or until it fills the pan side to side and barely crests over the top.

Towards the end of the rising time, preheat the oven to 350°F.

To glaze the coffeecake: Combine the sugar, vanilla and water, and drizzle this mixture over the top of the risen cake.

Bake the coffeecake on a lower oven rack for 50 to 60 minutes, or until it's golden brown. Tent lightly with foil for the final 20 minutes, if it appears to be browning too quickly. The internal temperature of the finished bread should be at least 190°F.

Remove the coffeecake from the oven, and after 5 minutes, carefully turn it out of the pan onto a rack to cool. Cool completely before slicing. Serve at room temperature; or pop slices into the toaster and spread with butter, for a special treat.

Store the coffeecake at room temperature, well wrapped, for several days. Freeze for longer storage.
Tips from our bakers
Not a fan of raisins? Try other dried fruits: chopped apricots, cranberries, apples, and cherries are all good.
Reviews
Made it many times using soughdough discard, and it's wonderful. This time I made it in a bundt pan. Since it's maple syrup season I topped it with boiled syrup and sprinkled maple syrup sugar on it. Wow it's impressive. Thank you.
Followed recipe exactly. Dough you mix the night before is a quasi-sourdough starter. The recipe is labor intensive...but well worth the time invested. The finished product is more bread than cake consistency...not overly sweet, but really delicious.
This is really delicious. I think it has something to do with the sweet-sour combination of the fruit and the sourdough. I used 233g of some existing starter so it was a one-day project. I almost forgot the glaze, but I brushed it on with about 20 minutes left to bake. It came out just fine. Next time, I think I may sprinkle some slivered almonds over the top. I think the glaze with glue them in place.
This recipe worked very well, I have a question because I have a starter that I love, I took about 1.25 cups of it to make this recipe, what is the volume you expect from a fresh made starter? I am certainly going to make this again, perhaps with some different fruits. I could even see using it for blueberry coffee cake and peach summer cake.

Hi there, Danielle! We're glad to hear that you enjoyed this recipe! We'd suggest using 1 1/2 cups (233 grams) of sourdough starter in place of the overnight starter this recipe calls for. Happy baking! Morgan@KAF
This recipe turns out A+ every time and it toasts perfectly.
Made this today during a blizzard. I used KAF candied lemon and orange peels instead of dates and raisin (which I dislike, and this is a "Tuscan" recipe). Because of that, I added a tsp. of orange blossom water to both dough and glaze. This is YUMMY. Different, not too sweet, and quite unusual. I sorta hate to wrap it up, because it has the most luscious crisp crust, but there are only two of us...
This is good. I used dried cranberries instead of dates and really like the brightness they give. I think the walnuts are just ok and probably will substitute finely chopped pecans next time. The bread/cake itself is excellent and lighter than a typical coffee cake, which the family loves. The whole house are fans.
I made this delicious bread a second time and once again it's excellent! As with the first loaf, I used dates, dried cranberries, and shaved almonds. I only needed 1/2 cup of water to get a slack, slightly tacky, soft dough, and measured the flour by weight. I added 2 tbsp vital wheat gluten both times and used bread flour, not all-purpose. I found it easier to mix the dates, cranberries and nuts in with the other ingredients, than to knead them into the dough after the first rise. This time I divided the dough in half, shaped into balls, and baked in two 6-inch spring form pans. The bread rose beautifully in the oven and the baked loaves were a bit more than 6" tall. They looked like mini-panettones! The sugar glaze is a great topping. It gets all bubbly and crunchy. The first time I made this bread I used unfed, room temperature starter. This time my starter was fed, bubbly, and had doubled. The proofing times were the same for both the fed and unfed starters.
This bread is excellent! The crumb is moist and tender. Great flavor with the fruits and nuts. Not too sweet. I added cinnamon and cardamom to the dough, as well as a bit of vanilla and rum extract. I also added rum extract to the glaze. The aroma while the bread was baking, and for hours after it came out of the oven, was wonderful! I used chopped dates, sliced almonds and dried cranberries for the filling. Subbed 1 cup of my own starter for the starter in the recipe. I didn't feed the starter but it was room temperature and bubbly. The dough was slack and slightly sticky. Did all the kneading in my KitchenAid mixer. The first rise was about 2 1/2 hours and the dough had doubled. The second rise was about 1 hour. Baked the bread in a 9 x 5-inch pan and there was quite a bit of oven spring. Bread was great plain, toasted, and made delicious French toast.
great recipe, may add cinnamon next time