A customized print-friendly version of this recipe is available by clicking the "Print Recipe" button on this page.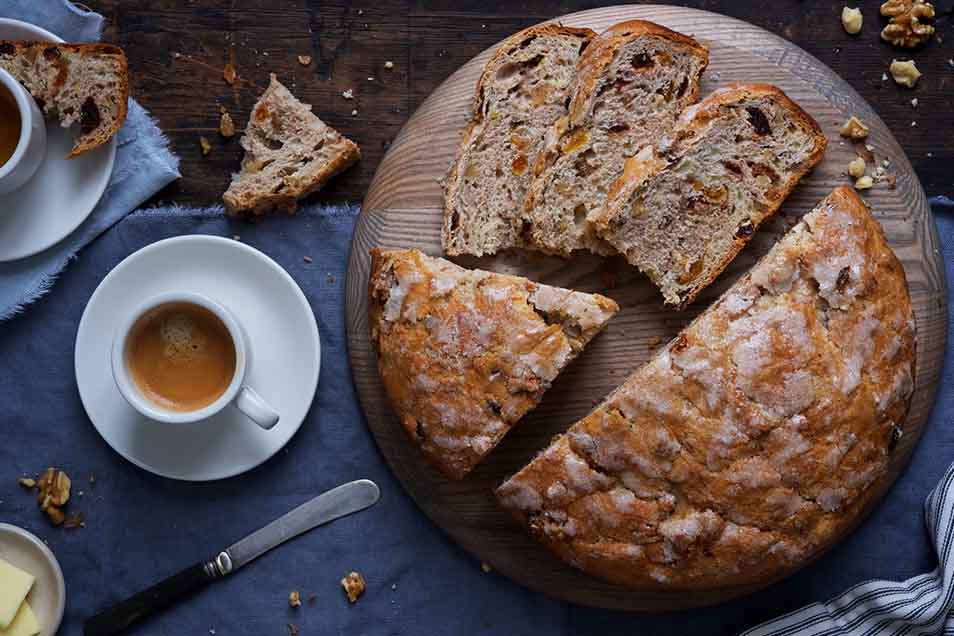 This recipe was inspired by a wonderful yeast-raised Tuscan-style coffeecake at Pane E Salute, a long-time Italian bakery/restaurant in Woodstock, VT (since closed). This high-rising yeasted coffeecake — truthfully, more bread than cake — is surprisingly tender. The sugar topping drizzled on top before baking gives it a pretty, crunchy sugar glaze. And, unlike American-style coffeecakes, this isn't super-sweet; the glaze on top, and the fruit inside, are a wonderful complement to the bread itself, which truly isn't sweet at all.
Ingredients
Filling
1 cup toasted walnuts, very coarsely chopped
3/4 cup chopped dates
3/4 cup raisins, golden preferred
Instructions
To make the starter: Mix the starter ingredients in a small (about 1-quart) bowl, cover, and let rest overnight at room temperature.

To make the dough: Combine the dough ingredients, mixing and kneading to form a smooth, supple dough. It'll be very slack; for this reason, we suggest kneading in a bread machine, or with a mixer, rather than by hand.

Place the dough in a bowl, cover the bowl, and let the dough rise for about 1 hour. It may not double in bulk; that's OK.

Gently deflate the dough, and knead the nuts and fruit into it.

Shape the dough into a flat ball, and place it in a lightly greased 9" round cake pan. Cover the pan with lightly greased plastic wrap, and allow the loaf to rise for 60 minutes, or until it fills the pan side to side and barely crests over the top.

Towards the end of the rising time, preheat the oven to 350°F.

To glaze the coffeecake: Combine the sugar, vanilla and water, and drizzle this mixture over the top of the risen cake.

Bake the coffeecake on a lower oven rack for 50 to 60 minutes, or until it's golden brown. Tent lightly with foil for the final 20 minutes, if it appears to be browning too quickly. The internal temperature of the finished bread should be at least 190°F.

Remove the coffeecake from the oven, and after 5 minutes, carefully turn it out of the pan onto a rack to cool. Cool completely before slicing. Serve at room temperature; or pop slices into the toaster and spread with butter, for a special treat.

Store the coffeecake at room temperature, well wrapped, for several days. Freeze for longer storage.
Tips from our bakers
Not a fan of raisins? Try other dried fruits: chopped apricots, cranberries, apples, and cherries are all good.