A customized print-friendly version of this recipe is available by clicking the "Print Recipe" button on this page.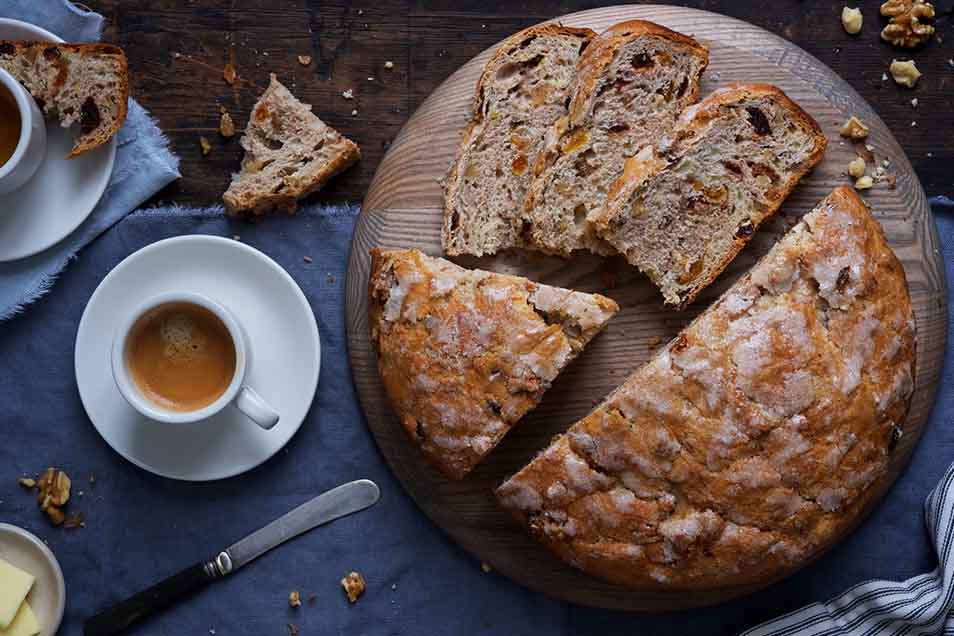 This recipe was inspired by a wonderful yeast-raised Tuscan-style coffeecake at Pane E Salute, an Italian bakery/restaurant in Woodstock, VT. This high-rising yeasted coffeecake — truthfully, more bread than cake — is surprisingly tender. The sugar topping drizzled on top before baking gives it a pretty, crunchy sugar glaze. And, unlike American-style coffeecakes, this isn't super-sweet; the glaze on top, and the fruit inside, are a wonderful complement to the bread itself, which truly isn't sweet at all.
Ingredients
Filling
1 cup toasted walnuts, very coarsely chopped
3/4 cup chopped dates
3/4 cup raisins, golden preferred
Instructions
To make the starter: Mix the starter ingredients in a small (about 1-quart) bowl, cover, and let rest overnight at room temperature.

To make the dough: Combine the dough ingredients, mixing and kneading to form a smooth, supple dough. It'll be very slack; for this reason, we suggest kneading in a bread machine, or with a mixer, rather than by hand.

Place the dough in a bowl, cover the bowl, and let the dough rise for about 1 hour. It may not double in bulk; that's OK.

Gently deflate the dough, and knead the nuts and fruit into it.

Shape the dough into a flat ball, and place it in a lightly greased 9" round cake pan. Cover the pan with lightly greased plastic wrap, and allow the loaf to rise for 60 minutes, or until it fills the pan side to side and barely crests over the top.

Towards the end of the rising time, preheat the oven to 350°F.

To glaze the coffeecake: Combine the sugar, vanilla and water, and drizzle this mixture over the top of the risen cake.

Bake the coffeecake on a lower oven rack for 50 to 60 minutes, or until it's golden brown. Tent lightly with foil for the final 20 minutes, if it appears to be browning too quickly. The internal temperature of the finished bread should be at least 190°F.

Remove the coffeecake from the oven, and after 5 minutes, carefully turn it out of the pan onto a rack to cool. Cool completely before slicing. Serve at room temperature; or pop slices into the toaster and spread with butter, for a special treat.

Store the coffeecake at room temperature, well wrapped, for several days. Freeze for longer storage.
Tips from our bakers
Not a fan of raisins? Try other dried fruits: chopped apricots, cranberries, apples, and cherries are all good.
Reviews
Ankle deep in sourdough starter; stocked up on English muffins, bread, and crackers; I was looking for a unique recipe. This coffee cake, which is more like a bread and delicious lightly toasted with fruit butter, is easy to make. The glaze is a must, it adds the perfect crunch and just a hint of sweetness.
I ended up with extra fed starter after mixing up two other soudough recipes this morning, and I couldn't bear to throw it away. Thank you to those who posted their experiences using fed sourdough starter in this recipe instead of the overnight yeasted starter. I ended up putting in 9 oz of ripe starter, so had to add more flour to the dough to get it soft and supple. It also probably increased the finished size of my loaf by a lot, but it still baked beautifully in the round cake pan-- it is just _really_ big and beautiful. I used KAF artisan flour for the first time in this and I'm very impressed. I mixed in chopped dried apricots, dried cranberries, and sliced almonds. I also added vanilla and a some Penzey's cinnamon (which is a combination of China cinnamon, Vietnamese cinnamon, Korintje cinnamon, and Ceylon cinnamon). My loaf ended up proofing for quite a while in the pan because I didn't time things well and I was waiting for a different loaf to finish before I could bake this-- I popped it in the fridge for the extra time and as far as I can tell it made no difference. I am definitely going to make this again and try different flavor combinations. 5 stars for sure.
No one is talking about the glaze. It works extremely well, even though it seems to disappear once the coffeecake is baked. No one mentions how wonderful the dough smells. And this smell is perfectly complemented by the glaze. I followed the recipe, except for the sourdough I substituted for all the rising moves. I was skeptical that this recipe could be as good as everyone was saying, but I am converted. It's very very good.
Once I was clear on how much of my already-made starter to use (thanks to the KAF chat help!), I made this yesterday. I used only raisins and walnuts. The aroma while it was baking was amazing, and I admit I didn't wait until it was completely cool to cut into the loaf. Another winner of a recipe!
This bread was amazing! I committed a baking crime and swapped out ingredients the first time I made it, but with very good results. I only had enough King Arthur whole wheat flour, so I subbed it for the all-purpose and increased the liquids until the dough felt "slack" as described in the recipe. I also had a dried berry mix I'd been meaning to use and swapped it for the dates and raisins. For baking, I used a bundt pan, which offered good support and resulted and in a nice, firm crust. Thanks, King Arthur!
This recipe was delicious, fun to make, and made the house smell amazing. I added the zest of an orange along with the fruit and nuts (I used dried cranberries and walnuts) and found these flavours worked well together - kind of a cross between a panetone and brioche, and excellent with coffee. Watch the baking time. I didn't have a thermometer, so baked it the full 60 mins and found it dry. Trying again and going to reduce the time.
My sourdough starter is taking over the kitchen, and I've been hunting for interesting recipes instead of throwing away the discard. This is PERFECT. I did make some adjustments, but this is a very flexible recipe and lends well to personalization. I used 8 oz of sourdough discard instead of the suggested starter, and used no additional yeast. I made the dough in my bread machine, and added the dried fruit (golden raisins and diced apricots) and nuts (I used toasted hazelnuts) with the rest of the ingredients. I also added a tablespoon each of ground cinnamon and a Moroccan spice blend I grabbed recently in Tangier, and a splash of Fiori di Sicilia. Once the dough cycle was finished, I plopped the dough in a pain de mie pan, rose again to within 1/2' of the lid, and then baked as directed. It's the BEST toast ever, and I'm planning to make another loaf for french toast soon.
In the last couple of months I've made Overnight Panettone and Colomba Pasquale as well as this recipe. Of the three I like this one the best although they are very similar and would have a hard time stating exactly why I do like this one best. Next time will try a very small amount of Fiori di Sicilia in the Tuscan Coffeecake as think it would be good. I used dried apricots, golden raisins and toasted walnuts since that was what I had on hand but look forward to trying it with the dates. This bread is fabulous toasted.
This is bread another of the many, really great King Arthur recipes, in part because it allows alteration. (Pane bianco is another superb example of this.) The bread is wonderful when made as printed, but it is also delicious if you substitute (or add) dried blueberries, cherries, pecans etc to the printed ingredients. We have taken to baking it in two 6' pans with removable bottoms for a single recipe. This makes the loaf easier to give as a gift or to freeze for a small household like ours.
This. Is. A. Hit. It's a total showstopper. It makes a huge loaf, so is great for a crowd. I've made it a few times, but we even really liked it on the side of an Easter ham dinner - the sweetness really seems to work with ham. I did add vanilla to it, because I add vanilla to pretty much any baked good that isn't savory. It's definitely not a plain bread, not a coffeecake, not a brioche - just a delightful mix of all three. Because it's so huge, I will probably play around with splitting the dough in two at some point. But as is, it's spectacular to bring to someone else's house to present. They'll be happy all week long.