A customized print-friendly version of this recipe is available by clicking the "Print Recipe" button on this page.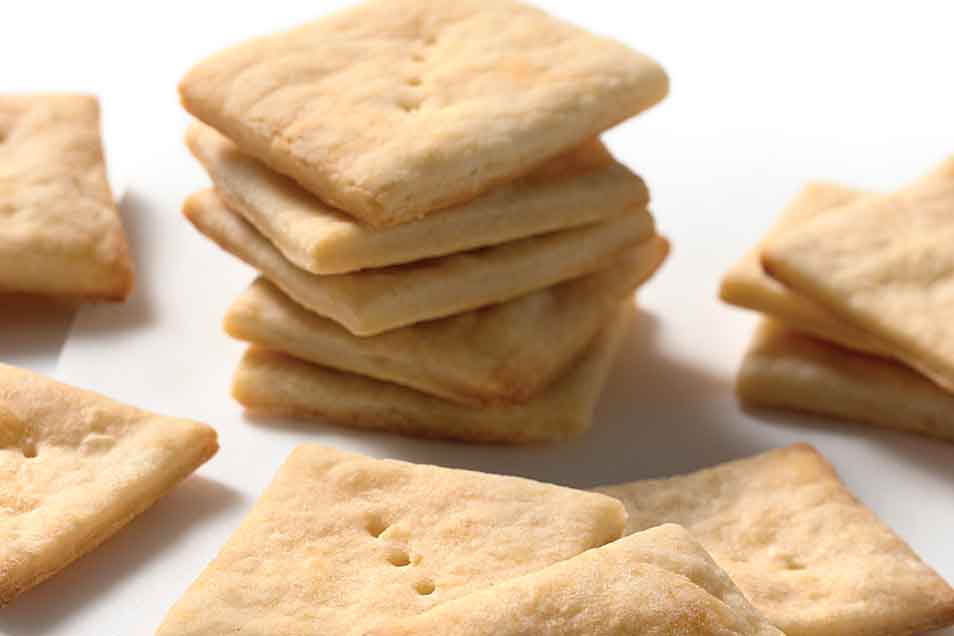 Crisp and wonderfully "cheesy," these crackers are delicious with soup, and a great snack all on their own. Read our blog about these crackers, with additional photos, at Flourish.
Instructions
Whisk together the flour, cheese powder, yeast, salt, and baking powder. If you're using baker's ammonia in place of baking powder, set it aside.

Add the shortening, working it in to make an unevenly crumbly mixture.

If you're using baker's ammonia, dissolve it in a tablespoon of the ice water, and sprinkle it over the dry mixture before adding the remaining ice water. Whether you're using baking powder or baker's ammonia, stir and toss in enough of the ice water to make a cohesive (but not sticky) dough.

Divide the dough in half, and shape each half into a small rectangular slab.

Cover with plastic wrap, and refrigerate for 30 minutes, or up to a couple of hours; don't chill longer than that. Preheat the oven to 400°F.

Very lightly flour a piece of parchment, your rolling pin, and the top of the dough. Working with one piece at a time, roll the dough about 1/16" thick, or slightly thicker. If you don't have parchment, roll on a lightly floured work surface or silicone rolling mat. The dough will have ragged, uneven edges; that's OK. Just try to make it as even as possible.

If you've used parchment, gently slide the parchment and crackers onto a baking sheet. Cut the dough into 1 1/4" squares; a rolling pizza wheel works well here. Don't separate the squares. If you haven't used parchment, gently fold the rolled dough in half, pick it up, and place it on a lightly greased cookie sheet, THEN cut it.

Prick each square with the tines of a fork.

Bake the crackers for about 8 minutes, till the ones on the outside are starting to brown around the edges. Remove them from the oven, and transfer the browned crackers to a cooling rack or piece of parchment; they're done. Quickly and carefully pull the remaining crackers apart to separate them. Return to the oven.

Bake for an additional 3 minutes or so, or until the remaining crackers are a very light golden brown. You'll need to watch these closely at the end; don't walk away from the oven. They go from golden to dark brown very quickly.

Remove them from the oven, and cool right on the pan. When completely cool, store in an airtight container.
Nutrition Information
Serving Size

5 crackers, 19g

Servings Per Batch

20
Amount Per Serving:
Calories

66

Calories from Fat

27

Total Fat

3g

Saturated Fat

1g

Trans Fat

0g

Cholesterol

3mg
Sodium

177mg

Total Carbohydrate

7g

Dietary Fiber

0g

Sugars

1g

Protein

2g
* The nutrition information provided for this recipe is determined by the ESHA Genesis R&D software program. Substituting any ingredients may change the posted nutrition information.
Tips from our bakers
Italian-Style Flour rolls out very easily; it's a good choice for crackers, where you need to roll the dough thinly. It also makes a lovely, crisp cracker. If you use all-purpose flour, you may need to increase the water by a teaspoon or so; and you may not be able to roll the dough as thinly.
This is a great recipe for baker's ammonia, which makes light, ultra-crisp cookies and crackers. Note that using baker's ammonia may shorten the baking time just a tad, so be attentive while the crackers are baking.
Can you use freshly grated soft cheese instead of cheese powder? No, not if you want the same crisp result. Can you use freshly grated Parmesan? No, not if you want the same result, but you'll probably get some tasty crackers anyway; give it a try.
Reviews
I added 1/4 tsp each of onion powder and garlic powder and then sprinkled the top with Rosemary Salt and rolled it in lightly with the rolling pin before cutting. So delicious! No adjustments for high altitude.
I haven't made these cheese crackers yet but plan to do so. Came here to get some cheese powder to add to another cracker recipe I wanted to "cheese up" a bit. But I have a tip for those who want them to crisp up more. After you finish baking your crackers, wait one hour after turning the oven off and then put your separated crackers back in the oven on your baking sheet and close the oven. Leave them in the oven for about 8 hours (I leave them in the oven overnight). They really crisp up nicely!
These are good, but many of the reviews suggest using additional flavoring (like pizza seasoning) and I wish I had done that. These seemed just a tad flat to me, but still good. They keep getting crisper as they cool, so take that into account in baking times. I used KAF all purpose and baking powder with the Vermont cheese powder. Next time, I'll add cheese powder and also a bit of salt on the top.
Delicious homemade crackers. Well worth the time and effort, although they really didn't take that much of either. I added a half tablespoon of pizza dough flavor, sprayed the tops of unbaked crackers with water and sprinkled with sea salt, and then I baked them too long on my baking steel. They came out dark brown and fabulous. These crackers are dangerously good. Thanks for the recipe. :)
Crunchy, cheesy and a hint of salt. Delicious! We are currently nibbling on these as I write this review. The first batch was just "ok." They were flat tasting - as in - not enough salt. So the next batch I rolled out, I dusted some of the cheese powder on top, tossed on some crunchy kosher salt and used my rolling pin to lightly press the salt into the dough. Cheese cracker perfection! Another keeper.
They turned out very crispy and nice! I replaced cheese powder with crushed roasted seaweed flakes! Great snacks, store bought crackers are too salty. yi from Seattle,WA
These are killer. Absolutely killer. I did find that using the Baker's Ammonia was essential. And I like KA cheddar powder over others I have purchased. I grind sea salt over the top before cutting into squares, and lightly press the salt granules into the dough. When I bake, I'll check for browning on the outer edges, break the crackers apart, and return non-browned to the oven. Then I'll check in a couple of minutes, remove the golden brown ones to a rack, return to the oven, and do this a couple of times. A little patience for a huge reward.
So easy! This is my first-ever cracker recipe, and my 10-month-old grandson can't get enough of them. They are a perfect balance between tender and crunchy. (I used butter, not shortening, and baker's ammonia.)
They ate them as fast as I made them! YUMMY!!!!!!
With some tweaks, I think this could be a great recipe, but as written it has a few flaws. Flouring the parchment created an unpleasant layer of partially cooked flour on the bottom of the crackers. The second sheet, I omitted the flour and the results were much better. 400º seemed too low and I increased it to 450º for the second sheet. Either way, the cooking times listed were not long enough for crispy crackers. The instructions indicate that the crackers should be no thinner than 1/16", but any thicker and crispiness is never achieved. Inspired by other comments, I added some crushed French thyme and when the crackers were thin, add the salt and rolled one more time. For the first batch I used a pizza cutter but the dough pulled a lot. Second sheet I used ravioli cutters and this was much prettier and effective.