A customized print-friendly version of this recipe is available by clicking the "Print Recipe" button on this page.
Whole Wheat Naan with Raita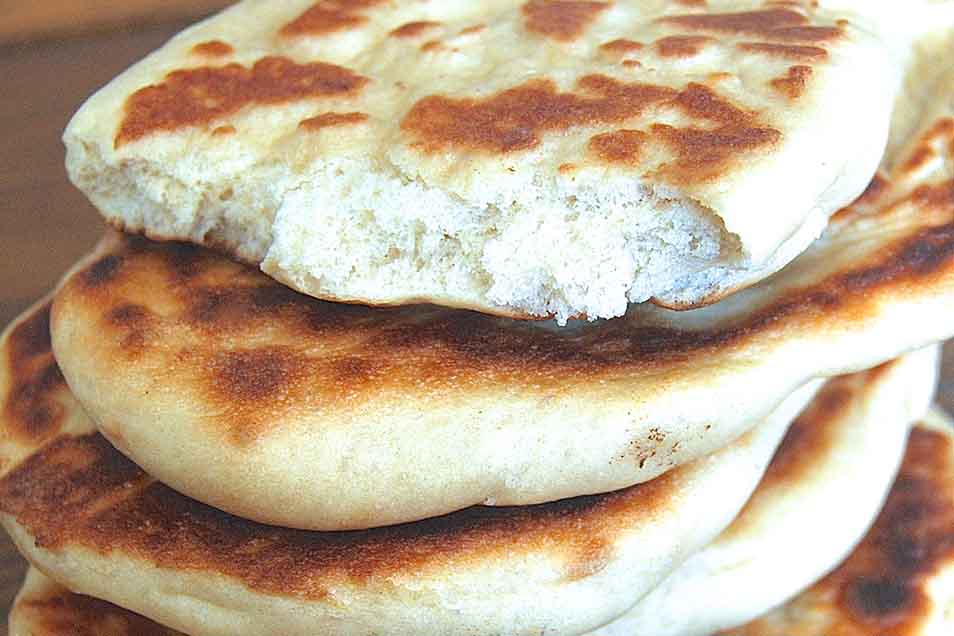 A touch of whole wheat flour adds golden color to these South Asian-inspired soft flatbreads. Your outdoor barbecue grill steps in nicely for the tandoor oven in which naan are traditionally baked. Classic naan is often paired with raita, a dip or spread which comes in a range of varieties, from pineapple to onion to the cucumber version you see here.
Ingredients
Cucumber raita
about 1 1/2 cups finely diced or grated, peeled, seeded cucumbers (about 2 medium-small cucumbers, or 1 medium-large)
1/2 teaspoon salt
2 cups whole-milk yogurt, drained in a yogurt cheese maker or cheesecloth for several hours
1 or 2 cloves garlic, peeled and minced
1/2 teaspoon ground cumin
2 tablespoons minced fresh mint or cilantro, plus extra for garnish
2 to 3 teaspoons minced hot chilies or chili paste, or 1/4 teaspoon cayenne pepper, all optional
*Want to skip the draining? Use 1 cup thick, Greek-style yogurt; no need to drain.
Instructions
To make the naan: Combine all of the ingredients in a large bowl.

Mix until cohesive; the dough will be rough and shaggy.

Turn the dough out onto a lightly floured work surface and knead it until it's smooth and shiny. Or knead for about 7 minutes in a stand mixer.

Put the dough into a greased bowl, cover, and set it aside to rise for about 1 1/2 hours, or until it's doubled in bulk. At this point, the dough may be refrigerated, covered, for up to 24 hours, for extra flavor and ease of rolling.

To make the raita: Place the minced or grated cucumbers in a strainer, and sprinkle with the salt. Let the cucumbers drain for several hours, stirring occasionally. Discard the liquid.

Mix the cucumbers with the drained yogurt and the remaining ingredients. Refrigerate, covered, for a few hours, for the flavors to meld. Garnish with fresh mint or cilantro. Refrigerate any leftovers; see storage hint in "tips," at left.

To cook the naan: Divide the dough into six pieces. Hand-stretch or roll each piece into a thin oval shape, about 4" x 7". Pull on the front edge of the oval to elongate and create the traditional tear shape.

Let the pieces rest, uncovered, while you heat a griddle on high heat. During the hot days of summer, try heating a cast-iron pan on your outdoor barbecue grill; works like a charm!

Transfer the naan to the griddle, as many as will fit at a time. Grill for approximately 2 to 3 minutes on one side, until the bread puffs and begins to look set around the edges. If it appears to be browning too quickly, lower the heat.

Flip over and continue to cook, until the bottom side is brown. Remove from the griddle, and brush with olive oil or garlic oil.

Serve warm, with raita.

Cool any leftovers; store, tightly wrapped, at room temperature for several days. Freeze for longer storage.

Yield: 6 large breads.
Tips from our bakers
Stir 1 tablespoon sesame seeds into the dough, if desired, for a slightly "nutty" flavor.
Plain whole milk yogurt is surprisingly hard to find these days. Substitute lower-fat plain yogurt, if necessary, but try to avoid nonfat yogurt. If you have to use nonfat, increase the butter or ghee by 1 tablespoon.
Want to make the dough for the naan in your bread machine? Go for it; use the dough cycle to knead and raise the dough, then pick up the directions at step #6.
To keep raita from becoming watery over time, store it in a yogurt drainer, if you have one.
Looking for a way to use leftover naan? Split in half around the circumference, it makes a nice crust for thin-crust whole-grain pizza. Simply add toppings, and bake until hot. Leave naan whole to make a thicker pizza crust.
Reviews
I made this recipe last night to go with a curried chickpea soup for dinner. It was very good, but I had to call the hotline to ask for help. I was confused about the note regarding using Greek yogurt, which was what I had. I was confused about which of the two recipes the note applied to. I was told both, even though less yogurt is called for in the bread dough than in making the raita. In the end, I had to add around 1/3 cup additional water to my dough to get the right texture and feel. The raita was delicious, but I would cut back on the garlic a bit, and I found 1/4 teaspoon cayenne was a bit much. Nothing beats grinding and toasting your own cumin seeds, which I plan to use more of next time around. I brushed the finished naan with olive oil, then sprinkled lightly with coarse salt and a little sumac. It turned out well, but some clarification on how much Greek yogurt to use in the dough might be more helpful for others. Perhaps it was just me.

Thanks for reporting back on your success, Jon, and for pointing out this point of confusion. While Greek yogurt could be used in place of the "drained yogurt" called for in the raita (because it is thickened), using it in place of regular yogurt will require some thinning out. We usually find that 2/3 Greek yogurt to 1/3 milk usually makes for the same consistency of regular, whole milk yogurt. Hope this helps for next time! Mollie@KAF
I was at the local Arby's and they had Gyro's..served on Naan bread...I had to try making these myself..I used the above recipe except I used all white dough...then I decided to add two heaping tablespoons of Mayo...seemed like it might add something to it..and boy..it did...I cooked them in a cast iron skillet that had the ribs on the bottom..so they all came with those nice grill marks...(of course the wife did not appreciate the smoke filled kitchen)..lol...but I will make these every week now...they went fast and were great. Tom Dawley
I used the bread machine to make the dough. It turned out really great. I even messed up and put the wrong milk/yogurt amount in. I weigh my ingredients, my three year old distracted me, and I nearly flipped the weight on the two. The recipe was very forgiving. I had wanted a whole wheat thinner naan bread. I didn't make the Raita. My recipe made a dozen hamburger bun size pieces. Next time I will probably make them even smaller and thinner. They puffed up quite a bit so I split them in half and we had them in place of hamburger buns. I used an electric griddle at about 325 degrees.
The dough recipe itself is fine. The problem is with the cooking instructions. I used the printed recipe which said to use high heat. I had searched the king arthur site for recipes for naan. My first naan instantly burned to a crisp, my kitchen was full of smoke, and my pan was almost ruined-saved only by lots of elbow grease scrubbing it. I later checked the blog post and in one place it says high heat, in another it says medium heat. To me a griddle is a long rectangular pan that is put over 2 stove burners to make pancakes. I thought given the irregular shape of naan, it was a good way to cook a few at a time. I see now in the blog post , that by griddle you were talking about a flat cast iron frying pan.So my thinking was, I am using a frying pan on top of the stove, so I should be on high heat because it is like a griddle. I use this frying pan in place of a griddle when i make pancakes. I thought high heat seemed way too hot, but I figured it was trying to mimic a tandor oven. I always follow the instructions the first time around. BIG, BIG mistake this time. I made all of the rest of the naan in the same frying pan (after a long scrub) on medium.Worked out great. They were tasty and exactly what I wanted. The instructions should be clarified for stove top and for grill and also a definition for "griddle". I thought the "grill works like a charm" was a suggestion implying use a grill if you have one instead of a stove top. Which is why i thought the instructions would work for stove top.

Sharon, thank you for your honest feedback and for pointing this out to us. We will absolutely look into it. We're so glad you liked the way they tasted, but we apologize for the confusion. Happy baking, Bryanna@KAF
It all came together very easily. I used the cast iron griddle on my stove. It's fun to watch them puff while browning. I used fat free Greek yogurt because the was what I had. To compensate for the lack of fat I brushed the finished breads with clarified butter. We tasted them right off the griddle and they were fabulous but were still good cool. I actually made 12 smaller breads rather than the 6. I brought the results, at room temperature, to a cookbook club meeting and they were praised and devoured.
Great recipe, thanks! Worked perfectly in the bread machine. I also love the Polish Pottery plate in the picture!
Easy, delicious and quick. I put the ingredients in my bread machine, took the dogs for a hike, and when I got back it was ready to cook. Nice texture and flavor. I held back on the salt since I was using salted butter, but ended up sprinkling these with coarse salt when I was finished since they lacked it. Perfect accompaniment to cucumber raita at the height of cucumber season.
Would it be possible to make this gluten free by substituting gluten free flour?
Unfortunately this is not something we have tried. As such any attempts would be pretty experimental. However, I will certainly suggest a gluten free version of this recipe to the test kitchen.-Jon
We live aboard a sailboat and flat breads are a staple. This sounds awesome. Any changes if using just all purpose flour?
If using all purpose flour, reduce the amount of milk by about 2-4 t. Happy sailing! Elisabeth
Delicious and easy recipe! I like to pair the naan with stews and chili.