A customized print-friendly version of this recipe is available by clicking the "Print Recipe" button on this page.
Whole Wheat Naan with Raita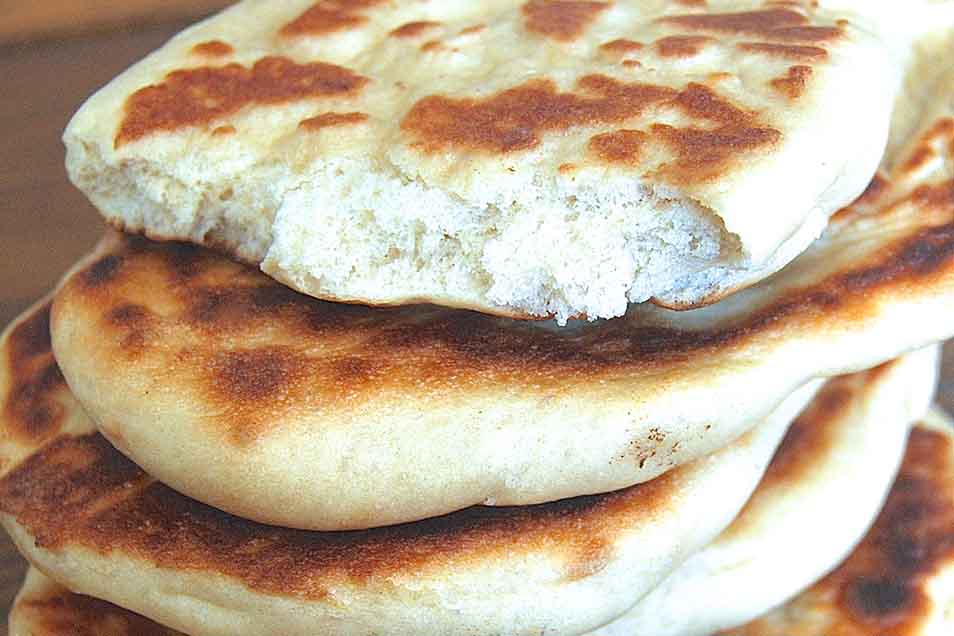 A touch of whole wheat flour adds golden color to these South Asian-inspired soft flatbreads. Your outdoor barbecue grill steps in nicely for the tandoor oven in which naan are traditionally baked. Classic naan is often paired with raita, a dip or spread which comes in a range of varieties, from pineapple to onion to the cucumber version you see here.
Ingredients
Cucumber raita
about 1 1/2 cups finely diced or grated, peeled, seeded cucumbers (about 2 medium-small cucumbers, or 1 medium-large)
1/2 teaspoon salt
2 cups whole-milk yogurt, drained in a yogurt cheese maker or cheesecloth for several hours
1 or 2 cloves garlic, peeled and minced
1/2 teaspoon ground cumin
2 tablespoons minced fresh mint or cilantro, plus extra for garnish
2 to 3 teaspoons minced hot chilies or chili paste, or 1/4 teaspoon cayenne pepper, all optional
*Want to skip the draining? Use 1 cup thick, Greek-style yogurt; no need to drain.
Instructions
To make the naan: Combine all of the ingredients in a large bowl.

Mix until cohesive; the dough will be rough and shaggy.

Turn the dough out onto a lightly floured work surface and knead it until it's smooth and shiny. Or knead for about 7 minutes in a stand mixer.

Put the dough into a greased bowl, cover, and set it aside to rise for about 1 1/2 hours, or until it's doubled in bulk. At this point, the dough may be refrigerated, covered, for up to 24 hours, for extra flavor and ease of rolling.

To make the raita: Place the minced or grated cucumbers in a strainer, and sprinkle with the salt. Let the cucumbers drain for several hours, stirring occasionally. Discard the liquid.

Mix the cucumbers with the drained yogurt and the remaining ingredients. Refrigerate, covered, for a few hours, for the flavors to meld. Garnish with fresh mint or cilantro. Refrigerate any leftovers; see storage hint in "tips," at left.

To cook the naan: Divide the dough into six pieces. Hand-stretch or roll each piece into a thin oval shape, about 4" x 7". Pull on the front edge of the oval to elongate and create the traditional tear shape.

Let the pieces rest, uncovered, while you heat a griddle on high heat. During the hot days of summer, try heating a cast-iron pan on your outdoor barbecue grill; works like a charm!

Transfer the naan to the griddle, as many as will fit at a time. Grill for approximately 2 to 3 minutes on one side, until the bread puffs and begins to look set around the edges. If it appears to be browning too quickly, lower the heat.

Flip over and continue to cook, until the bottom side is brown. Remove from the griddle, and brush with olive oil or garlic oil.

Serve warm, with raita.

Cool any leftovers; store, tightly wrapped, at room temperature for several days. Freeze for longer storage.

Yield: 6 large breads.
Tips from our bakers
Stir 1 tablespoon sesame seeds into the dough, if desired, for a slightly "nutty" flavor.
Plain whole milk yogurt is surprisingly hard to find these days. Substitute lower-fat plain yogurt, if necessary, but try to avoid nonfat yogurt. If you have to use nonfat, increase the butter or ghee by 1 tablespoon.
Want to make the dough for the naan in your bread machine? Go for it; use the dough cycle to knead and raise the dough, then pick up the directions at step #6.
To keep raita from becoming watery over time, store it in a yogurt drainer, if you have one.
Looking for a way to use leftover naan? Split in half around the circumference, it makes a nice crust for thin-crust whole-grain pizza. Simply add toppings, and bake until hot. Leave naan whole to make a thicker pizza crust.