A customized print-friendly version of this recipe is available by clicking the "Print Recipe" button on this page.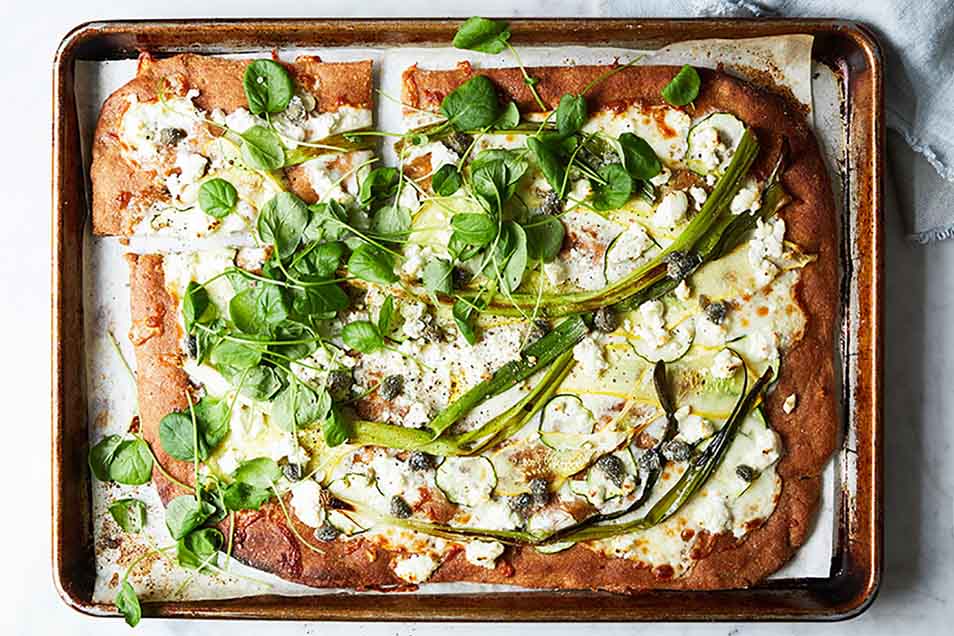 Nutty, hearty whole-grain flour makes great pizza. This thick crust features a touch of honey and a long overnight rise to bring out all the nuances of flavor.
Ingredients
3 cups King Arthur White Whole Wheat Flour or King Arthur 100% Organic White Whole Wheat Flour
2 teaspoons instant yeast
1 1/4 teaspoons salt
2 tablespoons honey
2 tablespoons lukewarm orange juice
2 tablespoons olive oil
3/4 cup to 7/8 cup lukewarm water
Instructions
In a large mixing bowl, mix all of the ingredients until evenly combined. Cover and let rest for 30 minutes, to give the whole wheat flour time to absorb the liquid.

After 30 minutes, check the dough's consistency. If it seems stiff, add 2 more tablespoons of water; then mix and knead until the dough is smooth and elastic, about 8 minutes.

Cover and let the dough rest at room temperature for 30 minutes, then refrigerate overnight, or as long as 18 hours. More time means more flavor and a more extensible dough.

Remove the dough from the refrigerator and pat it into a lightly greased half-sheet pan (18" x 13"). Cover with greased plastic and let rise for about 2 hours, until very puffy. Toward the end of the rise time, preheat the oven to 450°F.

Top the dough with a light coating of sauce and your favorite cooked toppings; don't add cheese yet.

Bake for 8 minutes, then remove from the oven and top with cheese.

Return to the oven and bake for 6 to 8 minutes more, until the cheese is melted and the crust is browned.

Remove from the oven, and let rest for 5 minutes before slicing.

Store leftover pizza covered and refrigerated for up to 5 days.
Nutrition Information
Serving Size

1 slice

Servings Per Batch

16
Amount Per Serving:
Calories

106

Calories from Fat

20

Total Fat

2g

Saturated Fat

0g

Trans Fat

0g

Cholesterol

0mg
Sodium

183mg

Total Carbohydrate

18g

Dietary Fiber

3g

Sugars

3g

Protein

3g
* The nutrition information provided for this recipe is determined by the ESHA Genesis R&D software program. Substituting any ingredients may change the posted nutrition information.
Tips from our bakers
What's with the orange juice in this recipe? No, it doesn't make your pizza taste like oranges; but it does mitigate the somewhat tannic flavor whole wheat can sometimes have. Substitute water if desired.
Can you use traditional red wheat flour in this recipe? Absolutely; your crust will be darker, and more assertively flavored due to red wheat's stronger taste.
Researchers managed to increase antioxidants to their highest level by baking pizza crust at 500°F. However, since some readers have ovens that won't heat that hot; and since baking at 500°F can be a little tricky (the time difference between perfect and burned becomes very short), we've chosen a slightly more moderate baking temperature: 450°F.
Reviews
It's amazing what the orange juice does to take away the excessive "wheaty" flavor of whole wheat flour! I will use this trick in other whole grain baking. I used regular red whole wheat. Next time I'll try white wheat. I had to add an additional 1/4 cup of water to get this to hold together and be soft enough to knead. Another Tablespoon would add the sticky quality the recipe mentions - I'll add a little more next time. I should have paid closer attention to the description of this as a Sicilian deep dish crust . I used the same amount of toppings I use on my regular pizza that I bake on a stone. This one seemed quite "bready", without enough sauce or meats / veggies, but that would be solved by additional toppings. I also needed to allow the crust in the pan closer to 3 hours to rise before baking. The baking times were just right.
This recipe needs to be renamed. . .change the word "Tasty" to "Fantastic"! I followed the recipe as written, but used regular King Arthur Whole Wheat Flour since that is what I had in my kitchen. I also followed the suggested schedule starting dough at 8 p.m., and sitting down to pizza the next evening at 6 p.m. I found the liquid measurements for the dough to be spot on and found the dough easy to handle. I used toppings that we enjoy, cheese first, grass-fed cooked ground beef sauteed in onions, homegrown sliced tomatoes and homegrown lightly sauteed jalapeno peppers. This is my new pizza recipe. We loved the taste and love the nutrition. Thank you KA.
Too sweet. Tastes too much of honey.

If you prefer a less-sweet pizza crust, Maxine, there are a couple of tweaks that might make this more suited to your tastes. First, feel free to replace the orange juice with water, though orange juice and whole wheat are a classic combination and wouldn't add much noticeable sweetness. If you're not a fan of honey, feel free to replace it with maple syrup, or to cut it down to just 1 tablespoon of your preferred liquid sweetener and 1 tablespoon of water instead. Annabelle@KAF
I made this with 100% King Arthur Whole Wheat flour but did a few alterations and made it the same day. As usual I looked up recipes the day I was making the pizza so I couldn't do the overnight rising. I also made homemade mozzarella cheese and used one cup of whey instead of the 3/4 water (I noticed people thought it needed a bit more liquid and I found the same). I wanted to use the yeast right away so I cut the honey in half and added yeast, 1 1/2 tsp sugar and 1 cup of whey together and let rest for 10 minutes. In a mixer with a dough hook, I added to the 3 cups of flour all of the other ingredients including the honey and the yeast mixture. I didn't have orange juice but I did have an orange so I squeezed in the juice. I'm growing herbs inside so I added fresh thyme and sage to the crust by mixing it into the dough. After kneeding in the machine for 4 minutes I put it into a greased glass bowl and after 1 1/2 hours in a warm spot under a towel, the dough doubled in size. After a bit of punching the beautiful dough shaped very nicely and I used a 9 x 13 sheet pan with oil and cornmeal sprinkled on it. The oven temperature was 475 degrees and it took 20 minutes to cook on the middle rack. This was delicious and as I've read it is much more filling than a regular flour crust. Well done King Arthur! I will definitely be making this again.
Tonight, on accident, I added whole wheat to my sourdough pizza recipe. It is really a 70 percent hydration recipe for rustic sourdough loaves. But, after reading the reviews of your recipe, I feel confident that the 100 percent whole wheat dough will turn out just fine. So my question is, I added sugar instead of the orange juice. Otherwise the recipe is really close. Will the sugar react somewhat the same? P.S. I always find great baking advice here. Thanks for all you do!

Shawln, the orange juice helps offset some of the potential bitterness of whole wheat flour. Sugar won't provide this same quality, but it will help the dough rise and brown nicely in the oven. Feel free to omit both the orange juice and the sugar next time to see how you like the results. Kye@KAF
I bake exclusively with whole grain and have made other pizza dough. I usually find King Arthur recipies to be worth a try and love the orange juice tip for taking out the grainy taste--it works. On this one I found that the dough was extremely dry. It definitely needs more water for the number of cups of flour. I added more liquid as suggested, one tablespoon at a time but the ultimate dough was then not right. I ended up fixing with more flour and the ultimate result was a really tough and hard crust.

We're sorry to hear this recipe wasn't quite right for you, Sophia. It sounds like you may want to try experimenting with using half all-purpose flour in your pizza crust along with the whole wheat flour, which can be a bit lighter and prevent some of the toughness you experienced. It can also be helpful to gauge the consistency of the dough by touching it with your finger after it has finished kneading; it should be slightly tacky to the touch. If it feels dry, add additional water until you achieve that barely sticky texture. We hope you find the pizza crust recipe you're looking for! Kye@KAF
I used spelt flour for this crust and it was perfectly soft and moist. Do you have a loaf recipe with a long rising time like this one? I am also wondering... Will lemon juice work instead of orange juice? I usually have lemon juice on hand.
RM, many yeast bread recipes can be delayed in this way; simply incorporate a slightly abbreviated first rise and then refrigerate the dough overnight. Be sure to cover the dough well in the refrigerator so it doesn't dry out. The next day you can allow the dough to warm up for an hour or so and then shape. Just be aware that the cooler dough will take longer to rise, and we do not recommend using quick rise or rapid rise yeast for recipes that call for an extended rise. I think lemon juice would be a little too sour to lighten the tannic flavor of the whole wheat flour. I would stick with orange juice. Barb@KAF
Fantastic whole-grain pizza crust. Used to make BBQ chicken pizza. Delicious!
This recipe is great. The taste is mildly 'wheaty' and crisps up nicely on the pizza stone. Our new go-to pizza dough!
I added 2 TBsp of my favorite pesto to the dough. It's a big hit with my family. Ty KA*