A customized print-friendly version of this recipe is available by clicking the "Print Recipe" button on this page.
Yeasted Banana Sandwich Bread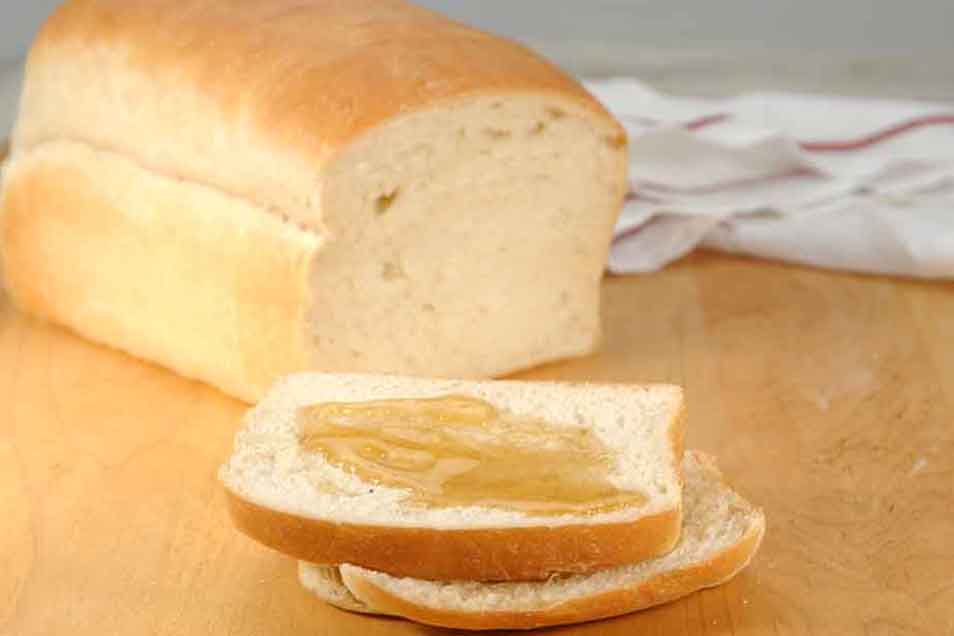 A twist on classic white sandwich bread, this loaf features fresh bananas for a slightly sweeter slice. Excellent with peanut butter, honey or jam, the bread is also delicious with turkey, ham, and curries. French toast made with this loaf is sublime topped with warm maple syrup and diced pecans. We've known folks to eat it for breakfast, lunch, and dinner; all in the same day!
Ingredients
7/8 to 1 cup lukewarm milk*
3 1/4 to 3 1/3 cups King Arthur Unbleached Bread Flour*
2 tablespoon butter, room temperature
2 1/4 teaspoons instant yeast
1 teaspoon salt
2 tablespoons honey
1 medium-sized banana, cut into chunks, about 3/4 cup
*Use the greater amount of milk in the winter or when the weather is dry; the lesser amount of milk in summer or when it's humid.
*See "tips," below.
Instructions
In a large mixing bowl, or in the bowl of an electric mixer, combine all of the ingredients, mixing to form a shaggy dough. Knead the dough, by hand (10 minutes) or by mixer (5 minutes) until it's smooth. Place the dough in a lightly greased bowl, and allow it to rest for 1 hour.

To make dough in your bread machine: Place all of the ingredients into the pan of your machine, program the machine for manual or dough, and press Start. About 10 minutes before the end of the first kneading cycle, check the dough and adjust its consistency as necessary with additional flour or water; the finished dough should be soft and supple.

Transfer the dough to a lightly oiled work surface, and shape it into a log. Place the dough in a lightly greased 8 1/2" x 4 1/2" loaf pan, cover the pan with lightly greased plastic wrap, and allow the dough to rise for 45 minutes to 1 hour, until it is full and rounded.

Bake the bread in a preheated 350°F oven for 35 to 40 minutes, until an instant-read thermometer inserted into the center registers 190°F. If the bread appears to be browning too quickly, tent it with aluminum foil for the final 10 minutes of baking.

Yield: 1 loaf.
Tips from our bakers
No instant yeast? You can use an equal amount of active dry yeast instead. For best results proof it in 2 tablespoons of the lukewarm milk for 10 minutes before beginning the rest of the recipe.
Can you bake the bread start to finish in the bread machine? Absolutely! Choose the Basic setting with medium crust.
We've found that bread flour gives great structure to this bread. If you use all-purpose flour, consider adding a tablespoon of vital wheat gluten to the dough for improved strength.
The amount of flour you need will depend on the size of the banana you use, as well as the weather (you'll need more flour during summer, or if you're in a warm/humid environment). Start with the lesser amount of flour, then add additional flour, if necessary, to make a soft but not ultra-sticky dough.