A customized print-friendly version of this recipe is available by clicking the "Print Recipe" button on this page.
Yeasted Banana Sandwich Bread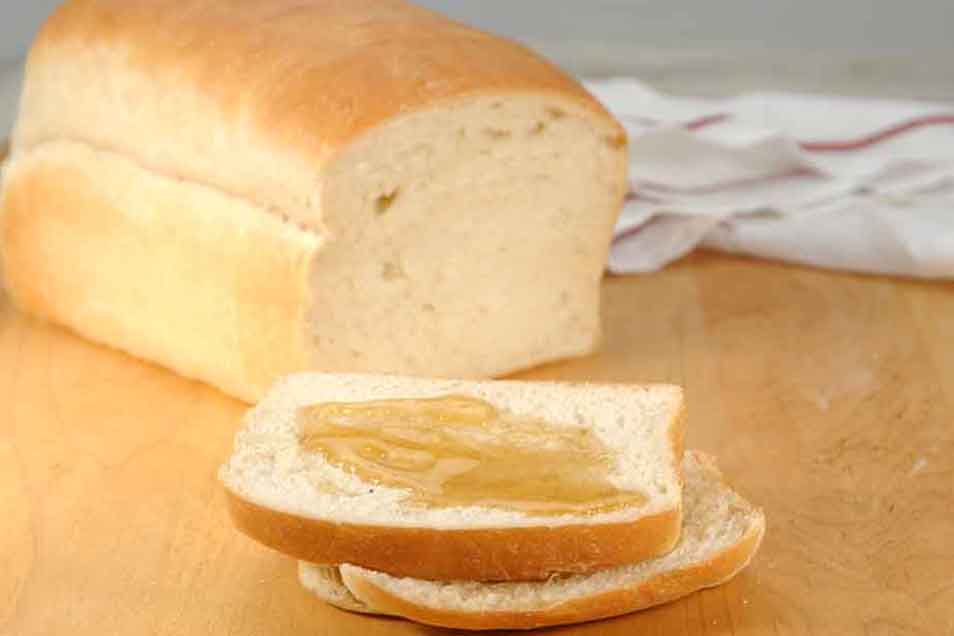 A twist on classic white sandwich bread, this loaf features fresh bananas for a slightly sweeter slice. Excellent with peanut butter, honey or jam, the bread is also delicious with turkey, ham, and curries. French toast made with this loaf is sublime topped with warm maple syrup and diced pecans. We've known folks to eat it for breakfast, lunch, and dinner; all in the same day!
Ingredients
7/8 to 1 cup lukewarm milk*
3 1/4 to 3 1/3 cups King Arthur Unbleached Bread Flour*
2 tablespoon butter, room temperature
2 1/4 teaspoons instant yeast
1 teaspoon salt
2 tablespoons honey
1 medium-sized banana, cut into chunks, about 3/4 cup
*Use the greater amount of milk in the winter or when the weather is dry; the lesser amount of milk in summer or when it's humid.
*See "tips," below.
Instructions
In a large mixing bowl, or in the bowl of an electric mixer, combine all of the ingredients, mixing to form a shaggy dough. Knead the dough, by hand (10 minutes) or by mixer (5 minutes) until it's smooth. Place the dough in a lightly greased bowl, and allow it to rest for 1 hour.

To make dough in your bread machine: Place all of the ingredients into the pan of your machine, program the machine for manual or dough, and press Start. About 10 minutes before the end of the first kneading cycle, check the dough and adjust its consistency as necessary with additional flour or water; the finished dough should be soft and supple.

Transfer the dough to a lightly oiled work surface, and shape it into a log. Place the dough in a lightly greased 8 1/2" x 4 1/2" loaf pan, cover the pan with lightly greased plastic wrap, and allow the dough to rise for 45 minutes to 1 hour, until it is full and rounded.

Bake the bread in a preheated 350°F oven for 35 to 40 minutes, until an instant-read thermometer inserted into the center registers 190°F. If the bread appears to be browning too quickly, tent it with aluminum foil for the final 10 minutes of baking.

Yield: 1 loaf.
Tips from our bakers
No instant yeast? You can use an equal amount of active dry yeast instead. For best results proof it in 2 tablespoons of the lukewarm milk for 10 minutes before beginning the rest of the recipe.
Can you bake the bread start to finish in the bread machine? Absolutely! Choose the Basic setting with medium crust.
We've found that bread flour gives great structure to this bread. If you use all-purpose flour, consider adding a tablespoon of vital wheat gluten to the dough for improved strength.
The amount of flour you need will depend on the size of the banana you use, as well as the weather (you'll need more flour during summer, or if you're in a warm/humid environment). Start with the lesser amount of flour, then add additional flour, if necessary, to make a soft but not ultra-sticky dough.
Reviews
I have loved this loaf in the past. I am now unable to have dairy. Do you think it would still come out alright if I subbed in almond or coconut milk? I HATE changing recipes that so much attention has been paid to develop, but given my new circumstances I will need to if it is possible. I appreciate your help and advice.

Katie, you're more than welcome to use plain, unsweetened non-dairy milk in place of the regular milk in this recipe. The final result will still be delicious. Happy baking! Kye@KAF
second time was a charm... 1. don't use an OVER RIPE (black-ripe) banana. will give off an banana alcohol flavor 2. for this recipe, use a bread tin big enough for the loaf. if you think its big enough, its not. 3. after the first rise, PUNCH down, shape and put it in the bread tin, then put in the fridge for about an HOUR. 4. i covered my refrigerated dough with parchment then wrapped in plastic wrap. 5. it will RISE in the fridge 6. take it out after an HOUR and let come to room temp and it will still continue to rise 7. while on its last rise, i start my oven at 400 degrees. 8. after the oven is ready, and you feel like its risen enough, get it ready to put in the oven but FIRST 9. STEAM your oven - i added a little water at the bottom of the oven to get some steam in there. 10. i put my bread in and STEAM it one last time. 11. i baked my bread for about 45 minutes. came to 190 and took it out. over all, i say A+ once i figured out it needed an extended period of rising time. after i took it out of the oven, i brushed it with butter and covered it with a cloth, overnight. THIS BREAD IS OUTSTANDING...just the slightest of banana flavor. the crumb was just what you want it to be. cuts great with the right knife. toasted up great. HAPPY BAKING FROM KATY TEXAS !!!
This recepie is amazing. The bread is soft and has such a nice crumb. The bananas add a slight sweetness that really takes this bread over the edge. I used agave instead of honey because it was all I had on hand, and it worked out great. I am not sure if this caused the bread to be sweeter, but either way the bread was delicious. I will definitely be making tbis bread again and again.
Excellent! Soft, moist, airy crumb. I was expecting the texture to be dense but it wasn't. Great taste. The banana is subtle, but there. Delicious toasted or plain. Didn't have any issues with the dough being too moist, thanks to some of the helpful reviews. Reduced milk to 3/4 cup which I scalded then cooled to 116 degrees. Used 150 grams of white whole wheat flour and 250 grams of bread flour. Mixed and kneaded by hand. Dough was soft and tacky, but not sticky. Followed the recipe for the most part. Added a pinch of cinnamon, cardamom and ginger but that was the only deviation and wouldn't have had any affect on the texture of the bread. Dough rose quickly and had great oven spring. Used an 8 1/2" x 4 1/2" pan as per the recipe but the bread rose so high in the oven that I think a 9" x 5" may have been better. Baked for 35 minutes to an internal temperature of 206 degrees, which is higher than the recipe suggests but at 190 degrees the crumb on the tester was a bit gummy.
This has become my family's standard sandwich bread. The banana flavor is subtle enough to work well with a lot of foods, and it seems to keep fresh longer. I bake it in the large Pullman pan. Sometimes I have enough extra dough for a couple of rolls. Lately I have been experimenting with making a cinnamon swirl banana Pullman loaf. It's pretty wonderful! I highly reccommend this variation.
I've made this bread at least ten times. The hint of banana, the moistness of the crumb and the texture make it a perfect sandwich bread. Sounds crazy but it is the best sandwich bread I've tried. And, it keeps really well.
Love this bread. I have my third loaf in the oven and it looks great.
I found this recipe while searching for a less sugary way to use my goner bananas. It is delicious! The banana flavor is very subtle, but delightful when toasted with butter and honey. It also makes kickass French toast. As others said, I also found myself adding more flour, but I did use all purpose flour. I will try it with bread flour next time. Definitely a keeper.
For the 3 1/4 to 3 1/3 cups of flour in this recipe (and with the other recipes as well), does the recommended amount include the flour that you use on your working space and while kneading, if you want to knead by hand? LOVE your website!

Rasas, the amount of flour given in the recipe is the full amount intended to be added to the dough. You might want to start by adding 3 1/4 cups of flour and then saving a few tablespoons of flour to lightly dust your work surface while you knead to prevent sticking. If you have a light touch with the dough, you shouldn't need more flour than this--adding more can potentially make the dough dry and heavy. Happy baking! Kye@KAF
I like the texture of the bread; it baked up beautifully, but the banana flavor was barely there and I used two bananas. It needed more banana flavor. I will make the recipe again but I will probably use 4 bananas and cut down the liquid content to compensate.

Cheryl, this recipe is designed to provide a more subtle banana flavor than say, a traditional banana bread recipe. If you'd like to bump up the flavor, consider using some banana extract to the dough. Happy baking! Kye@KAF