A customized print-friendly version of this recipe is available by clicking the "Print Recipe" button on this page.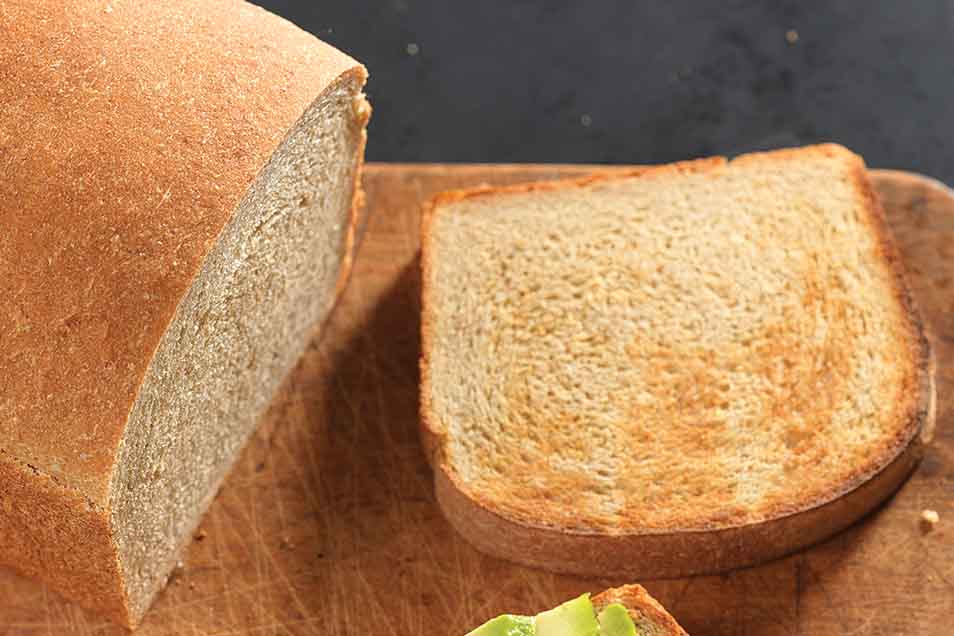 The addition of orange juice to the dough enhances the earthy flavor of our new Ancient Grains Blend.

Read our blog about this bread, with additional photos, at Flourish.
Ingredients
2 1/2 teaspoons instant yeast
3/4 to 1 cup lukewarm water*
1/2 cup orange juice
2 tablespoons vegetable oil
1 1/2 teaspoons salt
2 tablespoons honey
1/4 cup Baker's Special Dry Milk or nonfat dry milk
1 cup King Arthur whole wheat flour, Traditional or White Whole Wheat
1 cup Ancient Grains Blend
1 tablespoon vital wheat gluten
*Use the lesser amount of water in summer (or in humid conditions), the greater amount in winter (or in dry conditions), and something in between the rest of the time.
Instructions
Combine all of the ingredients, mixing and kneading to form a smooth, slightly sticky dough.

Cover and let rise in a warm spot for about an hour, until doubled in size.

Turn the dough out onto a lightly greased surface, shape it into a 8" x 4" log, and put it into a lightly greased 8 1/2" x 4 1/4" bread pan, gently flattening it to fill the pan.

Cover the pan and allow the loaf to rise until it's crested about 1" over the rim of the pan.

Bake the bread in a preheated 375°F oven for 35 to 40 minutes, tenting with foil after about 20 minutes to prevent over-browning. Remove from the oven when it's golden brown, and its interior temperature registers 190°F on an instant-read thermometer.

After 5 minutes, turn it out of the pan onto a rack to cool.
Nutrition Information
Serving Size

1 slice (56g)

Servings Per Batch

16
Amount Per Serving:
Calories

140

Calories from Fat

20

Total Fat

2.5g

Saturated Fat

0g

Trans Fat

0g

Cholesterol

0mg
Sodium

230mg

Total Carbohydrate

25g

Dietary Fiber

2g

Sugars

4g

Protein

5g
* The nutrition information provided for this recipe is determined by the ESHA Genesis R&D software program. Substituting any ingredients may change the posted nutrition information.
Reviews
Five stars for it turning out exactly as promised, my only changes being to use half the amount of yeast and double the amount of wheat gluten because I live at 8000 feet. A nice moist bread that works well for sandwiches and toasts nicely, I do have a question, though. I no longer see the Ancient Grains Blend in the King Arthur product list. I believe it contains 30% each of Amaranth, Millet and Sorghum and 10% Quinoa flours. Is the new Super 10 Blend its alternative? I imagine this would be a good substitute for the Ancient Grains Blend in this recipe. Am I correct? The labeling does not list the proportions of the flours and other ingredients in the new product but I'm curious as to what the proportion of Amaranth flour is. Is it the same or less than in the Ancient Grains Blend? The distinctive taste of Amaranth is something I find palatable only at quite low concentrations, but that's just my own personal preference. Should I use 25% of the total flour as Super 10 Blend in this recipe in the absence of Ancient Grains Blend?

Hi Cessna. You could use the Super 10 Blend, but we'd probably suggest the Whole Grain Flour Blend over it. It has a small amount of amaranth and we think it'll taste great here. Alternatively, the Six-Grain Blend would work well and it doesn't have any amaranth at all. Annabelle@KAF
The flavor of this bread is very nice. Good texture. Nice rise.
This recipe was easy to follow and the bread came out very tasty. However, I have a question....It took 2-3 times longer for the bread to rise and even then wasn't doubled in size as specified. I'm wondering if my yeast is to blame. I had stored the yeast in the refrigerator for probably 6 months since I bought it from KAF. I have since read about yeast on your website and see that I should keep the yeast in the freezer. Do you think the yeast was the main issue?

The two most common culprits of dense, heavy bread that fails to rise is either yeast that's no longer fresh or using too much flour in the dough. To rule out the first possibility, test your yeast by adding about 1/2 teaspoon of yeast to 1/2 cup of warm water with a pinch of sugar. Stir and let the mixture rest for about 5 minutes; it should become foamy and bubbly within that time. (If not, the yeast is no longer good.) Storing your yeast in the freezer will help extend the shelf life, but it's not a necessary step. Give your yeast a test and see if that might have been the cause of the trouble.

Secondly, be sure you're using the right amount of flour. We recommend checking out the "Measuring Standards," link next to the ingredients header above. You'll see that either measuring your flour by weight using a scale, or fluffing and sprinkling the flour into your measuring cup are the best ways to ensure your recipe turns out perfectly. Kye@KAF
great bread, though maybe a tad too sweet. i used a glass casserole dish and it worked fine.
I used a different grain mix than ancient. Like the recipe. Had to use all water because I did not have orange juice or another suitable juice. King Arthur recommended the use of all water. I used a grain mix with some seeds in it which my DH did not like all that much. Recipe is easy to follow. Makes good tasty sandwiches and toast. I will try again with real Ancient Grains.
Also could you use a cast iron pot instead of the bread baking bowl?

We haven't tested it, Maria, but you're welcome to try! If it has a lid, we'd recommend taking it off for the last 10 to 15 minutes of bake time. Annabelle@KAF
Would harvest grains work as well and if so what ratio would you use?

That should be perfectly fine, Maria. Use a 1:1 substitution of Harvest Grains Blend for the Ancient Grains Blend. Happy baking! Annabelle@KAF
Hi team, would like to know is it possible to replace the bread flour with whole wheat flour? If yes, what adjustments would I need to the liquid, yeast and gluten quantities. Also Is there anything else I would need to adjust? Another doubt is that I don't have access to the ancient grains blend, so I would be doing a DIY version of sorghum, millet, oats and buckwheat flours would you be able to help me with what ratios should I take them in OR would any ratio as per choice do?

Hi Seema, while you're welcome to experiment with using whole wheat flour in place of bread flour in this recipe, it's likely going to produce a loaf that's more dense and also rises less. Bread flour, with its high protein content, gives the dough a boost in structure. Without it, the ancient grains and whole grains are going to produce a heavier loaf. If you're OK with those results, go ahead and make the swap 1:1. You won't need to change the quantities of any of the ingredients aside from perhaps needing to add slightly more water if the dough feels stiff or dry.

As for your question about the ratio of grains in our Ancient Grains Blend, we don't have exact amounts to share as that is propietary information. However, if you'd like to start with a basic blend that uses equal parts of all the whole grain flours, you'll be able to easily adjust the ratios based on how you like the results. Good luck and happy baking! Kye@KAF
I followed the suggestion offered about substituting-in sourdough starter. I used unfed 50/50 by weight starter, made with KA AP flour, then used KA bread flour for the remaining white flour specified in recipe. I used the rest of the recipe ingredients without changes. I prepared the whole loaf in my Zo Supreme, set on light crust/basic. My finished loaf was a bit on the dark side, and also fell in the middle. The flavor was fine, but the texture was spongy. I usually have great results from KA recipes, but this one was a disappointment.

Thanks for giving this recipe a go, Chrissy. It sounds like you definitely aren't at fault, here, but rather, your bread machine gave the loaf a bit too long of a rise. Bread collapses when it over rises or if there's too much yeast. You should have better success if you use the machine to knead the dough, but bake it in your oven using a standard loaf pan. If you have any other questions, our free and friendly Baker's Hotline is available at 855-371-BAKE (2253) so please feel free to reach out. Kindly, Annabelle@KAF
I've baked this bread twice in a row now, and I usually rotate breads for our daily use. I love this bread. It's healthy and the texture is beautiful. I added 1/3 cup of KA Harvest Grains because I add that to so many breads for extra flavor and hearty texture. Next time I might go up to 1/2 cup. The dough is heavier and stickier than a lot of bread doughs but still rises beautifully and is light enough for sandwiches and toast. I do detect the slightest bit of kind of a sour after taste that might be due to the ancient grain mix, but it is probably just me. Husband doesn't taste it and loves this bread as well. Next time I might add just a touch more honey. Terrific recipe.