A customized print-friendly version of this recipe is available by clicking the "Print Recipe" button on this page.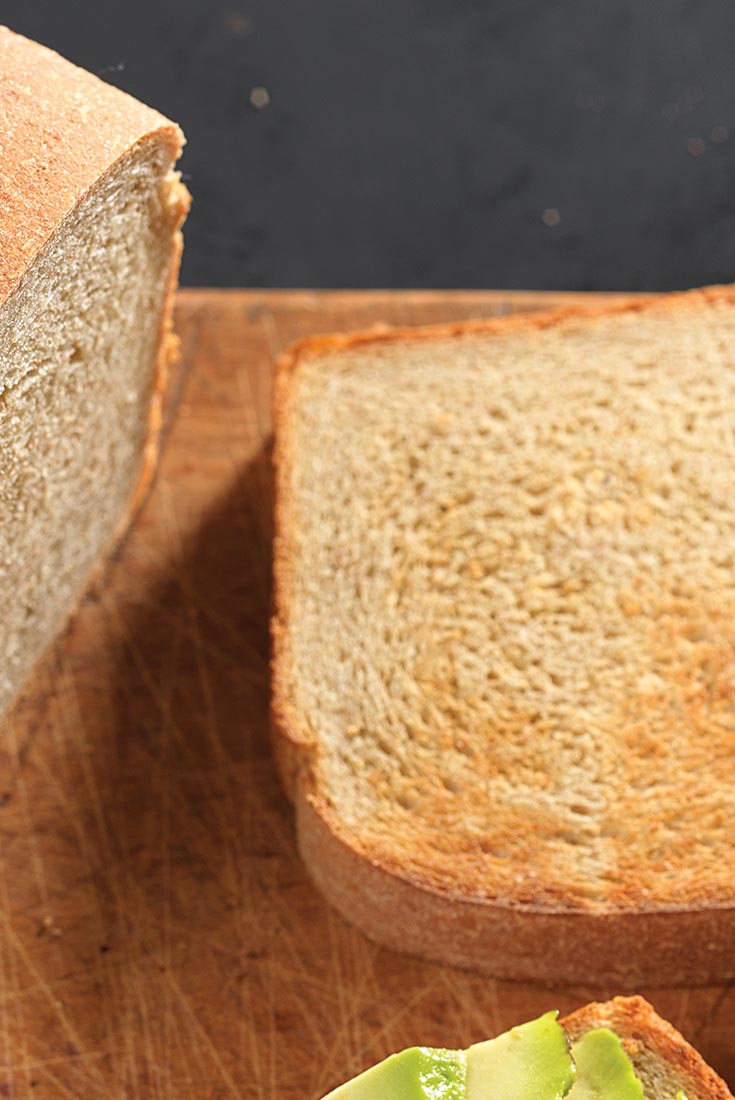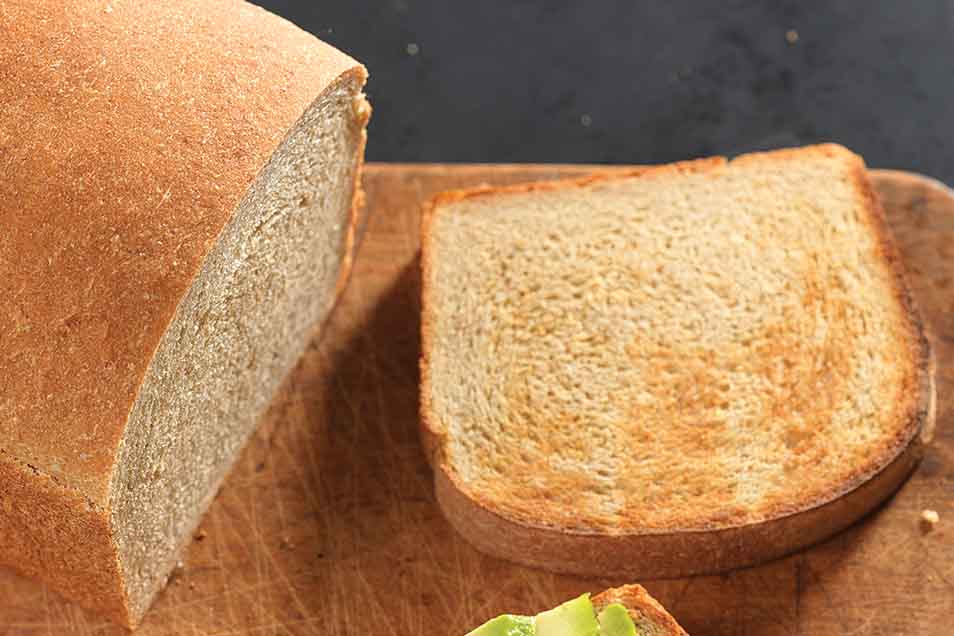 The addition of orange juice to the dough enhances the earthy flavor of our new Ancient Grains Blend.

Read our blog about this bread, with additional photos, at Flourish.
Ingredients
2 1/2 teaspoons instant yeast
3/4 to 1 cup lukewarm water*
1/2 cup orange juice
2 tablespoons vegetable oil
1 1/2 teaspoons salt
2 tablespoons honey
1/4 cup Baker's Special Dry Milk or nonfat dry milk
1 cup King Arthur whole wheat flour, Traditional or White Whole Wheat
1 cup Ancient Grains Blend
1 tablespoon vital wheat gluten
*Use the lesser amount of water in summer (or in humid conditions), the greater amount in winter (or in dry conditions), and something in between the rest of the time.
Instructions
Combine all of the ingredients, mixing and kneading to form a smooth, slightly sticky dough.

Cover and let rise in a warm spot for about an hour, until doubled in size.

Turn the dough out onto a lightly greased surface, shape it into a 8" x 4" log, and put it into a lightly greased 8 1/2" x 4 1/4" bread pan, gently flattening it to fill the pan.

Cover the pan and allow the loaf to rise until it's crested about 1" over the rim of the pan.

Bake the bread in a preheated 375°F oven for 35 to 40 minutes, tenting with foil after about 20 minutes to prevent over-browning. Remove from the oven when it's golden brown, and its interior temperature registers 190°F on an instant-read thermometer.

After 5 minutes, turn it out of the pan onto a rack to cool.
Nutrition Information
Serving Size

1 slice (56g)

Servings Per Batch

16
Amount Per Serving:
Calories

140

Calories from Fat

20

Total Fat

2.5g

Saturated Fat

0g

Trans Fat

0g

Cholesterol

0mg
Sodium

230mg

Total Carbohydrate

25g

Dietary Fiber

2g

Sugars

4g

Protein

5g
* The nutrition information provided for this recipe is determined by the ESHA Genesis R&D software program. Substituting any ingredients may change the posted nutrition information.
Reviews
I've baked this bread twice in a row now, and I usually rotate breads for our daily use. I love this bread. It's healthy and the texture is beautiful. I added 1/3 cup of KA Harvest Grains because I add that to so many breads for extra flavor and hearty texture. Next time I might go up to 1/2 cup. The dough is heavier and stickier than a lot of bread doughs but still rises beautifully and is light enough for sandwiches and toast. I do detect the slightest bit of kind of a sour after taste that might be due to the ancient grain mix, but it is probably just me. Husband doesn't taste it and loves this bread as well. Next time I might add just a touch more honey. Terrific recipe.
This is just great. Tasty, tender but with some substance and rose beautifully (used King Arthur whole grain bread improver). Super easy to make. This will be the every day loaf I've been looking for for our household.
This is a wonderfully tender, tasty loaf. The crust is just chewy enough to make me happy--so happy that I immediately had a second piece. Sooner or later, I suppose I should tell my husband and daughter about it. Maybe after I toast some for my breakfast tomorrow...
This may be my go-to recipe for daily bread. I substituted half White Sorghum Flour and half Oat Flour for the Ancient Grains Blend Flour. I also substituted Organic Spelt Flour for the Whole Wheat Flour. I also used 25% extra yeast to ensure a fluffier loaf than 'whole grain' tends to be. Increased Gluten to 2 Tbsp, to compensate for the lower gluten of spelt...thank you, KAF baker-on-call for the good advice! This is a versatile bread with pleasant, unassertive flavor, a nice crumb, and keeps well. It passed taste-testing at my knit/crochet group, too! Got several requests for the recipe. It's also a bread attractive to my Oriental cats - they will take it if I leave it on the counter - and commence eating it! (yes, plain, warm, irresistible bread)
Terrific full-bodied whole grain flavor. Not a super high riser, but more than adequate for sandwiches.
This is an interesting recipe that I have baked twice. I followed the recipe exactly resulting in a nicely shaped and risen loaf that baked up beautifully and sliced with a nice crumb for sandwiches or toast. Unfortunately the flavor is somehow lacking.The ancient grains flour seems fresh and does not have any off smell as one reviewer commented. However it is just not appealing flavor wise, I wonder if a little more honey or brown sugar might help. This is the only recipe I have tried with the Ancient Grains Flour so I want to try the other sourdough recipe using this flour and see if it is the recipe or the grain mix we find unsavory.
Great bread, easy to make, loved the Ancient Grains blend, and needed the extra water. Several others mentioned it being bitter but we didn't find that to be the case. Unfortunately, I cooked it a little too long and it's a bit dry. Makes great toast though. I'd definitely make this one again.
Wow! Followed recipe exactly and it was awesome!
I didn't have the dry milk, so I used some coconut flour. I also think that this recipe needs a bit more water (liquid) than is called for. Even with the dry milk substitution, it took 4-5 more tablespoons of water. I also ran out of honey and ended up using 3/4 honey , 1/4 agave nectar to get to the final amount. My whole family seems to love any bread recipe that has orange juice in it for some reason.
Oliver, the coconut flour you substituted will absorb quite a bit of liquid, which is probably why you needed to add extra liquid to this recipe. Barb@KAF
I am an inveterate recipe tinkerer.I have tried many whole wheat recipes and this one needs no tinkering !! I left all of the ingredients as written and used the whole wheat bread enhancer KA suggests.A similar product from Bob's Mill is available in groceries if you look for vital gluten and add in a TBSP for each cup whole grain flour you use. I did tinker with technique.I love the ubiquitous "No Knead" method of baking in a dutch oven and experimented using my old Lodge enameled cast iron pot in lieu of a loaf pan.It was a resounding success and gave great crunch to my crust.I heated the Lodge dutch oven for 20 minutes as I got my oven hot ( 450 degrees ) and baked the bread (on parchment) 30 minutes with the lid on and then 10 minutes more,lid off. As ever, the hardest part is letting the darned loaf cool without cutting it.We couldn't wait;the smell was too enticing .We carefully sawed through the crust trying not to smush the loaf, and cut off two slices.DELISH!!! Thank you KAF and PJ for the great recipe for ancient grains. I'm hooked on another no-knead flavor. I left this dough in a gallon zip lock for two days in the frig before baking.This is a common method to develop deeper flavor in quick/no knead recipes.The dough produced a very yeasty gas in the zip lock and certainly didn't hurt the product any by using a different process.