A customized print-friendly version of this recipe is available by clicking the "Print Recipe" button on this page.
Artisan Sourdough Bread made with a stiff starter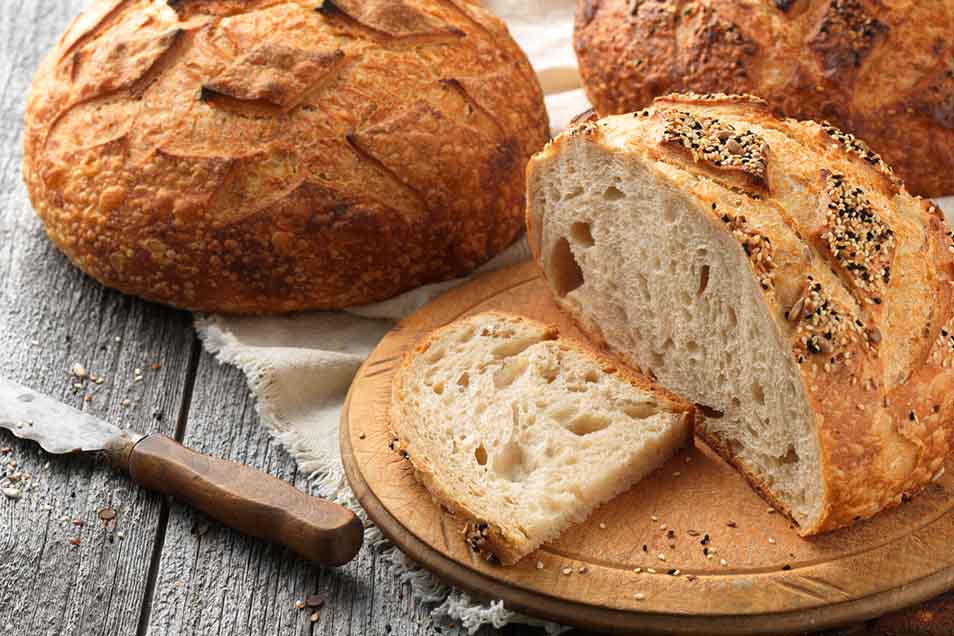 This bread has it all: great sourdough flavor, an open crumb, and a wonderfully crisp crust. Before you make this bread, you need to create a slightly different starter from your existing sourdough starter; please read our Stiff Sourdough Starter recipe for the information you need.
Instructions
Pour the water into a large mixing bowl. Add the ripe starter to the water by ripping it into small pieces.

Add the flour and salt, and stir the ingredients (a dough scraper works well here) until the dough becomes shaggy.

Scrape the dough out of the bowl and smear the dough with the heel of your hand, so that all the flour hydrates and the starter begins to break down. This should only take 1 to 2 minutes. Make sure there are no remaining dry pockets of flour. Return the dough to the bowl. To use a stand mixer, simply mix 1 minute on lowest speed, scraping down the bowl to be sure all the flour is hydrated

Cover the bowl with plastic wrap and allow the dough to sit for 30 minutes.

Knead the dough by hand for 2 minutes (1 minute on speed 2 using a stand mixer), then place it in an oiled bowl and cover it with plastic wrap.

Let the dough rise for 1 hour at warm room temperature; 76°F is ideal. If your room is cooler, let it rise for 75 to 90 minutes.

Gently deflate the risen dough by folding it; please watch our video on how to deflate yeast dough for details. Place it folded side down in the bowl, and let it rise for another hour.

Fold the dough one more time, and let it rise for 90 minutes. The dough should feel light and airy. If it still feels stiff and cool, give it another fold and one more hour of rising time.

Turn the dough out of the bowl onto a lightly floured surface. Cut off 8 ounces (about 1 cup, lightly packed), round it up, and place it in a lightly oiled, covered container. Keep it in your refrigerator for up to a week; feed as directed in our Stiff Sourdough Starter recipe when you want to bake bread again. Don't want to maintain another starter in the fridge? See "tips," below.

To preshape the loaf, give the dough a light fold. Place the loaf fold side up on a floured surface, cover it with plastic wrap, and let it rest for 20 minutes.

Shape the dough into a large round, and let it sit on the table for a minute or two to seal the bottom seam. For details, see our video on how to shape bread.
Place the loaf seam-side up in a floured brotform or in a bowl lined with a well-floured dishtowel or cloth napkin.

Refrigerate the loaf, covered with plastic wrap, overnight or for up to 24 hours. About 16 to 18 hours of refrigeration is ideal.

The next day, preheat the oven to 450°F. If baking in a Dutch oven or other covered baker, gently turn the loaf into the prepared pot, replace the lid, and allow the loaf to rest at room temperature for at least 45 minutes before baking. Loaves baked on a stone or on a baking sheet can be loaded into the oven directly from the refrigerator.

Just before baking, brush or spray the loaf with water, and sprinkle it with artisan bread topping or the seeds of your choice, if desired. Use a lame or a very sharp knife to score the bread several times across the top.

Bake the bread for 30 minutes. Remove the lid (if baking in a covered baker), and continue to bake for 20 minutes, or until the loaf is a rich golden brown and sounds hollow when tapped on the bottom. A loaf baked on a stone or baking sheet will be done in approximately 40 to 45 minutes.

Remove the bread from the oven and allow it to cool on a rack before slicing.
Nutrition Information
Serving Size

81g

Servings Per Batch

16
Amount Per Serving:
Calories

170

Calories from Fat

5g

Total Fat

.5g

Saturated Fat

0g

Trans Fat

0g

Cholesterol

0mg
Sodium

370mg

Total Carbohydrate

35g

Dietary Fiber

6g

Sugars

0g

Protein

6g
* The nutrition information provided for this recipe is determined by the ESHA Genesis R&D software program. Substituting any ingredients may change the posted nutrition information.
Tips from our bakers
A half and half mixture of brown rice flour and all-purpose flour works well for sprinkling on the bottom of your oiled pot to help prevent sticking, and is also a good flour mixture to rub into the liner of your brotform, or the cloth that lines your bowl. Make up a batch of this mixture and keep it in the freezer in a freezer bag, so it's fresh and ready when you want to bake bread. Remember to take it out beforehand so it comes to room temperature.
If you don't wish to maintain a stiff starter in the fridge by removing 8 ounces of dough when it comes time to shape your loaves, simply make one large loaf or two smaller loaves. Baking times will be a bit longer or shorter, depending on the size of the loaves.
For a more mildly flavored sourdough, allow the shaped loaf to rise for 2 to 3 hours, then bake, skipping the overnight refrigeration.
Steam will help your sourdough loaf achieve the rich, golden crackly crust you've been dreaming about. Luckily there are lots of ways home bakers can add steam to their bread baking, including pouring boiling water into a preheated cast iron skillet set on the lowest rack of your oven just after loading the loaf.
If you're a baker who prefers the "cold start" method: Place the loaf and lidded pot in the center of the cold oven and turn the oven on to 450°F. Remove the lid after 35 minutes. Set the timer for 20 minutes and check the loaf periodically after that until it's a rich, golden brown.
Covered bakers and Dutch ovens vary quite a bit, and consequently baking times will also vary. This recipe was tested with our Staub Dutch oven, which bakes relatively quickly. If you're using a ceramic baker you may need to bake the bread longer than the recipe indicates.
Reviews
Just made this bread for the second time, first time it came out great, no problems. Cooked this one the same as the first, enameled cast iron Dutch oven, parchment paper, 450° This time the parchment paper stuck to the sides, and a little on the bottom. Can't get all the paper off the side. Any guesses as why?

This has happened to me occasionally as well. If your dough is more proofed, warmer, or wetter than usual this might explain the sticking. Sometimes added ingredients in the bread dough, like cheese, can cause the dough to stick to the parchment. Lately I've taken to spraying the parchment with baking spray as added protection against sticking. If you're not a baking spray fan you could also sprinkle a coarse grain like cornmeal, semolina, or a mixture of brown rice flour and all-purpose flour between the parchment and the dough. Barb@KAF
I've found I need to reduce the amount of water to 13 ounces, or the bread comes out too moist, with a gummy texture.

Hi Patrick, we're glad to hear that you've found a way to modify this recipe that works for you, but the hydration percentage (weight of water as compared to flour) in this recipe is only about 69%, which doesn't make it an excessively wet dough, and shouldn't cause a gummy final result. If you'd like to give our Baker's Hotline a call at 855-371-2253, we'd love to troubleshoot this recipe with you and see if something else may be contributing to the texture you describe. Barb@KAF
I wish I could put 10 stars. This recipe is everything I ever wanted in a home baked loaf; thick crunchy crust, large crumb, sourdough flavor and smell. I followed the recipe almost exactly, but used half KA whole wheat white flour instead of just 1 cup. I was concerned that it wouldn't work because with the stiff starter, I had a hard time telling when it was ripe so I just went with the 8 hour time frame mentioned and I think it had already deflated a little since my house is pretty warm right now. Nevertheless, the recipe worked. The dough rose beautifully and with great oven spring. This one takes some time and patience but it's worth it. One question, is there a better way to afix the seeds to the outside of the loaf? So many of them flaked off while I was tapping the bottom of the loaf to see if it was fully cooked.

Hi Maiken, we're so glad to hear you enjoyed this recipe! Seeds do have a way of shedding off the loaf, but I've found if I spray the loaf with water, sprinkle the seeds, and them gently pat them into the dough before scoring the loaf and baking, this helps them adhere a little better. Be generous with the amount of seeds you use, expecting that you're going to lose some along the way. Barb@KAF
Great recipe. I have been making sourdough for a while with the thinner style starter and the loaves have been quite tasty but this recipe has a much better sour flavor and the crust is amazingly crispy. I split the recipe into two separate loaves.. One boule and one rectangular loaf.. I cooked one in ceramic crock with the lid on for the first 30 mins and the other on a pizza stone with a metal bowl over it for the first 30 mins.. I then removed covers and cooked for another 25 mins.. Best loaves I have made so far!
I really enjoyed the challenge of this recipe, since it was my first attempt at a stiff starter. I had good luck with its first rise, but the second rise failed--there are many possible contributing factors (novice, no scale, cold house), but I was able to salvage it by making another second starter built off the discard. I have found throughout the process that my doughs can't accept all the specified flour, despite my care to follow the proper measuring procedure. In order to get a more open crumb I'm going to have to manage a more hydrated dough overall, I suspect. At any rate, it baked up pretty well and is an interesting combination of my previous efforts. It's a pretty dense loaf, but with a few large holes here and there--those holes, plus the pleasantly crackly crust--are the closest I've come yet to having a loaf that feels notably sourdough-y. Many thanks for KAF's assistance when I wondered how to adjust the baking time since I declined to remove the 8 ounces of dough for maintaining the starter. I'm looking forward to trying some of the other recipes as I gain experience and figure out which approach gets me closest to what I'm aiming for.

Hi Erika, we're so glad to hear you took on the challenge of this recipe and achieved a "notably sourdough-y" loaf. If you're measuring your flour by volume, I think you'll find that using a scale will transform your bread baking. Dough that you thought was stiff or dense may seem much softer and more hydrated when using a scale. Of course, it's also fine to add more liquid to the recipe in order to accomplish a softer, more supple dough. Remember the Baker's Hotline (855-371-2253) is here to help you reach your sourdough baking goals! Barb@KAF
I followed your directions exactly and was so excited to see my loaf looks just like your picture. I used the cold oven method with my 5 quart Staub dutch oven. It was a little scary pouring the boiling water into the hot cast iron pan on the bottom shelf....you kind of get a loaf of bread and a facial at the same time!
My first real successful loaf, complete with rich brown crust and lots of nice bubbles in the crumb. Question: Can I make this with KA bread flour for even more rise?

MT, you can use 4 3/4 cups of bread flour instead of all-purpose flour in the dough if you'd like to give it more strength. You may need to add additional liquid to compensate for for the higher protein level--add more until the dough feels slightly tacky to the touch. Happy baking! Kye@KAF
I am not so experienced with sourdough, and this was my first stiff starter. I may have made it too stiff, as I am learning that the yeast definitely needs enough moisture to thrive. (should have remembered from microbiology, ha ha) My first loaves tasted good, but were quite dense and didn't seem very sour. I made it again and doubled the amound of starter called for (I hope that wasn't a baking sin), didn't knead in quite as much flour as I had the time before, and left it in the fridge to proof for closer to 30 hours, instead of the 24. The flavor and texture that I got were much more like what I originally expected. Very delicious and a big hit with the recipients of my extra loaves. I also baked them in a dutch oven and I am wowed by the results of that
I just pulled two round beautiful loaves out of my oven, one in a cast iron dutch oven and one in a cloche. They are gorgeous - the recipe was perfect, I'm not sure I'm a fan of baking with stiff starter yet, the taste will be the deciding factor (they're cooling!). It seems MUCH longer a process than the Extra Tangy (which is my favorite by far, though I've modified it to have 2 overnights...and love the flavor it gets). I have a question which is rather pressing at the moment, since I can't find any feedback on it! Would an Emile Henry Cloche double as a good place to store already baked bread? I've seen earthen bread storage containers claiming that porous helps the bread last longer, but wasn't sure if the coating on the cloche changed that? It's large and beautiful and would simplify the storage problem if it was suitable for the proofing, baking, AND storing of yummy bread!! *** edit... the flavor is PHENOMENAL but my texture is more similar to sandwich loaves I've made than the airy, full-of-holes loaf I was hoping for ... any suggestions? ***

I think it would be fine to store your baked and cooled bread in your cloche for the first day or two. This should help keep the crust crispy, although you'll need to place it cut side down to keep the interior from drying out. After a few days you'll probably find that storing the bread in a plastic bag is necessary in order to prevent further drying out. To achieve a more open crumb structure, check out the three part blog series on Artisan Sourdough Bread Tips that is linked to this recipe. These posts offer lots of great tips on how to get the full-of-holes loaves you desire. Barb@KAF