A customized print-friendly version of this recipe is available by clicking the "Print Recipe" button on this page.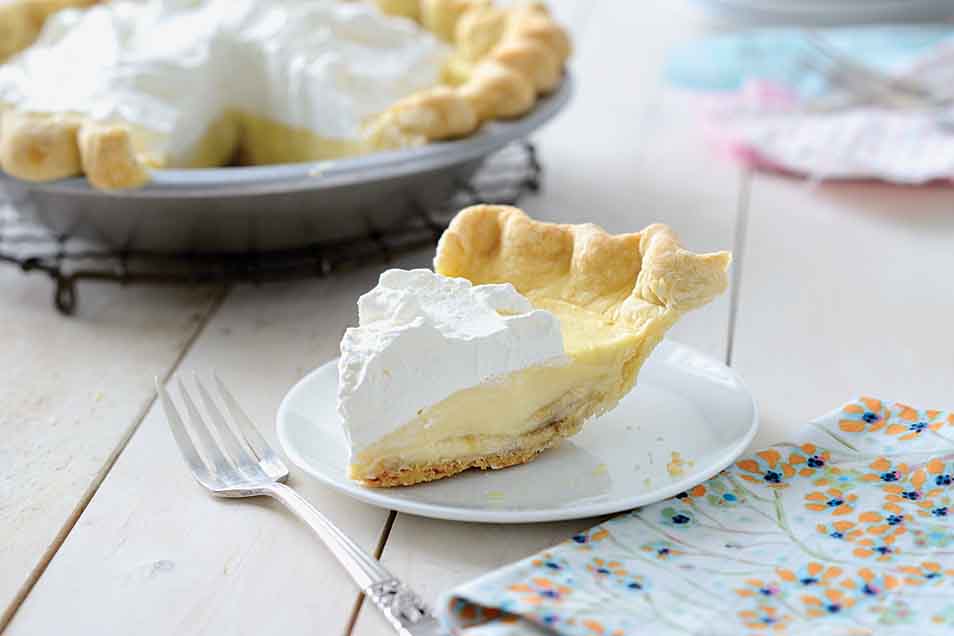 From diner classic to homemade favorite, banana cream pie is an absolute standard in the world of pies. Many shortcut versions rely on a graham cracker crust and vanilla pudding; but this, our favorite version, pairs a real pastry crust with homemade cream filling — for what we hope will be your best banana cream pie experience yet! While it's optional, of course, freshly whipped cream is a wonderful complement to this pie.
Instructions
Roll chilled pie dough into a 12" to 13" circle, and settle it into a 9" pie pan that's at least 1 1/2" deep. Crimp the crust, making either a flat edge with the tines of the fork, or a standup rim using your fingers. Refrigerate the crust for 30 minutes, to relax the gluten; this will help prevent if from shrinking as it bakes.

Preheat the oven to 375°F. Remove the pie from the refrigerator, and prick its bottom surface all over with a fork; this will help keep it flat. Line the crust with a piece of waxed paper or parchment (a 9" parchment cake round works well), and fill with dried beans, rice, pie weights, or the oven-safe, food-safe weights of your choice.

Bake the crust for 20 minutes. Remove it from the oven, remove the weights and paper, and continue to bake for 15 to 20 minutes, until it's golden brown across the bottom. Remove the crust from the oven, and cool it on a rack while you make the filling.

To make the filling: In a medium-sized heatproof bowl, whisk together the sugar, flour, cornstarch, salt, and eggs, whisking until smooth.

In a medium-sized saucepan, bring the milk just to a boil.

Gradually add the hot milk to the egg mixture, stirring all the while.

Return the egg/milk mixture to the saucepan, and cook over medium heat, stirring constantly, until the mixture thickens and starts to boil; this will happen quite quickly, so don't leave the stove to do other chores.

Remove the pastry cream from the heat, and stir in the extract(s) and butter.

Place the sliced bananas in the bottom of the pie crust. Spoon the hot pastry cream over the bananas, Smooth the surface, and cover it with plastic wrap — or with the same piece of parchment you used to line the crust while it was baking.

Refrigerate the pie until it's completely cold; the filling will thicken and set.

Serve the pie cold, with whipped cream if desired.

Yield: one 9" pie, 8 to 10 servings.
Tips from our bakers
If you're a fan of salty/sweet, try sprinkling the bananas in the crust with a tiny bit of salt before adding the filling. Don't overdo it; but a tiny bit helps cut the pie's overall sweetness, and heightens the bananas' flavor.
Prefer a graham cracker crust for your banana cream pie? Go for it!
For a lower-fat (but also less-rich tasting) filling, omit the butter.
Why the wiggle room in the amount of cornstarch in the filling? Because some folks like a slightly softer filling, one that slumps just a bit when the pie is cut; and some prefer a stiffer filling — one that holds its shape.
Reviews
Banana Cream Pie was a family favorite growing up in the 60s. I have made it many times before using my Mom's recipe, which was probably from "The Joy of Cooking." With the internet, I am able to compare many recipes and settled on this one from King Arthur. Having taken several cooking classes there and trying many of the recipes in their catalogs, I thought it would be a good bet. And I was right -- it is the smoothest and fluffiest cream I have ever made, and so tasty! I will only make Banana Cream Pie this way in the future. Thanks, King Arthur folks.
This was a delicious pie. I added the optional almond flavoring and loved it. I am thinking of other ways to use the pastry creme recipe such as adding coconut instead of bananas, but I loved the bananas too. The pastry creme was a perfect consistency and had a delightful flavor.
I love King Arthur products, but I didn't like this banana cream pie recipe at all. It tasted very, very bland/insipid and little like flour and it had an slightly unpleasant texture that's hard to describe; though it did properly thicken. My family wouldn't even finish it. It has to be pretty bad for pie to go uneaten in my house! My old standby recipe for banana cream pie calls for 5 yolks (instead of 2 whole eggs) and more sugar and vanilla. It's a more expensive recipe to make, so I thought I'd try this one, but I guess with pie you have to go rich or go home.

Hi there, Amanda. We're sorry to hear that this filling wasn't a good fit, but we're glad that you have a recipe you and your family enjoy! If we can help troubleshoot or pick out a recipe that better fits your tastes, please give our Baker's Hotline a call at 855-371-BAKE (2253). Kindly, Morgan@KAF
Many raves over this banana cream pie and a few "I want the recipe" and "show me how"s. Wanting to ensure the stovetop custard was thick enough, I'd slightly overcooked it, it was becoming clumpy, so off the heat it came and a short hasty whisking resolved that. Assembled, it cooled on the counter and then went in the fridge. I'm finding this recipe very reliable.
Used this recipe for a Thanksgiving pie and it was a pretty big hit. Will make again and again.
The filling cooked up beautifully. As soon as it was cool enough to eat, I cut two pieces. Very good. The only problem is for me, it doesn't quite make it 24 hrs. I don't like it when the bananas start to turn. The filling was still good, semifirm. I think I would have liked it a little firmer which means I could use more corn starch. Just disappointed in the bananas. Don't think I'll make it again for just two people. I could eat around the bananas I guess. It was very easy to make and I liked the addition of almond flavoring along with the vanilla.

Hi Patricia, you might want to try storing and leftover pie in the freezer to help the bananas maintain their texture better. Let the individual slices rest at room temperature for about 15 minutes before serving, and see if that gives you the fresh, just-sliced texture you're looking for. Kindly, Kye@KAF
Tried this yesterday. I doubled the recipe to make two. I didn't have enough whole milk so about a cup and a half was skim. I ended up with way more filling than I needed for the two, and it didn't solidify. The taste was great, but the consistency was more like pudding. Any thoughts?

Hi Sean! It sounds like the filling could have used a little bit more time on the stove to really thicken up. Different bakers like to let pastry cream cook for varying amounts of time — I was taught to let it boil for 2 minutes while constantly stirring and that ensures that it sets up after a few hours in the fridge. Skim milk will make it just slightly slacker, but the most likely reason was that it just needed more stove time. Annabelle@KAF
1st time making this, tastes wonderful! Only thing is when I was bringing to a boil i saw a wonderful creamy thickness coming & i removed from the heat & added the remaining (butter etc..) Then it lost its thickness so I brought to a boil again.. It did thicken however it looked so different like choppy. Do I 1st bring to a boil until Entire liquid becomes completely thick then remove and add last ingredients?? I was afraid I would burn it & now Iv feared I did not fully complete a step.. I'm eating it anyways tastes great! ps. I used 1 cup coconut cream milk & 1 cup whole milk.

We're glad you're enjoying some tasty pie, Sandra! So long as you're stirring it constantly, you can let it bubble for a good 1 to 2 minutes before taking it off the heat and adding butter. Once combined, I prefer to stir with a rubber spatula to make sure it doesn't stick to the bottom. Once it's bubbling, turn the heat all the way down and stir like mad. When you add the butter (which to be honest, I almost always forget to do) it's ok if it starts to look different. Keep stirring and the mixture will even out. We hope this helps! Annabelle@KAF
I'm not a confident pie maker but thus came out fabulous! I used the KAF classic single crust recipe and served with real whipped cream. The sweetness and texture of the pastry cream were just right.
I prepared the recipe exactly as directed and would rate it as average. The filling had a pebbly, lumpy appearance even after straining. The taste was pleasing, but I believe 1/4 tsp salt would be sufficient if salted butter is used. If I make this recipe again, I will follow the more conventional preparation; adding the flour and cornstarch to the milk before heating.