A customized print-friendly version of this recipe is available by clicking the "Print Recipe" button on this page.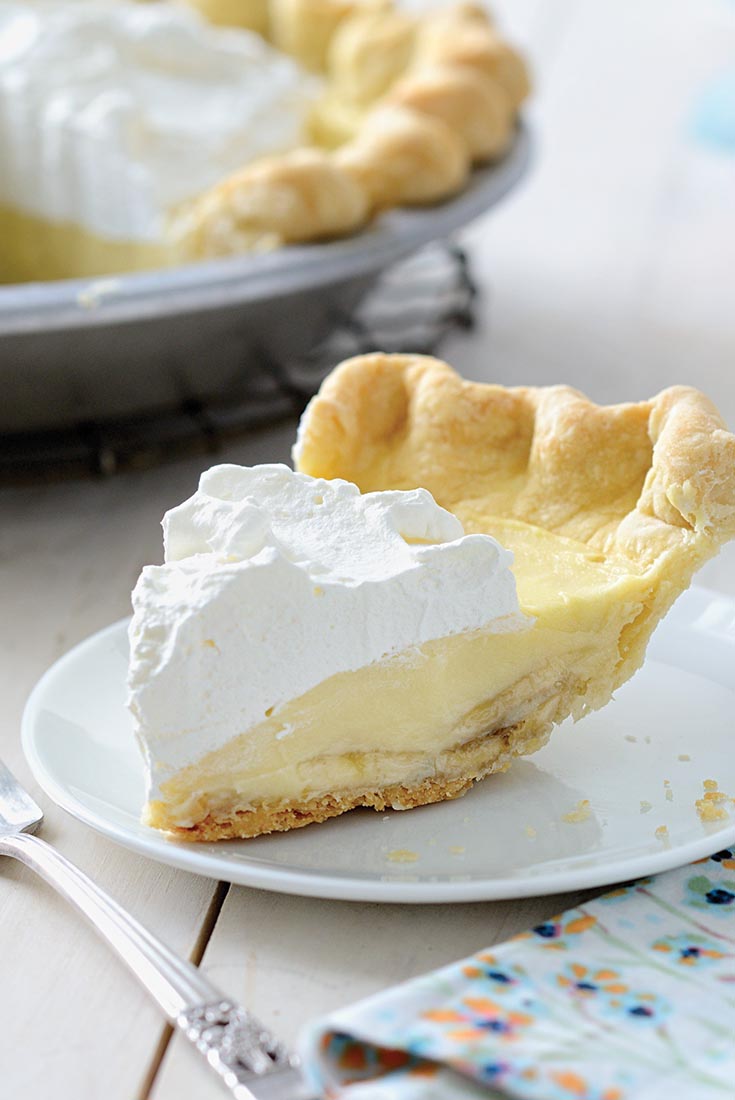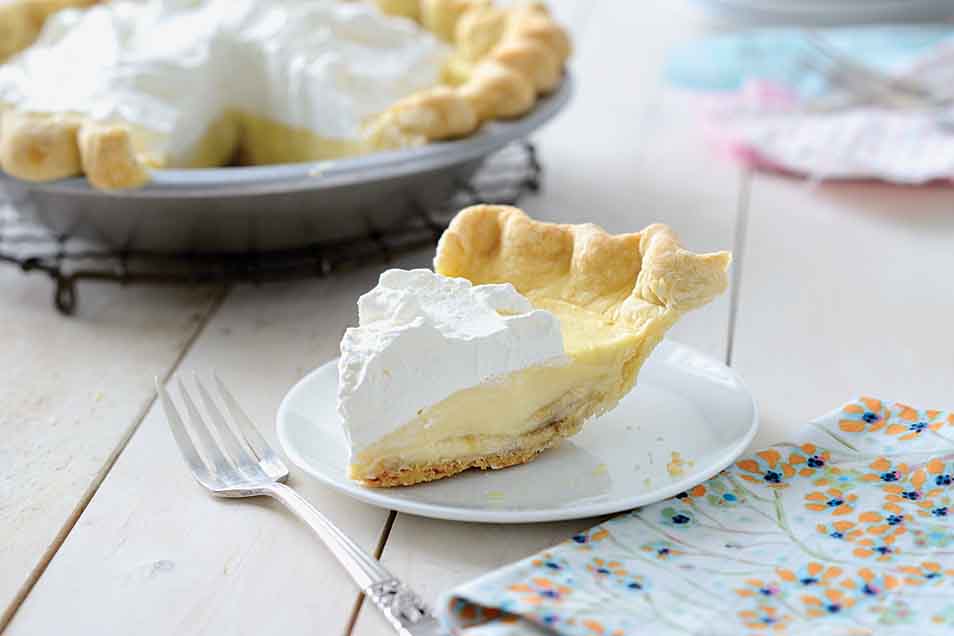 From diner classic to homemade favorite, banana cream pie is an absolute standard in the world of pies. Many shortcut versions rely on a graham cracker crust and vanilla pudding; but this, our favorite version, pairs a real pastry crust with homemade cream filling — for what we hope will be your best banana cream pie experience yet! While it's optional, of course, freshly whipped cream is a wonderful complement to this pie.
Instructions
Roll chilled pie dough into a 12" to 13" circle, and settle it into a 9" pie pan that's at least 1 1/2" deep. Crimp the crust, making either a flat edge with the tines of the fork, or a standup rim using your fingers. Refrigerate the crust for 30 minutes, to relax the gluten; this will help prevent if from shrinking as it bakes.

Preheat the oven to 375°F. Remove the pie from the refrigerator, and prick its bottom surface all over with a fork; this will help keep it flat. Line the crust with a piece of waxed paper or parchment (a 9" parchment cake round works well), and fill with dried beans, rice, pie weights, or the oven-safe, food-safe weights of your choice.

Bake the crust for 20 minutes. Remove it from the oven, remove the weights and paper, and continue to bake for 15 to 20 minutes, until it's golden brown across the bottom. Remove the crust from the oven, and cool it on a rack while you make the filling.

To make the filling: In a medium-sized heatproof bowl, whisk together the sugar, flour, cornstarch, salt, and eggs, whisking until smooth.

In a medium-sized saucepan, bring the milk just to a boil.

Gradually add the hot milk to the egg mixture, stirring all the while.

Return the egg/milk mixture to the saucepan, and cook over medium heat, stirring constantly, until the mixture thickens and starts to boil; this will happen quite quickly, so don't leave the stove to do other chores.

Remove the pastry cream from the heat, and stir in the extract(s) and butter.

Place the sliced bananas in the bottom of the pie crust. Spoon the hot pastry cream over the bananas, Smooth the surface, and cover it with plastic wrap — or with the same piece of parchment you used to line the crust while it was baking.

Refrigerate the pie until it's completely cold; the filling will thicken and set.

Serve the pie cold, with whipped cream if desired.

Yield: one 9" pie, 8 to 10 servings.
Tips from our bakers
If you're a fan of salty/sweet, try sprinkling the bananas in the crust with a tiny bit of salt before adding the filling. Don't overdo it; but a tiny bit helps cut the pie's overall sweetness, and heightens the bananas' flavor.
Prefer a graham cracker crust for your banana cream pie? Go for it!
For a lower-fat (but also less-rich tasting) filling, omit the butter.
Why the wiggle room in the amount of cornstarch in the filling? Because some folks like a slightly softer filling, one that slumps just a bit when the pie is cut; and some prefer a stiffer filling — one that holds its shape.
Reviews
I was disappointed with the flavor and texture of the filling for this pie. I used metric measures and weighed the flour and cornstarch to be sure I got it right. I have made numerous large batches of pastry cream professionally for a very large scale bakery in the past, so I definitely know how the process works. The filling was too thick and starchy, and the flavor wasn't nearly sweet enough. I used the recipe on this site for the classic single pie crust, which I have found to be very reliabl. I will likely not make this filling recipe again as written, and will look for a filling that is a bit softer and sweeter than this.

We're so sorry to hear this filling wasn't what you were looking for, Jon. We encourage you to reach out to our friendly Baker's Hotline staff to help troubleshoot at 855-371-BAKE (2253). Perhaps our Pastry Cream recipe may be a better fit, adjusted to include the bananas. Kindly, Annabelle@KAF
Followed this right out of the Bakers Companion yesterday for the first time..my new go to recipe for banana cream pie! Amazing the holding power of flour and corn starch, even today, the filling is not separating and getting the crust soggy. Used a baked crumb crust made with 1 sleeve saltine crackers, scant 1/4c sugar and 1/3c melted butter. Forget to get whipping cream, but is was not missed.
My friend is a bop addict & raved!
My husband's most favorite dessert is banana cream pie, so I've tried many recipes. THIS has been the best and frankly, the easiest I've ever made! And more importantly, my husband thinks it was the best one too!
I have used this recipe several times, altering it with the grahm cracker crust, less butter, less salt, and even using coconut milk. I have received high praises every single time. Definitely my favorite.
I made this custard for my banana cream pie with my own crust recipe. This is by far the easiest I have ever made before. I had no idea making this would be so easy! And the result of the flavors and the presentation was amazing! I have made banana cream pie for most of my life, since age 13, from scratch, and I really enjoyed the ease of this recipe! And the flavors are amazing! Never thought of using the almond flavoring but it was great and like someone before me said, "it adds another dimension" to the taste of the bananas! Thank you for sharing this wonderful recipe. I think I found my new "go to" recipe for my banana cream pie!
I have made this several times, my family loves it, it isn't very hard, actually easy. I am making this tonight, and a coconut cream pie. This cream filling is delicious by itself, I always take a spatula and have some it while it's warm, so so good
Made this for our weekly Family Dinner. It was my first time making a pastry cream was surprised at the silky texture. It turned out perfect and there were many requests for seconds. I will make this again.
I was a bit concerned about putting the hot filling on top of the bananas as I thought they might turn brown or gray. I let the filling cool to room temperature, then added it in. It worked out beautifully. The end result was full of flavor and the presentation was lovely.