A customized print-friendly version of this recipe is available by clicking the "Print Recipe" button on this page.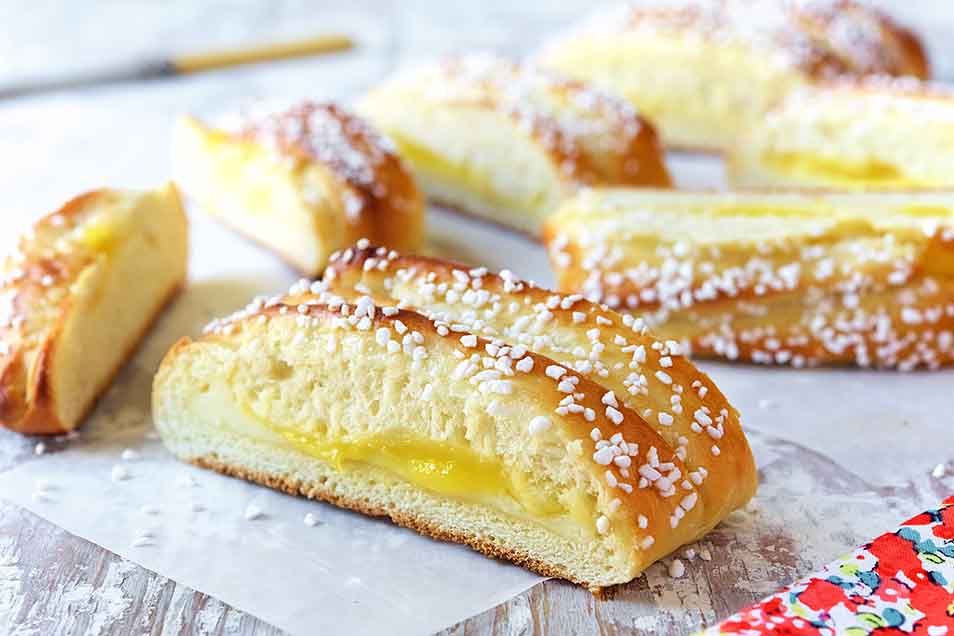 There's just something about lemon that brings a smile and cheerful laugh in the middle of even the dullest of days. The bright yellow color and zippy taste can't be beat. This bread combines a soft and tender sweet dough with the tangy flavor of lemon, and wraps it all up in a beautiful yet easy-to-shape mock braid.
Ingredients
Dough
all of the sponge
3/4 cup plain or vanilla yogurt
1/2 cup (8 tablespoons) unsalted butter, softened
2 large eggs, beaten
1/2 cup sugar
2 teaspoons salt
2 teaspoons Buttery Sweet Dough Flavor OR vanilla
egg wash for brushing braid
pearl sugar or sparkling white sugar for sprinkling on braid
Cream cheese filling
2/3 cup cream cheese, softened
1/4 cup sugar
1/4 cup sour cream
2 teaspoons fresh lemon juice
1/2 cup prepared lemon curd
Instructions
In a small bowl, combine the sponge ingredients. Stir well to combine, loosely cover with plastic wrap, and set aside to proof for 10 to 15 minutes.

In the bowl of your stand mixer combine the sponge, yogurt, butter, eggs, sugar, salt, and flavoring. Add 4 1/2 cups of flour and mix with the paddle attachment until the dough is a rough, shaggy mass. Switch to the dough hook and knead on speed 2 until a soft, smooth dough forms, about 5 to 6 minutes, adding more flour if needed to achieve the correct consistency.

If you're using a bread machine, combine all the dough ingredients in the pan and set the machine on the dough cycle. Be sure to check the dough as it kneads and adjust the flour or water as needed to achieve a soft, supple consistency. Let the cycle complete itself.

If working by hand or stand mixer, place the kneaded dough in a lightly greased bowl, cover with plastic wrap, and allow to rise for 60 to 90 minutes, until quite puffy and nearly doubled.

While the dough is rising, prepare the filling. Combine all the filling ingredients (except the lemon curd) in a small bowl, mixing until smooth and lump-free. Reserve the filling and lemon curd until ready to fill the braids.

Gently deflate the dough and divide it in half. Cover half with plastic wrap and set it aside as you roll out the first piece into a 10" x 15" rectangle. Rolling on parchment paper makes moving the bread to the baking sheet much, much easier. Lightly press two lines down the dough lengthwise, to divide it into 3 equal sections. Spread half the cream cheese filling down the center section, and top with half the lemon curd, leaving 1" free on all sides of the filling.

To form the mock braid, cut 1" crosswise strips down the length of the outside sections, making sure you have the same number of strips down each side. Beginning on the left, lift the top dough strip and gently bring it across the filling diagonally. Repeat on the other side with the top dough strip, so that the two strips crisscross each other. Continue down the entire braid, alternating strips to form the loaf. For a helpful visual of this process, see our video: How to make a filled braid.

Repeat the rolling, filling, and braiding steps for the second piece of dough, using the remaining cream cheese filling and lemon curd. Set both loaves aside, lightly covered, to rise for 45 to 50 minutes, or until quite puffy

Preheat the oven to 375°F. Brush the loaves with egg wash (one lightly beaten egg, 2 teaspoons water and a pinch of salt), and sprinkle with coarse sparkling sugar, if desired. Bake for 25 to 30 minutes, or until the loaves are golden brown. Remove from the oven and cool for 15 to 20 minutes before serving.

Yield: 2 loaves.
Nutrition Information
Serving Size

1 slice

Servings Per Batch

24
Amount Per Serving:
Calories

210

Calories from Fat

70

Total Fat

8g

Saturated Fat

4.5g

Trans Fat

0g

Cholesterol

40mg
Sodium

230mg

Total Carbohydrate

31g

Dietary Fiber

1g

Sugars

10g

Protein

5g
* The nutrition information provided for this recipe is determined by the ESHA Genesis R&D software program. Substituting any ingredients may change the posted nutrition information.
Tips from our bakers
Change the filling in this recipe by substituting your favorite jam or preserves for the lemon curd. Raspberry jam, strawberry preserves, and apricot jam are all delicious; feel free to choose your own special favorite, though.
Reviews
We have an abundance of lemons thanks to our son and daughter-in-laws lemon tree. This looked so beautiful I tried it before Christmas. While mine was not nearly as pretty as the one in the picture the taste was crazy good. I used Ina Garten's lemon curd recipe. I don't think I put enough of the lemon curd in it because it was barely visible but still had the delicious lemon flavor. I did add cardamon and fiore de sicili to the dough. This is a keeper
I really am surprised by such a high rating for this bread. The only difference was that I used strawberry jam instead of lemon curd but I find it hard to believe the lemon curd would have made that big of a difference. Partly because my issue with this is that it really is just a plain white bread dough with a strip of cream cheese & jam/curd in it. I guess i was expecting there to be a little more flavor to the dough. Maybe if you are using a fruit jam,try adding cinnamon to the dough for some extra flavor. The recipe was easy to throw together and the link to show how to braid the bread, was fantastic. If I were going to spend the time making a yeasty, sweet treat, I would just make sweet rolls of some sort. It just didn't do it for me. I made it as a snack for an early Christmas dinner with my mom and she agreed that it was only "fine".

Hi there, Lynda! We're sorry to hear that this well-loved recipe didn't do the trick for you. Adding some cinnamon as you suggested or some fresh citrus zest to compliment the filling would be a great way to add some additional flavor to this dough. If we can help troubleshoot or pick out a recipe that better fits your tastes, please give our Baker's Hotline a call at 855-371-BAKE (2253). Kindly, Morgan@KAF
This is one of my favorite KA recipes. Turns out perfect every time and is so easy to roll out, a very nice surprise--no fighting with dough. I'd like to make a few and give them for my coworkers for the holidays. I saw a recent comment about stopping at step 7, refrigerating and baking in the morning. Any thoughts if they could be made up to a certain step and then being frozen? Thanks.

Hi Carol! If you were to freeze this, it would ideally be before the braid has been shaped, when it's still all in one bowl. Activated yeast dies in the freezer so it'll never rise as high as it would if baked the day-of, but the dough can still freeze for up to 3 months. You'll get the best results if you use it within a week of freezing, letting it thaw in the fridge overnight. Annabelle@KAF
I made this bread for Christmas last year and it was a hit with my family. I'd like to take it to a client for Christmas this year, but the only time I'm there is first thing in the morning and I'd rather not get up at 4am to start baking it. Can I do everything the night before and leave the braided and filled dough in the fridge overnight and bake the next morning? If so, what steps should I follow to let it get back to room temperature and rising time before putting it in the oven?

Hi Jeremy, we think this is a perfect recipe to bake and share! You can prepare the recipe through step 7, but skip the final rise. Cover the loaf lightly with greased plastic wrap and then store in the fridge overnight. The next morning, take the loaf out of the fridge just while the oven preheats and then bake as directed. You'll have a still-warm loaf of braided bread to deliver in the morning. Enjoy! Kye@KAF
For starters, this bake got a 10/10 from my husband, who is my greatest baking critic. But it also got a star review from everyone else who had the pleasure of trying it. It is delicious and perfect for brunch or late night snack. Or, in my case, all day grazing. I'll be making it for the 3rd time for Thanksgiving to satisfy everyone's hunger before the later afternoon meal. (we use the Ina Garten lemon curd recipe)
Maybe if the instructions had reminded me to use a certain temp water to mix with the yeast it would have risen...but it didn't....it came out looking like a pastry instead of bread....wasted a lot of ingredients....
I baked this recipe at altitude (6,000 feel), and it turned out wonderful. My entire family loved it. I baked one loaf was filled with the lemon curd, the second was filled with strawberry preserves. The only change I made was using turbinado sugar instead of the sugar topping called for. Great recipe
I finally made it, and I liked it so much I didn't want to bring it to the office to share! Two (perhaps related) issues I had: 1) My (homemade, from NYT - Molly O'Neill's) lemon curd filling seemed to have disappeared after baking- when I cut the braid open, I saw a clear layer of cream cheese but what only looked like a thin layer of zest despite slathering on a 1/4 cup layer. 2) There was a noticeable gap between the top layer of bread and the filling. I made the lemon curd using a 1 egg + 1 yolk recipe and whisked and whisked. It never reached 170F (which is what Ina Garten seemed to recommend for a different recipe) because it was already quite thick at 140 and I was scared it would curdle. I also let the dough (KA, hand kneaded) rise overnight in the refrigerator, but while waiting for it to come to room temp in the morning noticed that it had gone from doubled to tripled in size. Do you think this could have been the problem? It was still DELICIOUS but it could have more closely resembled the beautiful picture! Any tips are appreciated!

We'd love to help, Genevieve. It sounds like you might want to try a different recipe for lemon curd; the one you made sounds like it wasn't stable enough to hold up to baking. We have a recipe on our website called Microwave Lemon Curd that you're welcome to try, or you can always use a storebought version soo. When you use a more substantial lemon curd, it will fill that space between the top of the bread and the cream cheese filling.

If you use an overnight preparation method, be sure to keep a close eye on the dough when it rises. You want to avoid over-proofing your dough in order to ensure the best texture of the final loaf. The dough should only double in size. Try again using properly proofed dough and a different kind of lemon curd; we think you'll be pleased with the results. Good luck and happy baking! Kye@KAF
This recipe makes a visually stunning loaf and the dough was easy to work with. I've made a bunch of other recipes from KAF yet this is the first one I am posting a rating because it is really worth it. The mock braid was easy enough to do once you look through the blog photos. Now I'm thinking of how to use the mock braid technique for savoury breads with fillings: sun-dried tomatoes with cream cheese, caramelized onions with gruyere, olive tapenade and nuts, etc. The nutrition info says the total servings is 24 so I split the dough in half and then made two mini-loaves of 4 servings each and two loaves of 8 servings each. If you do this, you do need more filling, but it was still delicious. Not too sweet and subtle lemon flavour (I made my own lemon curd). I waited too long to make this. Free up a weekend and make it!
Made my belly happy! I used the "easy microwave lemon curd" recipe to fill the braid and it turned out great!