A customized print-friendly version of this recipe is available by clicking the "Print Recipe" button on this page.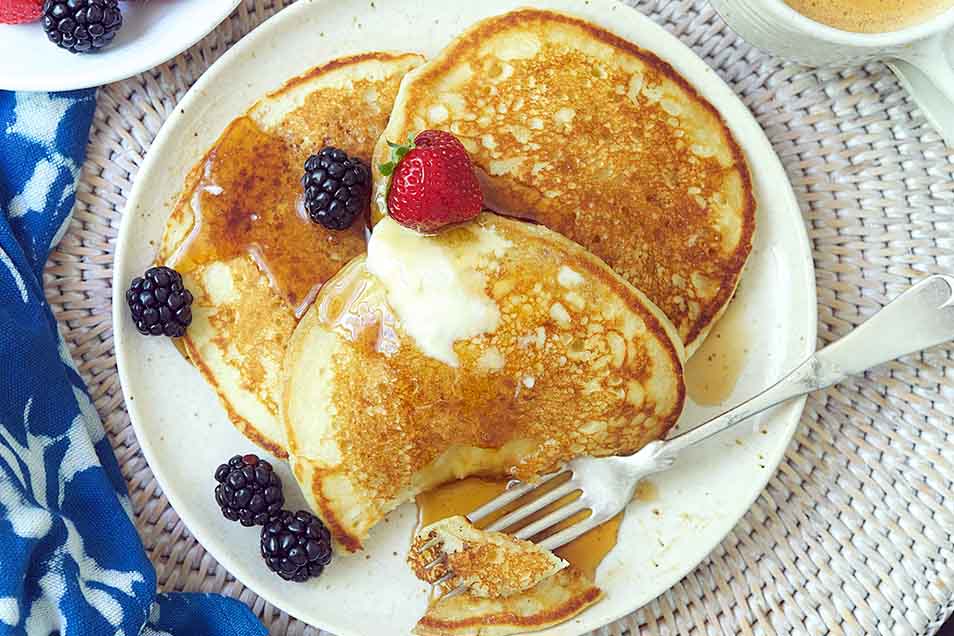 Light and fluffy, these classic buttermilk pancakes are eager to soak up the pools of melted butter and maple syrup required of the breakfast of (y)our dreams. The batter couldn't be simpler to make; and if you're like us, you'll pop a pan of bacon into the oven to be ready as soon as the first batch of pancakes comes off the griddle.
Ingredients
3 tablespoons sugar
1 teaspoon baking powder
1 teaspoon baking soda
1/2 teaspoon salt
1 large egg
2 cups buttermilk
2 tablespoons melted butter or vegetable oil
1 1/2 teaspoons vanilla extract, optional
Instructions
In a large bowl, whisk together the flour, sugar, baking powder, baking soda, and salt.

In a separate bowl or large measuring cup, whisk together the egg, buttermilk, butter or oil, and vanilla.

Pour the wet ingredients into the dry ingredients, stirring to combine. Stir until the mixture is fairly smooth; some small lumps are OK.

Allow the batter to rest, uncovered, for 15 minutes.

While the batter is resting, heat a large skillet over medium heat or preheat a griddle to 350°F, until the surface is hot enough for a droplet of water to skitter across it. Lightly grease the pan with butter or vegetable oil.

Spoon the batter, 1/4 cup at a time, onto the hot surface; a scone and muffin scoop works well here.

Cook pancakes on the first side until bubbles form on the tops and the bottoms are brown, about 1 to 2 minutes. Flip and cook until the bottoms are brown, 1 to 2 minutes longer.

Serve immediately, or hold briefly in a warm oven.

Leftover pancakes can be frozen the same day they're made and reheated in a 250°F oven.
Reviews
Excellent recipe! Thank you!
Had a craving for pancakes and made this recipe exactly as written. Delightfully fluffy and perfectly balanced.
Guy's I am in my 80s I have made more pancakes than you can imagine, having a big family, let me just say I was doubtful about this pancake recipe, But, They are the very best that I have tasted by far even my own recipe can't match up to these delicious Pancakes, They are light and fluffy as stated,old dogs can learn new tricks.
The taste and texture of the pancake is good, but my batter came out too thick. What did I do wrong?

Hi there, Jennifer! We're glad to hear that you enjoyed the flavor of these pancakes but are sorry that the consistency of your batter was a bit off. One of the most common reasons why a batter might turn out too thick is because too much flour has snuck its way into the bowl. To ensure you're using the right amount, we recommend checking out the "Recipe Success Guide," link next to the ingredients header above. You'll see that either measuring your flour by weight using a scale, or fluffing and sprinkling the flour into your measuring cup are the best ways to ensure your recipe turns out perfectly. We hope this helps and happy baking! Morgan@KAF
I did a mashup of the Buttermilk Pancake recipe with the options for Rich, Buttery Pancakes plus Diner Style. To the original recipe I doubled the butter, added an extra egg yolk, substituted 5 tablespoons of malted milk for the sugar and increased the buttermilk to 2 1/2 cups. I also did not oil the pan prior to cooking. The pancakes were perfect. Buttery, rich with a nice thickness (not too thick or too thin) that held up to syrup. Finally found what is perfect for me not too cakey nor too much like a crepe.
Delicious, I let the batter rest longer than suggested which can only help. I also added a splash of lemon juice to the buttermilk which helps bring out the tang in the flavor. I made some with blueberries, of course, and some with, prunes, which was a squishy soft experience of lovely tastiness. I also am freezing leftover batter, I'll let you know how that pans out.
Love it! I didn't have buttermilk but I substituted for milk with cream of tartar. My husband really love it! We ate it with Homemade pineapple jam.
These pancakes are delicious! Very light and fluffy. I used a combination of greek yogurt and whole milk instead of the buttermilk. The only problem I had was trying to keep the melted butter from clumping once I added it to the other (cold) liquids. I probably should have let the liquids come to room temperature before starting. One question - is it possible to freeze the batter for later use rather than freezing the pancakes?

Yvette, your idea about bringing the liquids to room temperature is completely correct and will prevent your butter from clumping. You can even just put the liquid into the microwave long enough to take the chill off. We haven't testing freezing the batter. We imagine that if you do, it will produce pancakes with a different texture. You're welcome to experiment. We'd suggest waiting to add the butter until just before cooking. Annabelle@KAF
I made these pancakes with butter, not oil, and omitted vanilla. My family declared them as best pancakes ever made in our home. I have tried many variations of pancakes, but this is the best buttermilk pancake recipe. It can easily be changed: add vanilla or fruit (e.g. blueberries). They were so good plain, even without syrup. I think letting the batter rest is an important step, to allow flour to hydrate. This is a go-to recipe. Bookmark it.
I happened to have some leftover buttermilk from a cake I'm baking this week and thought this would be a great way to use it up! The pancakes were delicious. They have great flavor and texture and the recipe was straightforward and easy to follow. I added blueberries to mine and they came out just wonderfully!