A customized print-friendly version of this recipe is available by clicking the "Print Recipe" button on this page.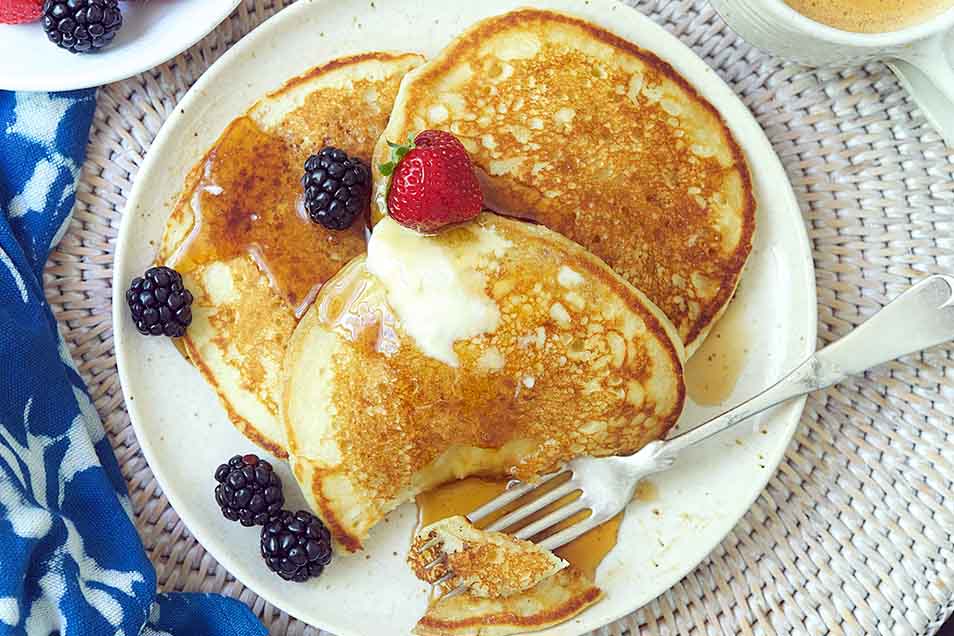 Light and fluffy, these classic buttermilk pancakes are eager to soak up the pools of melted butter and maple syrup required of the breakfast of (y)our dreams. The batter couldn't be simpler to make; and if you're like us, you'll pop a pan of bacon into the oven to be ready as soon as the first batch of pancakes comes off the griddle.
Ingredients
3 tablespoons sugar
1 teaspoon baking powder
1 teaspoon baking soda
1/2 teaspoon salt
1 large egg
2 cups buttermilk
2 tablespoons melted butter or vegetable oil
1 1/2 teaspoons vanilla extract, optional
Instructions
In a large bowl, whisk together the flour, sugar, baking powder, baking soda, and salt.

In a separate bowl or large measuring cup, whisk together the egg, buttermilk, butter or oil, and vanilla.

Pour the wet ingredients into the dry ingredients, stirring to combine. Stir until the mixture is fairly smooth; some small lumps are OK.

Allow the batter to rest, uncovered, for 15 minutes.

While the batter is resting, heat a large skillet over medium heat or preheat a griddle to 350°F, until the surface is hot enough for a droplet of water to skitter across it. Lightly grease the pan with butter or vegetable oil.

Spoon the batter, 1/4 cup at a time, onto the hot surface; a scone and muffin scoop works well here.

Cook pancakes on the first side until bubbles form on the tops and the bottoms are brown, about 1 to 2 minutes. Flip and cook until the bottoms are brown, 1 to 2 minutes longer.

Serve immediately, or hold briefly in a warm oven.

Leftover pancakes can be frozen the same day they're made and reheated in a 250°F oven.
Tips from our bakers
Don't want to use buttermilk? Substitute one small (5.3-ounce) container of plain Greek yogurt whisked together with enough milk to total 2 cups (about 1 1/3 cups milk). If you purchase yogurt in larger quantities and don't want to weigh out 5.3 ounces, simply use 2/3 cup yogurt and 1 1/3 cups milk.
To make extra-fluffy pancakes: Mix the batter as directed, but separate the egg. Add the yolk to the buttermilk, butter, and vanilla; reserve the white. While the batter is resting, add an additional egg white to the reserved white, and whip until medium to stiff peaks form. Fold the whipped egg whites into the batter just before portioning onto a hot griddle. For details see our blog post, How to make fluffy pancakes.
Reviews
I made these for breakfast this morning and they were delicious! I followed all the directions and exactly as written. They came out fluffy, big, and golden brown. The only thing was, they were a little hard to cut with my butter knife. Maybe I should have used a serrated knife? Great recipe though!
I just made these pancakes and they were awesome. I never have fresh buttermilk on hand, so I used powdered. I didn't realize that the protein content in flour so much higher than other flours. Got that tidbit of information from reading your blog. Put frozen blueberries in the last pancake. Yum.
Made these pancakes this morning for the family. I didn't have buttermilk and substituted whole milk with about 2 tablespoons apple cider vinegar. The pancakes were amazing. Can't wait to make them again.
I made these pancakes using buttermilk which I use often. They were light, fluffy and absolutely delicious. I am wondering if the batter is stored in the refrigerator a few days and cooked as needed if that will compromise the taste and/or texture.
Has anyone used kefir instead of buttermilk? I only had 1/2 cup of buttermilk left, so I used 1 1/2 cups of kefir for the rest and the pancakes came out really good.

Hi Roger! We haven't tried this recipe out ourselves with kefir, but we're happy to hear that you had good luck with that substitution! Morgan@KAF
So simple, but just perfect. I used the yogurt/milk combo, as I never have buttermilk around. Thanks!
Great, fluffy pancakes. I used KA buttermilk powder, since I'm sick of cleaning up the science projects aka leftover bits of buttermilk left over from previous recipes. It is just as good as the bottled kind!
This recipe was easy to follow and so delicious! The pancakes had a nice fluffy texture and great flavor. The whole family enjoyed them.
These pancakes were delicious. Fluffy, light and tasty. My husband actually said he thought they were good(a major triumph). Letting the batter stand for 15 minutes works to make the pancakes perfect. This step should not be overlooked. Thanks KAF
Wonderful pancakes! Light and fluffy - delicious! Cooked on a cast iron flat top in butter.