A customized print-friendly version of this recipe is available by clicking the "Print Recipe" button on this page.
Chocolate Cake Doughnut Holes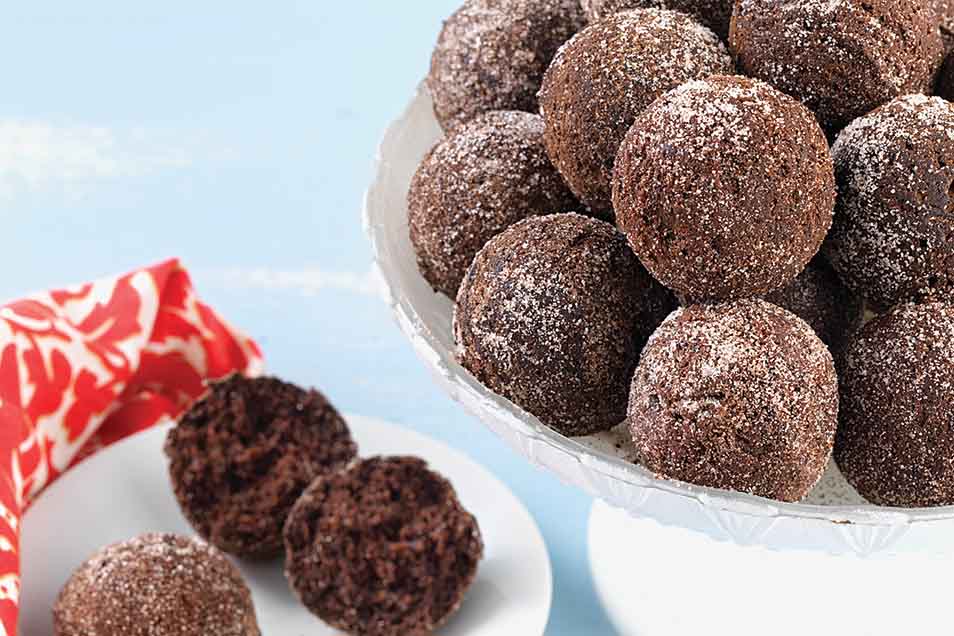 These moist and dense cake-style doughnuts with their deep-dark chocolate flavor will start any chocolate lover's morning off right. Their rich, fudge-like texture and pockets of melted chocolate also make them suitable for a decadent bite-sized snack or dessert; but be warned that you may not be able to stop at just one!
Ingredients
Doughnuts
1/3 cup Triple Cocoa Blend or your favorite unsweetened cocoa powder
1/2 cup light brown sugar
1/2 teaspoon baking powder
1/2 teaspoon espresso powder
1/2 teaspoon baking soda
1/4 teaspoon salt
1/2 cup chocolate chips
1 large egg
1/4 cup milk
1 teaspoon vanilla extract
1 teaspoon vinegar, white or cider
1/4 cup (4 tablespoons) melted butter
Coating
2 tablespoons granulated sugar
1 teaspoon Triple Cocoa Blend or your favorite unsweetened cocoa powder
Instructions
Preheat the oven to 350°F. Lightly grease the top and bottom halves of a doughnut hole pan.

Whisk together the cocoa, flour, sugar, baking powder, espresso powder, baking soda, salt, and chocolate chips. Set aside.

Whisk together the eggs, milk, vanilla, and vinegar. You may notice some curdling of the milk; that's OK.

Add the wet ingredients, along with the melted butter, to the dry ingredients, stirring to blend.

Scoop a tablespoon of batter into the cups in the bottom half of the doughnut hole pan (the side without the vent hole) — a level tablespoon cookie scoop works well here.

Place the top half on the pan, and lock it in place with the clips.

Bake the doughnut holes for 8 to 9 minutes, or until a cake tester inserted into the center of one comes out clean.

Remove the pan from the oven, and allow it to cool slightly before removing the clips and the top half.

Loosen the edges of the holes, if necessary, and gently turn them out onto a rack.

Immediately shake the holes in the coating, and set aside to cool.

Grease the pan again, and repeat the process with the remaining batter.

Store doughnuts, tightly wrapped, at room temperature for several days; freeze for longer storage.
Tips from our bakers
If you don't have a doughnut hole pan, a mini muffin pan also works well. Portion a level tablespoon cookie scoop (about 4 teaspoons) into the greased mini muffin cups, and bake in a preheated 425°F oven for 7 minutes, or until a cake tester or toothpick inserted into the center of a muffin comes out clean.
Reviews
Just made this for the first time and they turned out amazingly. I used a mini muffin pan too, I just made sure the oven was thoroughly preheated.
Awesome recipe! So easy to mix. A quick and easy treat, served warm or room temperature. I baked them in my electric cake pop baker and they turned out great! Everyone loved the taste, texture, and gooey chocolate inside from the melted mini chocolate chips. This recipe is a winner!
we liked it because you could use the mini muffin pan, fudginess, and we also liked the powdered sugar we put on top.
I don't have a donut hole pan, so I tried these in my mini-donut pan instead. Wow what a disaster! The first batch I just sprayed the pan, then when the donuts came out, they were crumbly and stuck to the pan. For the next batch, I carefully buttered each individual donut slot and also cooked them for about a minute longer. It was a little bit better, but still stuck to the pan a lot. I had made the pumpkin donuts in this pan before and they came out great. Maybe that recipe has more oil? They did taste good and maybe it would work in a donut hole pan, but I wouldn't recommend trying this otherwise.
Excellent (like all your recipes!) But if I don't really like coffee flavor, can I leave the espresso powder out? What would I replace it with?

No problem Debs. You can either leave it out, or replace it with vanilla. If you do ever give it a try, you'll find it doesn't actually give a coffee flavor at all, it merely makes the chocolate taste more like chocolate. Annabelle@KAF
Baked perfect pumpkin doughnut holes in a mini muffin tin my first try. Decided to try these & wow, what a fail! The temperature for the other donut holes say to bake at 425 for muffin tins & less time. There was a comment on these to bake same temperature (350), just less time. Don't know if that was the problem, baking at 350, but they took over 15 minutes to get done & the tops were flat. I got 1 out of 18 out whole, The rest were flat tops & crumbs. Tasted like a microwave mug cake! Don't think I will try these again. I will stick to the pumpkin ones!

Hi Cindy, we appreciate your sharing your baking experience with us, and we're sorry it wasn't quite as successful as your Pumpkin Doughnut Holes. It's true that we include a Baker's Tip in the pumpkin version of this recipe to bake at 425°F for 10 minutes if using a mini muffin pan. We've asked our test kitchen bakers to explore this tip when making the chocolate doughnut holes as well to see if it produces more favorable results. We'll be sure to update the recipe accordingly if we find this adjusted baking temperature creates a more pleasant texture. Kye@KAF
I fried these babies because i dont have a donut hole pan for baking. I eat mostly vegan, but after my first attempt without the real egg, i thought I'd try a farmers market egg the second time around. The result was fantastic! I did not have espresso powder so i omitted it, and i reduced the amount of chocolate chips (using a bit of dark chocolate chopped). I think these could spare a bit of the chocolate as its quite intense, but perhaps that's why they're especially delish!
Batter is delicious. Definately need a waiting period for baking powder to jig and jive with vinegar. Overcooked mine waiting for them to puff up etc in the oven since i did recipe as written (now makes sense why someone said they basically made truffles and someone else said to wait). Recipe has potential :)
So delicious! I used one of those doughnut hole pans that are just the bottom half. The first time I made them, they looked more like truffles. But, if you let the dough rest for 15 minutes before baking, the tops will puff up into a round(ish) shape as well. Would highly recommend
Just made this -- they are excellent. I'll be making them again. Just curious-- what is the purpose of the vinegar?

Jen, the vinegar helps activate the baking soda, which works best in acidic environments. This in turn helps create a light, fluffy texture. Happy baking! Kye@KAF