A customized print-friendly version of this recipe is available by clicking the "Print Recipe" button on this page.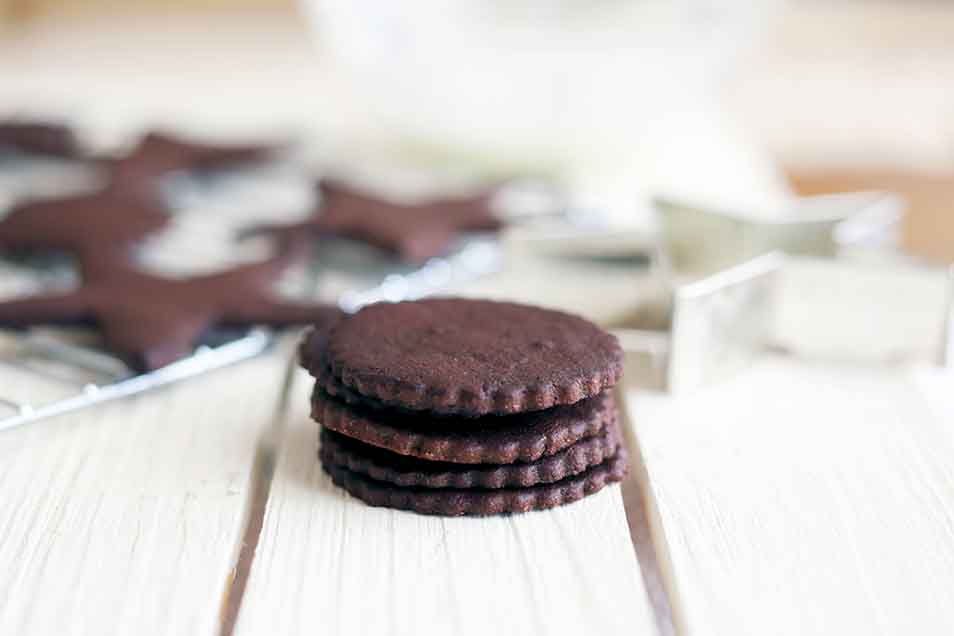 Holiday cookies don't always have to be sugar and spice, they can indeed be deep, dark and delicious. Our black cocoa will make these cookies a vibrant background for brilliantly colored icings and sugars.
Instructions
Beat together the sugar, butter, baking powder, vanilla, espresso powder, and salt until fluffy. Scrape the bottom and sides of the bowl.

Beat in the egg. Scrape the bottom and sides of the bowl again.

Whisk together the cocoas and flour, then beat into the egg and butter mixture until well blended.

Refrigerate the dough for 30 minutes, or up to overnight.

Preheat your oven to 375°F. Lightly grease 2 baking sheets, or line with parchment.

Divide the dough in half. Sprinkle both sides of each piece with extra cocoa, to keep the dough from sticking.

Working with one piece of dough at a time, roll 1/8" thick.

Cut into desired shapes with a cookie cutter. Place the cookies on the prepared baking sheets.

Bake the cookies for 8 to 10 minutes, until their edges are firm and you start to smell chocolate.

Remove them from the oven, and allow to cool completely before decorating.

Yield: eighteen 3 1/2" by 2 1/2 " cookies, or more smaller cookies.
Reviews
These worked out perfectly, a nice crisp-tender dark chocolate cookie. I agree it is like a softer version of an Oreo, not too sweet and ideal for icing. I was surprised how much cocoa I used in rolling out the dough. Next time I would refrigerate the scraps a bit before re-rolling, as the dough was hard to handle when it got soft. FYI, I gave the dough quite a thorough chilling, overnight plus, and it was stiff but cooperative. Also, I left out the espresso powder and didn't miss it.
OMG these taste awful! I can't believe this is a KAF recipe! I followed the recipe exactly. These really need more sugar, and I don't know what else. I threw away the first batch, as well as the rest of the dough, since no one in the family found them at all palatable. Also, I found this dough very hard to work with. I chilled the dough a bit more than the half hour indicated in the recipe, but still found it very hard to cut out shapes with my cookie cutters - I could not pull away the excess dough cleanly. Perhaps simple circles would work better, but anything more intricate than that would require overnight chilling or perhaps more flour in the dough, as it's very soft.

Hi Kitsia, we're truly sorry to hear about your frustrating baking experience with this recipe. This recipe is one of our favorites for making chocolate cookie sandwiches and holiday cutout cookies, so we're genuinely surprised to hear that you found both the flavor and texture so wildly off from what we'd hope for. It's possible that an ingredient substitution or measuring error caused the dough to contain too much cocoa powder and gave it a bitter flavor. We'd be happy to troubleshoot further if you give our Baker's Hotline a call at 855-371-BAKE(2253). We hope to help point you in the direction of delicious, perfect shaped chocolate cookies soon. Kindly, Kye@KAF
The flavor and texture were excellent! I read another reviewers note about rolling between parchment sheets and then chilling the dough and had excellent results - no extra flour or cocoa needed. They baked off beautifully with nice sharp edges (I cut out hearts). The texture is very delicate and soft. I followed the recipe exactly, but I only had Hershey's Dark Chocolate cocoa powder on hand so I used 1/2 cup of that only. I do think the cookies are a little boring on their own, but I intend to frost with a buttercream icing and I think they're perfect for that!
The cookies tasted wonderful but I had a hard time rolling them out. I used KAF flour, weighed measurements, and chilled over night. Ended up adding about 1/2 a cup more flour and it worked better. I would make again. The children loved them.
I concur with one of the reviewers that said they're like Oreo cookies. Wow. And they're dark enough that I'll probably just do some outlining in white and forget about other colors or glazes. It worked well with my cookie cutters.
For those interested in slightly brownie-like cookies that still work well with cookie cutters, here are some small changes I made: I used 2 eggs, 2 1/2 cups of flour, and a mix of brown/white sugar. I also cut down on the butter by about 3 tbsp (only because I didn't have a full 2 sticks), and baked them for 6 minutes. They were delicious!
Great cookie. Not the most structurally stable (or how thick I rolled it and baked it) but flavor is great. Will be in rotation now.
This is my new go-to recipe for chocolate cookies. They hold their shape very well, and we love the intensely dark flavor! A few things I did differently: added half granulated sugar and half brown sugar, used all black (or dark) cocoa powder instead of half Dutch processed, mixed everything in my food processor, and rolled the dough out in between sheets of parchment paper. After freezing for 15 minutes I just had to pull off the top sheet of parchment paper and cut out mini hearts which stayed in perfect shape while they baked. Superb!
I love these cookies. I made some as sandwich cookies with hazelnut spread, and I left some plain. I liked the plain cookies much better. I did not add the espresso powder (I don't think espresso powder "enhances" the chocolate flavor; it makes the product taste like mocha rather than chocolate), and used all Dutch process cocoa. It created a beautiful, very chocolate-flavored cookie. I will definitely make these again.
These deserve every bit of four stars, because they turned out just the way the recipe and photos indicated they would, and they looked pretty cool when cut with the musical note cookie cutters that I got from K.A.F. However, they tasted to me a lot like the dark cookie part of Oreos, with that same dry-ish consistency that Oreos have. (I am not an Oreos fan). I baked a couple trays of these and decided to freeze the rest of the dough for a rainy day. I think the reviewers who talk about making these into sandwich cookies are on the right track...it needs a little something.