A customized print-friendly version of this recipe is available by clicking the "Print Recipe" button on this page.
Classic American Salt-Rising Bread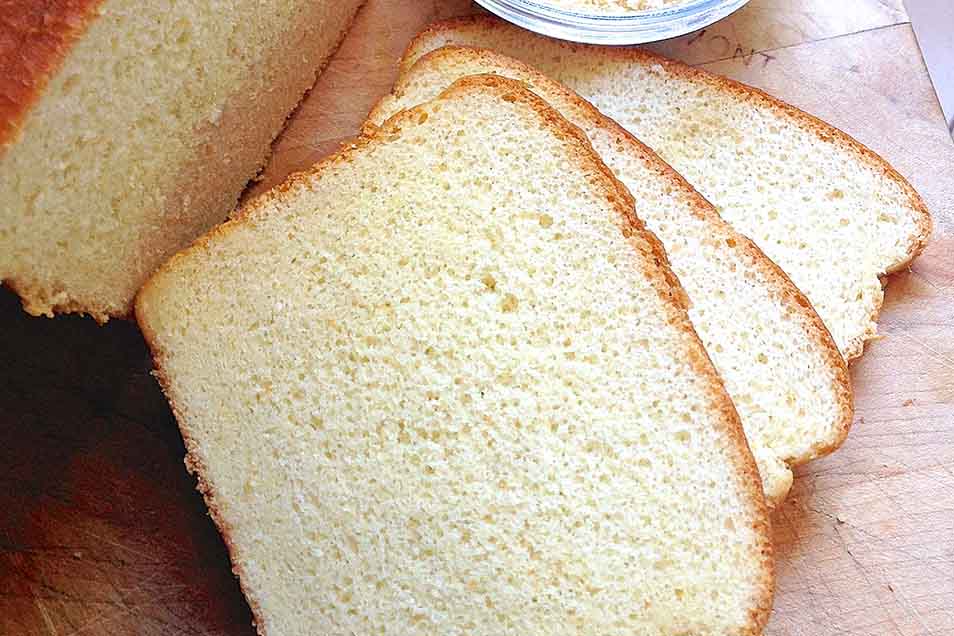 This recipe comes to us courtesy of the late Bernard Clayton, a fine gentleman and author whose books we've long admired. We've made a few minor changes, but a very similar version of this recipe appears in Bernard Clayton's New Complete Book of Breads. Clayton, in turn, cited its publication by the Ladies Aid Society of the First Presbyterian Church of Polson, Montana, in 1912. Now, we're pleased to pass it along to you. This traditional American bread recipe, made without yeast, is worth saving — and savoring.

We urge you to read this recipe start to finish before beginning, in order to plan a timeline. We also suggest you read our "tips," below — so you're not surprised by the bread's unusual aroma as it rises and bakes.
Ingredients
Starter 1
1/4 cup milk
2 tablespoons cornmeal
1 teaspoon sugar
Instructions
To make Starter 1: Heat the milk until it's nearly but not quite boiling; small bubbles will form around the edge of the pan (or microwave container), and you might see a bit of steam. This is called "scalding" the milk.

Cool the milk until it's lukewarm, then whisk together the milk, cornmeal, and sugar in a small heatproof container. The container should be large enough to let the starter expand a bit. Whisking vigorously will help prevent lumps.

Cover the container with plastic wrap, and place it somewhere warm, between 90°F and 100°F. We find our turned-off electric oven, with the light turned on for about 2 hours ahead of time, holds a temperature of 95°F to 97°F, perfect for this starter.

Let the starter rest in its warm place overnight, or for 8 to 12 hours. It won't expand much, but will develop a bubbly foam on its surface. It'll also smell a bit fermented. If it doesn't bubble at all, and doesn't smell fermented, your starter has failed; try again, using different cornmeal, or finding a warmer spot.

To make Starter 2: Combine the hot water (120°F to 130°F) with the salt, baking soda, and sugar, stirring to combine. Add the flour, stirring until everything is thoroughly moistened.

Stir Starter 1 into Starter 2.

Cover the bowl with plastic wrap, and place it in the same warm spot Starter 1 was in. Let it rest until very bubbly and doubled in size, 2 to 4 hours. If it's not showing any bubbles after a couple of hours, move it somewhere warmer. If it still doesn't bubble after a couple of hours, give it up; you'll need to start over.

Transfer your bubbly starter to a larger bowl, or the bowl of a stand mixer (or your bread machine bucket).

Stir in the soft butter, salt, and flour. Knead until smooth; the dough will be soft, and fairly elastic/stretchy.

Shape the dough into a log, and place it in a lightly greased 8 1/2" x 4 1/2" loaf pan.

Cover the pan, and place it back in its warm spot. Let the loaf rise until it's crowned about 1/2" to 3/4" over the rim of the pan, which could take up to 4 hours or so. This won't form the typical large, domed top; it will rise straight up, with just a slight dome.

Towards the end of the rising time, preheat the oven to 350°F.

Bake the bread for 35 to 40 minutes, until it's nicely browned. Again, it won't rise much; that's OK.

Remove the bread from the oven; if you have a digital thermometer, it should read about 190°F to 200°F at its center. Wait 5 minutes, then turn it out of the pan onto a rack to cool.

Store cooled bread at room temperature for 5 to 7 days; freeze for longer storage.

Yield: 1 loaf.
Tips from our bakers
If you've never made salt-rising bread, please be prepared to trust us through some of the following procedures. Yes, it's supposed to smell that way. Yes, it's very important to keep the starter warm. If you're willing to take on a challenge (which this will be, if you live in a drafty house in a cold climate), the end result will be a distinctively flavored, fine-grained loaf of bread that will stay fresh for almost a week; and makes wonderful toast, as well.

The bread's aroma is redolent of cheese, but there's no cheese in this bread; the flavor comes from the slight fermentation of the ingredients, during the bread's preparation. Speaking of fermentation, be prepared; the starter and dough will smell like... dirty socks? Old sneakers mixed with Parmesan cheese? Somewhat unpleasant, anyway, but please bear with it — it's just the enzymes and bacteria doing their jobs and giving the bread its special qualities. If you've ever made cheese or yogurt, you know exactly what we mean.
Can you double this recipe? Thanks to our intrepid readers, who tested this out for us, yes. One reader reports having better results with the doubled recipe when cooling the scalded milk in starter #1 to lukewarm before combining with the cornmeal, so keep that in mind.
Reviews
I used the oven light method (which I will use from now on when waiting on things like pizza dough and other breads to rise) and it worked perfectly. As a few others have said, mine never did develop the funky smell I remember from childhood (I think because my grandmother made it using potatoes fermented in water/cornmeal) but the resulting bread was as delicious as I could have hoped for. The key that it was successful was in that wonderfully crumb-like texture. I'd recommend letting it ferment the full 12 hours, letting the 1st and 2nd starter mixture ferment for the full 4 hours, and the complete dough mixture to rise for the full 4 hours before baking. It seems the more time you take with this bread the better it is.
I have used other recipes. This recipe made the bread with the best aroma flavor and texture. I was amazed! My wife was repulsed by the smell as I began to knead the dough. She declared that I would never make that bread again BUT I AM! We had a bakery in Macon, Waldorf's Bakery, that closed in the1980's that made my standard of salt rising bread. My previous efforts were OK but below their standard. This one surpassed their flavor. I also believe that I did not let the starter develop well enough before which might have diminished the flavor. As a food chemist, I was tempted to add to the cheesy flavor. I am glad that I refrained. I'll make another batch next week as this will not last long!
I made my first loaf of salt-rising bread today using this recipe. I followed the direction as written and chose to take the tip of using my oven with the light on. The resulting bread was delicious! Interestingly, at no point did the starters or the finished loaf have the typical cheesy smell, but the first starter was slightly bubbly, the second starter rose, and the resulting bread was excellent.
I grew UP on this bread, this is exactly how (except for the fancy appliances) my grandmother and mother made it... nothing smells better than to come home from school and knowing Mom was making bread!!! and to heck with the Planning... if you are taking fresh baked bread out of the oven at 2am... you wake up the kids ... grab the butter and have a party!!!
I make at least 12 loaves at a time for our bakery. This is The perfect recipe . Only thing I change is using white, Unbolted cornmeal . We make all types of bread and this is my favorite ...
I have made nearly every bread there is from bagels to sour dough to French to challah... I am more than frustrated. I have made this or attempted 6 times... have a proofer and everything. All goes well until the final leg... I am not lacking in skill ... but golly ... this is maddening... especially getting up st 3:00 am to make the second starter!

We're here to help and make the process a little easier, Abby! We'd love the chance to talk through the recipe with you, so we encourage you to reach out to our free and friendly Baker's Hotline staff to help troubleshoot at 855-371-BAKE (2253). Kindly, Annabelle@KAF
I have made nearly every bread there is from bagels to sour dough to French to challah... I am more than frustrated. I have made this or attempted 6 times... have a proofer and everything. All goes well until the final leg... I am kit lacking in skill but golly ... this is maddening... especially getting up st 3:00 am to make the second starter!

Hi Abby, we completely understand your frustration as what is known to be a difficult culinary challenge: making a salt-rising starter. Each environment offers unique factors that can change the micro-organisms in the starter, sometimes boosting or compromising overall success. We encourage you to give the Baker's Hotline a call at 855-371-BAKE (2253) so we can hear more about your ingredients, method, and offer some tips about how you might achieve better results. We look forward to your call. Kindly, Kye@KAF
I have been trying to find this recipe for a long time. It's called a different name in my country and it seems like it's also a old style of baking bread and a style that is dying and nobody really knows about it or how to bake it any more. This recipe worked flawless and the bread came out perfect and even looked beautiful. Thanks for a great recipe and website!
I grew up on Salt Rising Bread. The heady fragrance intoxicated me as a budding child baker. My favorite ways to enjoy the the bread are sliced thick and toasted and then bathed in a bounty of melted butter. I also really enjoy the Salt Rising Bread as the shell of of a grilled Goetta,Egg and American Cheese Sandwich. The Goetta is a regional breakfast meat, made of cooked pork, pinhead oats and spices. You can find it at Kroger under the brand name of Gliers from Covington,KY. Try it on your SRB...YOU'LL LOVE IT!!! I've used this recipe many dozens of times. Trust it truly and you can't go wrong. Also,there are just 2 cookbook series for baking that I own, the series by King Arthur Flour and the other is The Bible Series by Rose Levy Berenbaum. Again,with wise choices,you just can't go wrong. Bon Appetit!
I've baked a lot of different kinds of bread, but I'd never eaten or even heard of salt-rising bread until this week when a friend asked me if I'd ever had it. He sent me a link to an article about it and I had to make it. I used this King Arthur recipe and it came out beautifully. And it toasted like a dream today - perfect with fried eggs and made a great ham sandwich for lunch. There may be a few reasons for it being successful the first time and I want to share my hunches about that. I already had a proofing box which I've used not only for making bread, but also for making yogurt, buttermilk and creme fraiche. That meant I could set the temperature for the starters and keep it steady (I set it for 100 degrees F). Also, having made cultured milk products I know that ultra pasteurized milk won't work for culturing. You need to use either raw or just pasteurized milk. And I used cornmeal that hadn't been degerminated. I believe all those ingredients contributed to creating the kind of starters the Appalachians had for making this bread.I'd also like to recommend a wonderful book by Genevieve Bardwell and Susan Ray Brown "Salt-Rising Bread." These women have done fascinating research and created Rising Creek Bakery in PA where they sold salt-rising bread to customer who traveled many miles to get a taste of their past.