A customized print-friendly version of this recipe is available by clicking the "Print Recipe" button on this page.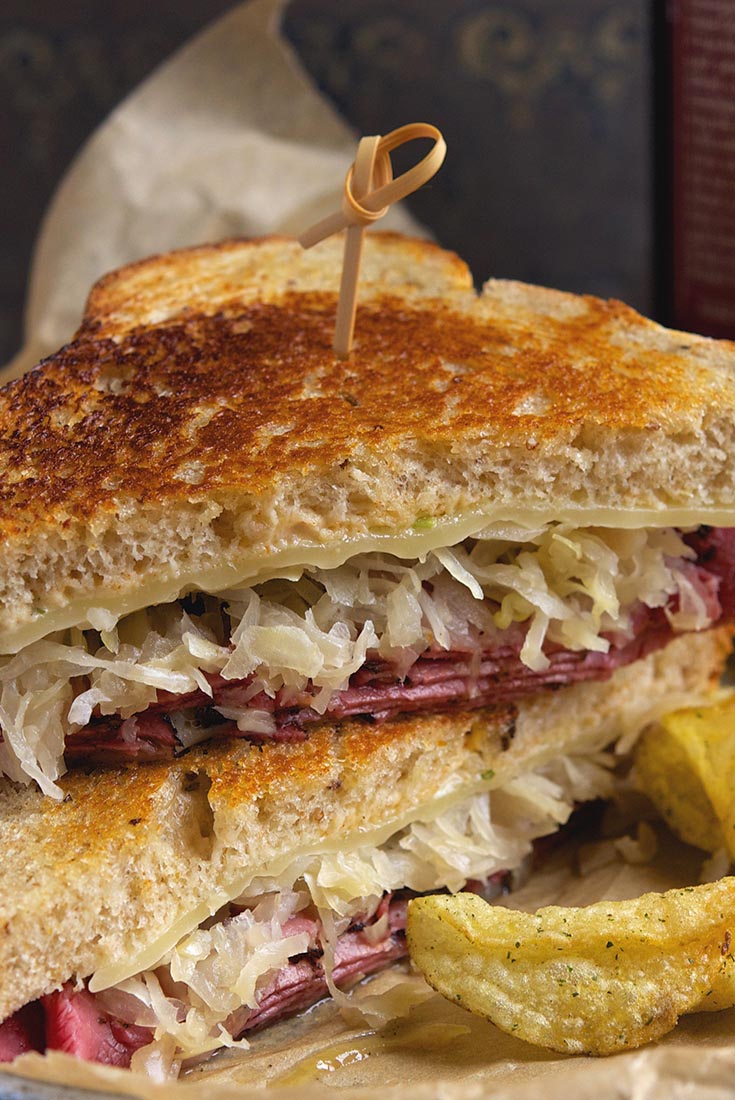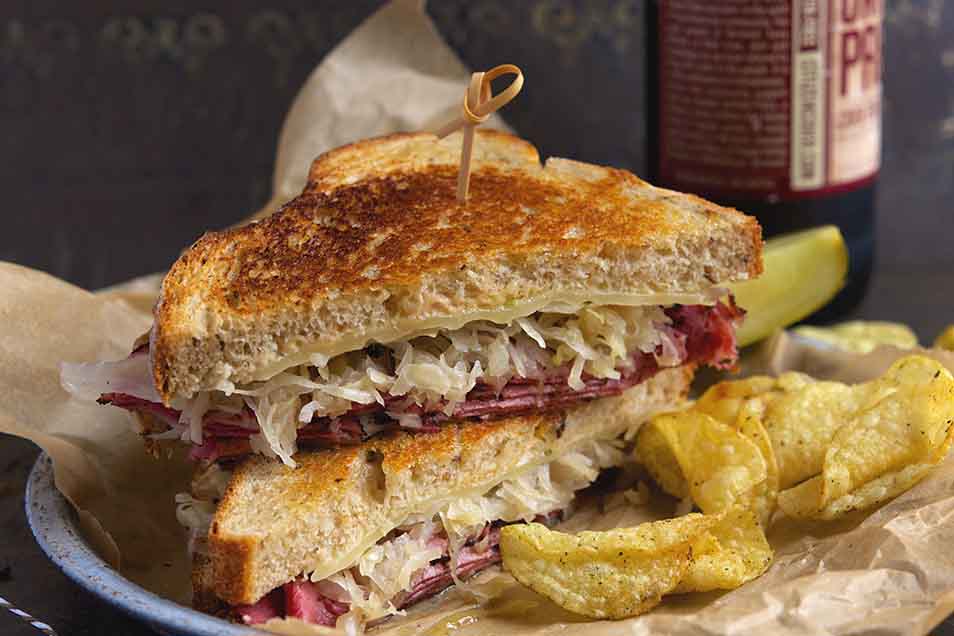 This easy-to-slice rye bread (no crumbling!) is perfect for sandwiches: pastrami, corned beef, a Reuben, or just plain grilled Swiss. It also makes tasty toast, a nice accompaniment to scrambled eggs. Its secret ingredient is dill pickle juice, which gives the bread delightful tang and contributes to its moist texture.

Our guarantee: This bread will be moist, fine-grained, and easy to slice, with assertive flavor typical of rye bread: caraway and a touch of sharp mustard, with a mildly sour tang. It's not a high-riser, but should be about 4" to 4 1/2" tall at the center when done.
Ingredients
2 1/2 teaspoons instant yeast or active dry yeast
2/3 cup to 7/8 cup lukewarm water*
1/4 cup vegetable oil
3/4 cup dill pickle juice
1 1/2 teaspoons salt
1 tablespoon sugar
1 1/4 teaspoons caraway seeds
1 1/4 teaspoons dill seeds
1 tablespoon yellow mustard seeds OR 1 tablespoon prepared Dijon mustard
3/4 cup instant mashed potato flakes or 1/4 cup potato flour
2 1/2 cups King Arthur Unbleached Bread Flour
1 1/3 cups pumpernickel
*Use the lesser amount in summer (or in a humid environment), the greater amount in winter (or in a dry climate), and somewhere in between the rest of the year, or if your house is climate controlled.
Instructions
Combine all of the dough ingredients, and mix until clumps form; the dough may seem dry at this point. Let it rest for 20 minutes, for the flour to start to absorb the liquid.

Knead the dough—by mixer or bread machine set on the dough cycle—to make a stiff, but fairly smooth dough. It'll take about 7 minutes in a stand mixer at second speed, using the dough hook. The dough should clean the sides of the bowl; if it doesn't sprinkle in a bit more all-purpose flour. We don't recommend kneading this dough by hand, as it's hard to develop the gluten sufficiently. If you DO knead by hand, realize that the dough will take longer to rise, and won't rise as high.

Place the dough in a lightly greased bowl, cover the bowl, and let the dough rise till it's puffy, about 1 to 2 hours. It may or may not have doubled in bulk, but it definitely will have expanded.

Gently deflate the dough, and shape it into a log. Place the log in a lightly greased 8 1/2" x 4 1/2" loaf pan (for a stiffer dough), or 9" x 5" loaf pan (for a slacker dough). Press it to the edges of the pan, and flatten the top.

Tent the pan with greased plastic wrap, and allow the loaf to rise till it's crowned about 1" to 1 1/2" over the edge of the pan, about 1 to 1 1/2 hours. Towards the end of the rising time, preheat the oven to 350°F.

Bake the bread for 20 minutes. Tent it lightly with foil, and bake for an additional 20 minutes. When done the bread will be golden brown, and its internal temperature will register 190°F on an instant-read thermometer.

Remove the bread from the oven, wait 5 minutes, remove it from the pan, and allow it to cool completely on a rack before slicing. Store for up to a week at cool room temperature.
Nutrition Information
Serving Size

1 slice (50g)

Servings Per Batch

16
Amount Per Serving:
Calories

150

Calories from Fat

35

Total Fat

4g

Saturated Fat

0g

Trans Fat

0g

Cholesterol

0mg
Sodium

260mg

Total Carbohydrate

24g

Dietary Fiber

2g

Sugars

1g

Protein

4g
* The nutrition information provided for this recipe is determined by the ESHA Genesis R&D software program. Substituting any ingredients may change the posted nutrition information.
Tips from our bakers
Homemade rye bread can be quite a challenge; if you're a beginning bread baker, please become familiar with the bread-baking process by trying a simpler loaf (like our White Sandwich Bread) before tackling this one.
Substitute white or medium rye flour for the pumpernickel, if desired.
This bread has a sensitive liquid-flour ratio. The finished dough should be smooth and easy to handle; it shouldn't be sticky. If it's sticky, understand that the rising times may be shorter; a slacker (stickier) dough usually rises faster than one that's stiffer.
We've baked this successfully in both an 8 1/2" x 4 1/2" loaf pan, and a 9" x 5" loaf pan. If your dough is at all sticky, we recommend using the larger size pan.
For a wonderfully close-grained, square-corner sandwich loaf, press the dough into a 9" x 4" pain de mie pan. Bake the loaf as directed, removing the cover and tenting loosely with foil for the final 15 minutes of baking.
This is a great place to use your "discard" sourdough starter. Substitute up to 8 ounces starter for an equal weight of bread flour/water; e.g., substitute 6 ounces starter for 3 ounces water and 3 ounces bread flour. The starter will give the bread subtle tang.
Reviews
Wow! What a scrummy loaf. I worried about the flavor being too busy with all the add-ins, but it was lovely. The texture was great. I followed the tips and added 6 oz of discard sourdough starter (I use metric, so calculated 170 g., leaving 213 g. additional all-purpose flour and 67-113 g. additional water). Although it is summer and humid outside, my house tends to be a bit on the dry side so I aimed for the middle range on water. During the initial mix, I added a splash more. I used the 8.5x4.5" loaf pan. It had a beautiful final rise in the oven. I will definitely be making this again.
Functionally, there is nothing wrong with the recipe, it produces a nice, soft squishy kind of bread and therein lies the problem. I grew up with, hence my expectations, a hearty, strong flavored rye bread with a distinct, nutty, flavor and characteristics. This soft, squishy, bread has a strong vinegar/dill flavor which can enhance the flavor of some meats and vegetables, however, if there is an expectation of a serious rye characteristic, this bread is a disappointment.

We apologize for your disappointment with the soft, sandwich-bread like qualities of this loaf. We think we have just the recipe you're looking for, however. Consider using the recipe called Jewish Rye Bread, which can be found by typing this title into the search box above. The Jewish Rye Bread has a crust that crackles when you bite into it and a slightly more open crumb than this loaf. It had a deep depth of flavor and even includes a starter and caraway seeds that make this loaf authentically delicious. Kye@KAF
This is my first COMPLETE FAILURE with a KAF recipe! While I am no bread baking expert I have tried many of the KAF recipes and had good to great success. I was so looking forward to trying this purchased the KAF Pumpernickel flour. I had the KAF Rye Bread Enhancer from a previous KAF Rye Bread recipe. Per the instructions on the Rye Bread Enhancer I did make the addition of this product, 3 TBSP, to the ingredients listed on the KAF site. Also, I live in a very hot, humid part of Texas so reduced the amount of water according to the recipe. My first clue that this was not going to go well was when the Zo kicked on after the rest cycle to knead the dough. With the water, pickle juice and oil there was not enough fluid to make dough. After a few minutes of kneading all I had was something like the consistence of a crumble topping for an apple pie. I dribbled in sufficient extra water to at least make what became very heavy and sticky dough, but it was dough. I had my fears but it rose well, no crater crust but a small valley, and baked into a nice loaf. That is it was a nice loaf until I sliced it. The Cliff Notes version is that I had a large potato dinner roll that only vaguely tasted of rye. It was very soft, almost too soft to slice, the crumb as VERY poor and where did the taste go? Dill pickle juice, mustard, Rye Bread Enhancer, Pumpernickel and Caraway seeds and there was NO TASTE. Again, I am no expert but I followed the recipe exactly and got really poor results. Will not even try this one again to see what I could do different and waste more ingredients. I am now stuck with almost and entire bag of Pumpernickel, darn!

We're sorry to hear that this well-loved recipe didn't do the trick for you, Mark. If we can help pick out a recipe that better fits your tastes or troubleshoot, please give our Baker's Hotline a call at 855-371-BAKE. Kindly, Annabelle@KAF
OMG , OMG , my search for the best rye bread ever ends here . Great job guys, please keep them coming.
Great recipe! My dough was a bit sticky, and it did rise well. I've left it overnight, and literally, not only doubled, but tripled in size :) It has very nice and clean taste. It is now one of my favorite recipes.
Great recipe! My dough was a bit sticky, and it did rise well. I've left it overnight, and literally, not only doubled, but tripled in size :) It has very nice and clean taste. It is now one of my favorite recipes.
I'm mad for this bread. It is incredibly yum. I didn't have instant potato flakes so subbed with plain boiled red potato, using that cooking water for the water measure. Like others wrote, I also increased the caraway and dill seed to 2 teaspoons of each, but kept the mustard seed unchanged, and that was great to my taste. Since the recipe invites the inclusion of sourdough if one desires, I did add just two tablespoons of my whole wheat sourdough starter to the rye flour and recipe water (potato water in my case scenario) and that ready-ripened in just a few hours. That added an additionl of actic and acetic acid's tang that I guess is a benefit also reputed available through KA's rye bread improver, as I've read researching KA products from mentions in comments. I also do like the malt flavor in some breads so I added barley malt syrup instead of the sugar. And by chance I needed to use part all-purpose flour, I added 3 T. of wheat gluten in addition to the 300g or @ the 1-1/2 cups of white flour measure. The bread crumb was very soft/moist/chewy snd medium dense of crumb. I loved it but even reducing the yeast by half, the bread rise took just 1 hour and it insisted on a brief second rise as well, and because it was threatening to breach the loaf pan I used (an 8x4-1/2 ", too small!), I placed that pan inside a moist clay baker and while it still breached it didn't burn and was just as good as that which remained in the loaf "proper"! So next time I would definately use a 9x5" pan and maybe keep closer tabs on the final-rise>>bake timing. ;)
Altered this recipe considerably - added dill weed instead of seed, used AP flour instead of potatoe flakes, AND kneaded by hand, and it sill came out FANTASTIC. Used it to make some amazing ruebans.
My first attempt at this bread left a lot to be desired. It was super salty, did not rise as much as I had hoped, and we felt the caraway and dill flavors a bit too 'subtle'. But my husband and I decided that the 'bones' of this recipe were good, so I tried again, making several adjustments. I suspect different brands of dil pickles use different amounts of salt in their brines. Plus, we just don't eat enough dill pickles to keep up with the brine requirements for as often as we know we will make this recipe. So, for my second attempt, I made my own dill pickle 'brine', following (but cutting the quantity of) a dill-pickle recipe in one of my canning books, except that I eliminated the salt. (Now I make the full recipe and keep the excess in the fridge, ready for my future bakes. I do let the cold brine warm up in a bowl of warm tap water before adding it to the dough ingredients, so it doesn't slow the rise.) My husband and I like a more assertive caraway / dill flavor to our rye breads than this recipe called for, so I increased the amounts of caraway and dill seed to two teaspoons each. I also added the minimum amounts suggested of KAF Rye Bread Improver and KAF's Deli Rye Flavor, to see how they would work. What an impressive difference they made in the flavor and texture of this bread! Keeping in mind the recipe's Note that rye breads can are sensitive to their water/flour ratio, I added a tablespoon or two more water than the recipe calls for, so the dough wasn't quite as dry. That small adjustment contributed to a faster and higher rise. With those additions and adjustments, this bread recipe is now one of our go-to favorites. The flavor is outstanding -- complex and well rounded. The loaf rises beautifully. The crumb and crust are perfect, and the bread slices nicely. And the bread keeps very well, too! (We love the KAF bread bags and clips.) This bread is now the best sandwich rye bread we've ever tasted, bar none. Thank you KAF!
I've made this recipe so many times and with so many variations and I wanted to share my results. First up, straight up as-is, this recipe rocks! It's awesome with no deviations, created as written. Now, for some if my experiments! And they've all been successful which is pretty much unheard of for such a specific recipe. I always double the recipe to make 2 loaves and I also knead by hand. I do not own a mixer. I usually knead for about 20 minutes (my arms get a great work out!) And I haven't experienced any trouble with the crumb texture. My dough usually takes 2 hours for the first rise but it is not a big rise as you're used to with just regular flour yeast recipes. After separating into 2 pans, the second rise takes about 1.5 hours, give or take our house temp that day. I've tried pumpernickel and rye flour and both are fabulous! I've used pickle juice, olive juice, and jarred jalapeno juice in this recipe and various combinations of each. I love the kick with the jalapeno juice but would not recommend using it exclusively! That was the only loaf that we weren't wild about so I now add it only in conjunction with other juices. I usually use more caraway seeds and dill seeds than the recipe calls for simply because I love strong flavored bread. If you love strong tasting bread too, I definitely suggest using any of the adjustments I've listed above! Regardless, this recipe is fantastic as-is, and don't be scared away if you don't have a mixer!