A customized print-friendly version of this recipe is available by clicking the "Print Recipe" button on this page.
Classic Lemon Meringue Pie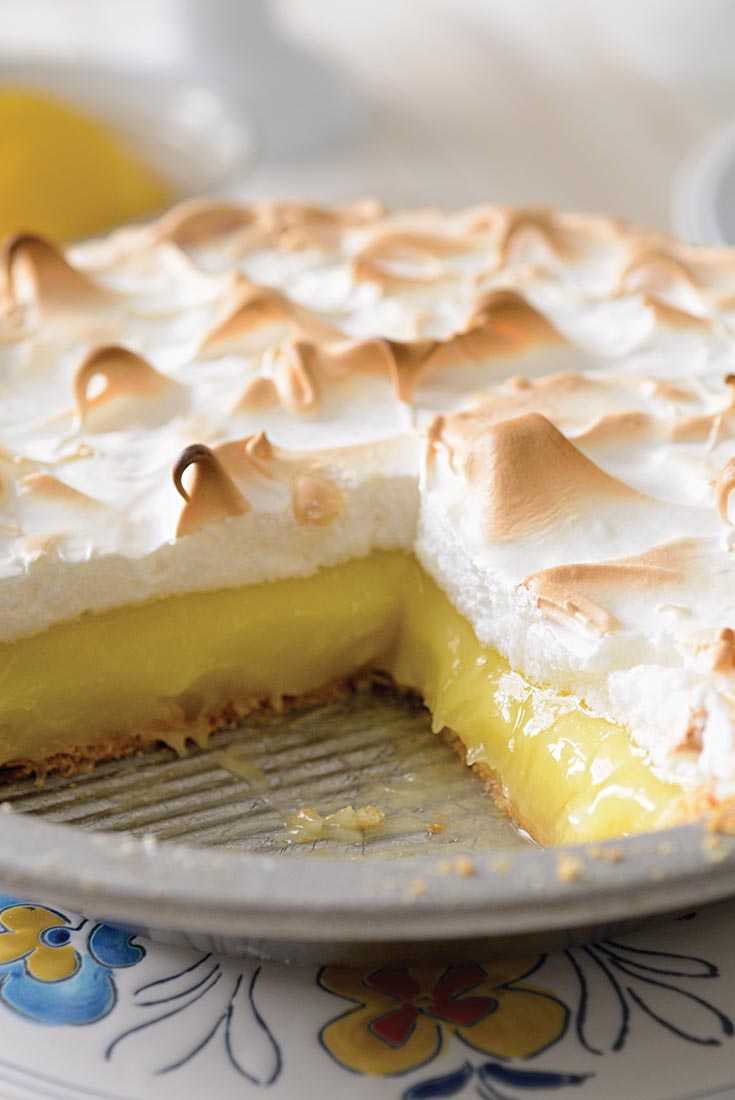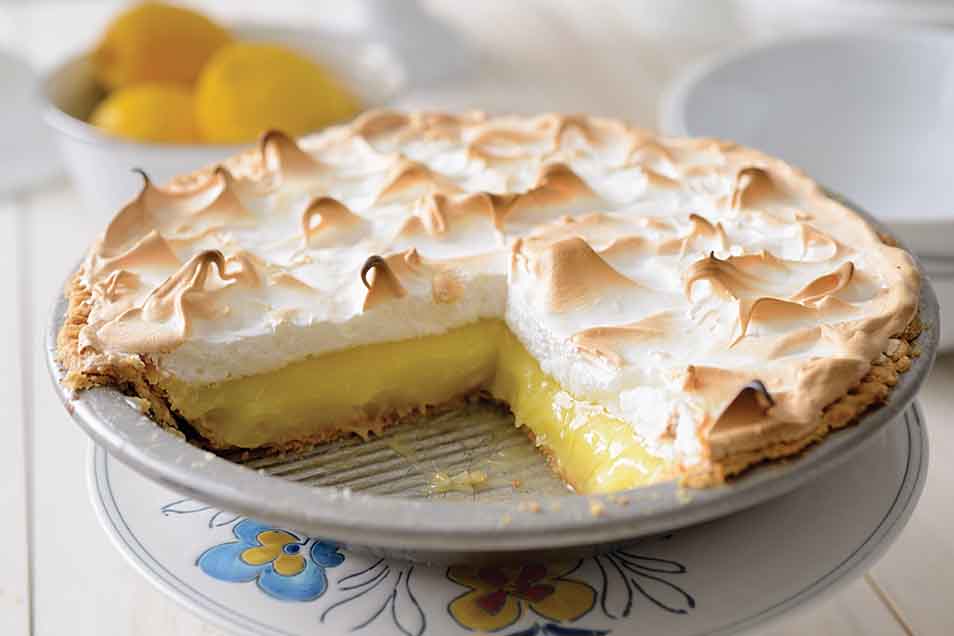 Lemon meringue pie is one of America's favorite pies. Why do we like THIS version? Its filling is perfect: not too tart, not too sweet, bursting with lemon flavor. And the crust is made with vegetable oil rather than butter or shortening. Use a very mild olive oil, and you'll be treating yourself to a heart-healthy "good fat." Looking for a more typical butter/shortening crust? We highly recommend our Classic Single Pie Crust.

Note: Thanks to reader feedback, as of 4/4/17 we've clarified the instructions to produce a more reliably thick filling, one that stays in place when cut and isn't at all "soupy."
Ingredients
Filling
1 1/2 cups sugar
6 tablespoons cornstarch
1 1/2 cups cold water
3 large egg yolks, whites reserved
3 tablespoons butter
grated peel of 1 large lemon
1/2 cup lemon juice (juice of about 2 lemons)
1/2 teaspoon vanilla extract
Instructions
Preheat the oven to 425°F.

To make the crust: Whisk together the flour and salt. Whisk together the oil and milk, and add to the dry ingredients, stirring until cohesive.

Roll the crust to about 12" diameter on a silicone rolling mat with a piece of plastic wrap on top (between crust and rolling pin); or between two sheets of parchment or waxed paper.

Place the crust carefully into a 9" pie pan. Press the edges gently with the tines of a fork, to flatten. Prick the bottom of the crust 6 to 8 times with a fork, to keep it from puffing as it bakes.

Bake the crust (no need for pie weights) for 12 to 15 minutes, until it's beginning to brown. Remove it from the oven.

Reduce the oven heat to 400°F. While the crust is baking, prepare the filling.

To make the filling: Combine the sugar and cornstarch in a saucepan. Stir in the water.

Cook over medium heat, stirring frequently, then constantly as it gets hotter, until the mixture thickens and comes to a boil. Boil, stirring, for 1 minute.

Put the egg yolks in a small bowl. Stir about 1 cup of the boiling sugar mixture into the yolks.

Return the hot yolk mixture to the saucepan. Bring to a "thick" boil (remember those burps?) and boil, stirring constantly, for 1 minute. The filling should be very thick, almost like cooled pudding or soft mashed potatoes.

Remove the fillingfrom the heat, and add the butter, grated peel, juice, and vanilla, stirring until the butter melts. Spoon the filling into the crust.

To make the meringue: Place the egg whites and cream of tartar in a large bowl, and beat until foamy.

With the beater going, gradually add the sugar, beating until the mixture holds a stiff peak; when you lift the beater out of the meringue, the meringue will stand straight up, with just its top curling over. Add the vanilla at the end.

Spoon the meringue atop the hot pie filling, bringing it all the way to the edge of the pan (and covering the crust).

Bake the pie for 8 to 10 minutes, until the meringue is as golden brown as you like it. Remove it from the oven, and allow the pie to cool for several hours before serving. Cover and refrigerate any leftover pie.
Nutrition Information
Serving Size

170g

Servings Per Batch

8
Amount Per Serving:
Calories

410

Calories from Fat

140

Total Fat

16g

Saturated Fat

4.5g

Trans Fat

0g

Cholesterol

125mg
Sodium

180mg

Total Carbohydrate

68g

Dietary Fiber

1g

Sugars

47g

Protein

6g
* The nutrition information provided for this recipe is determined by the ESHA Genesis R&D software program. Substituting any ingredients may change the posted nutrition information.
Tips from our bakers
Don't worry if the dough tears a bit as you work with it; this is a very easy crust to patch, and no one will ever see your mistakes!
Reviews
My 5 year old son requested lemon meringue pie, just like Amelia Bedelia makes. After being served many gummy or jelly lemon meringue pies, it isn't my favorite and was a little intimidated by making one, so off to King Arthur I went in search of a recipe. I followed the recipe exactly (well maybe I added an extra minute to the boiling time to be sure it'd set) and it turned out beautifully. It looked just like the picture and was the perfect balance between sweet and tart. This recipe is a keeper!
it was soup on the inside.

We're sorry to hear that your pie never set in the center. It sounds like the filling never got to the boiling point for a full minute to set up the cornstarch and allow the mixture to firm up once cooled. We've found that bringing the mixture to a bubbly, thick boil, and stirring constantly over the heat for one minute allows the cornstarch to do its thing once it begins to cool and set. We hope this helps! Annablle@KAF
I wanted to make the mile high but didn't have all of the ingredients so baked this one. I was a little hesitant about the crust but I had no problem rolling it out between two sheets of parchment paper. I had a problem placing it in the plate. It didn't come off the paper very easily. I pieced it together. It baked up beautifully with hardly any shrinkage. The filling was easy to make. I added a little more lemon juice with some lime juice because I don't like it too sweet. The meringue was beautiful, picture perfect. I just wish it would keep its height after it cools down. I even added more egg whites from a carton, so that I could get more height. The color was gorgeous though. It set up perfectly.
Please ignore my first review. I baked the crust, then let cool completely before adding the filling. Brought the filling to a boil, then turned down heat to low and let the filling simmer for 3 minutes. Then cooled the filling before placing/baking the merigue on top. Came out perfect with no beading or running. I have made this pie several times in the past from a recipe I found somewhere, not sure where. I found that if the cornstarch is not fresh, it doesn't fully set.
This recipe is fantastic: easy, quick to make and tastes wonderfully. I rolled the crust between two sheets of plastic wrap to achieve a fine crust and it worked very well, the crust turned out light and thin but strong enough to hold the filling. I don't get on well with meringue so I used vanilla whipped heavy cream. With the leftover egg whites I'm going to make Amaretti.
Greatly enjoyed this recipe. I have tried making it 3 times now, originally with a pre-baked butter crust, and most recently, with the oil crust in the recipe. I found that I was a little short on pie dough, but other than that it was nice to have a "lighter" flavored crust with the bright lemon filling. I'm still experiencing issues with the meringue "beading" after baking - especially after being refrigerated. My next attempt I will try baking the pie with meringue at 425 for a shorter time, to see if that helps, and perhaps using a thermometer to see when exactly the meringue is cooked. (I think letting it brown may be causing it to break?) Either way - so much more delicious and pure than anything bought at a store.
I am pleased to know you are enjoying this recipe! Using eggs that are somewhat on the older end will help. Allow them to foam up before adding the sugar gradually. Browning is actually a good thing! And if there is humidity, there will be some beading. Elisabeth@KAF
This is the worst pie crust recipe I have ever made. It tastes terrible, splits during baking, just awful!!! The filling is also bad. Not even enough to fill a 9" pie crust, tastes bad!!!! Worst pie ever! Don't make it, you are wasting your time and ingredients.

Karla, we're so sorry this recipe was not one that you enjoyed, but thank you for your honest feedback. If you're interested, we'd be more than happy to help you troubleshoot via our Baker's Hotline at 855-371-2253. Bryanna@KAF
I followed the recipe and the lemon mixture was thick until I added the butter, juice and vanilla at the end and it became soup. I poured it into the pie shell hoping it would set but it never did.. I took it to a get-together and we called it lemon soup. I thought maybe I missed something at the end but looked back over the recipe and I didn't see anything I missed.
We're sorry to hear about this, it sounds like the filling may not have quite been cooked enough. We'd suggest giving our hotline a call so that we can help troubleshoot. MJR @ KAF
This is the classic lemon meringue pie that has been around since it first appeared on an Argo cornstarch box and I have been making it for 40 years. It is never runny, always just the right amount of tart and always a celebratory occasion. I don't like the oil crust though, and won't use it. I can only guess from the comments about it being runny that somehow, you missed that this needs to boil for a minute with just the cornstarch and then again once the egg yolks are included (this part is where the pudding thickens and is also where you can get scorching, so be careful, but you have to do it or you will have a runny mess)
This is almost (vanilla was the only difference) the exact recipe that I've been making for years. It's always worked for me...plus, this pie crust was the one my grandmother taught me. The trick for the pie crust is to handle it as little as possible, and be sure you roll it out between waxed paper. I also add a pinch of baking powder, it makes the crust flakey. Once you pour the wet ingredients into the flour, give it a couple of quick stirs, then gather it up with your hands. I give it three or four good turns, gathering it into a ball, roll it out quickly, and flip it into the pie pan, using the waxed paper. I've actually received more compliments on this crust than any other...ok, maybe the KA faux puff pastry gets the same raves... anyway, I was delighted to see you publish this.