A customized print-friendly version of this recipe is available by clicking the "Print Recipe" button on this page.
Classic Lemon Meringue Pie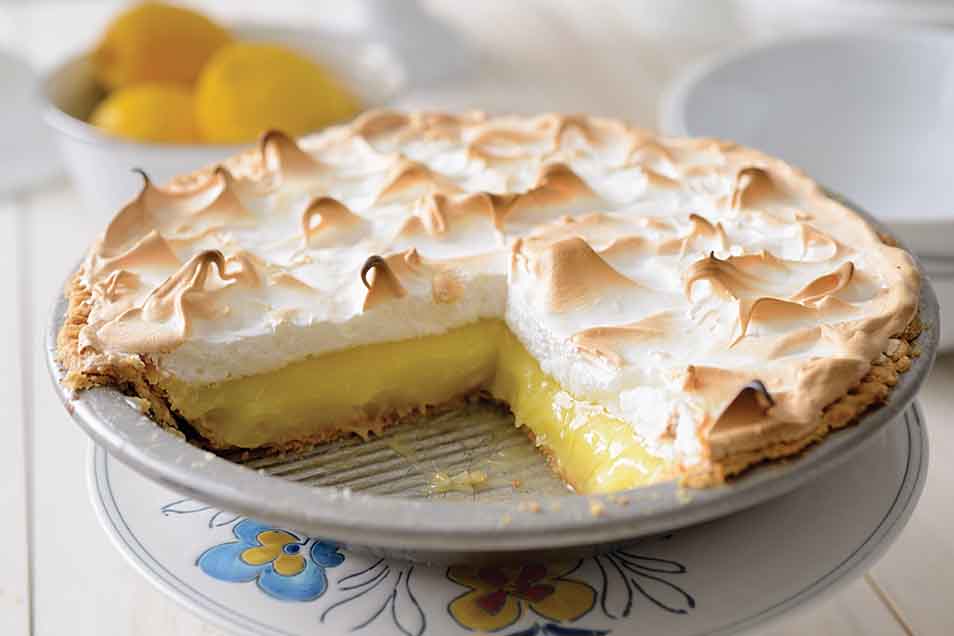 Lemon meringue pie is one of America's favorite pies. Why do we like THIS version? Its filling is perfect: not too tart, not too sweet, bursting with lemon flavor. And the crust is made with vegetable oil rather than butter or shortening. Use a very mild olive oil, and you'll be treating yourself to a heart-healthy "good fat." Looking for a more typical butter/shortening crust? We highly recommend our Classic Single Pie Crust.

Note: Thanks to reader feedback, as of 4/4/17 we've clarified the instructions to produce a more reliably thick filling, one that stays in place when cut and isn't at all "soupy."
Ingredients
Filling
1 1/2 cups sugar
6 tablespoons cornstarch
1 1/2 cups cold water
3 large egg yolks, whites reserved
3 tablespoons butter
grated peel of 1 large lemon
1/2 cup lemon juice (juice of about 2 lemons)
1/2 teaspoon vanilla extract
Meringue
3 large egg whites, reserved from egg yolks above
1/4 teaspoon cream of tartar
3/8 cup (6 tablespoons) sugar
1 teaspoon vanilla extract
Instructions
Preheat the oven to 425°F.

To make the crust: Whisk together the flour and salt. Whisk together the oil and milk, and add to the dry ingredients, stirring until cohesive.

Roll the crust to about 12" diameter on a silicone rolling mat with a piece of plastic wrap on top (between crust and rolling pin); or between two sheets of parchment or waxed paper.

Place the crust carefully into a 9" pie pan. Press the edges gently with the tines of a fork, to flatten. Prick the bottom of the crust 6 to 8 times with a fork, to keep it from puffing as it bakes.

Bake the crust (no need for pie weights) for 12 to 15 minutes, until it's beginning to brown. Remove it from the oven.

Reduce the oven heat to 400°F. While the crust is baking, prepare the filling.

To make the filling: Combine the sugar and cornstarch in a saucepan. Stir in the water.

Cook over medium heat, stirring frequently, then constantly as it gets hotter, until the mixture thickens and comes to a boil. Boil, stirring, for 1 minute.

Put the egg yolks in a small bowl. Stir about 1 cup of the boiling sugar mixture into the yolks.

Return the hot yolk mixture to the saucepan. Bring to a "thick" boil (remember those burps?) and boil, stirring constantly, for 1 minute. The filling should be very thick, almost like cooled pudding or soft mashed potatoes.

Remove the filling from the heat, and add the butter, grated peel, juice, and vanilla, stirring until the butter melts. Spoon the filling into the crust.

To make the meringue: Place the egg whites and cream of tartar in a large bowl, and beat until foamy.

With the beater going, gradually add the sugar, beating until the mixture holds a stiff peak; when you lift the beater out of the meringue, the meringue will stand straight up, with just its top curling over. Add the vanilla at the end.

Spoon the meringue atop the hot pie filling, bringing it all the way to the edge of the pan (and covering the crust).

Bake the pie for 8 to 10 minutes, until the meringue is as golden brown as you like it. Remove it from the oven, and allow the pie to cool for several hours before serving. Cover and refrigerate any leftover pie.
Nutrition Information
Serving Size

170g

Servings Per Batch

8
Amount Per Serving:
Calories

410

Calories from Fat

140

Total Fat

16g

Saturated Fat

4.5g

Trans Fat

0g

Cholesterol

125mg
Sodium

180mg

Total Carbohydrate

68g

Dietary Fiber

1g

Sugars

47g

Protein

6g
* The nutrition information provided for this recipe is determined by the ESHA Genesis R&D software program. Substituting any ingredients may change the posted nutrition information.
Tips from our bakers
Don't worry if the dough tears a bit as you work with it; this is a very easy crust to patch, and no one will ever see your mistakes!
Reviews
I LOVE lemon meringue pie, and finding a good one anywhere is practically impossible, so I decided to try this recipe since I've used other recipes from this site and they always turn out beautifully. I have even become confident enough in my own baking to make adjustments. The one thing I disliked from the original was that I felt the lemon flavour wasn't strong enough. (I like my citrus to be very strong.) So instead of adding the lemon zest at the end, I make lemon sugar by adding the zest to the sugar from the very beginning while I'm getting my other ingredients together. I also have a habit of increasing the recipes by one third to fit my deep dish pie pans, so I adjust the cooking times by adding an extra 30 seconds to the boiling stage and it turns out beautifully. Thanks to all the writers here for their recipes and ideas. While many of us may turn around and make these recipes our own in the end, I at least wouldn't have gotten there without a solid starting point, and that's what any recipe here can be.
I have baked this pie twice now and it's still amazing! The first time I didn't yield enough merengue to generously cover the pie so it cracked but I still received tons of complements on it from very picky lemon merengue pie eaters. I am NOT a good baker but I do follow directions well. This recipe has never given me a soupy filling. The second time I doubled the merengue recipe using egg whites from a carton and the result was absolute perfection. This pie is the perfect combination of tangy and sweet. I am now in charge of the lemon merengue pie for the family Thanksgivings from now until the end of time and this is the only recipe I will be using! Thank you King Arthur!!
As a fan of lemon meringue pie, I decided to take a whack at creating my own following the recipe of the King Arthur site. Wishing to avoid the mistakes of many who complained about creating soupy lemon filling, I hauled out the gram scale and followed the instructions to the letter. The result was a nice thick lemony mix that promised great results forming soft peaks as I spooned the filling into the pie shell. The egg whites produced thick billowy meringue that I pile 5 inches high. Success! It was a great tasting pie except that 12 hours later, refrigerated, my nice firm lemon filling was well on its way to becoming lemon soup. So now I have renewed sympathy for everyone who wrote a review of this recipe, complaining about the soupy filling that resulted even though they carefully followed the instructions. PS: By chance, I stumbled on an episode of America's Test Kitchen in which the ladies were discussing the qualities of cornstarch and flour when used as thickeners. Not that I would consider using flour in a lemon meringue pie, but they did seem to agree that con starch thickening tends to break down over time. Hmmmm I will try again someday, maybe leaving off the meringue topping so I can better observe the behavior of the filling over time. Unless a reader has another idea!
Not at all what I expected! I was very disappointed. The crust was a crumbly mess that had tons of rips and cracks. It tasted ok, but it wasn't astonishing. Filling had the consistency and texture of rubber and was wayyyy too sweet. I was following the directions exactly, yet it burned the first time. The only good part was the meringue, but there wasn't enough. I would not recommend this to anyone.

We're truly sorry to hear about your disappointing baking experience. It's true that this crust can be a bit crumbly since it's oil based; we usually end up patching it together using our hands. (The benefit is that it's fast and not fussy.) If you're looking for a more traditional, flaky, butter-based crust, we recommend using our Classic Single Pie Crust recipe. (Find it by entering that title into the search box at the top part of this page.)

If you found the filling also wasn't quite the right match for you, then you might consider using an entirely different recipe altogether: our Mile-High Meringue Pie might be just what you're looking for since you mentioned wanted even more meringue to top off your pie. We hope you consider checking out that recipe and find that it pleases your taste buds! Kindly, Kye@KAF
I made this pie twice (the first time it was a disaster, but it tasted so go), so I wanted to try it again and make sure I boiled it for a minute before and after putting the egg yolks in it, and both times it came out very watery and soupy. I followed the recipe as stated. The filling was a little more solid than the first time, but it still ended up to be a soupy mess and watery after I cut into it. I spread the meringue to the edge of the crust, and after it cooled, it shrunk! I'm very disappointed and will have to try another recipe.

Hi K.C., we're sorry to hear this recipe gave you so much trouble. We'd love the chance to help troubleshoot both the soupy filling and the shrinking meringue. If you boiled the filling for a full minute both before and after the egg yolks were added, something else may have been amiss with your ingredients. Perhaps the cornstarch was no longer fresh, or the egg yolks were pasteurized. (Use fresh cornstarch and real eggs for best results.) It's also important to let the pie chill in the fridge before slicing so it has time to set up.

As for the meringue shrinking, we have a few tips you can try that are highlighted in the article on our blog called, "Meringue rules." (Find it by clicking on "blog" at the top right-hand part of this page and enter "Meringue rules," into the search box.) In short, you'll want to avoid the yolks, use a non-plastic bowl, add the sugar slowly, and bake low and slow. We hope this helps make your next pie turn out perfectly. Kye@KAF
I've made this recipe a few times, and it's absolutely delicious. This recipe stood out to me because of the detailed instructions. I was nervous about making a lemon merengue pie, and my first one turned out great. I'm planning on making this for a friend that is gluten, dairy, and sugar free. Do you have a recommendation for what I could use in the filling other than butter? All of the other conversions seemed straight forward to me.

You're such a fabulous friend, Caitlin! You can use our Gluten-Free Measure for Measure Flour in the crust and a non-dairy butter alternative like Earth Balance Vegan Buttery Sticks in the filling. As for the sugar though, that's a trickier replacement. Sugar is a foundational ingredient in meringue so it may be challenging to replace successfully. You might be best off starting with an ingredient that's most similar to granulated sugar (like Stevia for Baking). Be sure to follow the substitution ratios on the package for best results. Good luck and happy baking! Kye@KAF
This is the first time I have tried making this kind of pie and this recipe is easy to follow. I have one question though, after baking the merengue was pillowy soft. Is that correct?

Correct, Virgilio! The meringue will have a very slight crust on the outside but will be overall soft and pillow-like. Annabelle@KAF
I'm not sure where things went wrong for others, but this was the easiest and tastiest lemon meringue pie I've ever made. The filling was thick, stable, smooth, and had a great sharp lemon flavor. The crust was my first oil crust so it was strange to work with, but tasted yummy. The meringue was simple and perfectly sweet. Maybe people just aren't letting the filling cook long enough for the cornstarch to do its thing. They should try it again though, it's worth the effort and so delicious.
My 5 year old son requested lemon meringue pie, just like Amelia Bedelia makes. After being served many gummy or jelly lemon meringue pies, it isn't my favorite and was a little intimidated by making one, so off to King Arthur I went in search of a recipe. I followed the recipe exactly (well maybe I added an extra minute to the boiling time to be sure it'd set) and it turned out beautifully. It looked just like the picture and was the perfect balance between sweet and tart. This recipe is a keeper!
it was soup on the inside.

We're sorry to hear that your pie never set in the center. It sounds like the filling never got to the boiling point for a full minute to set up the cornstarch and allow the mixture to firm up once cooled. We've found that bringing the mixture to a bubbly, thick boil, and stirring constantly over the heat for one minute allows the cornstarch to do its thing once it begins to cool and set. We hope this helps! Annablle@KAF