A customized print-friendly version of this recipe is available by clicking the "Print Recipe" button on this page.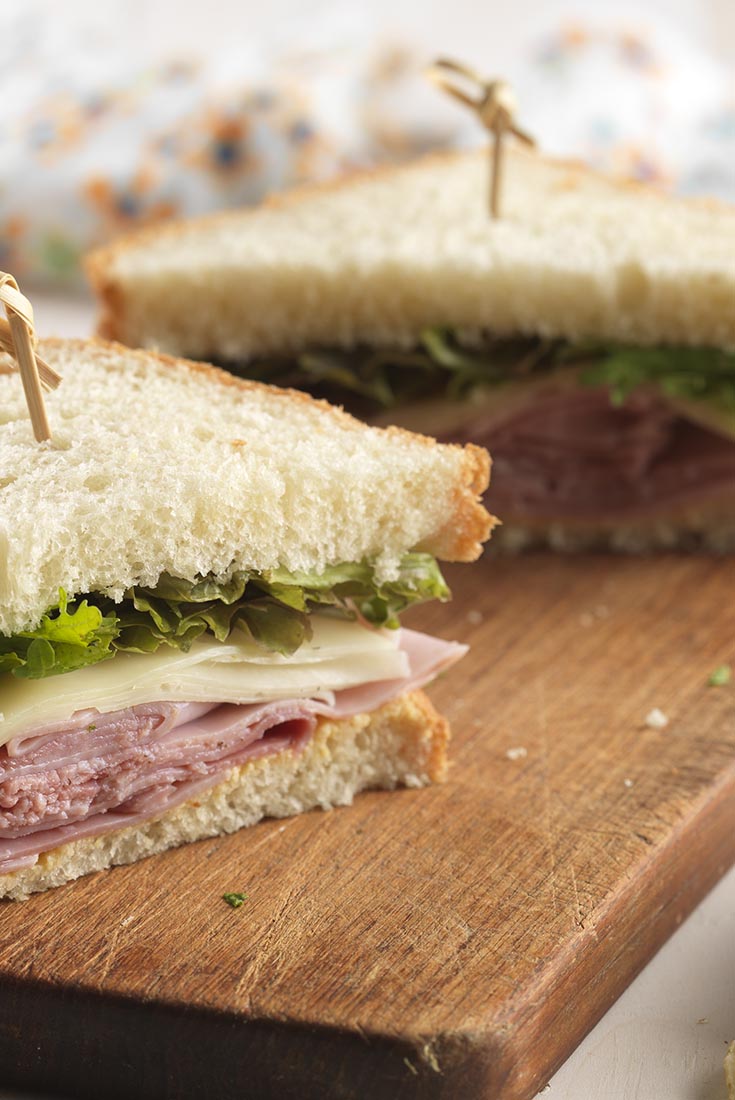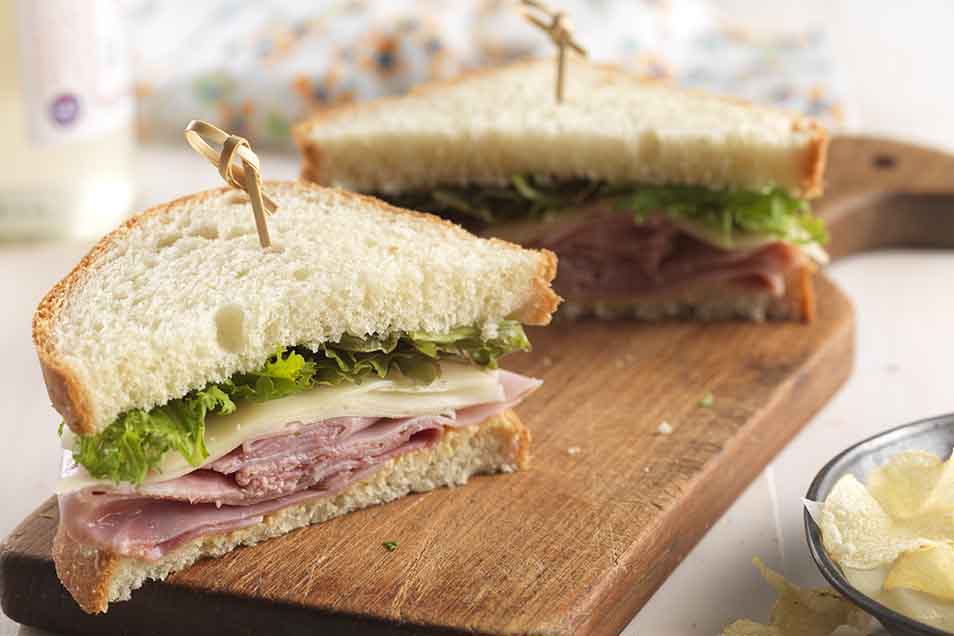 For sandwiches, toast, and French toast, you just can't beat a classic American sandwich loaf, with its creamy-white interior, golden crust, and soft, easily sliceable texture.
Ingredients
1/2 cup milk (skim, 1%, 2% or whole, your choice)*
1/2 to 2/3 cup hot water, enough to make a soft, smooth dough* (see "tips," below)
1/4 cup melted butter or vegetable oil
2 tablespoons sugar
1 1/4 teaspoons salt
1 packet active dry yeast dissolved in 1 tablespoon warm water OR 2 teaspoons instant yeast
*Mix cold milk with hot tap water to make a lukewarm liquid before adding to the remainder of the ingredients.
Instructions
To make the dough: In a large bowl, combine all of the ingredients and stir until the dough starts to leave the sides of the bowl. Transfer the dough to a lightly greased surface, oil your hands, and knead it for 6 to 8 minutes, or until it begins to become smooth and supple. Or mix and knead the dough using an electric mixer or food processor, or in a bread machine set to the dough or manual cycle.

Transfer the dough to a lightly greased bowl, cover the bowl, and allow the dough to rise until puffy though not necessarily doubled in bulk, about 1 to 2 hours, depending on the warmth of your kitchen. If you're using a bread machine, allow the machine to complete its cycle, then leave the dough in the machine until it's doubled in bulk, perhaps an additional 30 minutes or so.

Gently deflate the dough and transfer it to a lightly oiled work surface. Shape the dough into an 8" log.

Place the log in a lightly greased 8 1/2" x 4 1/2" loaf pan, cover the pan loosely with lightly greased plastic wrap, and allow the bread to rise for about 60 minutes, until it's domed about 1" above the edge of the pan. A finger pressed into the dough should leave a mark that rebounds slowly. Towards the end of the rise, preheat your oven to 350°F.

Bake the bread for 30 to 35 minutes, until it's light golden brown. Test it for doneness by removing it from the pan and thumping it on the bottom (it should sound hollow), or by measuring its interior temperature with a digital thermometer (it should register 190°F at the center of the loaf).

Remove the bread from the oven, and cool it on a rack before slicing. Store the bread in a plastic bag at room temperature for several days; freeze for longer storage.
Nutrition Information
Serving Size

43g

Servings Per Batch

16
Amount Per Serving:
Calories

120

Calories from Fat

30

Total Fat

3g

Saturated Fat

2g

Trans Fat

0g

Cholesterol

10mg
Sodium

190mg

Total Carbohydrate

19g

Dietary Fiber

1g

Sugars

2g

Protein

3g
* The nutrition information provided for this recipe is determined by the ESHA Genesis R&D software program. Substituting any ingredients may change the posted nutrition information.
Tips from our bakers
Flour is like a sponge; it can absorb moisture from the atmosphere, so the amount of water you use can vary depending on climate and season. Use the lesser amount of water in the summer, or under humid conditions; the greater amount in winter, or when the climate is dry.
For added whole-grain goodness, substitute King Arthur White Whole Wheat Flour for up to half of the all-purpose flour in this recipe.
Reviews
This is normally my go-to sandwich bread, but in the summer I rarely bake bread to avoid heating up our home located in steamy central Florida. The afternoon before Hurricane Irma was 'scheduled', we went to the store - not a loaf of bread to be found except for one forlorn and overpriced loaf. Back home, bake this bread, finish just before we lost power. The loaf lasted us all nine powerless days maintaining great flavor. This is such a quick and easy bread to make. Truly a joy to make and always tastes great. Holds up very well for sandwiches. Thank you, King Arthur.
Made a few adjustments and it still came out amazing! This will be my go-to everyday bread. I used pea based plant milk in place of milk and olive oil in place of butter. My kids are losing their minds and asking me to make it every day.
I have been trying for over a year to get a good loaf of bread. I like the way this recipe rises and it was easy to follow but I used the higher liquid as the humidity in my home was 7% at the time. It was very wet I and also had to added close to half a cup of flour to get the right consistency. I used KA bread flour for this and I used my Kitchen Aid mixer to knead it on 2 for 8 minutes. The finished dough was almost crumbly like many other recipes I have tried and far too sweet for my taste. Any suggestions would be greatly appreciated. Many previous attempts barely rose after the push down stage.

Bread flour absorbs about two extra tablespoons of water for every cup of flour than All Purpose flour does. Swapping the flour in the recipe will definitely change your ratio of water to flour and may require some experimentation to perfect it. We recommend using the 2/3 cup water, and start with just 2 1/2 cups of your Bread Flour. You can sprinkle in more as needed, but may not need it all. To view the method we recommend measuring flour for optimal accuracy, we recommend checking out the Learn section on our website and scrolling down the Resources and References. It's the first video in the How to section. Aiming for a slightly tacky dough will lead to a moist and not-so-crumbly loaf. Our friendly Baker's Hotline staff is at 855-371-2253 if you'd like to troubleshoot further. Annabelle@KAF
I'm in inexperienced baker living in Dubai. (Just moved here over the summer.) The bread at our local grocery is disappointing so this recipe is much appreciated. I've made it once and found it lovely, but a bit dense. However, I can't find KA flour here, only Gold Medal all purpose. Is there some way I can compensate for having a weaker flour?

Hi Kendra, if vital wheat gluten is an ingredient that's available where you are, you can consider adding 1-2 tablespoons to your dough to help give the loaf more shape and support. If this isn't something you can find, try looking for a bread flour or flour with a higher protein content. We hope this helps, and happy baking! Kye@KAF
The dough, mixed and kneaded in my kitchenaid, was wetter and stickier than I expected. I had used the higher amount of liquid, as I feel it's quite dry in my house. I ended up adding about 1/2 cup more flour. Next time I'll have to start with less water. Because my yeast was just past it's "sell-by" date, I proofed fit, mixing it with the water, milk and sugar, then added that to the flour. It raised very well, even in my 70 degree house. It didn't raise any extra in the oven, so it's not a tall loaf and seems a bit dense, but that may be the issue I had with the flour and liquid. 35 minutes at 350 and it was perfectly done and it's quite tasty, with a great texture. I'll be making a turkey sandwich today. I'm not giving up on this one. I'll try again with the lower amout of water.
Wonderful recipe and easy to make! KAF is the best in my opinion. Just wondering, would King Arthur bread flour work just as well in this recipe as the all-purpose?

Kelly, bread flour has more gluten-forming protein than all-purpose flour does. If you choose to use it in recipes, your final product will be chewier and crispier rather than soft and tender. The higher protein content also means that it will tend to absorb more liquid, so you will usually want to increase the water by about 2 teaspoons per cup of flour you substitute to prevent your bread from being dry. Happy baking! Kye@KAF
Very delicious! I used almond milk and it still turned out great. Also I lined my bread pan with parchment paper with no problems. This is my go-to bread recipe from now on, now that I have a real mixer.
I'm planning on giving this recipe a try but using the whole wheat option. What is the expected shelf life of this bread? Many thanks!

It depends a bit on your environment, Jim, but we generally find that this loaf will keep well for several days when kept wrapped in plastic at room temperature. If you don't think you'll be able to enjoy the whole loaf in that time, we'd suggest freezing a portion of the loaf for longer lasting freshness. Mollie@KAF
So, I love this recipe. It's a success each time. However, I'm posting because I want to know which is best way to cool the bread. Should it cool in the pan for X amount of minutes? Should it come right out of the pan after baking and cool on a rack? Need guidance. Thanks.

Michael, the bread should be removed from the pan and placed on a cooling rack as soon as you're able to do so. If the bread cools in the hot pan, the outside edges become crusty/rubbery because of steam that's created. If you can have the bread on a cooling rack within the first 5 minutes it's out of the oven, that's ideal. Kye@KAF
I baked this without a pan, and it was still great. I'm wondering, though, will it work in a 9x5 pan?

Your loaf will be shorter and wider if you use a 9" by 5" pan. We like the tall, lofty slices that the slightly smaller 8 1/2" by 4 1/2" pan creates, but if you're OK with shorter slices, then a 9" by 5" pan will be just fine. Kye@KAF