A customized print-friendly version of this recipe is available by clicking the "Print Recipe" button on this page.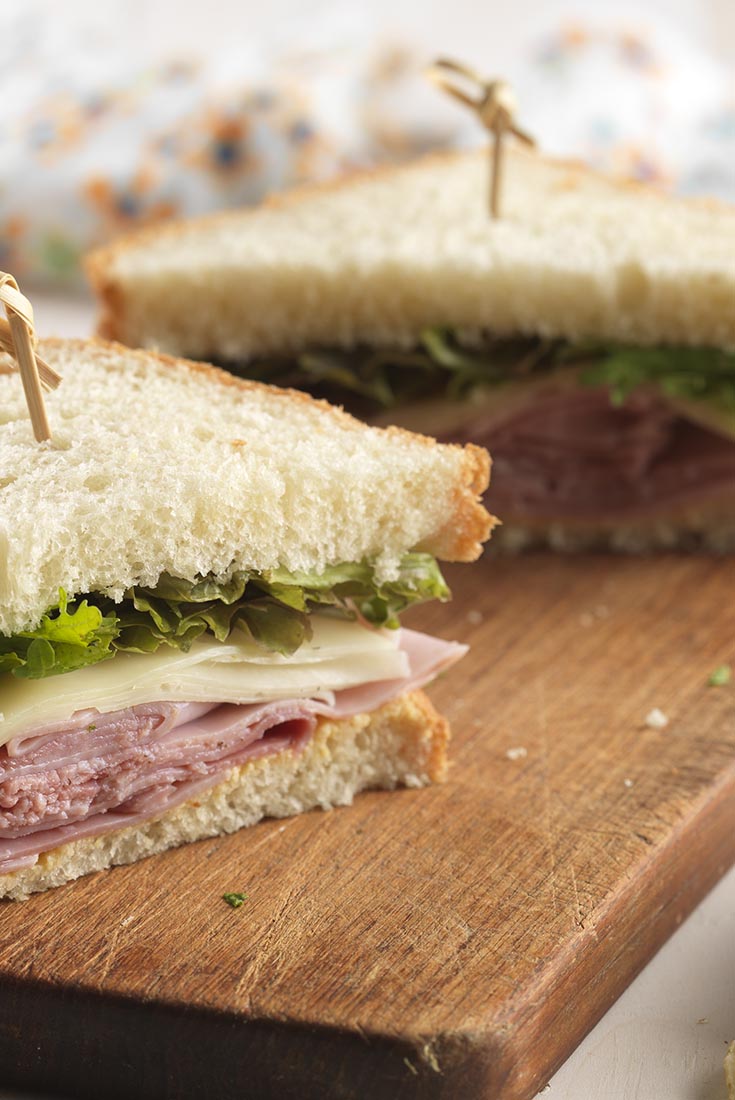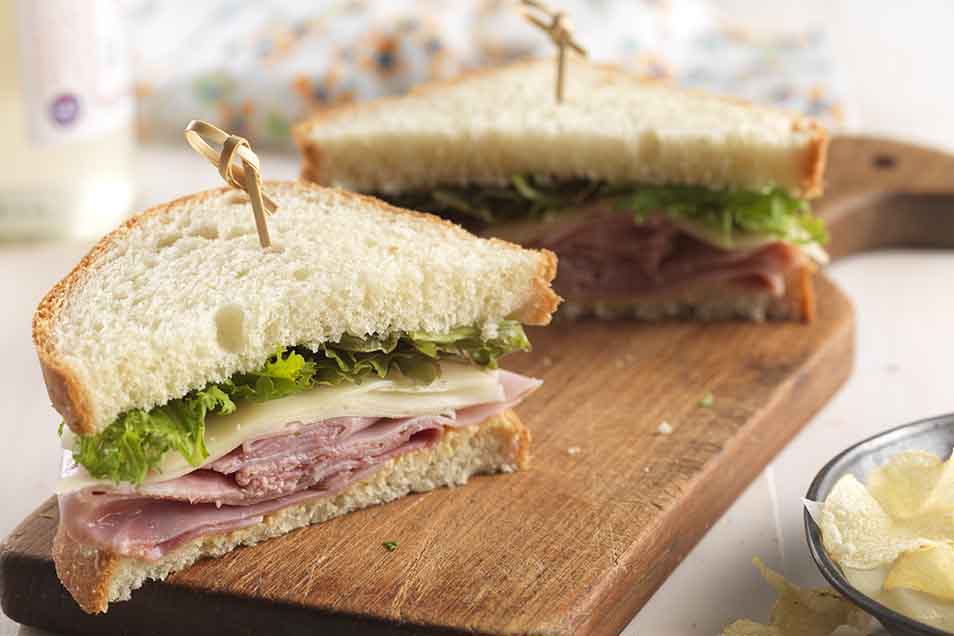 For sandwiches, toast, and French toast, you just can't beat a classic American sandwich loaf, with its creamy-white interior, golden crust, and soft, easily sliceable texture.
Ingredients
1/2 cup milk (skim, 1%, 2% or whole, your choice)*
1/2 to 2/3 cup hot water, enough to make a soft, smooth dough* (see "tips," below)
1/4 cup melted butter or vegetable oil
2 tablespoons sugar
1 1/4 teaspoons salt
1 packet active dry yeast dissolved in 1 tablespoon warm water OR 2 teaspoons instant yeast
*Mix cold milk with hot tap water to make a lukewarm liquid before adding to the remainder of the ingredients.
Instructions
To make the dough: In a large bowl, combine all of the ingredients and stir until the dough starts to leave the sides of the bowl. Transfer the dough to a lightly greased surface, oil your hands, and knead it for 6 to 8 minutes, or until it begins to become smooth and supple. Or mix and knead the dough using an electric mixer or food processor, or in a bread machine set to the dough or manual cycle.

Transfer the dough to a lightly greased bowl, cover the bowl, and allow the dough to rise until puffy though not necessarily doubled in bulk, about 1 to 2 hours, depending on the warmth of your kitchen. If you're using a bread machine, allow the machine to complete its cycle, then leave the dough in the machine until it's doubled in bulk, perhaps an additional 30 minutes or so.

Gently deflate the dough and transfer it to a lightly oiled work surface. Shape the dough into an 8" log.

Place the log in a lightly greased 8 1/2" x 4 1/2" loaf pan, cover the pan loosely with lightly greased plastic wrap, and allow the bread to rise for about 60 minutes, until it's domed about 1" above the edge of the pan. A finger pressed into the dough should leave a mark that rebounds slowly. Towards the end of the rise, preheat your oven to 350°F.

Bake the bread for 30 to 35 minutes, until it's light golden brown. Test it for doneness by removing it from the pan and thumping it on the bottom (it should sound hollow), or by measuring its interior temperature with a digital thermometer (it should register 190°F at the center of the loaf).

Remove the bread from the oven, and cool it on a rack before slicing. Store the bread in a plastic bag at room temperature for several days; freeze for longer storage.
Nutrition Information
Serving Size

43g

Servings Per Batch

16
Amount Per Serving:
Calories

120

Calories from Fat

30

Total Fat

3g

Saturated Fat

2g

Trans Fat

0g

Cholesterol

10mg
Sodium

190mg

Total Carbohydrate

19g

Dietary Fiber

1g

Sugars

2g

Protein

3g
* The nutrition information provided for this recipe is determined by the ESHA Genesis R&D software program. Substituting any ingredients may change the posted nutrition information.
Tips from our bakers
Flour is like a sponge; it can absorb moisture from the atmosphere, so the amount of water you use can vary depending on climate and season. Use the lesser amount of water in the summer, or under humid conditions; the greater amount in winter, or when the climate is dry.
For added whole-grain goodness, substitute King Arthur White Whole Wheat Flour for up to half of the all-purpose flour in this recipe.
Want to keep your bread fresher longer? Try the tangzhong technique, a Japanese method for increasing the softness and shelf life of yeast bread and rolls. Begin by measuring out the flour and water you'll be using in the recipe, going with the greater amount of water (2/3 cup). Now take 3 tablespoons of the measured flour and 1/2 cup of the measured water; put them in a saucepan set over medium-high heat. Cook the mixture, whisking constantly, until it thickens and forms a thick slurry; this will take about 1 1/2 to 2 1/2 minutes. Transfer the cooked mixture to a bowl, let it cool to lukewarm, then combine it with the remaining flour, water, and other dough ingredients. Proceed with the recipe as directed. Well-wrapped and stored at room temperature, your finished bread should stay soft and fresh for up to a week.
Reviews
This is one of the best recipe I have ever tried. Thank you. I used 9 x 5 x 2 1/2 inch pan. Obviously, the top was flat. How can I adjust the recipe to use 9 x 5 pan? I do not want to purchase 8 x 4 pan. Thank you for replying to my earlier question.

Lisa, try increasing all of the ingredients by about 1/3 if you'd like to make a loaf that fits nicely in your 9" by 5" pan. This is easiest done if you toggle to either grams or ounces and view the ingredients by weight. (Find these options below the ingredients header above.) You can simply multiply all of the ingredients (including the yeast) by 1.33 and measure your ingredients with a scale. Otherwise, you'll need to estimate some of the volume measures as best you can. Extend the baking time by about 3 to 5 minutes to account for the larger volume of dough. Happy baking! Kye@KAF
Hi, I used 2/3rd the amount of whole wheat flour and 1/3rd all purpose flour. The result was good. But the bread isn't so airy and is slightly bitter. Do you recommend any changes to other ingredients if I want to sub some all purpose flour with whole wheat flour? I preferred this recipe due to low amount of sugar.

When baking with whole wheat flour, you'll want to add an additional 2 teaspoons of liquid for every cup of whole wheat flour. Orange juice is often used for part or all of the liquid in whole wheat recipes to counteract the sometimes bitter wheaty flavor. It also helps to add a tablespoon of Vital Wheat Gluten since whole grain loaves have trouble holding a rise because bran cuts up gluten strands. You'll likely get the best results by using a recipe that's designed to be whole wheat such as our 100% Whole Wheat Sandwich Bread recipe. We hope this helps! Annabelle@KAF
I have made this recipe in my oven, and in my bread machine, and it doesn't matter how you make it, it comes out perfect every time. Delicious bread with a wonderful texture. I especially appreciated that you gave me the amount of water to use for dry weather and humid weather. This Summer and Fall have been so very wet here in PA, so I used the lesser amount and had a perfect loaf each and every time. Last Summer every loaf I baked in my machine (not this recipe) flopped. No doubt because I didn't know about using less water, and without it being posted within the recipe, I would not have known how much less water to use either. So for me, the fact that you give both was extremely helpful. I do have one question, mostly for my bread machine. I set the machine at 1 1/2 lb loaf, because the recipe does not state if it is a 1 1/2 lb or 2 lb loaf, but I knew that with 3 cups of flour it was larger than a 1 lb. loaf. Could someone please clarify this for me? Thank you.

Hi Sandra, you're right in thinking to use the 1 1/2-pound loaf setting on your machine. This recipe might make a scant 1 1/2-pound loaf, but it's best to overestimate the size of the recipe to ensure it baked through entirely and turns out well. If the recipe contains 4 to 5 cups of flour (or more), it's likely the recipe will make a 2-pound loaf. We hope this helps and happy baking! Kye@KAF
Oh, my goodness, this bread is divine! I was a little nervous when I started making it because, even though I bake often, I have been making mostly sourdough. I haven't made a solely yeast-risen bread in several years, but my husband requested something non-sourdough. I wasn't sure how the dough was supposed to feel as opposed to sourdough, so I wanted to use a proven "winner." I knew that KAF wouldn't let me down. I even misread the recipe, and it still turned out a big WINNER! I completely skipped over the "dissolve the yeast in 1 tablespoon of water" part and mixed it in with the milk and hot water mixture. When it didn't foam up after proofing for several minutes, I added half of the sugar to the yeast mixture and the other half to the dry ingredients and waited a few more minutes. It still didn't foam up, but I went ahead anyway. This recipe is very forgiving. I doubled the recipe so that I could use my large Pullman pan. I wanted it to be similar to store-bought bread...but way better!...in the hopes that I can convince my husband to make the switch away from all of those preservatives. I'm very much in to real foods, and he is very much not...but I still try to drag him my way. :) I decided to knead by hand, and I thoroughly enjoyed it. The dough was so soft and almost cloud-like, as I am used to the heavier sourdough. I did feel the need to knead (hehe) in about 1/3 cup additional flour, and kneading with oil isn't something that I do often. It rose beautifully in the bowl, and when I was shaping it for the pan, I probably played with it a little too much. The dough was so soft and cushy, I couldn't help myself! When supper was about 45 minutes away, the dough still had more than an inch to rise to reach the top of the Pullman pan, but I wanted to have some tonight, so I stuck it in the oven alongside the chicken hoping that the heat would help it rise the rest of the way. I baked it a few minutes longer than called for in the recipe and was thrilled when I slid back the top of the pan. I let it rest for a few minutes in the pan and then turned it out on a cooling rack. I wish I had taken a picture! It was the most gorgeous loaf of bread that has come out of my oven in a long time. It was absolutely perfect! It was beautifully golden brown all over and perfectly flat on top. We had some with supper, and it was delicious...but even bad bread it great when it's hot, fresh from the oven, and slathered with butter. The real test came later when I cut off another slice for myself as I was putting it away a few minutes ago. Both the taste and texture of the cooled bread convinced me that it is going to make the BEST sandwiches. I'm almost excited to make my husband's lunch when I get up in the morning! :) Thank you, KAF, for another fabulous recipe!!!
Hands down the best sandwich loaf I have ever made, bread flour in the UK is quite weak but I was lucky to get Canadian bread flour in my local Costco. The bread took off in the pan and rose lovely and tall, my family loved it and this will be a firm favourite from now on.
I have baked many loaves of bread from many recipes and this is hands down the best sandwich bread I have ever pulled out of an oven. I subbed out the cow's milk with soy milk. Next time if I know I'll be baking with it I will buy the unsweetened kind as the bread was a bit sweet, but I'm hardly complaining. This bread was incredibly fluffy and soft. While the crust didn't thicken like it would at maybe a scootch higher of a temperature, it was so golden and pretty that it made up for the soft crust. I also had a bit of trouble with the yeast at first, mine also turned to mud with only 1 tbsp water to mix. On my third try (!) I used the 1 tbsp warm water but also added 1 tbsp of my water/soymilk mixture that was ready to go. Once the yeast dissolved everything came together quite quickly and easily. This recipe is definitely going to be put into regular rotation.
I made this but not exactly as followed I used the 1/2 cup warm water and a tablespoon of sugar to activate my yeast first before adding it to the rest of the ingredients. When I tried to mix a tablespoon of water with a packet of yeast it just turned to mud.

Hi Adam! While you're certainly welcome to activate your yeast separately with water if you want to, it's no longer a necessary step as yeast is now made without that thick coating that used to need to be soaked off ahead of time in order for it to do anything. By adding all of the ingredients together at once as the instructions suggest, we hope you'll have a less frustrating experience. Kindly, Annabelle@KAF
I don't bake often but I tried this recipe using bread flour and it turned out beautifully. I used a food processor to bring it together and kneaded for 10 minutes. I weighed the ingredients and used the lesser amount of liquid as the humidity was high. The rise time was on the shorter side. The bread looked as good as any picture and tasted better with a perfect texture.
I made this last Sunday after it was featured in the email I received recently. I used not quite all of the water called for, and I was able to knead on my counter without oil or additional flour after getting it started in my stand mixer bowl. It grew nicely above my pan and even continued to rise in the oven. The mistake I made was I cut a shallow slash in the top just before I popped it in the oven, so the top of the loaf REALLY mushroomed out and up. So, that part of the loaf was particularly light and crumbly and the bottom of the loaf was considerably more dense, so next time I'll keep my lame in the drawer. I think if I had left the top of the loaf intact I would have gotten a much more pleasing result. I'm at work right now eating a sammich made with the last of the loaf after a week, and the crumbs on my desk are everywhere.
Holy cow! This is the very first time MY finished product looks like the photo! And tastes fantastic! I tried that Japanese "keeps it fresh longer" method but wont get to see how it works because the bread will be gone today... I'd be the first to admit I didn't do it correctly but honestly I was wrangling three young grandkids including one seven year old who was dying to make a cupcake recipe he'd found in a kid cookbook. Gotta start somewhere....This loaf was a last minute, my brain needed to meditate, kitchen blowing up the whole time deal. I am shocked at how pretty the loaf was. I used the correct size loaf pan, which didn't hurt. I must say I knead by hand only and use flour not oil on the surface of my wood kitchen table. I think you have to go really light on the board flour. I hold some aside from the measured recipe amount so do not over flour my loaves, and I KNEAD for 10 minutes till the dough is like baby skin. Thank you for sharing this. It will become THE bread recipe in our home!