A customized print-friendly version of this recipe is available by clicking the "Print Recipe" button on this page.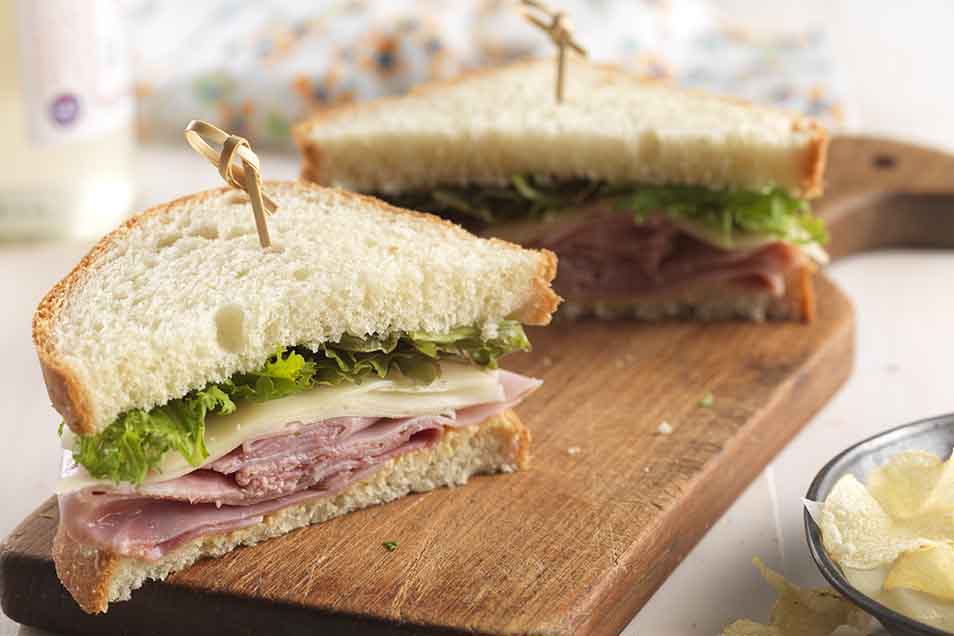 For sandwiches, toast, and French toast, you just can't beat a classic American sandwich loaf, with its creamy-white interior, golden crust, and soft, easily sliceable texture.
Ingredients
1/2 cup milk (skim, 1%, 2% or whole, your choice)*
1/2 to 2/3 cup hot water, enough to make a soft, smooth dough* (see "tips," below)
1/4 cup melted butter or vegetable oil
2 tablespoons sugar
1 1/4 teaspoons salt
1 packet active dry yeast dissolved in 1 tablespoon warm water OR 2 teaspoons instant yeast
*Mix cold milk with hot tap water to make a lukewarm liquid before adding to the remainder of the ingredients.
Instructions
To make the dough: In a large bowl, combine all of the ingredients and stir until the dough starts to leave the sides of the bowl. Transfer the dough to a lightly greased surface, oil your hands, and knead it for 6 to 8 minutes, or until it begins to become smooth and supple. Or mix and knead the dough using an electric mixer or food processor, or in a bread machine set to the dough or manual cycle.

Transfer the dough to a lightly greased bowl, cover the bowl, and allow the dough to rise until puffy though not necessarily doubled in bulk, about 1 to 2 hours, depending on the warmth of your kitchen. If you're using a bread machine, allow the machine to complete its cycle, then leave the dough in the machine until it's doubled in bulk, perhaps an additional 30 minutes or so.

Gently deflate the dough and transfer it to a lightly oiled work surface. Shape the dough into an 8" log.

Place the log in a lightly greased 8 1/2" x 4 1/2" loaf pan, cover the pan loosely with lightly greased plastic wrap, and allow the bread to rise for about 60 minutes, until it's domed about 1" above the edge of the pan. A finger pressed into the dough should leave a mark that rebounds slowly. Towards the end of the rise, preheat your oven to 350°F.

Bake the bread for 30 to 35 minutes, until it's light golden brown. Test it for doneness by removing it from the pan and thumping it on the bottom (it should sound hollow), or by measuring its interior temperature with a digital thermometer (it should register 190°F at the center of the loaf).

Remove the bread from the oven, and cool it on a rack before slicing. Store the bread in a plastic bag at room temperature for several days; freeze for longer storage.
Nutrition Information
Serving Size

43g

Servings Per Batch

16
Amount Per Serving:
Calories

120

Calories from Fat

30

Total Fat

3g

Saturated Fat

2g

Trans Fat

0g

Cholesterol

10mg
Sodium

190mg

Total Carbohydrate

19g

Dietary Fiber

1g

Sugars

2g

Protein

3g
* The nutrition information provided for this recipe is determined by the ESHA Genesis R&D software program. Substituting any ingredients may change the posted nutrition information.
Tips from our bakers
Flour is like a sponge; it can absorb moisture from the atmosphere, so the amount of water you use can vary depending on climate and season. Use the lesser amount of water in the summer, or under humid conditions; the greater amount in winter, or when the climate is dry.
For added whole-grain goodness, substitute King Arthur White Whole Wheat Flour for up to half of the all-purpose flour in this recipe.
Want to keep your bread fresher longer? Try the tangzhong technique, a Japanese method for increasing the softness and shelf life of yeast bread and rolls. Begin by measuring out the flour and water you'll be using in the recipe, going with the greater amount of water (2/3 cup). Now take 3 tablespoons of the measured flour and 1/2 cup of the measured water; put them in a saucepan set over medium-high heat. Cook the mixture, whisking constantly, until it thickens and forms a thick slurry; this will take about 1 1/2 to 2 1/2 minutes. Transfer the cooked mixture to a bowl, let it cool to lukewarm, then combine it with the remaining flour, water, and other dough ingredients. Proceed with the recipe as directed. Well-wrapped and stored at room temperature, your finished bread should stay soft and fresh for up to a week.
Reviews
Amazingly easy and perfect every time!
I love this recipe, but I made a few modifications that work for our family. Instead of milk and water, I use a full 1 cup of water at 110 degrees Fahrenheit A little under 1 Tbsp dry active yeast, which I don't prove beforehand because I know it's good, I just add it with the other dry ingredients Replace the melted butter with olive oil. The resulting loaf stays moist and usable sandwiches for about a week if stored in a gallon size ziploc bag. Using the 110 degree water really helps with the first rise (especially in the winter!), but hotter than this will kill the yeast so do use a thermometer.
I'm fairly new to bread baking and until now, I've only made artisan style sourdough breads, so this was my first go at a sandwich type bread and it came out great! I don't have a stand mixer, so I do all my mixing by hand, and this dough came together beautifully. I used just a half a cup of water and the 1/2 cup of milk and it didn't take long for it to tighten up and come away from the bowl. It proofed up nicely, formed easily, and I got good oven spring and a beautiful looking loaf. Very tasty bread with an even crumb, perfect for toast or sandwiches. A great recipe as is, and a good starting point for endless variations. Thanks!
My family loves the flavor of this bread, but I'm still trying to get the perfect loaf from the recipe. I use my bread machine on the dough cycle, but the problem comes during the second rise. After 25 minutes the dough has easily doubled and there's a slight indent when I push on the side to test it. When I put the loaf in the 350 oven, it continues to grow like a balloon and then sink. I use 113 g KA white wheat and 240 g KA all purpose. Should I cut back on the yeast (2 t active dry yeast) or the sugar? Nobody complains when they eat it, but it bothers me that it looks sad and sunken.

Pam, it sounds like your yeast is extra happy! Lowering it to 1 1/2 teaspoons should be just fine and help slow it down a little. Annabelle@KAF
I baked this recipe last weekend, and am also about to make it again because it's so good!! I can't recommend this recipe enough to any novice bread bakers. It's one of the easiest loaves I've ever made. However, one warning is that it's a rather sticky dough. I may have under kneaded it, so take that with a grain of salt. The flavor, crumb, and texture are so spot on. I also suggest adding a maybe a teaspoon more of sugar as I find it adds a better flavor. This bread is perfect for toast, sandwiches, and anything you can do with bread really!
OK, I retried this recipe, and it worked better this time through. I think the problem I had with the first batch (super sticky dough, needed to add 1 cup flour) was due to a faulty scale giving bad measurements. I used a different scale to measure today, and the dough was MUCH drier... I needed to ADD liquid! I doubled it, and that worked well in my stand mixer. I baked one loaf and put the other dough ball in the freezer The dough was super easy to handle and passed the window pane test easily. Questions I have: Why use all purpose flour instead of bread flour? What difference would you expect with bread flour instead of AP? How sticky should this dough be? Should it clear the bowl completely when mixing in a stand mixer or should it stick to the sides and bottom a little? Should it be tacky? or drier? This batch didn't rise as much as my first batch, so I am wondering if the dough was too dry? or if my first rise was too long (I forgot to set the timer so it was probably longer than 90 minutes). Any thoughts on rising the dough ball? I froze it before the first rise. All questions of technique aside, this bread is seriously delicious. My family thinks it is awesome, also.

We're so glad this worked out better, Kathi! You have many questions so we'll do our best to cover all of them.

1. Our all-purpose flour has a high enough protein that it can create tall, chewy breads, and is mild enough to make tender cakes.

2. You could use bread flour if you wanted. It will absorb a lot more moisture so you'll likely need to add about 2 teaspoons of extra water for every cup of bread flour.

3. This dough should be tacky. It should "kiss" the sides of the bowl. It will stick to the bowl if it isn't moving, but with the dough hook going it will stay together.

4. Over doing it on the first rise was likely the reason it didn't rise quite as much as the first one, but it also wasn't as wet as the first one.

5. Freezing will always cause yeast doughs to not rise as much simply because activated yeast eventually dies in the freezer. We hope this helps and are so glad this recipe is a hit! Annabelle@KAF
I have made this twice now. The first time the bread didn't rise over the top on the 2nd rise. And the loaf was a bit dense, but it was still a decent size and we were able to make sandwiches.. The 2nd time I made this recipe I spooned the flour (read the reviews and comments from KAF) into the measuring cup and I put it in a warm oven to rise. But this time the loaf looked more like a loaf of banana bread - it was much flatter. There's no way we could make sandwiches with it.. Both times I baked the loaves in glass loaf pans.. What did I do wrong? I wanted to bake these in my glass dishes instead of using my bread machine because the bread machine has a non stick coating which is so bad for our health. Any suggestions on how to get the loaf to rise would be so helpful. Thank you!

Hi Sophie! We're happy to help. First, glass bakes much hotter than metal pans so you'll want to make some adjustments in order for the bread to bake properly. Our blog article "Metal or glass or stoneware" gives you more details. In general, if using a glass pan, you'll need to lower the oven temperature by 25°F and keep it in the oven for another 5 to 10 minutes. (Or until the interior temperature reaches 190°F.

The second thing to keep in mind is that most glass pans are 9" x 5". This recipe calls for an 8 1/2" x 4 1/2" recipe. A 9" x 5" pan holds about 15% more dough than an 8 1/2" x 4 1/2". This means that any recipe calling for the smaller size baked in a 9" x 5" will be shorter and wider. It will appear to not rise as much as it should, but really it's just starting out lower in the pan because it spreads out. If you happen to have a kitchen scale it'll be easy to increase each ingredient by 15%, but otherwise, it might be worth trying a standard metal pan with 8 1/2" x 4 1/2" dimensions for taller, sandwich-ready results.

Another option is to try our recipe for King Arthur's Classic White Bread which makes a 9" x 5" loaf from the start. You'll still want to lower the temperature and extend the bake time until the interior reads 190°F on a digital thermometer. We wish you happy experimenting! Annabelle@KAF
Even though the final loaf was good, I had several issues with this recipe. 1). The batch size is too small for a stand mixer. 2). The amount of flour was too low, I had to add a LOT more and it was still slack even though I weighed water, flour, milk. 3). The directions don't indicate sticky (it was very sticky even with extra flour) or tacky dough. 4). It didn't have enough body to tolerate slashing the top of the loaf and the rise collapsed somewhat It tasted good, and it baked well. I cut into it early because I was hungry, and it tasted great. I liked the crumb I'd make it again but pay more attention to proportions and I would plan on just doing it all by hand or double the recipe.
I alternate this recipe, Walter Sands Bread and all the other white bread recipes of KAF. The KAF recipes have never disappointed me, taste great, don't use exotic ingredients my family prefers mine of store bought. I have used the following method for years. I substitute honey for granular sugar. Mix all the ingredients (except flour), heat in the microwave for 1 min, mix until the butter is melted, proof my yeast, add the flour. in the cold of winter I usually have to sprinkle some water when the kneading the dough or hold a little water back in the summer (or humidity over 60%). follow the remainder of the recipe(s). If you think the bread is browning too gently lay tin foil over the baking bread.
For a first timer, I found the dough to be way to sticky and I could knead it properly, and then it wouldn't rise. So I scrapped it and went on your YouTube channel and saw a tutorial for your basic bread and adjusted. It turned out better. I do wonder about using oil instead of flour. What is the notion behind that? I will keep making it until I get it right!

Hi Kris! We're sorry to hear that you had some troubles the first time around, but a happy that you gave this recipe another go! While using flour or oil on the work surface does the same thing (prevents the dough from sticking), the advantage of oil is that you're avoiding adding additonal flour to your dough which can make a loaf a bit heavy and dense in texture. We hope this helps and wish you happy baking! Morgan@KAF