A customized print-friendly version of this recipe is available by clicking the "Print Recipe" button on this page.
Classic Yellow Cake with Fudge Frosting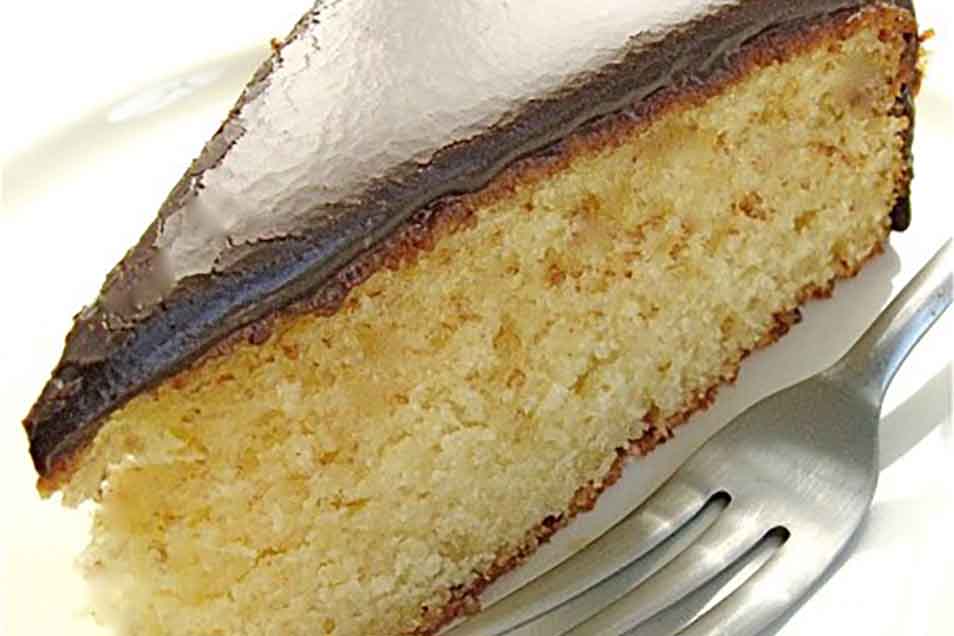 What makes this cake classic? In our book, a "classic" yellow cake — read, '60s box-mix style, like Mom used to make — is marked by its pleasing moistness, its easy sliceability (no crumbling, please) and simple vanilla flavor. This cake has it all, and more: the fudge frosting on top is, well, the icing on the cake!
Ingredients
Cake
1 cup granulated sugar
1/2 cup unsalted butter, at room temperature
2 large eggs
1 tablespoon vanilla extract
1/8 to 1/4 teaspoon almond extract
3/4 teaspoon salt
2 teaspoons baking powder
3/4 teaspoon baking soda
1 2/3 cups King Arthur Unbleached All-Purpose Flour
1 cup plain or vanilla yogurt; low-fat is OK, but please don't use nonfat*
*Buying yogurt in 6-ounce containers? Substitute one 6-ounce container + 1/4 cup (2 ounces) milk.
Frosting
5 tablespoons butter
3 tablespoons unsweetened cocoa, natural or Dutch-process
1/4 cup plain or vanilla yogurt; low-fat is fine
1 teaspoon vanilla extract
1/4 teaspoon espresso powder, optional but good
2 1/2 cups confectioners' sugar, sifted
Instructions
Preheat the oven to 350°F. Lightly grease a 9" round cake pan that's at least 2" deep; for extra protection against sticking, line the pan with parchment, and grease the parchment.

To make the cake: Beat together the sugar and butter until thoroughly combined.

Add the eggs one at a time, beating well and scraping the bowl after each. After you've added the second egg, beat at high speed for 2 minutes; the batter will lighten in color and become fluffy.

Add the vanilla, almond extract, salt, baking powder, and baking soda, stirring to combine.

Starting and ending with the flour, alternately add the flour and yogurt to the mixture: 1/3 of the flour, half the yogurt, 1/3 of the flour, the remaining yogurt, and the remaining flour. Beat gently to combine after each addition. Scrape the bottom and sides of the bowl, and beat briefly.

Spoon the batter into the pan. Bake the cake for 30 to 35 minutes, until it's golden brown on top, the edges are beginning to pull away from the sides of the pan, and a toothpick inserted into the center comes out clean, or with a few moist crumbs clinging to it.

After 10 minutes, turn the cake out of the pan onto a rack to cool completely before frosting.

To make the frosting: Sift the confectioners' sugar into a mixing bowl.

Melt the butter in a small saucepan. Stir in the cocoa and yogurt.

Bring the mixture to a boil, then remove from the heat. Stir in the vanilla and espresso powder. Add to the confectioners' sugar in the bowl, beating until smooth.

Quickly pour over the cooled cake, while the frosting is still warm.

Yield: one 9" cake, 8 to 10 servings.
Tips from our bakers
One small tweak transforms this recipe into one for Boston Cream Pie: split the cake into two rounds before frosting; fill with about 2 cups of your favorite pastry cream filling or vanilla pudding, and frost as directed.
The frosting is easy to put together, but you need to work quickly once you add the hot butter mixture to the confectioners' sugar. It pours easily when warm, flowing across the cake and down its sides, then drying to a glossy sheen. But if you dub around, and let it cool, you're going to be applying frosting to cake with a spatula — and it won't look nearly as pretty.
Can you substitute sour cream for the yogurt? Sure. Full-fat is best; and low-fat is OK, but avoid nonfat — the cake's texture will suffer.
The frosting recipe makes a generous amount. It'll flow over the sides of the cake and pool a bit around the edge of the plate. To keep things neat, slip strips of parchment or waxed paper between cake and plate; frost the cake; and when the frosting is done oozing, gently tug the strips of paper out, taking the frosting with them and leaving a clean plate. Enjoy the extra frosting on ice cream, or just as is...
Reviews
I am new to baking layer cakes so I can appreciate that I have a learning curve ahead of me! I made this cake yesterday, doubling the ingredients (except for the vanilla). Readers can learn from my mistakes and successes: The first time I made this cake, I was careful to read the instructions and feedback multiple times, especially the comments about creaming, beating, etc. to avoid over-mixing. When I removed the cakes from the oven, they looked great! Within minutes the sinking started--a large depression formed in the middle of the cake and I knew I had to try again. I did a little research to assist me in understanding what I did wrong. Halfway through the baking time, I had opened the oven door to reverse the order of the 2 pans to promote even baking--I had read, from another web site, to do this specifically at this time juncture. I later learned, again from another source, a better time to adjust pan placement is when cakes are 80% baked to insure they have "set" properly. I believe this was the root cause of my cakes sinking like the Titanic! Those layers are now in my freezer--I will use them another time to make a trifle some day. The baked outer circle tasted great--the depression was, of course, wet and under-baked. So, I had ingredients on hand to try again. And try again I did. The 2nd effort worked beautifully. I didn't touch the pans once they were in the oven. After the layers cooled on the counter, my next challenge was to slice each layer horizontally as I had made a lovely orange curd to place between each layer of cake. Again, I read numerous blogs and viewed Youtube videos on techniques and helpful hints. I decided the best route for me was to do the following: a) I chilled both layers in the fridge for about 45 minutes. b) I inserted toothpicks every 4 or 5 inches around the circumference of the layer, marking the vertical half-way point. c) I cut off a lengthy piece of dental floss, long enough to encircle the cake layer and give me something to grip onto. d) I positioned the dental floss around the cake layer, using the toothpicks as a guide. Be careful the dental floss does not "ride up" or slip below the position of the tooth picks. e) Once the dental floss is in place, I took the loose ends and crossed them over one another in the fashion of a half-knot. This secured the floss but would enable me to still cut into the cake. f) I pulled the loose ends of the floss, maintaining an angle relative to the cake layer, forcing the floss to cut into the layers. g) As this cake is tender, I was careful to use a thin piece of metal (bottom disk of a remove-able quiche pan) to ease under the top layer, lift it up securely and position it elsewhere until I built my layers. HELPFUL HINT: some dental flosses are flimsy and break easily. This is NOT what you want to use. Use a strong, sturdy floss--this method for slicing cake layers horizontally worked well for me. FINISHED PRODUCT: Classic Yellow Cake (2 layers divided into 4 layers), Orange Curd in between each layer, Chocolate Ganache Frosting on top and sides. Absolutely yummy!
I made this cake for my boyfriend's birthday and it was a big hit! The chocolate icing was delicious. Question, if I wanted to make it with a vanilla icing, any recommendations of a recipe to use?

Try our Quick Buttercream Frosting recipe for a creamy, easy icing. (You can use whatever extract you like to flavor it, but vanilla is classic.) Or if you want something a little more unique, consider making our Seven-Minute Frosting recipe, which is almost marshmallow-y and meringue-like in consistency. Happy baking! Kye@KAF
Buttery, moist, delicious. The perfect recipe when you do not need a large cake. I used the Hershey's cocoa frosting recipe so cannot rate the frosting. Delicious!
I doubled the almond extract and added 2 T Amaretto. The result was fairly almond-y, but I may try to sneak in a bit more extract and/or Amaretto next time. My main concern was sufficient sturdiness for splitting the cake to add a filling. The cake performed very nicely -- no falling apart, no excess crumbs. Very good with the cherry jam/cherry brandy/cream cheese filling I made, plus a fudge frosting from a different recipe.
I tried to make cupcakes with this recipe. The cupcakes spilled over the top of the cupcake rim and flattened out. tasted great but not very attractive. I was looking for a recipe to replace a box mix for cupcakes. This is a great cake but not great for cupcakes. I tried it twice. Flavor is very good though.

We're glad you enjoyed the flavor! This recipe should make roughly 12 cupcakes, but we'd recommend that you take care not to fill the wells more then 3/4 full. If that means an extra cupcake or two, then you've got your baker's treat. It could also be that your oven is running a bit on the cool side. Try increasing the baking temp by 25° and checking for doneness starting at 25 minutes. This should encourage the cupcakes to rise up more than spread out. Hope this helps to make for a happier next bake! Mollie@KAF
I made this cake last Sunday, I woke up from my Sunday nap craving cake. I always search for recepies in the KAF site, you will never go wrong with their recipes. I had all the ingredients handy, in no time it was in the oven. I had in the fridge a cup of heavy cream, I melted half a cup of dark chocolate chips for the frosting. It was the perfect convination. This cake is another winner, next time I will double the recipe it went too fast. Thank you KAF
The taste is good.. I bake lots of cakes, followed the recipe for the cake exactly as written. At the thirty minute mark it seemed raw in the middle, too much of a jiggle. I let it bake 5 more mins, seemed fine after that. I did not make the fudge topping exactly as written, I felt like it was just too much sugar for our liking. This is coming from someone that loves dark chocolate. I noticed a few other people in the comments thought something similar. I added 1 1/2 cup of powdered sugar, put a little cream to thin it out a bit. Looks just like the photo but with a darker tone on the fudge. I'm sure someone may love it, for us though, it was just good. I think even if you do not like dark chocolate, I still wouldn't use all the amount of powdered sugar.
This is one of the best cakes I have baked. Everything was perfect! I followed the receipe to a T. I recommend that you follow the directions closely in order to get the results as described. This is an amazing cake.
Made cupcakes; turned out a bit crisp but good. I think it was due to the butter. Omitted the almond extract also. For frosting doubled recipe and the amount of cocoa. Used Droste cocoa powder and creamed with softened butter instead of melted. Used heavy cream instead of yogurt and left out coffee powder. Added cream and powdered sugar at the same time and adjusted to desired consistency. Turned out very chocolately and good.
I made this cake for my husband's birthday. With my busy schedule, I had to bake the cake one night and frost the next. I have been searching for an "old fashioned" box style - moist yellow cake with fudge icing, something along the lines of what you would get in a "Soul Food" restaurant in NYC, which is what my husband has been longing for. He loved it and says it was the best cake I've made yet. (I've made plenty, from KA recipes, to the Cake Bible, to recipes I've found on the internet.) I want to play with the frosting a bit, I was looking for more of a darker fudge, but over all it was great. They key is following the directions exactly, weighing out all of your ingredients, and having them weighed out and ready to mix before you begin. I used Hershey's unsweetened cocoa and did include the espresso powder. Thanks KA!