A customized print-friendly version of this recipe is available by clicking the "Print Recipe" button on this page.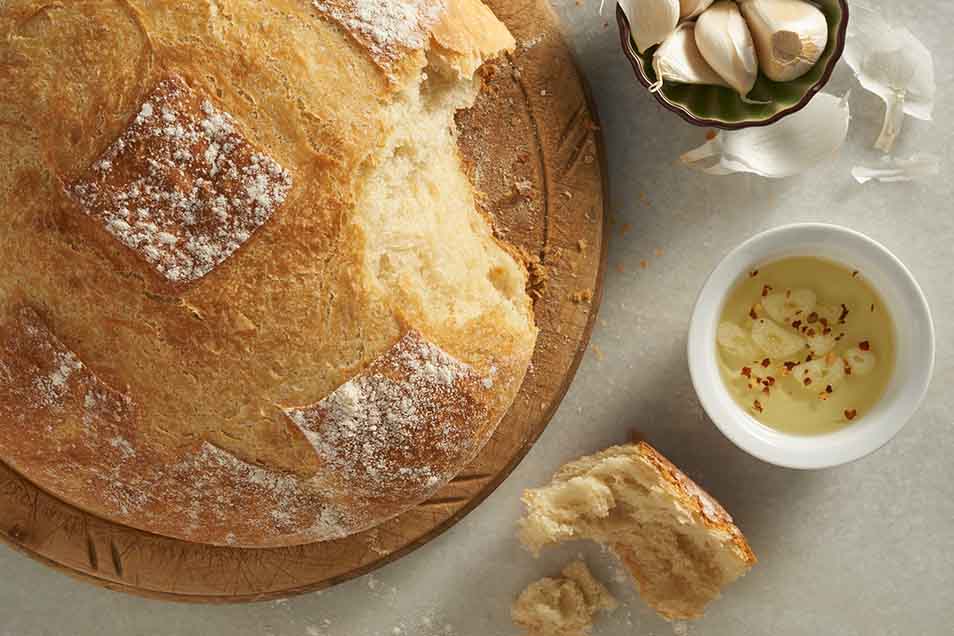 This high-rising, chewy bread takes full advantage of a covered cloche stoneware baker.
Ingredients
1 1/4 cups lukewarm water
2 teaspoons instant yeast
1 tablespoon Pizza Dough Flavor
1 1/4 teaspoons salt
2 tablespoons olive oil
1/2 cup (2 3/8 ounces) Hi-maize Fiber*
*Substitute 1/2 cup King Arthur Unbleached All-Purpose Flour for the 1/2 cup Hi-maize, if desired.
Instructions
Mix and knead everything together to make a smooth, slightly sticky dough.

Cover the dough, and let it rise for 1 to 1 1/2 hours, until almost doubled.

Gently deflate the dough, shape it into a ball, place in a cloche baker, and cover with the lid.

Let the dough rise for 30 to 45 minutes, until it's almost doubled in size.

Slash the top of the loaf several times, cover with the lid, and place the cloche in a cold oven.

Set the oven temperature to 400°F; bake the bread for 35 minutes, covered.

Remove the lid, and bake the bread until it's golden brown, another 5 to 10 minutes.

Take it out of the oven, and transfer the bread to a rack to cool.

Yield: 1 large loaf.
Reviews
The final product came out pretty well. It did not have the crumb or texture I anticipated. I was expecting a more rustic texture. That said, this recipe still produced a nice loaf. This was the first time I used my cloche and it was nowhere near as daunting as I thought it would be. I seasoned the vessel and used a piece of parchment under the dough. In lieu of High Maize Fiber, I subbbed in .5 cup of bread flour. My dough was only a little soft and sticky when I started to knead and it came together really nicely. I kneaded this dough by hand for about 10 minutes. The scoring part was so much fun! I have a brand new lame that I was anxious to use. I am a total novice when it comes to scoring, I think I did pretty well. It is a skill I really look forward to honing. My only snag came when I popped the clochein the oven and started the timer right away. So when the timer went off after the uncovered baking timemy loaf was only 155 degrees. I covered the loaf for an additional 15 minutes and continued the bake, uncovered, for another five minutes. At that point the internal temperature was 204. I did not even think of not starting the timer until the oven came to temperature. I am definitely looking forward to more cloche baking - - and not starting the timer right away!
Excellent recipe! I changed a few things; added a 1/4 tsp. more of yeast, extra 1/2 cup of flour and the suggestion for Herbs de Provence and onion flakes as suggested from several other reviews, only because I didn't have the pizza flavor. No problems with the consistancy and texture of the dough. This will be my 'go to' bread from now on!
My new favorite bread recipe. A beautiful perfect loaf...crispy and chewy. I didnt have any kaf a/p flour and i was out of vital gluten so i used all bread flour. I used the pizza dough flavor. I also formed a tight ball and put cornmeal on my emile henry cloche (love that thing!) Perfection.
LOVED it! Used KAF Bread Flour instead of all purpose, and crushed Italian spices in lieu of the pizza dough flavor (which I don't have - haven't seen it in Northern CA grocery stores, HINT HINT HINT!!!) and it turned out very well. Took it to a dinner on Saturday, still warm, and left it with the hosts, who I'm sure gobbled the rest of it the next day.
This was a beautiful, tasty loaf. The pizza dough flavor really adds a lot and I don't think it would be as good without it. It does NOT make it taste like you're eating pizza dough, though . I didn't have the hi-maize fiber, so I weighed out an additional half cup of flour as called for. However, to get the dough to be "right" I ended up adding perhaps another half cup of flour. I didn't measure. Just put it in until it looked and felt like it was supposed to. It would have been wet and runny otherwise. I also put in 2 and 1/4 tsp of yeast since that's what my measuring spoon was and a little extra won't hurt. I have a bread proofer (which I highly recommend) and it was done with the first rise in just under an hour (when set to 76 degrees). If you have a bread proofer, do not put the lid on the cloche while it's proofing. After my loaf sat on the table maybe 10 minutes, the crust went from soft to a definite crust, but it was delicate. I really liked that. I do NOT care for a heavy thick crust. We'll make this again. I haven't had this much success before in my cloche.
I cooked this in my le creuset dutch oven and parchment paper which worked well. Followed other recommendations and upped the pizza flavor to 1 and 1/2 tbsp. served with olive oil and crushed garlic with lasagna and salad.
I made this bread for the first time this weekend. It is delicious. It was very simple to put together and I baked it in my Staub dutch oven. I have been using the dutch oven for several of KAF bread recipes. Thankfully I have had all good results. I have transitioned to baking my own bread weekly rather than buying supermarket breads. Using KAF no-knead recipes have made this transition simple. Nothing like the smell of fresh bread baking throughout your home.
I have tried making this several times, hand kneading and mixer with dough hook. Flavor is great, but I always get a flat loaf, it speads out to the shape of the cloche. The bread is sticky, (sticks to my fingers), but not wet.

Hi Dave, if you're not already doing so, be sure you're using King Arthur All-Purpose Flour. Other brands tend to have lower protein contents, which means the dough doesn't have as much support or structure. You can also try using King Arthur Bread Flour for even more gluten-forming protein, which will help the loaf rise high. Last tip? Try adding a few stretch and folds to the dough every 20 minutes during the first rise to build strength. Good luck! Kye@KAF
I love this recipe! However, rather than making it in a cloche (which I do not have) I used my ceramic loaf baker with lid, which I find makes a more conveniently shaped bread anyway. It came out perfectly, even though I left out the pizza flavor and substituted flour for the maize. Definitely recommend.
When the King Arthur catalog came yesterday, this recipe caught my eye. It is a bit different from the one on the website, but still a very quick and easy bread. The recipe I followed did not have Hi-Maize Fiber in it, so not sure how that plus the Pizza Dough Flavor will alter the flavor of this bread, but without both, it was still a soft bread (soft crust and soft crumb). I have never made bread in a cold cloche and oven, but it will be a go-to recipe for me. Just read a comment and response forms 6/18/17: i did not use the Hi-Maize Fiber nor substitute with more aP flour. Will try it again with that modification.