A customized print-friendly version of this recipe is available by clicking the "Print Recipe" button on this page.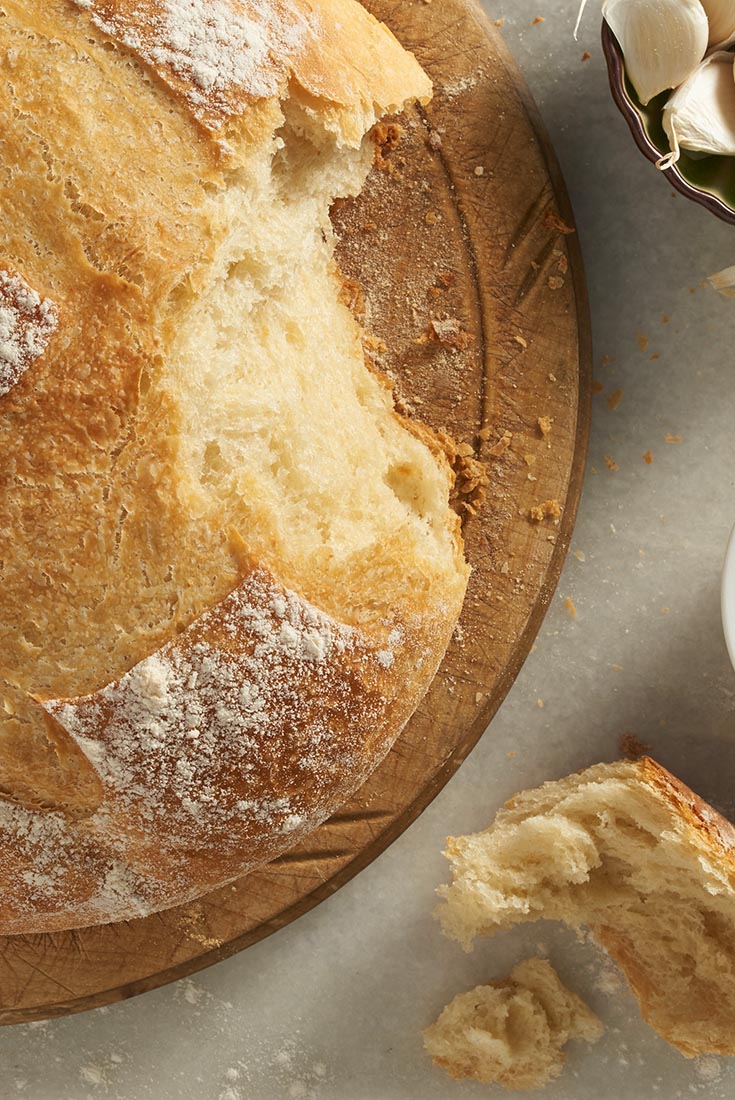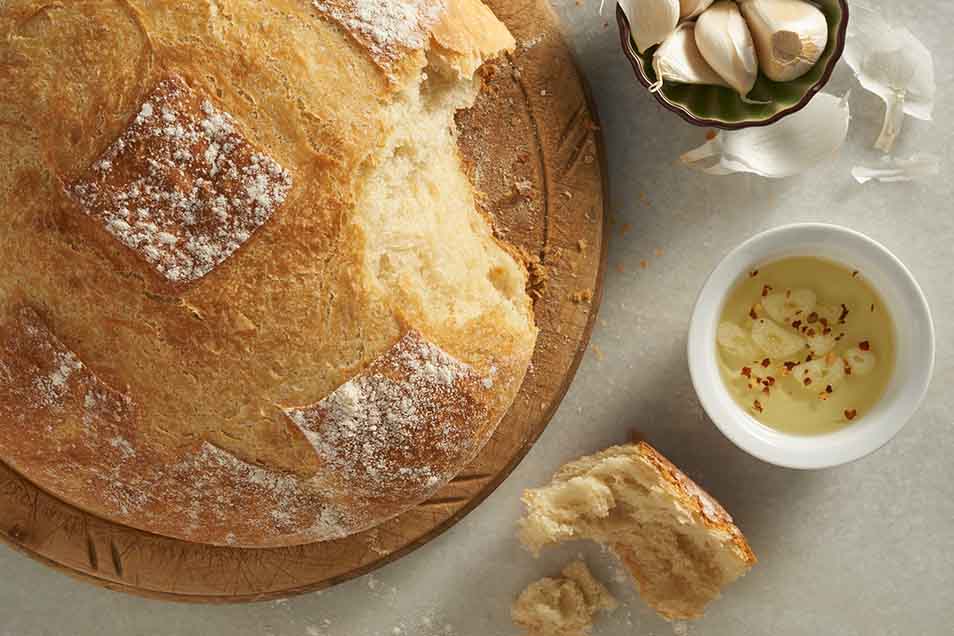 This high-rising, chewy bread takes full advantage of a covered cloche stoneware baker.
Ingredients
1 1/4 cups lukewarm water
2 teaspoons instant yeast
1 tablespoon Pizza Dough Flavor
1 1/4 teaspoons salt
2 tablespoons olive oil
1/2 cup (2 3/8 ounces) Hi-maize Fiber*
*Substitute 1/2 cup King Arthur Unbleached All-Purpose Flour for the 1/2 cup Hi-maize, if desired.
Instructions
Mix and knead everything together to make a smooth, slightly sticky dough.

Cover the dough, and let it rise for 1 to 1 1/2 hours, until almost doubled.

Gently deflate the dough, shape it into a ball, place in a cloche baker, and cover with the lid.

Let the dough rise for 30 to 45 minutes, until it's almost doubled in size.

Slash the top of the loaf several times, cover with the lid, and place the cloche in a cold oven.

Set the oven temperature to 400°F; bake the bread for 35 minutes, covered.

Remove the lid, and bake the bread until it's golden brown, another 5 to 10 minutes.

Take it out of the oven, and transfer the bread to a rack to cool.

Yield: 1 large loaf.
Reviews
I made this bread for the first time this weekend. It is delicious. It was very simple to put together and I baked it in my Staub dutch oven. I have been using the dutch oven for several of KAF bread recipes. Thankfully I have had all good results. I have transitioned to baking my own bread weekly rather than buying supermarket breads. Using KAF no-knead recipes have made this transition simple. Nothing like the smell of fresh bread baking throughout your home.
I have tried making this several times, hand kneading and mixer with dough hook. Flavor is great, but I always get a flat loaf, it speads out to the shape of the cloche. The bread is sticky, (sticks to my fingers), but not wet.

Hi Dave, if you're not already doing so, be sure you're using King Arthur All-Purpose Flour. Other brands tend to have lower protein contents, which means the dough doesn't have as much support or structure. You can also try using King Arthur Bread Flour for even more gluten-forming protein, which will help the loaf rise high. Last tip? Try adding a few stretch and folds to the dough every 20 minutes during the first rise to build strength. Good luck! Kye@KAF
I love this recipe! However, rather than making it in a cloche (which I do not have) I used my ceramic loaf baker with lid, which I find makes a more conveniently shaped bread anyway. It came out perfectly, even though I left out the pizza flavor and substituted flour for the maize. Definitely recommend.
When the King Arthur catalog came yesterday, this recipe caught my eye. It is a bit different from the one on the website, but still a very quick and easy bread. The recipe I followed did not have Hi-Maize Fiber in it, so not sure how that plus the Pizza Dough Flavor will alter the flavor of this bread, but without both, it was still a soft bread (soft crust and soft crumb). I have never made bread in a cold cloche and oven, but it will be a go-to recipe for me. Just read a comment and response forms 6/18/17: i did not use the Hi-Maize Fiber nor substitute with more aP flour. Will try it again with that modification.
I made this recipe and baked it in my Emile Henry Bread Cloche. It is some of the BEST bread I've ever made. Easy to follow recipe, standard ingredients (I didnt use maize flour), and relatively short process compared to some recipes. SOO delicious I would eat the whole loaf if I could.
I made this bread for the second time today and it came out even better than the first one. The texture and taste of the bread was excellent. I did increase the Pizza Dough Flavor by one tablespoon -- so I put 2 tablespoons in the bread and the flavor was more enhanced. I also followed the instructions as written and the dough came out perfectly, just sticky enough and no wetness. My husband loved it!
I am on my fifth loaf using a cloche. Also baked in my cast iron Dutch oven for comparison. I use three variations in the last couple of loaves based on prior loaves. I leave out the pizza seasoning and do not asubstitute. I use my Zo bread machine to mis the dough on a complete dough cycle but leave it on the machine for another 10-15 minutes after the buzzer. put the dough on a board and form into a round boule shape and let rise for an hour in the covered cloche. It goes into a cold oven, started at 425 degrees. Baked covered to 30 minutes and uncovered for 20 minutes. Terrific results. Consistent as to crust and crumb. None of the issues suggested by others. This may be our everyday loaf.
I've made this bread several times, it's a beautiful dough to work with, love the crust and the soft interior. I've followed the directions using the Pizza Dough Flavor (KAF); I think I'd add a little more next time though. I made this same bread yesterday but instead of the pizza flavor I used the Olive Artisan Bread Flavor also from KAF, maybe 3-4 TBL. What a great taste! I may add a little more next time. Maybe I'll add some of the VT Cheese powder (KAF).
Gosh! I don't know how to criticize a company who's product has been in my cupboard for decades, but I'll try to be kind. I was trained as a baker but never had to rely on that trade as an income. I think I'm still pretty good. This is a complaint I've tossed to KA several times: there is a huge difference between sticky and wet in describing a dough. And KA has it all wrong here, I believe. This dough as directed is wet. I weigh my flour (the silver standard of quality and consistency is King Arthur) and the direction is off by a quarter cup confidently even when I allow for season, humidity, climate, and continent. I follow directions like a scout and expect an outcome that resembles the product adjacent to the recipe. Didn't happen. King Arthur please go back to milling. Boxed products don't suite you.

Thanks for sharing your feedback with us, as it's our goal to make baking with our flour, recipes, or other products joyful experiences. We'd like the opportunity to hear more about your process and result, as this dough (at 66% hydration) should feel just slightly sticky rather than wet once it's kneaded. It's important to include the 1/2 cup of Hi-Maize Fiber or substitute an equal amount of all-purpose flour, otherwise this will be a very wet dough that's difficult to handle. Regardless, please feel encouraged to give our friendly Baker's Hotline a call (855-371-2253) so we can look into this together. Kindly, Kye@KAF