A customized print-friendly version of this recipe is available by clicking the "Print Recipe" button on this page.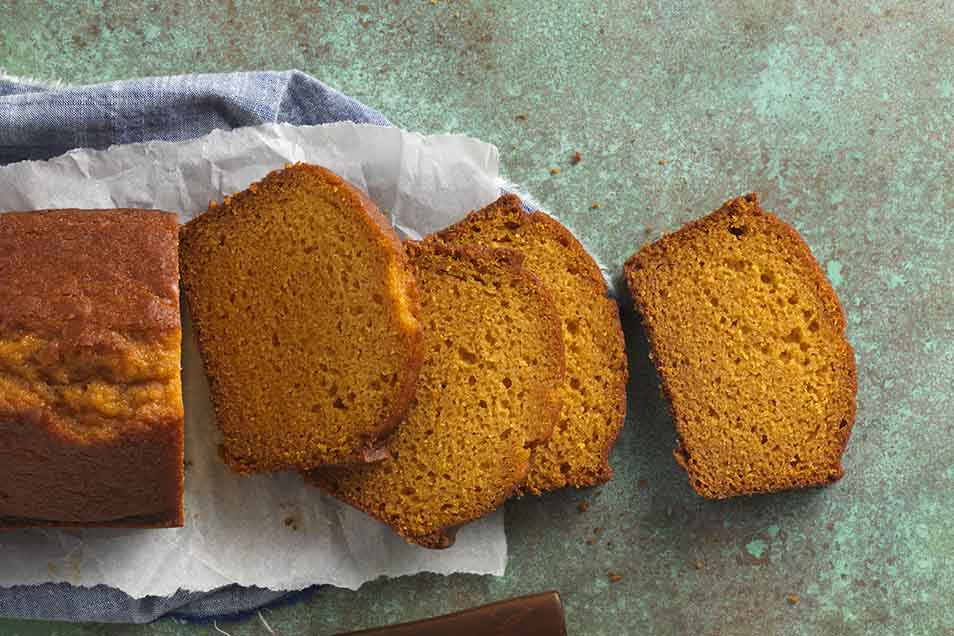 Whenever we have a company gathering, this pumpkin bread is one of the first things to disappear. Super-moist and packed with flavor, it can be made into a simple pumpkin loaf; or enhanced with chocolate chips and/or nuts. Or raisins. Or cinnamon chips. Or...
Ingredients
1 cup vegetable oil
2 2/3 cups granulated sugar
4 large eggs
2 cups (or one 15-ounce can) pumpkin (not pumpkin pie filling)
2/3 cup water
3 1/3 cups King Arthur Unbleached All-Purpose Flour
1/2 teaspoon baking powder
1 teaspoon baking soda
1 1/2 teaspoons salt
1 teaspoon nutmeg
1 teaspoon vanilla extract
1 cup chopped walnuts or pecans, optional
1 1/2 cups chocolate chips, optional
coarse white sugar for sprinkling on top, optional
Instructions
Preheat the oven to 350°F. Lightly grease two 8 1/2" x 4 1/2" loaf pans (if you're making the plain version of the bread); two 9" x 5" loaf pans (if you're adding chocolate chips and nuts); or one of each, if you're making one plain loaf, and one loaf with chips and nuts.

In a large bowl, beat together the oil, sugar, eggs, pumpkin, and water.

Add the flour, baking powder, baking soda, salt, nutmeg, and vanilla, stirring to combine.

Mix in the chips and nuts, if you're using them. To make one loaf with chips/nuts, one loaf without, divide the batter in half. Leave one half plain, and add 3/4 cup chips and 1/2 cup nuts to the other half.

Spoon the batter into the prepared pans. Sprinkle the tops of the loaves with coarse sparkling sugar, if desired.

Bake the bread for 60 to 80 minutes, or until a cake tester or toothpick inserted in the center of the loaf comes out clean; and that same tester inserted about 1/2" into the top of the loaf doesn't encounter any totally unbaked batter.

Remove the bread from the oven, and cool it on a rack. When it's completely cool, wrap it well in plastic wrap, and store it overnight before serving.

Yield: 2 loaves.
Nutrition Information
Serving Size

1 piece

Servings Per Batch

16 per loaf
Amount Per Serving:
Calories

240

Calories from Fat

100

Total Fat

12g

Saturated Fat

2.5g

Trans Fat

0g

Cholesterol

25mg
Sodium

125mg

Total Carbohydrate

33g

Dietary Fiber

1g

Sugars

22g

Protein

3g
* The nutrition information provided for this recipe is determined by the ESHA Genesis R&D software program. Substituting any ingredients may change the posted nutrition information.
Tips from our bakers
Can you use your own homemade puréed pumpkin? Sure. Just be aware that it'll probably be thinner than canned pumpkin, so you'd want to add a bit more flour. Results may vary...
Want to add a simple icing? Just before serving, drizzle with a mixture of 1 cup confectioners' or glazing sugar, 2 tablespoons melted butter, and 1 tablespoon milk.
How about making gift loaves? This recipe makes eight 3" x 5" loaves, with the addition of the chips and nuts. Bake the loaves for about 45 to 60 minutes; start testing at 45 minutes, and remove from the oven when a toothpick inserted into the center of one of the loaves comes out free of crumbs.
Variation: substitute diced crystallized ginger (mini diced ginger), golden raisins, or dried cranberries for the chocolate chips and/or nuts.
Reviews
Everything about this recipe was a win. It was easy to make and so so delicious. I used my own sugar pie pumpkin puree and reduced the water by half and didn't have an issue with consistency, though it did have to bake for 5-7 minutes longer. I made one loaf with chocolate chips and one without. I may have eaten about half the chocolate chip loaf by myself- it was too good to stop! My kids loved this too. I'll be adding this to my recipe book for when we're looking for something to make with pumpkin puree besides pies.
Brilliant recipe. Made it vegan by using flax eggs, and added extra spice bc we like it that way (cinnamon, ginger, cloves and freshly ground black pepper.) Everyone I gift it to asks for the recipe. Thanks for the deliciousness!
Made this gluten free, used half oil - half apple sauce, and used KAF Yuletide Spice blend instead of nutmeg. Amazing!
This bread turned out perfect ( if perfect existed). My family loved it. Will never have to look for another pumpkin bread recipe ever! The color, texture, taste along with the walnuts I added was exactly what I wanted in pumpkin bread. Thanks King Arthur Flour.
This recipe makes delicious loaves. I used 1 cup chopped pecans and 1 1/2 cup candied fruit and peel mix instead of the chocolate chips. Also used 1/3 c milk, 1/3 c water, 1 tsp nutmeg, 1 tsp cinnamon. I used the KAF sparkling sugar on top for a beautiful presentation. Baking time was about 80 minutes until my instant read thermometer registered 205 degrees. The two loaves (9x5" pans) are moist and tasty. This is a great basic recipe for adapting to your taste. Bravo, KAF!
With a few little tweaks I was able to use fresh puree without affecting the taste or texture: I used two cups of puree, left out the water, and added 1/2 tsp cloves and 1 tsp nutmeg. I'll be keeping this for my regular pumpkin bread baking from here on out.
Turns out this recipe is identical to one I have used for decades (except for the sprinkle of coarse sugar on top). My husband loves it. It isn't oily in taste, feel, or after taste. I bake mine in 8 greased straight-necked jelly jars (fill half full) placed on a baking sheet. When the jars come from the oven I seal them with the lids and rings. Perfectly cute round loaf for a tea party. Shelf life supposedly 1 year...mine are eaten before that long.
I was surprised that this recipe is nearly identical to the one that I have used for years. My recipe calls for 2/3 cup oil. I bake mine in 8 jelly jars (Kerr Brand 12 ounce aka quilted jelly jars). You need jars without a 'neck' so the bread slides out. Cut 16 circles of waxed paper and insert one in bottom of each jar. Grease the jar. Divide batter, each about half full, wiping the jar mouth clean. Place on baking sheet in preheated 325F oven. Bake 45 mins. Remove baking sheet to rack. One jar at a time, top bread with a wax paper circle. Wipe jar mouth of any crumbs. Screw on a new lid with a ring (same used for jelly). Turn jar upside down on a clean towel. Repeat with each jar. Leave upside down about 10 minutes then turn back up. Like jelly, the jars will seal - you will hear a ping or tick sound when they seal. Shelf life 12 months, but mine are eaten sooner. Perfect gifts for seniors who say 'i don't need or want anything'.
Great, richer sub for my usual Cooking Light Spicy Pumpkin Bread recipe. I use their spices (1 tsp each of cinnamon, allspice, nutmeg, plus 1/2 tsp cloves) for more flavor, used 1 cup of KAF white wheat flour (may increase it next time), and melted 1 stick unsalted butter for 1/2 the veg oil - didn't want it to be oily! I also cut the sugar to 2-1/3 cup, which was a mistake; next time, use 1-1/3 dark brown + 1-1/3 plain sugar. I made one loaf with dark chocolate chips and the other with chopped, crystallized ginger and dried cranberries- sprinkled toasted walnuts and turbinado sugar on top of both.
This is my fall go to. So easy and delicious! The only tweak I make is substituting cinnamon 2tap) and taking out the vanilla. Lots of flavor and very moist.