A customized print-friendly version of this recipe is available by clicking the "Print Recipe" button on this page.
Gluten-Free Scones made with baking mix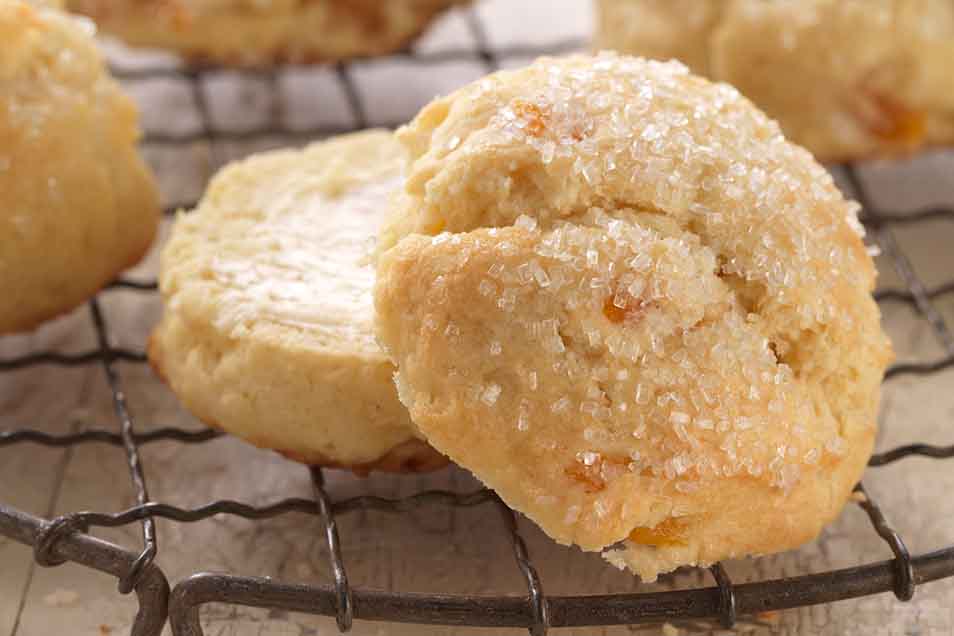 These moist scones have delicately crunchy, golden-brown tops. Leave out the dried fruit for the perfect strawberry shortcake base.

Note: Please read and follow the recipe carefully; it calls for our gluten-free all-purpose baking mix, NOT our gluten-free multi-purpose flour.
Ingredients
2 1/4 cups King Arthur Gluten-Free All-Purpose Baking Mix*
1/4 cup sugar
1/4 teaspoon ground nutmeg, optional
1/2 cup (8 tablespoons) cold butter
3/4 cup diced dried apricots, raisins, or dried cherries, optional
2 large eggs
1/2 cup cold milk
1 teaspoon gluten-free vanilla extract
cinnamon-sugar, optional
*Make sure you use our gluten-free BAKING MIX — NOT our gluten-free flour.
Instructions
Preheat the oven to 400°F. Grease a divided scone pan, or have at hand an ungreased or parchment-lined baking sheet.

Whisk together the baking mix, sugar, and nutmeg.

Partially work in the cold butter, leaving some in small, visible pieces.

Stir in the dried fruit.

Whisk together the eggs, milk, and vanilla until frothy.

Add to the dry ingredients, stirring until blended. The dough should be sticky but cohesive.

Drop dough by the 1/3-cupful into the scone pan or onto the baking sheet.

Sprinkle the scones with cinnamon-sugar, if desired.

Bake the scones for 15 to 20 minutes, until golden brown. Remove them from the oven and let them rest for 10 minutes or so before serving. These are best enjoyed slightly warm, with butter and jam.

Yield: 6 to 8 scones.
Tips from our bakers
Gluten-free scones need a 10-minute rest after baking to allow the starches to finish setting up, and the outside to crisp.
For a dairy-free version of these scones, substitute margarine for the butter, and soy milk, almond milk, or rice milk for the milk.
Don't have baking mix? Enjoy our recipe for Gluten-Free Scones.