A customized print-friendly version of this recipe is available by clicking the "Print Recipe" button on this page.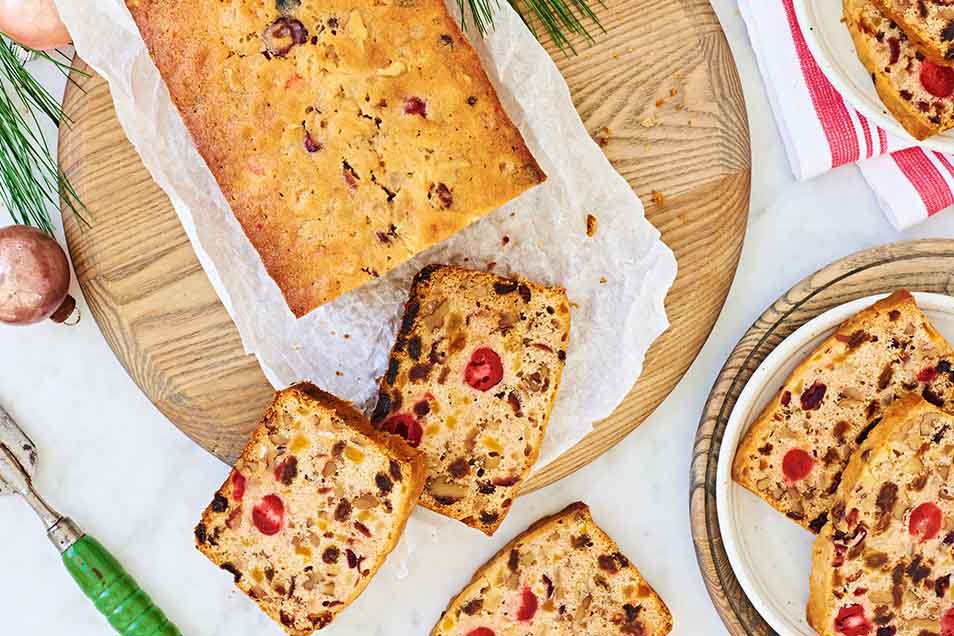 Use your favorite dried fruits, plus candied cherries and nuts, in this light-gold, mildly flavored cake. Or use the fruit/nut combination suggested below.
Ingredients
Fruit
2 cups raisins: golden, jumbo, or your favorite type of raisins
1 cup dried cranberries
1 cup dried apricots, chopped
1 cup candied lemon peel
1 3/4 cups candied red cherries
3/4 cup brandy, rum, or whiskey; or apple juice, plus extra to brush over the cakes when they come out of the oven
Instructions
To prepare the fruit: Combine the dried fruit (except for the candied cherries) with liquid in a bowl. Cover and let the mixture steep overnight.

Preheat the oven to 300°F. Lightly grease the loaf pans of your choice: two 8 1/2" x 4 1/2" loaf pans OR five 7" wooden bakers OR six 7" paper bake & give pans.

To prepare the cake: In a large bowl, beat together the butter, sugar, corn syrup, baking powder, salt, and flavors.

Beat in the eggs one at time.

Stir in the flour alternately with the milk.

Add the undrained fruit, the candied cherries, and the nuts.

Spoon the batter into the lightly greased baking pans, filling them three-quarters full.

Bake the cakes for 50 to 80 minutes, depending on the size of the pans; smaller pans will bake for the shorter length of time. When done, the cakes will be a light golden brown all over, and a cake tester inserted into the center will come out clean.

Remove the cakes from the oven. Brush with brandy or the liquor of your choice while warm.

When completely cooled, wrap well and let rest at least 24 hours (or for up to a month, brushing with liquor or flavored syrup weekly), before serving.
Tips from our bakers
To bake this cake in a Bundt pan: Grease a 9- to 12-cup capacity (9" to 10 1/2") Bundt pan and prepare the cake batter according to the recipe instructions. Transfer the batter to the prepared pan, filling it to 1" of the rim of the pan. Bake the cake in a preheated 300°F oven for 70 to 80 minutes, depending on its capacity. Remove the cake from the oven, wait 10 minutes, then loosen the edges with a spatula and turn it out onto a rack. Brush the warm cake all over with simple syrup, brandy, or the liquor of your choice, if desired.

NOTE: This recipe yields about 10 1/2 cups of batter, so if you're baking in a smaller Bundt pan you'll have leftover batter to bake in a pan of your choice. We like to use a standard muffin pan or our mini loaf paper baking pans, which can be baked alongside your Bundt for 30 to 40 minutes.
Reviews
Over the holiday, I made 20 of these cakes, with the goal to not only share it with my growing fruitcake "cult", but to also convert those who love making fun of this cake as well. I am proud to report that all non believers were converted into fruitcake lovers with this recipe. It dispells the myth that fruitcakes are absurdly sweet and have mysterious ingredients. Thanks for providing this wonderful recipe. FRUITCAKE LOVERS UNITE!!!
i made it so many times since I made it first! I have basket full of admirers since I baked this! :) :) Today I just made a mistake, and I couldn't find Irene as usual to help me. The mistake was putting self raising flour instead of usual all purpose flour.. but the cake came out so much well.. and so tasty. The usual one is excellent but this mistake is also superb!
Update to preliminary review. Taste is getting raves from family, and this is a very attractive cake. I used equal amounts red and green cherries, which is the way to go for Christmas (I tried to go "all natural" one year, and the results were boring blah-brown.) I used chopped dates and candied pineapple for the dried cranberries and apricots, and pecans for the nuts. The fiori di Sicilia flavoring is a must, IMO. I would add mace next time, as I prefer a little more spice, and although I used rum this time, I might try bourbon next time. But the biggest change will be pan and baking time. I used the specified loaf pans, and left them to bake a good 20 minutes longer in my accurate oven, but they were still underbaked. The flavor is so good with these, that the family is still devouring them, but I wouldn't consider them party ready in this form. Dividing batter between two bundts might improve things, so that will be my next attempt, but the cake is worth the effort.
Just now out of the oven, so they haven't aged properly yet. Still, some important observations. The batter is scrumptious, so I am optimistic. But even though I weighed my ingredients on a good scale and used the specified loaf pans, I had way more batter than would fill up two pans 3/4 full. I made a smaller third cake in a Charlotte mold. Finally, these are the most delicate warm loaves ever, very prone to cracking. Beware.
I also add 1 1/2 cups of coconut and 1 cup of dried pineapple. A small cake is made w/o pecans for my sister (she can't eat nuts). We have renamed this "Hawaiian Christmas Cake". Most of our family won't eat "fruitcake" but they all love this cake.
My fruitcake is cracked on top in the middle line. I would like to know how I can fix this. ... Thanks for the amazing recipe. Love it so much.

Irine, cakes that crack along the top are most often a bit too dry or overbaked. Be sure you're measuring your flour using a scale or lightly spooning it into a measuring cup. Also be sure to check for doneness a bit early (insert a toothpick into the center) and then let it cool slowly. This should prevent any cracking. Good luck! Kye@KAF
Excellent recipe! I used figs, cherries, candied orange, pears, lemon peel and golden raisins. My nut mix was walnuts, almonds, pecans and pine nuts. It made so many fruit cakes that I could try a piece to see what it tastes like. I like the light colored cake around the fruit and nuts. It's delicious and will now get even more delicious after absorbing the whiskey I just brushed them with. They did take about 15 more minutes of baking from what the recipe said.
I have baked golden fruit cake 6 times since I first made it. I really got bored by its popular demand:-D. Once I frosted it with fig buttercream and topped with whipped cream and white choclate.just for change:-). Today morning again my aunt called for one more golden fruit cake:-(. Can I replace the white sugar with brown and add caramel to the cake? As I said I am bit bored by now:-D. Also great KAF..please give us the recipe for black forest and white forest cake.

We understand the feeling, Kashish, and are glad you've found some ways to get creative. We might not encourage adding caramel to the cake itself, but as a topping it sounds delicious, as does a little brown sugar in place of the white. Best of luck with your experiments! Mollie@KAF
superb! Superb! Superb! Thanks to Irene too whose chat saved from blunder. Amazing KAF! Want to know at what time gap I should brush apple juice over it to keep for a month. Also any storing suggestions?

Kashish, we're glad to hear you chatted with one of our bakers to get the advice you were looking for. Brush the fruitcakes with apple juice (or liquor if using) when the cakes are still warm from the oven, and then brush again weekly until you're ready to serve them. You might consider reducing the apple juice over heat to make it a bit like a syrup. Enjoy! Kye@KAF
if you had 7stars...:-D I would have given 7stars!and so many thanks to Irene who helped me at right Time through chat. Simply amazing KAF!