A customized print-friendly version of this recipe is available by clicking the "Print Recipe" button on this page.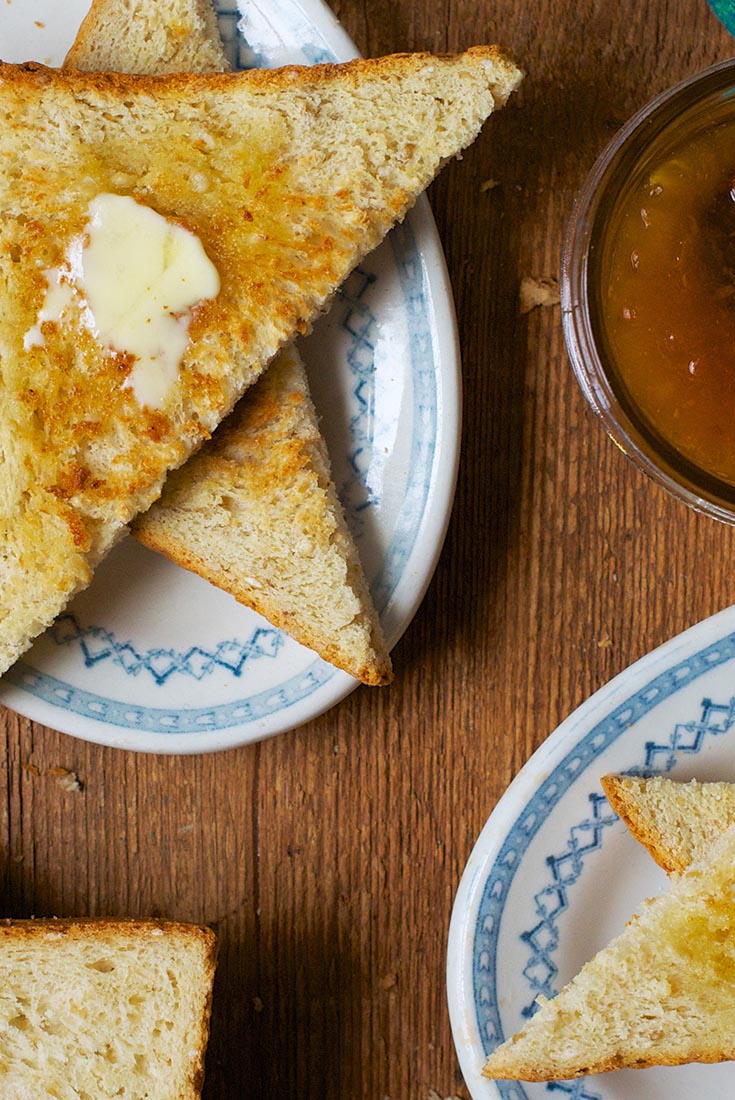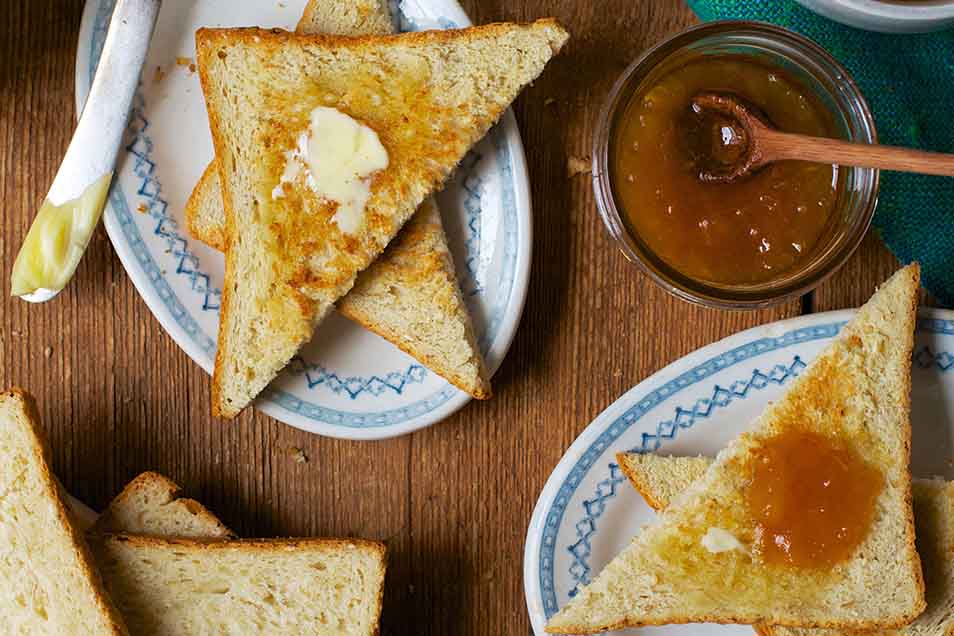 This sandwich loaf, with its hint of sweetness from both honey and oats, is wonderfully moist and tender. And, since it bakes in a pain de mie pan (pullman loaf pan), each slice is beautifully shaped, with an ultra-thin crust — ideal for kids. It slices easily for sandwiches and toast; try it in French toast for a tasty twist on that breakfast favorite.
Ingredients
2 1/4 teaspoons instant yeast
1 cup old-fashioned rolled oats (not quick oats)
1 1/2 teaspoons salt
4 tablespoons melted butter
3 tablespoons honey
1 cup to 1 cup + 2 tablespoons lukewarm water*
*Use the smaller amount in the summer, or in a humid climate; the larger in winter, or in a drier climate.
Instructions
Combine all of the ingredients, and mix until cohesive. Cover the bowl, and let the dough rest for 20 minutes, to give the oats a chance to absorb some of the liquid. Then knead — by hand, stand mixer, or bread machine — to make a smooth, soft, elastic dough.

Place the dough in a lightly greased bowl, or in an 8-cup measure (so you can track its progress as it rises), and let it rise for 1 to 1 1/2 hours, until it's risen noticeably. It won't necessarily double in bulk.

Gently deflate the dough, and shape it into a 9" log. Place the log in a lightly greased 9" pain de mie (pullman) pan, pressing it gently to flatten.

Place the lid on the pan (or cover with plastic wrap, for a better view), and let the dough rise until it's about 1" below the top of the pan/lid, 60 to 90 minutes. Towards the end of the rising time, preheat the oven to 350°F.

Remove the plastic (if you've used it), slide the pan's lid completely closed, and bake the bread for 30 minutes.

Remove the lid, and bake for an additional 5 minutes, or until an instant-read thermometer inserted into the center registers at least 190°F.

Remove the bread from the oven, and turn it out of the pan onto a rack. Run a stick of butter over the top, if desired; this will yield a soft, buttery crust. Cool completely before cutting; wrap airtight and store for several days at room temperature.

Yield: 1 standard loaf.
Nutrition Information
Serving Size

1 slice (51g)

Servings Per Batch

16
Amount Per Serving:
Calories

140

Calories from Fat

30

Total Fat

3.5g

Saturated Fat

2g

Trans Fat

0g

Cholesterol

10mg
Sodium

220mg

Total Carbohydrate

24g

Dietary Fiber

1g

Sugars

3g

Protein

4g
* The nutrition information provided for this recipe is determined by the ESHA Genesis R&D software program. Substituting any ingredients may change the posted nutrition information.
Tips from our bakers
Can you make this without a pain de mie pan? Yes. Simply bake it in a 9" x 5" loaf pan instead of a pain de mie pan.
How about making this recipe in a standard (13" x 4") pain de mie pan? Increase all the ingredients except the yeast by 50%; leave the yeast as is. Bake the bread for about 35 minutes with the lid on, and 8 to 10 minutes with the lid removed.
Reviews
This bread is so yummy!! Very easy to make. Next time, I will put the lid on for the final rise to try to get the sharp corners - I used plastic wrap to watch the rise but it got fatter in the middle and not the corners. Will definitely make this again and again.
This bread delivers. It's a little sweeter than I prefer, but my granddaughters love it, and it's very easy to make. I made it in a standard 9x5"pan following the recipe exactly, and it came out beautifully. It's soft, easy to slice with a lovely crumb, and I'm sure it's going to toast beautifully. Now, on to Challah next.
Can other types of bread, like English Muffin, be made in a Pullman pan?

Pullman loaf pans are quite versatile and many recipes can be made in them. If you have a small pan (9" by 4" by 4"), look for recipes that make a 1.5 lb. loaf, using about 3 to 3 1/2 cups of flour. A typical pullman loaf pan (13" by 4" by 4") will fit 2 lb. recipes that use about 4 to 4 1/2 cups of flour. (You may be able to fit a 5 cup of flour recipe in here). You may need to extend the baking time that's included in the recipe if you bake the bread with the lid on. The best way to ensure your loaf is baked all the way through is to test for doneness using an instant-read thermometer. (It should reach at least 190°F). We hope that helps, and happy baking! Kye@KAF
I am glad I found this great recipe for my first bake with a pullman-loaf pan - my wife can't get enough of it and I'm sure it will be a go-to recipe from now on. In the future, I will let the bread rise a bit more on the second proof (it had the domed top of a more conventional loaf and lacked the desired square shape) and add a touch more salt.
I did the variation to fit the larger size pan. Timing was perfect, no need for adjustments. The oats add a little chew and a bit of nutty taste. Overall a good loaf an well worth your while if you're wondering what to do will that Pullman loaf pan.
This is a great tasting bread. I use 1 cup of whole wheat flour and 2 cups all purpose flour.
First time making bread and I think I overproofed this dough. The bread slightly collapsed on itself as it cooled. I need to keep it in a cooler place next time and maybe not let it rise until it left half an inch of space between the pan. I also used a darker pan so maybe it needed more time in the oven? My other though is the recipe called for everything to be mixed in right away, but don't most bread recipes call for warm water, sugar, and yeast first before letting the other ingredients hang out?

Ann, bread that has collapsed in the middle usually means it's been left to rise for too long (overproofed) or the dough rose too quickly. Next time, try letting it rise somewhere that's a comfortable room temperature (not too warm) and cut back on the rising time slightly. It's not necessary to mix the yeast with water first in order to activate it. It will begin to work as soon as it meets the moisture in the dough during mixing. We hope this helps, and happy baking! Kye@KAF
I made thus bread a second time. Again, it tastes delicious and has a beautiful crumb but.... When it came out of the oven, the temp was 205. As it cooled, it started to cave in. By the time ut was cool, it had a fairly pronounced v the length if the loaf. Any thoughts on why?

Deb, it sounds like your loaf was a bit over-proofed. This means it was left to rise for too long or in too warm of a place. Next time, try cutting back on the rising time slightly, and be sure it's left somewhere that's a comfortable room temperature (about 65-70°F). You can also try reducing the yeast by about 1/4 teaspoon. Last tip- if you're not already doing so, be sure you're using King Arthur Flour All-Purpose Flour rather than another brand. (Our flour is higher in protein content than most other brands, which gives dough the support it needs to rise high.) Kye@KAF
Delicious, soft with a beautiful crumb. This will definitely go in the sandwich/toast lineup. Goodbye gricery store bread!
I used the directions for the 13-inch Pullman Pan. I followed it exactly. It came out fabulous. This bread is delicious. I had the first two pieces warm with butter. Can't wait to use it for a sandwich. Why have I been buying bread? Not any more.