A customized print-friendly version of this recipe is available by clicking the "Print Recipe" button on this page.
Hot Buttered Soft Pretzels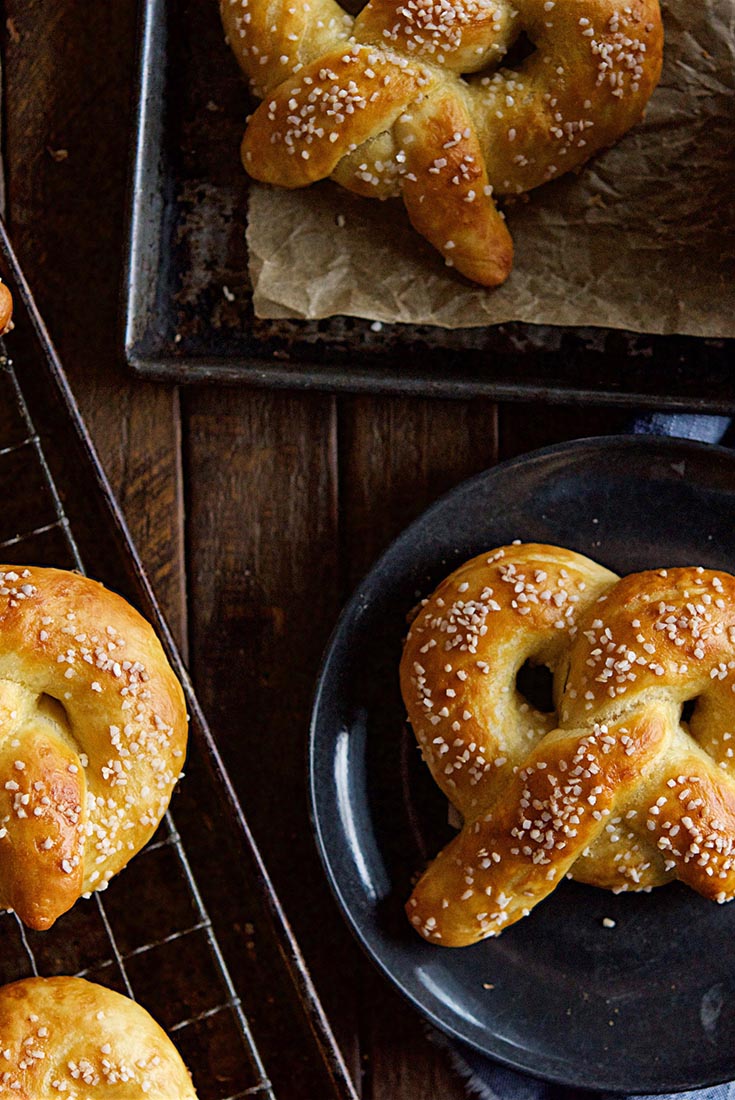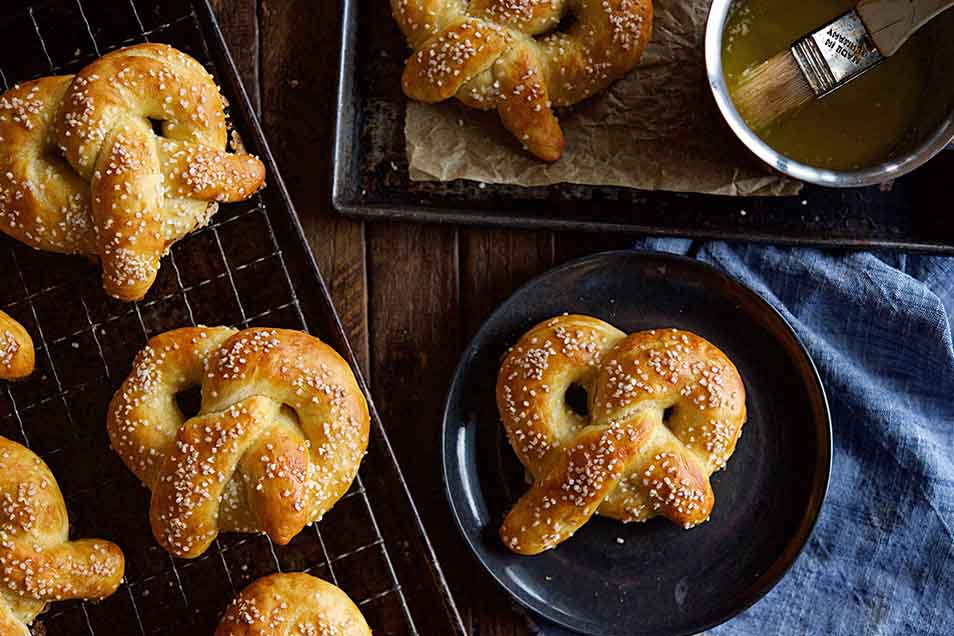 Pretzels are available crisp and hard from your grocery or, if you're lucky and in the right place, soft and chewy from street vendors. Our recipe is for the soft, chewy kind. The melted butter brushed over the crust is a bonus street vendors don't offer!

Want to make smaller, appetizer-size pretzels? See our instructions for pretzel bites in "tips," below.
Ingredients
Dough
2 1/2 cups King Arthur Unbleached All-Purpose Flour
1 teaspoon salt
1 teaspoon sugar
2 1/4 teaspoons instant yeast
7/8 to 1 cup warm water*
*Use the greater amount in the winter, the lesser amount in the summer, and somewhere in between in the spring and fall. Your goal is a soft dough.
Topping
1 cup boiling water
2 tablespoons baking soda
coarse, kosher or pretzel salt, optional
3 tablespoons unsalted butter, melted
Instructions
To make dough by hand, or with a mixer: Place all of the dough ingredients into a bowl, and beat until well-combined. Knead the dough, by hand or machine, for about 5 minutes, until it's soft, smooth, and quite slack. Flour the dough and place it in a bag, and allow it to rest for 30 minutes.

To make dough with a bread machine: Place all of the dough ingredients into the pan of your bread machine, program the machine for dough or manual, and press Start. Allow the dough to proceed through its kneading cycle (no need to let it rise), then cancel the machine, flour the dough, and give it a rest in a plastic bag, as instructed above.

To make dough with a food processor: Place the flour, salt, sugar and yeast in the work bowl of a food processor equipped with the steel blade. Process for 5 seconds. Add the water, and process for 7 to 10 seconds, until the dough starts to clear the sides of the bowl. Process a further 45 seconds. Place a handful of flour in a bowl, scoop the slack dough into the bowl, and shape the dough into a ball, coating it with the flour. Transfer the dough to a plastic bag, close the bag loosely, leaving room for the dough to expand, and let it rest at room temperature for 30 minutes.

While the dough is resting, prepare the topping: Combine the boiling water and baking soda, stirring until the soda is totally (or almost totally) dissolved. Set the mixture aside to cool to lukewarm (or cooler).

Preheat your oven to 475°F. Prepare a baking sheet by spraying it with vegetable oil spray, or lining it with parchment paper. If you're not using King Arthur Flour's brand, grease the parchment with vegetable oil spray to make double-sure the bites won't stick.

Transfer the dough to a lightly greased work surface, and divide it into eight equal pieces (about 70g, or 2 1/2 ounces, each).

Allow the pieces to rest, uncovered, for 5 minutes. Pour the baking soda/water into a 9" square pan.

Roll each piece of dough into a long, thin rope (about 28" to 30" long), and twist each rope into a pretzel. Working with 4 pretzels at a time, place them in the pan with the baking soda/water, spooning the water over their tops; leave them in the water for 2 minutes before placing them on the baking sheet. This baking soda "bath" will give the pretzels a nice, golden-brown color.

Transfer the pretzels to the prepared baking sheet. Sprinkle them lightly with coarse, kosher, or pretzel salt, if desired. Allow them to rest, uncovered, for 10 minutes.

Bake the pretzels for 8 to 9 minutes, or until they're golden brown.

Remove the pretzels from the oven, and brush them thoroughly with the melted butter. Keep brushing the butter on until you've used it all up; it may seem like a lot, but that's what gives these pretzels their ethereal taste. Eat the pretzels warm, or reheat them in an oven or microwave.

Yield: 8 large pretzels.
Nutrition Information
Serving Size

1 pretzel (75g)

Servings Per Batch

8
Amount Per Serving:
Calories

180

Calories from Fat

40

Total Fat

5g

Saturated Fat

3g

Trans Fat

0g

Cholesterol

10mg
Sodium

290mg

Total Carbohydrate

30g

Dietary Fiber

1g

Sugars

1g

Protein

5g
* The nutrition information provided for this recipe is determined by the ESHA Genesis R&D software program. Substituting any ingredients may change the posted nutrition information.
Tips from our bakers
To make savory pretzel bites: Roll the six pieces of dough into 10" ropes. Cut each rope crosswise into 6 to 10 equal pieces. Dip the pieces into the baking soda solution, place on a greased or parchment-lined baking sheet, and top with pretzel salt or sea salt. Bake in a 400°F oven for 12 to 15 minutes, until golden brown. Remove from the oven, and roll the bites in melted butter; about 6 tablespoons should do it.
To make sweet pretzel bites: Roll the six pieces of dough into 10" ropes. Cut each rope crosswise into 6 to 10 equal pieces. Dip the pieces into the baking soda solution, place on a greased or parchment-lined baking sheet, and top with pearl sugar, if desired. Bake in a 400°F oven for 12 to 15 minutes, until golden brown. Remove them from the oven; if they haven't been topped with pearl sugar, roll the bites in melted butter (about 6 tablespoons should do it). Then shake in a paper bag with 6 tablespoons cinnamon-sugar.
Reviews
Enjoyed the recipe. If your pretzels are sticking to parchment paper. Check the parchment temperature rating. You can find it on the box. Cheap parchment paper is usually rated under 400 and cannot handle the temperatures used in this recipe.
Yes! These pretzels turned out awesome. I followed the recipe (almost) exactly and the result was delicious. Here are a few things I learned baking these the first time: The recipe says to roll the dough into 28"-30" strings, but that seemed WAY too long to me, so I knocked 10" off and went with 18"-20". Nice chunky pretzels that baked well at the temp and time given. Rolling the dough into those long strings relies on a trick: keeping the surface greased. I used an aluminum baking sheet that I greased with butter. The first couple were relatively easy to roll out, and then it started to get difficult. They started to slide as I was trying to roll them. I noticed that I had worn away all the butter on the part of the sheet I was rolling on. I moved to a part that was still buttered, and it got easy again. It's counterintuitive, but the butter actually helps the dough stick enough for you to roll it into strings. I thought I ruined my 8x8 non-stick baking pan with the baking soda solution. It left a residue that felt like sandpaper on the bottom of the pan, and it wasn't coming off just using my dish brush. I grabbed my plastic scrubber and that did the trick. Other than this, it was easy to make these pretzels and they taste so good I'm going to have to work not to eat them all at once. I'm a fairly inexperienced baker, and I still managed to get this recipe to work, so you can too. Oh, I almost forgot! They're right about the butter. Use it all. It makes all the difference!
SOOOOOOOO so so so so good. Followed the recipe exactly using weight measurements and it turned out better than I could have dreamed.
I don't know what I did wrong. After all the wonderful reviews, I thought I can handle this. I followed the instructions exactly. Are the dough ingredients sized correctly? The dough was extremely difficult to handle even before letting it rest. After the rest, I turned it out onto my greased work surface. I tried using a plastic pastry sheet, but everything stuck like goo so I switched to my granite countertop which wasn't much better. What did most home bakers use? It was almost impossible to separate using my bench knife into 8 pieces, never mind roll into ropes for the pretzels. I had dough all over my hands and counter. Constantly adding flour, I was able to make something sort of resembling a pretzel. Next comes the bath... the only change I made was to use brown sugar instead of baking soda following the KAF response to other reviewers. My pretzels quickly began to disintegrate on contact. I baked my 8 sad "pretzels" and they came out nearly white, so did not get the color benefit of their bath. Any suggestions? Thanks!

Nicole, we're so sorry to hear this recipe brought you so much frustration. We encourage you to reach out to our friendly Baker's Hotline staff to help troubleshoot at 855-371-2253. Kindly, Annabelle@KAF
I love these. They turn out great Everytime. I'm wondering if I can freeze the dough at any point to make them ahead without compromising the goodness?

We're so glad you're a fan of this recipe, Christine! To maintain the integrity of the texture and flavor, we'd recommend completely baking the pretzels, cooling them, then freezing them. Freezing them before they've been baked tends to kill off some of the yeast so they don't rise as much and come out a bit dense. The finished pretzels will keep wrapped in the freezer for 2-3 months. Happy baking! Annabelle@KAF
Great recipe, I only dipped my pretzels in the bath for 30 seconds and used an extra cup of water. Came out great.
Absolutely freaking awesome! Best of the best!
Awesome. I have made them before, and I plan on making them again! Although I didn't follow it to a T, They turned out nicely. YUM. Thank you. :) =) It takes me a long time to make them, but as a special treat they are worth it. I do have a question: Is there a place on this page that indicates how long the prep time is, the rising time, and overall time?

Emily, sounds like you're looking for the "At a Glance," box that can found on the right hand side of the page. You can see the subsequent prep, bake, and total time necessary to get to make this recipe (1 hrs 10 mins. to 1 hrs 21 mins.). Happy baking! Kye@KAF
Very good. Followed step by step and turned out perfect.
My first time making it & it turned out very well. Yummy!! I used malt syrup in the soak solution. Easy & quick to make